Abstract
Introduction and hypothesis
Intravesical instillations of hyaluronic acid (HA) and chondroitin sulfate (CS) may lead to regeneration of the damaged glycosaminoglycan layer in interstitial cystitis/bladder pain syndrome (IC/BPS).
Methods
Twenty-two patients with IC/BPS received intravesical instillations (40 ml) of sodium HA 1.6% and CS 2.0% in 0.9% saline solution (IALURIL®, IBSA) once weekly for 8 weeks, then once every 2 weeks for the next 6 months.
Results
The score for urgency was reduced from 6.5 to 3.6 (p = 0.0001), with a reduction in pain scores from an average of 5.6 to 3.2 (p = 0.0001). The average urine volume increased from 129.7 to 162 ml (p < 0.0001), with a reduction in the number of voids in 24 h, from 14 to 11.6 (p < 0.0001). The IC Symptom and Problem Index decreased from 25.7 to 20.3 (p < 0.0001), and the Pain Urgency Frequency score, from 18.7 to 12.8 (p < 0.0001).
Conclusion
The treatment appeared to be effective and well tolerated in IC/BPS in this initial experience.
Access options
Buy single article
Instant access to the full article PDF.
USD 39.95
Price excludes VAT (USA)
Tax calculation will be finalised during checkout.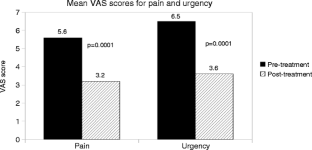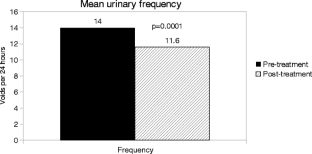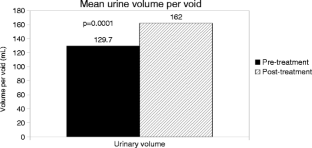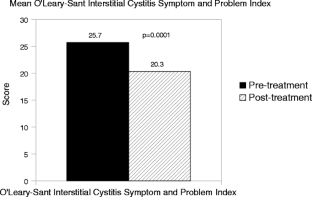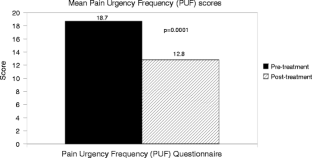 References
Hanno P (2002) Interstitial cystitis and related disorders. In: Walsh P (ed) Campbell's urology, 8th edn. Elsevier, Philadelphia, p 631

Hanno P, Nordling J, van Ophoven O (2008) What is new in bladder pain syndrome/interstitial cystitis? Curr Opin Urol 18:353

Abrams PH, Cardozo L, Fall M et al (2002) The standardisation of terminology of lower urinary tract function: report from the standardisation sub-committee of the International Continence Society. Neurourol Urodyn 21:167–178

Parsons CL, Parsons JK (1996) Interstitial cystitis. In: Raz S (ed) Female urology, 2nd edn. Saunders, Philadelphia, Chapter 15

Parsons CL (2003) Prostatitis, interstitial cystitis, chronic pelvic pain, and urethral syndrome share a common pathophysiology: lower urinary dysfunctional epithelium and potassium recycling. Urology 62(6):976–982

Boucher WS et al (2002) Intravesical sodium hyaluronate inhibits the rat urinary mast cell mediator increase triggered by acute immobilization stress. J Urol 167:380–384

Iavazzo C et al (2007) Hyaluronic acid: an effective alternative treatment of interstitial cystitis, recurrent urinary tract infections and hemorrhagic cystitis. Eur Urol 51(6):1534–1541

Morales A et al (1996) Intravesical hyaluronic acid in the treatment of refractory interstitial cystitis. J Urol 156:45–48

Nordling J et al (2001) Cystistat for the treatment of interstitial cystitis: a 3-year follow-up study. Urology 57(6 Suppl 1):123

Porru D et al (1997) Results of treatment of refractory interstitial cystitis with intravesical hyaluronic acid. Urol Int 59:26–29

Palylyk-Colwell E (2005) Chondroitin sulphate for interstitial cystitis. Issues Emerg Health Technol 86:1–4

Sant GR (2002) Etiology, pathogenesis and diagnosis of interstitial cystitis. Rev Urol 4:S9–S15

Daha LK, Riedl CR, Lazar D, Hohlbrugger G, Pflüger H (2005) Do cystometric findings predict the results of intravesical hyaluronic acid in women with interstitial cystitis? Eur Urol 47(3):393–397

Hanno P (1997) Interstitial cystitis and related diseases. In: Walsh PC, Retik AB, Vaughan ED Jr, Wein AJ (eds) Campbell's urology, 7th edn. WB Saunders, Philadelphia, pp 631–662, Vol. 1, Sect. IV, Chapt 17

Balasz EA, Denlinger JL (1988) The role of hyaluronic acid in arthritis and its therapeutic use. In: Peyron JG (ed) Osteoarthritis: current clinical and fundamental problems. Geigy, Basel, pp 165–174

Oberpenning F et al (2002) Interstitial cystitis: an update. Curr Opin Urol 12(4):321–332

Hurst RE (1994) Structure, function, and pathology of proteoglycans and glycosaminoglycans in the urinary tract. World J Urol 12:3–10

Buckley MS, Washington S, Laurent C, Erickson DE, Bhavanandan VP (1996) Characterization and immunohistochemical localization of the glycoconjugates of the rabbit bladder mucosa. Arch Biochem Biophys 330:163–73

Leppilahti M, Hellström P, Tammela TL (2002) Effect of diagnostic hydrodistension and four intravesical hyaluronic acid instillations on bladder ICAM-1 intensity and association of ICAM-1 intensity with clinical response in patients with interstitial cystitis. Urology 60:46–51

Keay SK, Szekely Z, Conrads TP, Veenstra TD, Barchi J Jr, Zhang CO, Koch KR, Michejda CJ (2004) An antiproliferative factor from interstitial cystitis patients is a frizzled 8 protein-related sialoglycopeptide. PNAS 101:11803–11808

Keay SK, Zhang CO, Shoenfelt J, Erickson DR, Whitmore K, Warren JW, Marvel R, Chai T (2001) Sensitivity and specificity of antiproliferative factor, heparin-binding epidermal growth factor-like growth factor, and epidermal growth factor as urine markers for interstitial cystitis. Urology 57(6 Suppl 1):9–14

Rajasekaran M, Stein P, Parsons CL (2006) Toxic factors in human urine that injure urothelium. Int J Urol 13:409

Sun Y, Chen M, Lowentritt BH et al (2007) EGF and HB-EGF modulate inward potassium current in human bladder urothelial cells from normal and interstitial cystitis patients. Am J Physiol Cell Physiol 292:C106

Morrison S, Shah NM, Anderson DJ (1997) Regulatory mechanisms in stem cell biology. Cell 88:287

Elgavish A (2009) Epigenetic reprogramming: a possible etiological factor in bladder pain syndrome/interstitial cystitis? J Urol 181:980–984

Porru D, Cervigni M, Nasta L, Natale F, Lo Voi R, Tinelli C, Gardella B, Anghileri A, Spinillo A, Rovereto B (2008) Results of endovesical hyaluronic acid/chondroitin sulfate in the treatment of interstitial cystitis/painful bladder syndrome. Rev Recent Clin Trials 3:126–129

Cervigni M, Natale F, Nasta L, Padoa A, Lo Voi R, Porru D (2008) A combined intravesical therapy with hyaluronic acid and chondroitin for refractory painful bladder syndrome/interstitial cystitis. Int Urogynecol J Pelvic Floor Dysfunct 19(7):943–947

Dell JR, Butrick CW (2006) Multimodal therapy for painful bladder syndrome/interstitial cystitis. J Reprod Med 51(3 Suppl):253–260, Review

Alagiri M, Chottiner S, Ratner V, Slade D, Hanno PM (1997) Interstitial cystitis: unexplained associations with other chronic disease and pain syndromes. Urology 49:52

Whitmore K, Siegel JF, Kellogg-Spadt S (2007) Interstitial cystitis/painful bladder syndrome as a cause of sexual pain in women: a diagnosis to consider. J Sex Med 4(3):720–727
Conflicts of interest
None.
Financial disclosures
None.
Electronic supplementary material
Below is the link to the electronic supplementary material.
About this article
Cite this article
Porru, D., Leva, F., Parmigiani, A. et al. Impact of intravesical hyaluronic acid and chondroitin sulfate on bladder pain syndrome/interstitial cystitis. Int Urogynecol J 23, 1193–1199 (2012). https://doi.org/10.1007/s00192-011-1546-5
Received:

Accepted:

Published:

Issue Date:

DOI: https://doi.org/10.1007/s00192-011-1546-5
Keywords
Chondroitin

Bladder pain syndrome

Interstitial cystitis

Hyaluronic acid