Abstract
Introduction and hypothesis
The purpose of this study is to evaluate whether antepartum use of a birth trainer may reduce levator trauma.
Methods
Two hundred nulliparous women were examined with four-dimensional translabial ultrasonography at 35–37 weeks of gestation and 3 months postpartum in a randomised controlled pilot study. Women in the intervention group were instructed to use the birth trainer from 37 weeks onwards.
Results
One hundred forty-six women returned for follow-up 5.6 months (range 2.3–22.1) after childbirth. Seventy-eight of them had had normal vaginal deliveries (53%), 32 vacuum/forceps (22%) and 36 a caesarean section (25%). The risk of avulsion was halved in the intervention group (6% vs 13%, P = 0.19) on modified intention to treat analysis. A treatment received analysis revealed a nonsignificant 42% and 30% reduction in levator avulsion and microtrauma, respectively (P ≥ 0.22).
Conclusions
This pilot randomised controlled trial showed a nonsignificantly lower incidence of pelvic floor muscle injury in women who used the Epi-No® device from 37 weeks onwards.
Access options
Buy single article
Instant access to the full article PDF.
US$ 39.95
Tax calculation will be finalised during checkout.
Subscribe to journal
Immediate online access to all issues from 2019. Subscription will auto renew annually.
US$ 119
Tax calculation will be finalised during checkout.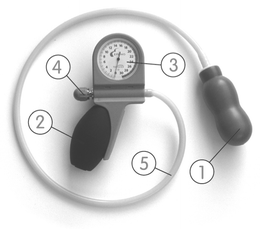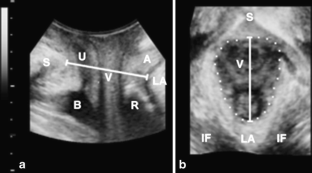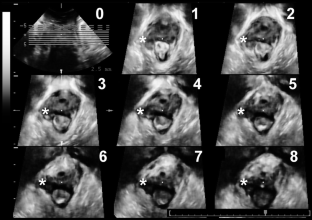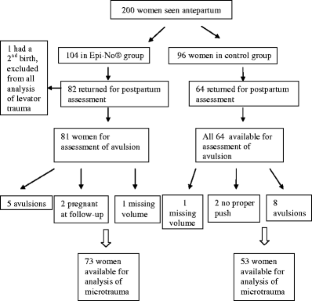 References
1.

Lien KC, Mooney B, DeLancey JO, Ashton-Miller JA (2004) Levator ani muscle stretch induced by simulated vaginal birth. Obstet Gynecol 103(1):31–40

2.

Svabik K, Shek KL, Dietz HP (2009) How much does the levator hiatus have to stretch during childbirth? BJOG 116:1657–1662

3.

Dietz HP, Lanzarone V (2005) Levator trauma after vaginal delivery. Obstet Gynecol 106(4):707–712

4.

Krofta L, Otcenasek M, Kasikova E, Feyereisl J (2009) Pubococcygeus-puborectalis trauma after forecps delivery: evaluation of the levator ani muscle with 3D/4D ultrasound. Int Urogynecol J 20:1175–1181

5.

Shek KL, Dietz HP (2009) The effect of childbirth on hiatal dimensions. Obstet Gynecol 113(6):1272–1278

6.

Toozs-Hobson P, Balmforth J, Cardozo L, Khullar V, Athanasiou S (2008) The effect of mode of delivery on pelvic floor functional anatomy. Int Urogynecol J 19:407–416

7.

Broos SV, Zerba E, Faulkner JA (1995) Injury to muscle fibres after single stretches of passive and maximally stimulated muscles in mice. J Physiol 488(2):459–469

8.

Jou I, Lai K, Shen C, Yamano Y (2000) Changes in conduction, blood flow, histology and neurological status following acute nerve-stretch injury induced by femoral lengthening. J Ortho Res 18:149–155

9.

Dietz HP, Shek C, De Leon J, Steensma AB (2008) Ballooning of the levator hiatus. Ultrasound Obstet Gynecol 31(6):676–680

10.

Dietz HP, Simpson JM (2007) Does delayed child-bearing increase the risk of levator injury in labour? Aust NZ J OG 47(6):491–495

11.

DeLancey JOLMD, Morgan DMMD, Fenner DEMD, Kearney RMD, Guire KMS, Miller JMPA et al (2007) Comparison of levator ani muscle defects and function in women with and without pelvic organ prolapse. Obstet Gynecol 109(2, Part 1):295–302

12.

Adekanmi OA, Freeman R, Puckett M, Jackson S (2005) Cystocele: does anterior repair fail because we fail to correct the fascial defects? A clinical and radiological study. Int Urogynecol J 16:S73

13.

Hillebrenner J, Wagenpfeil S, Schuchardt R, Schelling M, Schneider T (2000) First clinical experiences with the new birth trainer Epi-no® in primiparous women. Z Geburtsh Neonatol 204:1–8

14.

Kovacs G, Heath P, Heather C (2004) First Australian trial of the birth-training device Epi-No: a highly significantly increased chance of an intact perineum. Aust NZ J OG 44:347–348

15.

McHugh M, Cosgrave C (2010) To stretch of not to stretch: the role of stretching in injury prevention and performance. Scand J Med Sci Sports 20:169–181

16.

Dietz HP (2004) Ultrasound imaging of the pelvic floor. Part II: three-dimensional or volume imaging. Ultrasound Obstet Gynecol 23:615–625

17.

Dietz HP, Shek C, Clarke B (2005) Biometry of the pubovisceral muscle and levator hiatus by three-dimensional pelvic floor ultrasound. Ultrasound Obstet Gynecol 25(6):580–585

18.

Yang JM, Yang SH, Huang WC (2006) Biometry of the pubovisceral muscle and levator hiatus in nulliparous Chinese women. Ultrasound Obstet Gynecol 28:710–716

19.

Kruger JA, Dietz HP, Murphy BA (2007) Pelvic floor function in elite nulliparous athletes. Ultrasound Obstet Gynecol 30(1):81–85

20.

Shek K, Dietz H (2010) Intrapartum risk factors for levator trauma. BJOG 117:1485–1492

21.

Dietz HP (2007) Quantification of major morphological abnormalities of the levator ani. Ultrasound Obstet Gynecol 29(3):329–334

22.

Dietz H, Shek K (2009) Tomographic ultrasound of the pelvic floor: which levels matter most? Ultrasound Obstet Gynecol 33:698–703

23.

Weinstein MM, Pretorius D, Nager CW, Mittal R (2007) Inter-rater reliability of pelvic floor muscle imaging abnormalities with 3D ultrasound. Ultrasound Obstet Gynecol 30(4):538

24.

Dietz H, Steensma A (2006) The prevalence of major abnormalities of the levator ani in urogynaecological patients. BJOG 113(2):225–230

25.

Shek K, Dietz H (2010) Can levator avulsion be predicted antenatally? Am J Obstet Gynecol. doi:10.1016/j.ajog.2009.11.038

26.

Valsky D, Lipschuetz M, Bord A, Eldar I, Messing B, Hochner-Celnikier D et al (2009) Fetal head circumference and length of second stage of labour are risk factors for levator ani muscle injury, diagnosed by 3-dimensional transperineal ultrasound in primiparous women. Am J Obstet Gynecol 201(91):e1–e7

27.

Brooks S, Zebra E, Faulkner J (1995) Injury to the muscle fibres after single stretches of passive and maximally stimulated muscle in mice. J Physio 488(2):459–469

28.

Weppler C, Magnusson S (2010) Increasing muscle extensibility: a matter of increasing length or modifying sensation? Phys Ther 90:438–449

29.

Ingeborg H, Majida M, Engh M, Bo K (2010) Morphological changes after pelvic floor muscle training measured by 3-Dimenisonal ultrasonography. A randomized controlled trial. Obstet Gynecol 115:317–324

30.

King JK, Freeman RM (1998) Is antenatal bladder neck mobility a risk factor for postpartum stress incontinence? BJOG 105(12):1300–1307
Acknowledgements
The Epi-No® Birth Trainer was donated by the Starnberg Medical, Tecsana GMBH, Muenchen, Germany.
Conflict of interest statement
KL Shek, V Chantarasorn, S Langer and H Phipps have no conflict of interest to declare. HP Dietz has acted as a consultant for AMS (American Medical Systems) and CCS (Continence Control Systems); has accepted Speaker's fees from GE (General Electric), AMS and Astellas and has benefited from equipment loans provided by GE, Bruel and Kjaer and Toshiba.
About this article
Cite this article
Shek, K.L., Chantarasorn, V., Langer, S. et al. Does the Epi-No® Birth Trainer reduce levator trauma? A randomised controlled trial. Int Urogynecol J 22, 1521–1528 (2011). https://doi.org/10.1007/s00192-011-1517-x
Received:

Accepted:

Published:

Issue Date:
Keywords
Childbirth

Epi-No birth trainer

Levator avulsion

Levator microtrauma

Pelvic organ prolapse

Ultrasound