Abstract
Introduction and hypothesis
We hypothesize that overactive bladder (OAB) can produce inflammatory cytokines due to afferent neural plasticity or urothelial dysfunction. This study aimed to detect abnormal cytokine levels in urine of patients with OAB compared to urinary tract infections (UTI) and controls.
Methods
This was a prospective, single blind study including 20 premenopausal women (control), 20 with OAB and 16 with UTI. Urine samples were collected, centrifuged, and stored (−80°C). Urinary total proteins were quantified and detected by antibody-based array chip for release of 120 human cytokines in the two groups relative to the controls.
Results
Majority of cytokines showed the same expression in the OAB compared with the controls. Cytokines exclusively expressed in OAB were: monocyte chemoattractant protein (MCP) 1, TARC, PARC, and Fas/TNFRSF6. MCP-2, MCP-3, tumor necrosis factor-β, GCSF and eotaxin-3 showed a shared expression in UTI and OAB. Conversely, few of the cytokines were downregulated in OAB (IL-5, IL-6, IL-7, and GM-CSF).
Conclusions
Taken together, the results suggest that a subset of inflammatory cytokines and chemokines provides a framework for development of highly optimized urinary biomarker assay for differential diagnosis and treatment of OAB.
Access options
Buy single article
Instant access to the full article PDF.
US$ 39.95
Tax calculation will be finalised during checkout.
Subscribe to journal
Immediate online access to all issues from 2019. Subscription will auto renew annually.
US$ 119
Tax calculation will be finalised during checkout.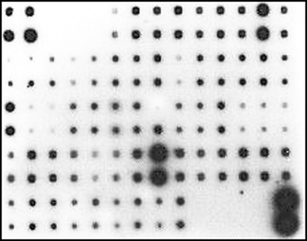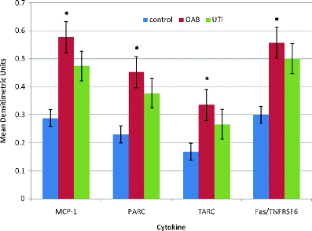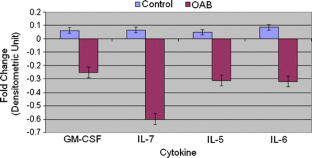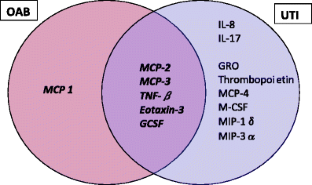 References
1.

Bajwa A, Shenassa BB, Human L, Ghoniem GM, Abdel-Mageed AB (2004) NF-kappa B-dependent gene expression of proinflammatory cytokines in T24 cells: possible role in interstitial cystitis. Urol Res 31(5):300–305

2.

de Reijke T, de Boer E, Kurth K, Schamart D (1996) Urinary cytokines during intravesical bacillus Calmette–Guerin therapy for superficial bladder cancer: procession, stability and prognostic value. J Urol 155(2):477–582

3.

Ninan G, Jutley R, Singh E (1999) Urinary cytokines as markers of reflux nephropathy. J Urol 162(5):1739

4.

Lewis SA (2000) Everything you wanted to know about the bladder epithelium but were afraid to ask. Am J Physiol Renal Physiol 278:F867

5.

Chopra B, Barrick SR, Meyers S, Beckel JM, Zeidel ML, Ford AP et al (2005) Expression and function of bradykinin B1 and B2 receptors in normal and inflamed rat urinary bladder urothelium. J Physiol 562:859

6.

Rasmussen H, Hansen A, Smedts F, Rumessen JJ, Horn T (2007) CD34-positive interstitial cells of the human detrusor. APMIS 115(11):1260–1266

7.

Shafik A, El-Sibai O, Shafik AA, Shafik I (2004) Identification of interstitial cells of Cajal in human urinary bladder: concept of vesical pacemaker. Urology 64(4):809–813

8.

Davidson RA, McCloskey KD (2005) Morphology and localization of interstitial cells in the guinea pig bladder: structural relationships with smooth muscle and neurons. J Urol 173(4):1385–1390

9.

Kanai A, de Groat W, Birder L, Chai T, Hultgren S, Fowler C, Fry C (2006) Symposium report on urothelial dysfunction: pathophysiology and novel therapies. J Urol 175(5):1624–1629

10.

Kim JC, Park EY, Seo SII, Park YH, Hwang TK (2006) Nerve growth factors and prostaglandins in the urine of female patients with overactive bladder. J Urol 175:1773–1776

11.

Yokoyama O, Yusup A, Oyama N, Aoki Y, Tanase K, Matsuta Y, Miwa Y, Akino H (2006) Improvement of bladder storage function by alpha1-blocker depends on the suppression of C-fiber afferent activity in rats. Neurourol Urodyn 25(5):461–467

12.

Loran OB, Pisarev SA, Kleimenova NV, Sukhorukov VS (2007) Allergic inflammation as one of the factors of pathogenesis of overactive urinary bladder. Urologiia 2:37–41

13.

Leonard EJ, Yoshimura T (1990) Human monocyte chemoattractant protein-I (MCP-1). Immunol Today 11:97

14.

Baggiolini M (2001) Chemokines in pathology and medicine. J Intern Med 250:91–104, KB 1–2

15.

Watson ML, Grix SP, Jordan NJ, Place GA, Dodd S, Leithead J et al (1998) Interleukin 8 and monocyte chemoattractant protein 1 production by cultured human airway smooth muscle cells. Cytokine 10:346

16.

Mantovani A (1999) Chemokines. Introduction and overview. Chem Immunol 72:1

17.

Lloyd CM, Minto AW, Dorf ME, Proudfoot A, Wells TN, Salant DJ, Gutierrez-Ramos JC (1997) RANTES and monocyte chemoattractant protein-1 (MCP-1) play an important role in the inflammatory phase of crescentic nephritis, but only MCP-1 is involved in crescent formation and interstitial fibrosis. J Exp Med 7(185(7)):1371–1380, MS 15

18.

Amann B, Perabo FG, Wirger A, Hugenschmidt H, Schultze-Seemann W (1998) Urinary levels of monocyte chemo-attractant protein-1 correlate with tumour stage and grade in patients with bladder cancer. Br J Urol 82(1):118–121, BA

19.

Bouchelouche K, Alvarez S, Andersen L, Nordling J, Horn T, Bouchelouche P (2004) Monocyte chemoattractant protein-1 production by human detrusor smooth muscle cells. J Urol 171(1):462–466, KB 2

20.

Panettieri RA Jr (2003) Airway smooth muscle: immunomodulatory cells that modulate airway remodeling? Respir Physiol Neurobiol 137:277–293, KB 1–8

21.

Saban MR, Saban R, Hammond TG et al (2002) LPS-sensory peptide communication in experimental cystitis. Am J Physiol Renal Physiol 282:F202–F210, KB 1–13

22.

Steers WD, Kolbeck S, Creedon D, Tuttle JB (1991) Nerve growth factor in the urinary bladder of the adult regulates neuronal form and function. J Clin Invest 88:1709, HTL-4

23.

Tuttle JB, Steers WD, Albo M, Nataluk E (1994) Neural input regulates tissue NGF and growth of the adult rat urinary bladder. J Auton Nerv Syst 49:147

24.

Dupont MC, Spitsberegen JM, Kim KB, Tuttle JB, Steers WD (2001) Histological and neurotrophic changes triggered by varying models of bladder inflammation. J Urol 166:1111

25.

Anand EM, Lowe P, Terenghi G, Williams-Chestnut RE, Sinicropi DV, Osborne JL (1997) Increased nerve growth factor levels in the urinary bladder of women with idiopathic sensory urgency and interstitial cystitis. Br J Urol 79:572

26.

Birder LA, Wolf-Johnston A, Griffiths D, Resnick NM (2007) Role of urothelial nerve growth factor in human bladder function. Neurourol Urodyn 26(3):405–409

27.

Liu HT, Kuo HC (2008) Urinary nerve growth factor level could be a potential biomarker for diagnosis of overactive bladder. J Urol 179(6):2270–2274

28.

Yokoyama T, Kumon H, Nagai A (2008) Correlation of urinary nerve growth factor level with pathogenesis of overactive bladder. Neurourol Urodyn 27(5):417–420

29.

Yi KC, Rue J, Fera MT, La Torre F, Giannone M, Losi E, Carbone M, Hasty DL (2002) Cytokine induction in murine bladder tissue by type 1 fimbriated Escherichia coli. Ann NY Acad Sci 963:332–335

30.

Sakumoto M, Matsumoto T, Mochida O, Takahashi K, Sakuma S, Kumazawa J (1998) Urinary concentrations of cytokines in patients with pyelonephritis and cystitis. J Infect Chemother 4(1):24–27
Acknowledgment
Nuzhat Faruqui was funded by an IUGA International Fellowship Grant.
Conflicts of interest
None.
About this article
Cite this article
Ghoniem, G., Faruqui, N., Elmissiry, M. et al. Differential profile analysis of urinary cytokines in patients with overactive bladder. Int Urogynecol J 22, 953–961 (2011). https://doi.org/10.1007/s00192-011-1401-8
Received:

Accepted:

Published:

Issue Date:
Keywords
Overactive bladder

Cytokines

Chemokines

Protein array