Abstract
Introduction and hypothesis
The objective of this study is to determine whether oral vitamin B can be used as a marker of ureteric patency at cystoscopy, and thereby reduce the need for intraoperative intravenous indigo carmine.
Methods
Patients scheduled for cystoscopy, or for an operation likely to require a cystoscopy, were given three tablets of vitamin B complex orally 1–4 h prior to their operation. The time of administration, time of operation, and time of cystoscopy were recorded. The time taken for ureteric jets to be visualized was also recorded. The color of the urine was graded by the operator as being clear (negative) or bright yellow (positive), indicating ureteric patency and that no indigo carmine was required.
Results
Sixty-nine women in total were given vitamin B prior to their cystoscopy. One case was cancelled because of presumed but unproven aspiration. In 49 of the remaining 68 cases (72.1%), yellow urine was seen at both ureteric orifices. In 19 (27.9%) cases, yellow urine was not seen at both ureteric orifices; however, unilateral yellow, clear, or turbulent jets were seen in all but one case. The mean time from dose to cystoscopy was 162 min and the mean time for visualization of both ureteric jets was 2.2 min with no significant difference between groups. Indigo carmine was used in only two cases (2.9%).
Conclusions
The results of this study show that oral vitamin B administration preoperatively has the potential to be used to reduce the requirement for intravenous indigo carmine administration. This would have advantages in reducing the cost and toxicity of intravenous indigo carmine administration. Vitamin B warrants further investigation and refinement as a marker of ureteric patency at cystoscopy.
Access options
Buy single article
Instant access to the full article PDF.
USD 39.95
Price excludes VAT (USA)
Tax calculation will be finalised during checkout.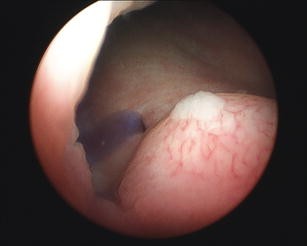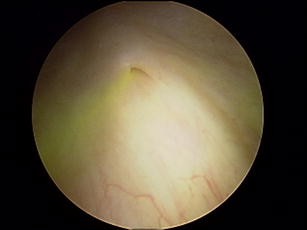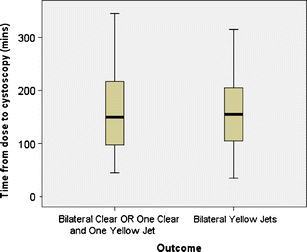 References
Harris W (1995) Early complications of abdominal and vaginal hysterectomy. Obstet Gynecol Surv 50:795–805

Gustilo-Ashby A, Jelovsek J, Barber M et al (2005) The incidence of ureteral obstruction and the value of intraoperative cystoscopy during vaginal surgery for pelvic organ prolapse. AJOG 194:1478–1485

Kwon C, Goldberg R, Koduri S et al (2002) The use of intraoperative cystoscopy in major vaginal and urogynecologic surgeries. Am J Obstet Gynecol 187:1466–1472

Graziano S, Hoyte L, Vilich F et al (2005) Life-threatening reaction to indigo carmine—a sulfa allergy? Int Urogynecol J 16:418–419

Novi J, Mulvihill B (2005) Report of case: partial ureteral obstruction masked by diuretics during intraoperative cystoscopy. JAOA 105:521–522

Indigo Carmine, Santa Cruz Biotechnology Inc. (2010) available from: http://www.scbt.com/datasheet-206056.html.

Sehroederus K, Tobin M, Gewurz A (2003) Anaphylaxis to indigo carmine with hypotension: case report and review of the literature. J Allergy Clin Immunol S98

Craik J, Khan D, Reda A (2009) The safety of intravenous indigo carmine to assess ureteric patency during transvaginal uterosacral suspension of the vaginal vault. J Pelvic Med Surg 15:11–15

Hammann B (1989) The adverse effects of indigo carmine. Anaesthesist 38:136–139

Gillman P (2006) Methylene blue implicated in potentially fatal serotonin toxicity. Anaesthesia 61:1013–1014

Pirraglia P, Stafford R, Singer D (2003) Trends in prescribing of selective serotonin reuptake inhibitors and other newer antidepressant agents in adult primary care. Prim Care Companion J Clin Psychiat 5:153–157

Speroff L, Fritz M (2005) Clinical gynaecologic endocrinology and infertility, 7th edn. Lippincott Williams & Wilkins, Philadelphia

Zempleni J, Galloway J, McCormick D (1996) Pharmacokinetics of orally and intravenously administered riboflavin in healthy humans. Am J Clin Nutr 63:54–66

Unna K, Greslin J (1942) Studies on the toxicity and pharmacology of riboflavin. Pharmacol Exp Ther J76:75–80

Boehnke C, Reuter U, Flach U et al (2004) High-dose riboflavin treatment is efficacious in migraine prophylaxis: an open study in a tertiary care centre. Eur J Neurol 11:475–477

E-Pharmacy (2010) available from: http://www.epharmacy.com.au/category.asp?id=511&page=2

Cenovis vitamin B complex product information (2010) available from: http://www.cenovis.com.au/

Ozkan T, Senturk M, Yavru A et al (2000) Does preoperative fluid fasting have a benefit on aspiration prophylaxis in obstetric anaesthesia. J Turk Anaesthesiol Reanim Soc 28:425–429

Maltby R, Pytka S, Watson N et al (2004) Drinking 300 mL of clear fluid two hours before surgery has no effect on gastric fluid volume and pH in fasting and non-fasting obese patients. Can J Anaesth 51:111–115

Reuben S, Bhopatkar S, Maciolek H et al (2002) The preemptive analgesic effect of rofecoxib after ambulatory arthroscopic knee surgery. Anesth Analg 94:55–59

MIMS pharmaceutical information (2010) available from: http://www.mims.com.au/
Acknowledgments
The authors would like to acknowledge the assistance of Dr. Weng Chan (consultant gynaecologist) and Dr. Luice Wang (gynaecology fellow) at Monash Medical Centre in Melbourne, Australia, who participated in the use of vitamin B preoperatively for their cases and contributed them to the study.
Conflicts of interest
None.
About this article
Cite this article
Fernando, S., Dowling, C. & Rosamilia, A. The role of preoperative oral vitamin B in the cystoscopic assessment of ureteric patency. Int Urogynecol J 22, 947–951 (2011). https://doi.org/10.1007/s00192-011-1396-1
Received:

Accepted:

Published:

Issue Date:

DOI: https://doi.org/10.1007/s00192-011-1396-1
Keywords
Cystoscopy

Indigo carmine

Vitamin B

Riboflavin

Ureteric patency