Abstract
Introduction and hypothesis
The aim of the study was to evaluate the effect of antenatal pelvic floor muscle exercise (PFME) in the prevention and treatment of urinary incontinence during pregnancy and postpartum period.
Methods
Three hundred women were randomly assigned to the PFME group and control group. Urinary symptoms were measured by Urogenital Distress Inventory-6 (UDI-6), Incontinence Impact Questionnaire-7 (IIQ-7), and question of self-reported urinary incontinence. Questionnaire scores of the PFME and the control groups were compared and analyzed.
Results
During late pregnancy and the postpartum period, the PFME group had significantly lower total UDI-6 and IIQ-7 scores; their self-report rate of urinary incontinence was also less than the control group. Additionally, we found whether in PFME or control, women who delivered vaginally were more likely to develop postpartum urinary leakage than women who delivered by cesarean section.
Conclusions
PFME applied in pregnancy is effective in the treatment and prevention of urinary incontinence during pregnancy, and this effect may persist to postpartum period.
Access options
Buy single article
Instant access to the full article PDF.
USD 39.95
Price excludes VAT (USA)
Tax calculation will be finalised during checkout.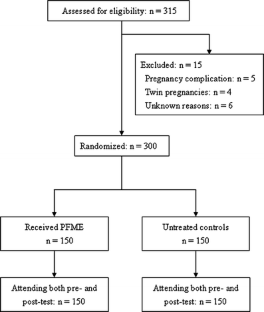 Abbreviations
SUI:

Stress urinary incontinence

PFME:

Pelvic floor muscle exercise

IIQ-7:

Incontinence Impact Questionnaire

UDI-6:

Urogenital Distress Inventory
References
Hvidman L, Foldspang A, Mommsen S, Bugge Neilsen J (2002) Correlates of urinary incontinence in pregnancy. Int Urogynecol J 13:278–283

Raza-Khan F, Graziano S, Kenton K, Shott S, Brubaker L (2006) Peripartum urinary incontinence in a racially diverse obstetrical population. Int Urogynecol J 17:525–530

Brown SJ, Donath S, MacArthur C, McDonald EA, Krastev AH (2010) Urinary incontinence in nulliparous women before and during pregnancy: prevalence, incidence, and associated risk factors. Int Urogynecol J 21:193–202

Viktrup L, Lose G, Rolf M, Barfoed K (1993) The frequency of urinary symptoms during pregnancy and puerperium in the primipara. Int Urogynecol J 4:27–30

Morkved S, Bo K (1999) Prevalence of urinary incontinence during pregnancy and post partum. Int Urogynecol J 10:394–398

Sampselle CM, Miller JM, Mims BL, Delancy JO, Ashton-Miller JA, Antonakos CL (1998) Effects of pelvic muscle exercise on transient incontinence during pregnancy and after birth. Obstet Gynecol 91:406–412

Morkved S, Bo K, Schei B, Salvesen KA (2003) Pelvic floor muscle training during pregnancy to prevent urinary incontinence: a single-blind randomized controlled trial. Obstet Gynecol 101:313–319

Rortveit G, Hannestad YS, Daltveit AK, Hunskaar S (2001) Age- and type-dependent effects of parity on urinary incontinence: the Norwegian EPINCONT study. Obstet Gynecol 98:1004–1010

Ismail SIMF (2009) An audit of NICE guidelines on antenatal pelvic floor exercises. Int Urogynecol J 20:1417–1422

Reilly ETC, Freeman RM, Waterfield MR, Waterfield AE, Steggles P, Pedlar F (2002) Prevention of postpartum stress incontinence in primigravidae with increased bladder neck mobility: a randomized controlled trial of antenatal pelvic floor exercises. Br J Obstet Gynaecol 109:68–76

Uebersax JS, Wyman JF, Shumaker SA, McClish DK, Fantl JA (1995) Short forms to assess life quality and symptom distress for urinary incontinence in women: the Incontinence Impact Questionnaire and the Urogenital Distress Inventory. Continence Program for Women Research Group. Neurourol Urodyn 14:131–139

Liang CC, Lee CL, Chang TC, Chang YL, Wang CJ, Soong YK (2009) Postoperative urinary outcomes in catheterized and non-catheterized patients undergoing laparoscopic assisted vaginal hysterectomy—a randomized controlled trial. Int Urogynecol J 20:295–300

Abrams P, Cardozo L, Fall M, Griffiths D, Rosier P, Ulmsten U et al (2002) The standardization of terminology of lower urinary tract function: report from the Standardization Sub-committee of the International Continence Society. Neurourol Urodyn 21:167–178

Shumaker SA, Wyman JF, Uebersax JS, McClish D, Fantl JA (1994) Health-related quality of life measures for women with urinary incontinence: the incontinence impact questionnaire and the urogenital distress inventory. Continence Program in Women (CPW) research group. Qual Life Res 3:291–306

Woldringh C, van den Wijngaart M, Albers-Heitner P, Lycklama À, Nijeholt AAB, Lagro-Janssen T (2007) Pelvic floor muscle training is not effective in women with UI in pregnancy: a randomized controlled trial. Int Urogynecol J 18:383–390

Dinc A, Kizilkaya Beji N, Yalcin O (2009) Effect of pelvic floor muscle exercises in the treatment of urinary incontinence during pregnancy and the postpartum period. Int Urogynecol J 20:1223–1231

Allen RE, Hosker GL, Smith ARB, Warell DW (1990) Pelvic floor damage and childbirth: a neurophysiological study. Br J Obstet Gynaecol 97:770–779

Arya LA, Jackson ND, Myers DL, Verma A (2001) Risk of new-onset urinary incontinence after forceps and vacuum delivery in primiparous. Am J Obstet Gynecol 185:1318–1324

Viktrup L, Lose G, Rolf M, Barfoed K (1992) The symptom of stress incontinence caused by pregnancy or delivery in primiparas. Obstet Gynecol 79:945–949

Rortveit G, Daltveit AK, Hannestad YS, Hunskaar S (2003) Urinary incontinence after vaginal delivery or cesarean section. N Engl J Med 348:900–907
Acknowledgment
This work was supported by the Medical Research Project, Chang Gung Memorial Hospital (CMRPG370321 and BMRP412). The authors would like to thank Drs. Yao-Lung Chang, Chao-Nin Wang, and Ho-Yen Chueh, and physiotherapists of our urogynecological division for their assistance to accomplish this study.
Conflicts of interest
None.
About this article
Cite this article
Ko, PC., Liang, CC., Chang, SD. et al. A randomized controlled trial of antenatal pelvic floor exercises to prevent and treat urinary incontinence. Int Urogynecol J 22, 17–22 (2011). https://doi.org/10.1007/s00192-010-1248-4
Received:

Accepted:

Published:

Issue Date:

DOI: https://doi.org/10.1007/s00192-010-1248-4
Keywords
Pelvic floor muscle exercise

Pregnancy

Postpartum

Urinary incontinence