Abstract
Introduction and hypothesis
To compare maximum abdominal and pelvic floor muscle (PFM) electromyographic (EMG) and intravaginal pressure (IVP) amplitudes and muscle activation patterns during voluntary PFM contractions between women with and without stress urinary incontinence (SUI).
Methods
Twenty-eight continent women and 44 women with SUI performed single and repeated PFM contractions in supine. Surface EMG data were recorded simultaneously with IVP. Maximum EMG and IVP amplitudes and ensemble average IVP versus EMG curves were determined from the single contractions. Muscle activation timing was determined with cross-correlation functions from the repeated contractions.
Results
The continent group produced higher PFM EMG amplitudes than the SUI group; there were no between group differences in IVP. The women with SUI delayed activating rectus abdominus. The IVP versus EMG curves' shapes were similar between the groups, however the SUI group had higher abdominal muscle y-intercepts than the continent women.
Conclusions
These findings suggest that women with SUI demonstrate altered motor control strategies during voluntary PFM contractions.
Access options
Buy single article
Instant access to the full article PDF.
USD 39.95
Price includes VAT (USA)
Tax calculation will be finalised during checkout.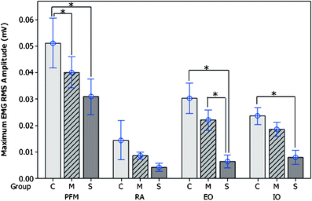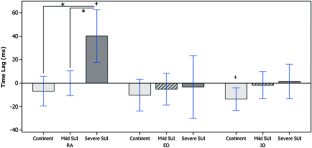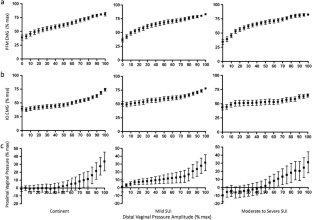 Abbreviations
AD:

analog to digital

ANOVA:

analysis of variance

BMI:

body mass index

CI:

confidence interval

EMG:

electromyography or electromyographic

EO:

external obliques muscle

IO:

internal obliques muscle

IVP:

intravaginal pressure

MVC:

maximum voluntary contraction

MVE:

maximum voluntary electrical activity

PFM:

pelvic floor muscle

RA:

rectus abdominis muscle

RMS:

root mean square

SUI:

stress urinary incontinence
References
1.

Vereecken RL, Verduyn H (1970) The electrical activity of the paraurethral and perineal muscles in normal and pathological conditions. Br J Urol 42:457–463

2.

Shafik A, Doss S, Asaad S (2003) Etiology of the resting myoelectric activity of the levator ani muscle: physioanatomic study with a new theory. World J Surg 27:309–314

3.

Deindl FM, Vodusek DB, Hesse U, Schussler B (1993) Activity patterns of pubococcygeal muscles in nulliparous continent women. Br J Urol 72:46–51

4.

Abrams P, Cardozo L, Khoury S, Wein A (eds) (2002) Incontinence. 2nd International Consultation on Incontinence. Health Publications Ltd., Paris

5.

Bø K, Sherburn M (2005) Evaluation of female pelvic-floor muscle function and strength. Phys Ther 85:269–282

6.

Gunnarsson M, Mattiasson A (1999) Female stress, urge, and mixed urinary incontinence are associated with a chronic and progressive pelvic floor/vaginal neuromuscular disorder: an investigation of 317 healthy and incontinent women using vaginal surface electromyography. Neurourol Urodyn 18:613–621

7.

Sørensen S (1989) Urethral pressures during bladder filling. Scand. J Urol Nephrol Suppl 125:45–51

8.

Morin M, Bourbonnais D, Gravel D, Dumoulin C, Lemieux MC (2004) Pelvic floor muscle function in continent and stress urinary incontinent women using dynamometric measurements. Neurourol Urodyn 23:668–674

9.

Bø K (2004) Pelvic floor muscle training is effective in treatment of female stress urinary incontinence, but how does it work? Int Urogynecol J 15:76–84

10.

Smith MD, Coppieters MW, Hodges PW (2007) Postural response of the pelvic floor and abdominal muscles in women with and without incontinence. Neurourol Urodyn 26:377–385

11.

DeLancey JOL (1996) Stress urinary incontinence: where are we now, where should we go? Am J Obstet Gynecol 175:311–319

12.

Thompson JA, O'Sullivan PB, Briffa NK, Neumann P (2006) Differences in muscle activation patterns during pelvic floor muscle contraction and valsalva manouevre. Neurourol Urodyn 25:148–155

13.

Neumann P, Gill V (2002) Pelvic floor and abdominal muscle interaction: EMG activity and intra-abdominal pressure. Int Urogynecol J 13:125–132

14.

Amarenco G, Ismael SS, Lagauche D, Raibaut P, Rene-Corail P, Wolff P et al (2005) Cough anal reflex: strict relationship between intravesical pressure and pelvic floor muscle electromyographic activity during cough. Urodynamic and electrophysiological study. J Urol 173:149–152

15.

Bø K, Stien R (1994) Needle EMG registration of striated urethral wall and pelvic floor muscle activity patterns during cough, valsalva, abdominal, hip adductor, and gluteal muscle contractions in nulliparous healthy females. Neurourol Urodyn 13:35–41

16.

Devreese A, Staes F, De Weerdt W, Feys H, Van Assche A, Penninckx F et al (2004) Clinical evaluation of pelvic floor muscle function in continent and incontinent women. Neurourol Urodyn 23:190–197

17.

Madill SJ, McLean L (2007) Quantification of abdominal and pelvic floor muscle synergies in response to voluntary pelvic floor muscle contractions. Journal doi:10.1016/j.jelekin.2007.05.001

18.

Madill SJ, McLean L (2006) Relationship between abdominal and pelvic floor muscle activation and intravaginal pressure during pelvic floor muscle contractions in healthy continent women. Neurourol Urodyn 25:722–730

19.

Al-Taher H, Sutherst JR, Richmond DH, Brown MC (1986) Vaginal pressure as an index of intra-abdominal pressure during urodynamic evaluation. Br J Urol 59:529–532

20.

Bø K (1992) Pressure measurements during pelvic floor muscle contractions: the effect of different positions of the vaginal measuring device. Neurourol Urodyn 11:107–113

21.

Madill SJ, McLean L. (2004) Electromyographic crosstalk in the measurement of pelvic floor muscle activation. 15th ISEK Congress, Boston, MA, USA

22.

Madill SJ, Harvey M-A, McLean L. (2006) A biomechanical model of intravaginal pressure generation comparing continent and stress incontinent women. 16th ISEK Congress, Turin, Italy

23.

Ingelman-Sundberg A (1953) Urininkontinens hos kvinnan. Nordisk Medicin 20:1149–1152

24.

DeLancey JOL, Kearney R, Chou Q, Speights S, Binno S (2003) The appearance of levator ani muscle abnormalities in magnetic resonance images after vaginal delivery. Obstet Gynecol 101:46–53

25.

Winter DA (2005) Biomechanics and Motor Control of Human Movement, Third Edition. Wiley, Hoboken

26.

Miller JM, Ashton-Miller JA, DeLancey JOL (1998) A pelvic muscle precontraction can reduce cough-related urine loss in selected women with mild SUI. J Am Geriatr Soc 46:870–874

27.

Verelst M, Leivseth G (2004) Are fatigue and disturbances in pre-programmed activity of pelvic floor muscles associated with female stress urinary incontinence? Neurourol Urodyn 23:143–147

28.

Barbic M, Kralj B, Cor A (2003) Compliance of the bladder neck supporting structures: importance of activity pattern of levator ani muscle and content of elastic fibers of endopelvic fascia. Neurourol Urodyn 22:269–276

29.

Smith MD, Coppieters MW, Hodges PW (2007) Postural activity of the pelvic floor muscles is delayed during rapid arm movements in women with stress urinary incontinence. Int Urogynecol J 18:901–911

30.

Andrews A, McLean L. (2007) Performance of onset detection methods for sEMG. 30th CMBES Conference, Toronto, Ontario, Canada

31.

Hodges P, Richardson C (1996) Inefficient muscular stabilization of the lumbar spine associated with low back pain: a motor control evaluation of transversus abdominis. Spine 21:2640–2650

32.

Aukee P, Penttinen J, Airaksinen O (2003) The effect of aging on the electromyographic activity of pelvic floor muscles. A comparative study among stress incontinent patients and asymptomatic women. Maturitas 44:253–257

33.

Frawley HC, Galea MP, Phillips BA, Sherburn M, Bø K (2006) Reliability of pelvic floor muscle strength assessment using different test positions and tools. Neurourol Urodyn 25:236–242
Acknowledgements
Financial support for this work was provided by Physicians' Services Inc. Foundation of Ontario, Canada and the Physiotherapy Foundation of Canada. Infrastructure support was provided by the Canadian Foundation for Innovation and the Ontario Innovation Trust. The authors wish to thank Cindy Brown B.Sc.(PT), M.Sc., Lorraine Chick RN(EC), M.Sc.N., Fabiola Gonçalves B.Sc.(PT), M.Sc., and Roy Young CBET for their assistance with technical support, data collection, and volunteer screening.
Conflicts of interest
None.
About this article
Cite this article
Madill, S.J., Harvey, MA. & McLean, L. Women with SUI demonstrate motor control differences during voluntary pelvic floor muscle contractions. Int Urogynecol J 20, 447–459 (2009). https://doi.org/10.1007/s00192-008-0800-y
Received:

Accepted:

Published:

Issue Date:
Keywords
Electromyography

Intravaginal pressure

Motor control

Pelvic floor muscles

Stress urinary incontinence