Abstract
The aim of the study was to determine the immediate effect of timing a pelvic muscle contraction with the moment of expected leakage (the Knack maneuver) to preempt cough-related stress incontinence. Women performed a standing stress test using three hard coughs without and then with the Knack maneuver. Volume of urine loss under both conditions was quantified with paper-towel test. Two groups of women were tested: nonpregnant women (n = 64) and pregnant women (n = 29). In nonpregnant women, wetted area decreased from a median (range) of 43.2 (0.2–183.7) cm2 without the Knack maneuver to 6.9 (range of 0 to 183.7 cm2) with it (p < 0.0001); while in pregnant women it decreased from 14.8 (0–169.7) cm2 to 0 (0–96.5) cm2, respectively (p = 0.001). This study confirms the effect from the Knack maneuver as immediate and provides a partial explanation for early response to widely applied pelvic muscle training regimens in women with stress incontinence.
Access options
Buy single article
Instant access to the full article PDF.
US$ 39.95
Tax calculation will be finalised during checkout.
Subscribe to journal
Immediate online access to all issues from 2019. Subscription will auto renew annually.
US$ 119
Tax calculation will be finalised during checkout.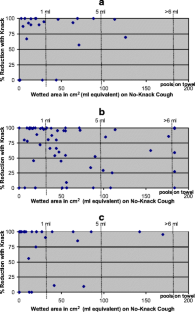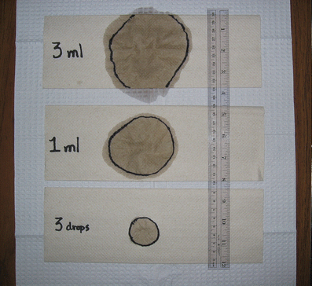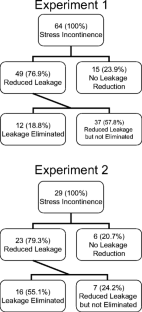 References
1.

Miller JM, Ashton-Miller JA, DeLancey JO (1998) A pelvic muscle precontraction can reduce cough-related urine loss in selected women with mild SUI. J Am Geriatr Soc 46:870–874

2.

Cammu H, Van Nylen M, Derde MP, DeBruyne R Amy JJ (1991) Pelvic physiotherapy in genuine stress incontinence. Urology 38(4):332–337

3.

Hay-Smith EJC, Dumoulin C (2006) Pelvic floor muscle training versus no treatment, or inactive control treatments, for urinary incontinence in women. Cochrane Database Syst Rev, Issue 1. Art. No.:CD005654. DOI 10.1002/14651858.CD005654

4.

Bö K (2004) Pelvic floor muscle training is effective in treatment of female stress urinary incontinence, but how does it work? Int Urogynecol J Pelvic Floor Dysfunc 15(2):76–84

5.

Burgio KL, Zyczynski H, Locher JL, Richter HE, Redden DT, Wright KC (2003) Urinary incontinence in the 12-month postpartum period. Obstet Gynecol 102(6):1291–1298

6.

Wyman JF, Fantl JA, McClish DK, Bump RC (1998) Comparative efficacy of behavioral interventions in the management of female urinary incontinence. Continence Program for Women Research Group. Am J Obstet Gynecol 179(4):999–1007

7.

Burgio KL (1990) Behavioral training for stress and urge in continence in the community. Gerontology 36(2):27–34

8.

Burton JR, Pearce KL, Burgio KL, Engel BT, Whitehead WE (1988) Behavioral training for urinary incontinence in elderly ambulatory patients. J Am Geriatr Soc 36(8):693–698

9.

Bö K, Talseth T (1996) Long term effect of pelvic floor muscle exercise 5 years after cessation of organized training. Obstet Gynecol 87:261–265

10.

Miller JM, Ashton-Miller JA, DeLancey JO (1998) Quantification of cough-related urine loss using the paper towel test. Obstet Gynecol 91(5):705–709

11.

Neumann P, Blizzard L, Grimmer K, Grant R (2004) Expanded paper towel test: an objective test of urine loss for stress incontinence. Neurourol Urodyn 23(7):649–655

12.

Bland JM, Altman DG (1986) Statistical methods for assessing agreement between two methods of clinical measurement. Lancet i:307–310

13.

Miller JM, Perucchini D, Carchidi LT, DeLancey JO, Ashton-Miller J (2001) Pelvic muscle contraction during a cough and decreased vesical neck mobility. Obstet Gynecol 97:255–260

14.

Miller JM, Umek WH, DeLancey JO, Ashton-Miller JA (2004) Can women increase urethral closure pressures without their pubococcygeus muscles? Am J Obstet Gynecol 191(1):171–175

15.

Bö K, Talseth T (1997) Change in urethral pressure during voluntary pelvic floor muscle contraction and vaginal electrical stimulation. Int Urogynecol J Pelvic Floor Dysfunc 8(1):3–6

16.

Bö K, Berghmans LC (2000) Nonpharmacologic treatment for overactive bladder-pelvic floor exercises. Urology 55(5A supplement):7–11

17.

DeLancey JOL, Kearney R, Chou Q, Speights S, Binno S (2003) The appearance of levator ani muscle abnormalities in magnetic resonance images after vaginal delivery. Obstet Gynecol 101(1):46–53

18.

Kegel A (1948) Progressive resistance exercise in the functional restoration of the perineal muscles. Am J Obstet Gynecol 56(2):238–248
Acknowledgements
The study was supported by the National Institutes of Health/National Institute for Nursing Research, Grant # R01 NR04007 (PI Carolyn Sampselle, PhD) and National Institutes of Health/National Institute for Child Health and Human Development, Grant #P50 HD044406 (Director John DeLancey, MD).
Conflicts of interest
None.
Appendices
Appendix A
Look-up table for the University of Michigan paper-towel test
(Please see Miller JM, Ashton-Miller JA, DeLancey JO. "Quantification of Cough-Related Urine Loss Using the Paper-Towel Test" Obstet. Gynecol. 91:705–9, 1998.
(Please direct questions to janismm@umich.edu or jaam@umich.edu)
This look-up table was obtained from our data collated from tests using the brown paper towel, Item #219-24 supplied by Handifold Towel, Fort Howard, Green Bay, WI, USA. Note: If you use a different paper towel, then you must calibrate it in the way described in the above article.)
Usage instructions:
1.

Ask woman to perform the test with a symptomatically full bladder. To achieve this, ask her not to void for 2 h before visit, and drink 0.5 l of water 1 h before arrival. She should be able to void at least 100 ml after the test is complete.

2.

First, have the patient dry her perineum thoroughly in the standing position.

3.

Ask her to hold a new towel lightly against her perineum.

4.

Ask her to take a deep breath and cough "as hard as she can." Repeat two more times.

5.

Take the towel and trace the wetted area with a ballpoint pen 10–15 s after conducting the test.

6.

Using a metric ruler, measure in cm the length (a) and width (b) of the wetted area, and note the results on data sheet. You should measure these lengths to the nearest tenth of a centimeter (i.e, 3.1 cm).

7.

To find the wetted, area you will use the formula for the area of an ellipse (as you will recall, the area of an ellipse is Pi times half the length times half the width). Hence you multiply the length (in cm) by the width (in cm), multiply that result by 3.14, and then divide the result by 4 to obtain the wetted area in units of square centimeters.

8.

Now use the table below to look up the volume of urine corresponding to the closest value of area to that which you measured. If you wish, you may interpolate between adjacent area values.

9.

As an example, suppose you calculated the wetted area as 19.5 cm2. Then you use the table to find that the leakage volume was approximately 0.55 ml (equivalent to 11 drops from an eye drop pipette). If, for more accuracy, you wanted to interpolate the volume, then the volume would be =0.55 + (0.60–0.55) × (19.5–19.2)/(21.2–19.2) = 0.5575 which should be rounded to two decimal places (i.e., 0.56 ml).
Appendix B: Home paper-towel test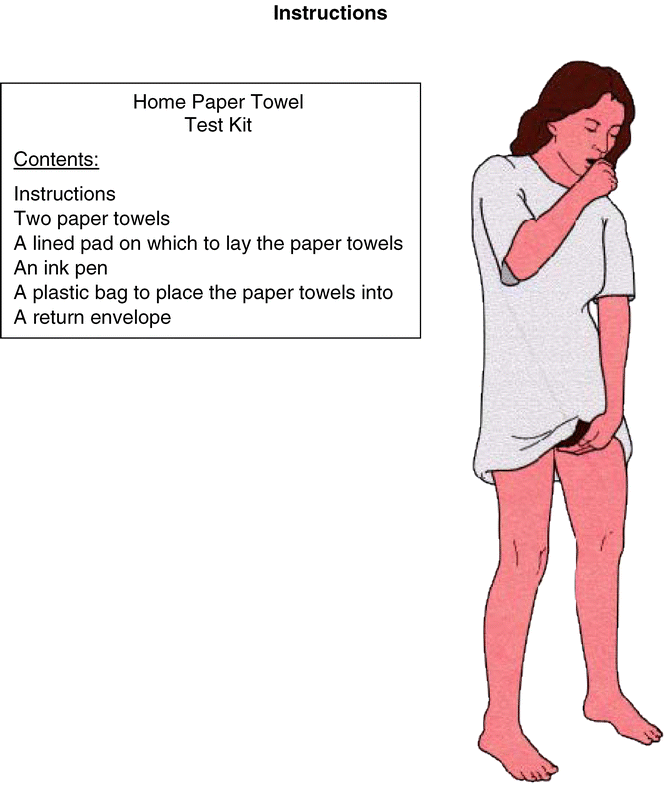 Instructions
One hour before performing the paper-towel test, empty your bladder and drink 16 oz of water. After the hour has passed, perform the test. Alternatively, perform the test first thing in the morning after sleeping at least 5 hours without emptying your bladder.
1.

Lay the paper towels out on the white pad in numbered order.

2.

Paper towels are labeled with your ID and the activity. Please add dates.

3.

Use toilet paper or tissue to wipe away any vaginal secretions.

4.

Start with paper towel #1. Hold the paper towel instruction side toward you lightly against your vagina. Be sure not to double the paper towel over onto itself, just hold it flat in your palm. Cough hard three times, really hard coughs please. (Without consciously contracting your pelvic muscles).

5.

Lay the paper towel onto the white pad, (see picture on back) (Fig. 2) and right away (within 10–15 s of coughing) outline any wetted area with the pen. If the paper towel is dry, just mark a large X on it.

6.

Pat yourself dry with toilet paper again.

7.

Using paper towel #2, repeat the test, but this time try to contract and hold your pelvic floor muscles just before and throughout coughing.

8.

Lay the paper towel onto the pad, and outline any wetted area (within 10–15 s of coughing), or mark with a large X if dry.

9.

Put both towels into the Ziploc plastic bag.

10.

Mail the Ziploc bag back to us in the envelope provided.
Many thanks!
About this article
Cite this article
Miller, J.M., Sampselle, C., Ashton-Miller, J. et al. Clarification and confirmation of the Knack maneuver: the effect of volitional pelvic floor muscle contraction to preempt expected stress incontinence. Int Urogynecol J 19, 773–782 (2008). https://doi.org/10.1007/s00192-007-0525-3
Received:

Accepted:

Published:

Issue Date:
Keywords
Urinary incontinence

Pelvic muscle training

Stress incontinence

Pelvic muscle education

Kegel

Pregnancy