Abstract
The aim of the study was to assess sexual function in women before and after surgery with transvaginal mesh for pelvic organ prolapse. Women were invited to complete a sexual function questionnaire including the Lemack and the Pelvic Organ Prolapse Urinary Incontinence Sexual Questionnaires (PISQ-12) before undergoing surgery and 1 year after surgery. Eighty-three complete pre and postoperative questionnaires were analyzed. Mean age was 65.1 years. Forty-six were sexually inactive and 37 were sexually active women. Two sexually active women completed the preoperative PISQ-12 questionnaire retrospectively after surgery. There were no significant differences after surgery in the answers to the Lemack questionnaire and PISQ-12 scores. These results suggest that nonabsorbable transvaginal mesh repair of genital prolapse does not impair sexual function 1 year after surgery. Nevertheless, patients should not necessarily expect a significant improvement in sexual function outcome following transvaginal mesh repair for genital prolapse.
Access options
Buy single article
Instant access to the full article PDF.
US$ 39.95
Tax calculation will be finalised during checkout.
Subscribe to journal
Immediate online access to all issues from 2019. Subscription will auto renew annually.
US$ 119
Tax calculation will be finalised during checkout.
References
1.

Suback LL, Waetjen LE, Van den Eeden S, Thom DH, Vittinghoff E, Brown JS (2001) Cost of pelvic organ prolapse surgery in the United States. Obstet Gynecol 98:646–651

2.

Olsen AL, Smith VJ, Bergstrom JO, Colling JC, Clark AL (1997) Epidemiology of surgically managed pelvic organ prolapse and urinary incontinence. Obstet Gynecol 89:501–506

3.

Milani R, Salvatore S, Soligo M, Pifarotti P, Meschia M, Cortese M (2005) Functional and anatomical outcome of anterior and posterior vaginal prolapse repair with prolene mesh. BJOG 112:107–111

4.

Dwyer PL, O'Reilly BA (2004) Transvaginal repair of anterior and posterior compartment prolapse with atrium polypropylene mesh. BJOG 111:831–836

5.

Shah DK, Paul EL, Rastinehad AR, Eisenberg ER, Badlani GH (2004) Short-term outcome analysis of total pelvic reconstruction with mesh: the vaginal approach. J Urol 171:261–263

6.

Sentilhes L, Sergent F, Resch B, Verspyck E, Descamps P, Marpeau L (2007) Mid-term follow-up of high-grade genital prolapse repair by the trans-obturator and infracoccygeal hammock procedure after hysterectomy. Eur Urol 51:1065–1072

7.

Tunuguntla HS, Gousse AE (2006) Female sexual dysfunction following vaginal surgery: a review. J Urol 175:439–446

8.

Rogers RG, Kammerer-Doak D, Darrow A, Murray K, Qualls C, Olsen A, Barber M (2006) Does sexual function change after surgery for stress urinary incontinence and/or pelvic organ prolapse? A multicenter prospective study. Am J Obstet Gynecol 195:e1–e4

9.

Barber MD, Vusci AG, Wyman JF, Fantl JA, Bump RC (2002) Sexual function in women with urinary incontinence and pelvic organ prolapse. Obstet Gynecol 99:281–289

10.

Yucel S, De Souza A Jr, Baskin LS (2004) Neuroanatomy of the human female lower urogenital tract. J Urol 172:191–195

11.

Salonia A, Briganti A, Deho F, Zanni G, Rigatti P, Montorsi F (2006) Women's sexual dysfunction: a review of the "surgical landscape". Eur Urol 50:44–52

12.

Vardi Y (2006) Female sexual dysfunction after pelvic surgery: is there a place for nerve-sparing surgery?. Eur Urol 50:14–16

13.

Weber AM, Walters MD, Piedmonte MR (2000) Sexual function and vaginal anatomy in women before and after surgery for pelvic organ prolapse and urinary incontinence. Am J Obstet Gynecol 182:1610–1615

14.

Bump RC, Mattiasson A, Bo K, Brubaker LP, DeLancey JL, Klarskov P et al (1996) The standardization of terminology of female pelvic organ prolapse and pelvic floor dysfunction. Am J Obstet Gynecol 175:10–17

15.

Sentilhes L, Sergent F, Resch B, Berthier A, Verspyck E, Marpeau L (2006) Posthysterectomy posterior compartment prolapse: preliminary results of a novel transvaginal surgical procedure using polypropylene mesh via the low transobturator route. Ann Chir 131:533–539

16.

Sergent F, Resch B, Diguet A, Verspyck E, Marpeau L (2006) Vaginal prolapse and stress urinary incontinence: combined treatment by a single prosthesis. Prog Urol 16:361–367

17.

Cosson M, Debodinance M, Boukerrou M, Chauvet MP, Crepin G, Ego A (2003) Mechanical properties of synthetic implants used in the repair of prolapse and urinary incontinence in patients: which is the ideal material? Int Urogynecol J 14:169–178

18.

Collinet P, Deruelle P, Lucot JP, Cosson M (2005) Perineal cellulitis following trans-obturator sub-urethral tape Uratape. Eur Urol 47:108–110

19.

Lemack GE, Zimmern PE (2000) Sexual function after vaginal surgery for stress incontinence: results of a mailed questionnaire. Urology 56:223–227

20.

Rogers RG, Coates KW, Kammerer-Doak DN, Khalsa S, Qualls C (2003) A short form of the pelvic organ prolapse–urinary incontinence sexual questionnaire (PISQ-12). Int Urogynecol J Pelvic Floor Dysfunct 14:164–168

21.

Benhaim Y, de Tayrac R, Deffieux X, Gervaise A, Chauveaud-Lambling A, Frydman R, Fernandez H (2006) Treatment of genital prolapse with a polypropylene mesh inserted via the vaginal route. Anatomic and functional outcome in women aged less than 50 years. J Gynecol Obstet Biol Reprod 35:219–226

22.

Petros PE (2001) Vault prolapse II: restoration of dynamic vaginal supports by infracoccygeal sacropexy, an axial day-case vaginal procedure. Int Urogynecol J Pelvic Floor Dysfunct 12:296–303

23.

Sentilhes L, Sergent F, Marpeau L, Descamps P (2007) Should intravaginal slingplasty (IVS) procedure be abandoned? Am J Obstet Gynecol 196:e18

24.

Black NA, Bowling A, Griffiths JM, Pope C, Abel PD (1998) Impact of surgery for stress incontinence on the social lives of women. BJOG 105:605–612
Acknowledgement
Our sincere thanks to our patients who took the time to complete these questionnaires and to Richard Medeiros, Rouen University Hospital Medical Editor, for his valuable editorial assistance.
Funding
The authors confirm that they have no direct or indirect commercial financial incentive associated with publishing the article and that the source of extra-institutional funding, particularly that provided by commercial sources, is indicated.
Appendix
Appendix
Pelvic Organ Prolapse Urinary Incontinence Sexual Function Questionnaire
(PISQ-12) [20]
Instructions: Following are a list of questions about you and your partner's sex life. All information is strictly confidential. Your confidential answers will be used only to help doctors understand what is important to patients about their sex lives. Please check the box that best answers the question for you. While answering the questions, consider your sexuality over the past 6 months. Thank you for your help.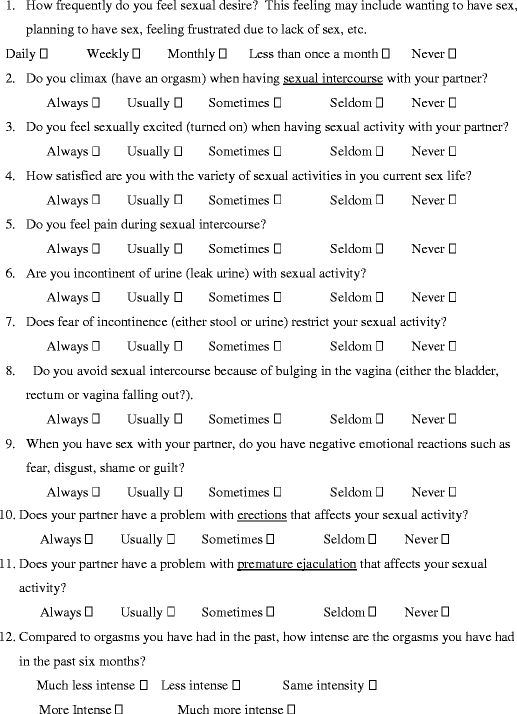 Scoring:
Scores are calculated by totaling the scores for each question with 0=always, 4=never. Reverse scoring is used for items 1, 2, 3, and 4. The short-form questionnaire can be used with up to two missing responses. To handle missing values, the sum is calculated by multiplying the number of items by the mean of the answered items. If there are more than two missing responses, the short form no longer accurately predicts long-form scores. To make scores comparable to long-form scores, multiply the total by 2.58 (31/12).
Lemack Questionnaire [19]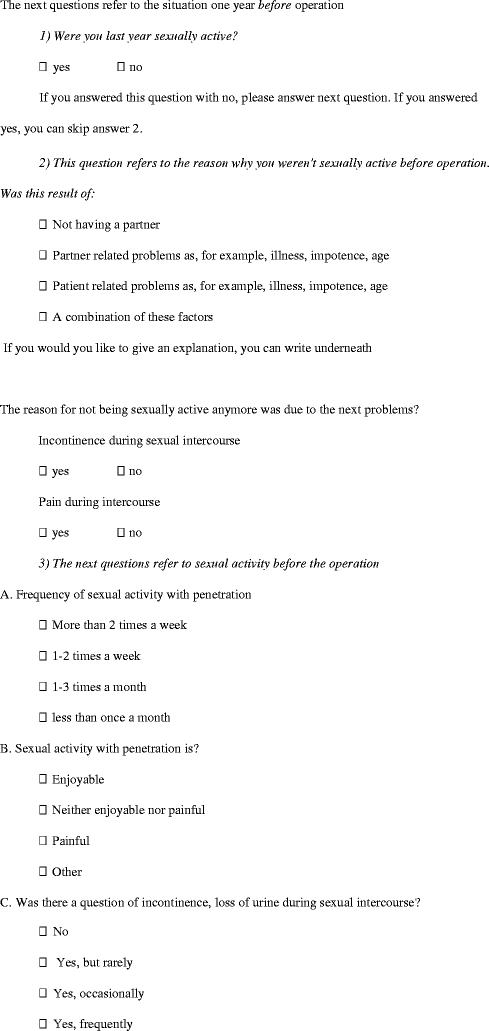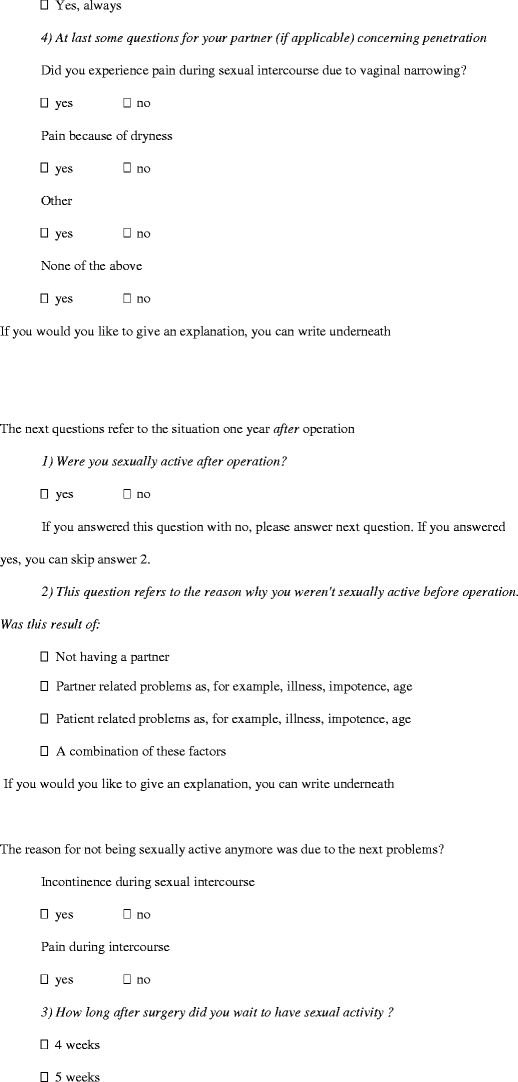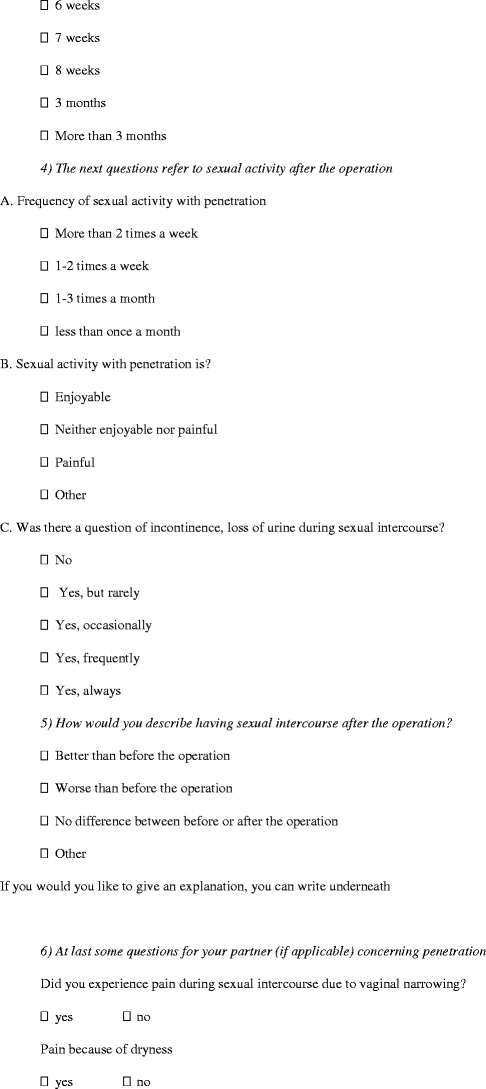 About this article
Cite this article
Sentilhes, L., Berthier, A., Sergent, F. et al. Sexual function in women before and after transvaginal mesh repair for pelvic organ prolapse. Int Urogynecol J 19, 763–772 (2008). https://doi.org/10.1007/s00192-007-0521-7
Received:

Accepted:

Published:

Issue Date:
Keywords
Sexual function

Pelvic organ prolapse

Urinary incontinence

Dyspareunia

Mesh