Abstract
Objective: To test whether cannabinoids reduce urge incontinence episodes without affecting voiding in patients with multiple sclerosis. This was part of the multicentre trial of the Cannabinoids in Multiple Sclerosis (CAMS) study. Subjects and methods: The CAMS study randomised 630 patients to receive oral administration of cannabis extract, Δ9-tetrahydrocannabinol (THC) or matched placebo. For this substudy subjects completed incontinence diaries. Results: All three groups showed a significant reduction, p<0.01, in adjusted episode rate (i.e. correcting for baseline imbalance) from baseline to the end of treatment: cannabis extract, 38%; THC, 33%; and placebo, 18%. Both active treatments showed significant effects over placebo (cannabis extract, p=0.005; THC, p=0.039). Conclusion: The findings are suggestive of a clinical effect of cannabis on incontinence episodes in patients with MS. This is in contrast to the negative finding of the CAMS study, where no difference was seen in the primary outcome of spasticity.
This is a preview of subscription content, log in to check access.
Access options
Buy single article
Instant access to the full article PDF.
US$ 39.95
Price includes VAT for USA
Subscribe to journal
Immediate online access to all issues from 2019. Subscription will auto renew annually.
US$ 199
This is the net price. Taxes to be calculated in checkout.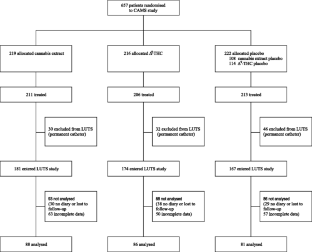 References
1.

Betts CD, Dmellow MT, Fowler CJ (1993) Urinary symptoms and the neurological features of bladder dysfunction in multiple-sclerosis. J Neurol Neurosurg Psychiatry 56(3):245–250

2.

Goldstein I, Siroky MB, Sax DS, Krane RJ (1982) Neurourologic abnormalities in multiple-sclerosis. J Urol 128(3):541–545

3.

Hinson JL, Boone TB (1996) Urodynamics and multiple sclerosis. Urol Clin North Am 23(3):475

4.

Sliwa JA, Bell HK, Mason KD, Gore RM, Nanninga J, Cohen B (1996) Upper urinary tract abnormalities in multiple sclerosis patients with urinary symptoms. Arch Phys Med Rehabil 77(3):247–251

5.

Nathan PW, Smith NC (1982) The centrifugal pathway for micturition with the spinal cord. J Neurol Neurosurg Psychiatry 21:177

6.

Chancellor MB, Blaivas JG (1994) Urological and sexual problems in multiple-sclerosis. Clin Neurosci 2(3–4):189–195

7.

Gonor SE, Carroll DJ, Metcalfe JB (1985) Vesical dysfunction in multiple-sclerosis. Urology 25(4):429–431

8.

Madersbacher H, Wyndaele JJ, Igawa Y, Chancellor M, Chartier-Kastler E, Kovindha A (2002) Conservative management in neuropathic urinary incontinence. In: Abrams P et al (eds) Incontinence: 2nd international consultation on incontinence, Health Publication Ltd., Plymouth, pp 697–754

9.

De Ridder D, Baert L (2000) Vanilloids and the overactive bladder. BJU Int 86(2):172–180

10.

de Seze M, Wiart L, Ferriere JM, de Seze MP, Joseph PA, Barat M (1999) Intravesical instillation of capsaicin in urology: a review of the literature. Eur Urol 36(4):267–277

11.

Rapp DE, Lucioni A, Katz EE, O'Connor RC, Gerber GS, Bales GT (2004) Use of botulinum-a toxin for the treatment of refractory overactive bladder symptoms: an initial experience. Urology 63:1071–1075

12.

Litwiller SE, Frohman EM, Zimmern PE (1999) Multiple sclerosis and the urologist. J Urol 161(3):743–757

13.

Burton TA (1979) Urinary retention following cannabis ingestion. JAMA 242(4):351

14.

Consroe P, Musty R, Rein J, Tillery W, Pertwee R (1997) The perceived effects of smoked cannabis on patients with multiple sclerosis. Eur Neurol 38(1):44–48

15.

Brady CM, DasGupta R, Wiseman OJ, Dalton CM, Berkley KJ, Fowler CJ (2002) The effect of cannabis based medicinal extract on lower urinary tract dysfunction in advanced multiple sclerosis: preliminary results. J Neurol Neurosurg Psychiatry 72(1):139

16.

Zajicek J, Fox P, Sanders H, Wright D, Vickery J, Nunn A, Thompson A (2003) Cannabinoids for treatment of spasticity and other symptoms related to multiple sclerosis (CAMS study): multicentre randomised placebo-controlled trial. Lancet 362(9395):1517–1526

17.

Groutz A, Blaivas JG, Chaikin DC, Resnick NM, Engleman K, Anzalone D, Bryzinski B, Wein AJ (2000) Noninvasive outcome measures of urinary incontinence and lower urinary tract symptoms: a multicenter study of micturition diary and pad tests. J Urol 164(3):698–701

18.

Kelleher CJ, Cardozo LD, Khullar V, Salvatore S (1997) A new questionnaire to assess the quality of life of urinary incontinent women. Br J Obstet Gynaecol 104(12):1374–1379

19.

Lose G, Fantl JA, Victor A, Walter S, Wells TL, Wyman J, Mattiasson A (1998) Outcome measures for research in adult women with symptoms of lower urinary tract dysfunction. Neurourol Urodyn 17(3):255–262

20.

Abrams P, Cardozo L, Fall M, Griffiths D, Rosier P, Ulmsten U, van Kerrebroeck P, Victor A, Wein A (2002) The standardisation of terminology of lower urinary tract function: report from the of the International Standardisation Sub-Committee Continence Society. Neurourol Urodyn 21(2):167–178

21.

Artibani W, Andersen JT, Gajewski JB, Ostergard DR, Raz S, Tubaro A (2002) Imaging and other investigations. in: Abrams P et al (eds) Incontinence: 2nd international consultation on incontinence, Health Publication Ltd., Plymouth, pp 697–754

22.

Goldstein H (1995) Multilevel statistical models, 2nd edn. Arnold, London

23.

Cnaan A, Laird NM, Slasor P (1997) Using the general linear mixed model to analyse unbalanced repeated measures and longitudinal data. Stat Med 16(20):2349–2380

24.

Coyne KS, Matza LS, Thompson CL (2005) The responsiveness of the Overactive Bladder Questionnaire (OAB-q). Qual Life Res 14:849–855

25.

Greenland JE, Brading A (1995) The in-vitro effect of delta-9 tetrahydrocannabinol on the detrusor smooth muscle of the pig. Proceedings of the International Continence Society, Sydney, pp 87–88

26.

Ost D, Van der Aa F, De Ridder D (2001) Immunohistochemical study of the cannabinoid receptors CB1 and CB2 in the human bladder. Mult Scler 7(1):S24

27.

Pertwee RG, Fernando SR (1996) Evidence for the presence of cannabinoid CB1 receptors in mouse urinary bladder. Br J Pharmacol 118(8):2053–2058

28.

Blyweert W, Van der Aa F, De Ridder D (2003) Cannabinoid therapy in detrusor overactivity: local versus systemic effect in a spinalised rat model. Neurourol Urodyn 22(5):379–380

29.

Schurch B, Hauri D, Rodic B, Curt A, Meyer M, Rossier AB (1996) Botulinum-A toxin as a treatment of detrusor-sphincter dyssynergia: a prospective study in 24 spinal cord injury patients. J Urol 155(3):1023–1029
Acknowledgements
This study was funded by a grant from the Multiple Sclerosis Society. The Medical Research Council sponsored the main CAMS study. Solvay Healthcare Ltd. and the Institute for Clinical Research, IKF, Berlin, provided medication. We thank all patients who took part in the study. We acknowledge the assistance of the CAMS study team, particularly Jane Vickery for trial coordination and help with drafting the paper, Wendy Ingram for assistance with figure construction, Hilary Sanders for further statistical support as well as Suzi Reilly, Judy Willcocks, Sue Varley, Mark Warner, Lara Teare, Felicity Coates and Rosemary Bishop (urodynamic nurse).
About this article
Cite this article
Freeman, R.M., Adekanmi, O., Waterfield, M.R. et al. The effect of cannabis on urge incontinence in patients with multiple sclerosis: a multicentre, randomised placebo-controlled trial (CAMS-LUTS). Int Urogynecol J 17, 636–641 (2006). https://doi.org/10.1007/s00192-006-0086-x
Received:

Accepted:

Published:

Issue Date:
Keywords
Cannabis

Cannabinoid

Multiple sclerosis

Urge incontinence

Neurogenic detrusor overactivity

Controlled trial