Abstract
The aims of this study were to investigate the reasons why some women with long-term urinary incontinence (UI) seek professional help whereas others do not, their experiences and satisfactions with the healthcare services, and how women deal with their incontinence. In total, 95 women aged 23–51 years with persistent UI (median 10 years, range 6–20 years) were included in this telephone interview survey. Seventy-four percent of the women with long-term UI had not sought help. The most common reason given was that the disorder was considered a minor problem, which they felt they could cope with on their own. When women did consult professional help they did so because they were afraid of the odor of urine and that they perceived the leakage as shameful and embarrassing. These women felt that the healthcare service offered appropriate care for their condition. Pelvic floor exercises were the most commonly used management methods for all participants.
Access options
Buy single article
Instant access to the full article PDF.
US$ 39.95
Tax calculation will be finalised during checkout.
Abbreviations
-:

UI Urinary incontinence
References
1.

Rekers H, Drogendijk AC, Valkenburg H, Riphagen F (1992) Urinary incontinence in women from 35 to 79 years of age: prevalence and consequences. Eur J Obstet Gynecol Reprod Biol 43:229–234

2.

Simenova Z, Milsom I, Kullendorff AM, Molander U, Bengtsson C (1999) The prevalence of urinary incontinence and its influence on the quality of life in women from an urban Swedish population. Acta Obstet Gynecol Scand 78:546–551

3.

Hägglund D, Walker-Engström ML, Larsson G, Leppert J (2001) Quality of life and seeking help in women with urinary incontinence. A population-based study. Acta Obstet Gynecol Scand 80:1051–1055

4.

Holst K, Wilson PD (1988) The prevalence of female urinary incontinence and reasons for not seeking treatment. NZ Med J 101:756–758

5.

Seim A, Sandvik H, Hermstad R, Hunskaar S (1995) Female urinary incontinence – consultation behaviour and patient experiences: an epidemiological survey in a Norwegian community. Fam Pract 12:18–21

6.

Burgio KL, Matthews KA, Engel BT (1991) Prevalence, incidence and correlates of urinary incontinence in healthy middle-aged women. J Urol 146:1255–1259

7.

Goldstein M, Hawthorne ME, McDowell BJ, Burgio KL (1992) Urinary incontinence. Why people do not seek help. J Ger Nurs 18:15–20

8.

Shaw C, Tansey R, Jackson C, Hyde C, Allan R (2001) Barriers to help seeking in people with urinary symptoms. Fam Pract 18:48–51

9.

Seim A, Hunskaar S (2000) Female urinary incontinence – the role of the general practitioner. Acta Obstet Gynecol Scand 79:1046–1051

10.

Lagro-Janssen ALM, Debuyne FMJ, Smits AJA, Van Weel C (1991) Controlled trials of pelvic floor exercises in the treatment of urinary stress incontinence in general practice. Br J Gen Pract 41:445–449

11.

O'Brien J, Long H (1995) Urinary incontinence: long term effectiveness of nursing intervention in primary care. Br Med J 311:1208

12.

Shaw C (2001) A review of the psychosocial predictors of help-seeking behaviour and impact on quality of life in people with urinary incontinence. J Clin Nurs 10:15–24

13.

Stoddart H, Donavan J, Whitley E, Sharp D, Harvey I (2001) Urinary incontinence in older people in the community: a neglected problem? Br J Gen Pract 51:548–554

14.

Mittenes LS (1990) Knowledge and beliefs about urinary incontinence in adulthood and old age. J Am Geriatr Soc 38:374–378

15.

Hunskaar S, Arnold EP, Burgio K, Diokno AC, Herzog AR, Mallett VT (2000) Epidemiology and natural history of urinary incontinence. Int Urogynecol J 11:309–319

16.

Hägglund D, Walker-Engström M-L, Larsson G, Leppert J. Quality of life, cumulative incidence and remission rates and management of urinary incontinence. A four-year-follow-up population-based study of women aged 22–50 years. (Submitted)

17.

Sandvik H, Seim A, Vanvik A, Hunskaar S (2000) A severity index for epidemiological surveys of female urinary incontinence: Comparison with 48-hour pad-weighing tests. Neurourol Urodyn 19:137–145

18.

Bo K, Talseth T, Vinsnes A (2000) Randomized controlled trial on the effect of pelvic floor muscle training on quality of life and sexual problems in genuine stress incontinent women. Acta Obstet Gynecol Scand 79:598–603

19.

Hannestad Y, Rortveit G, Hunskaar S (2002) Help-seeking and associated factors in female urinary incontinence. Scand J Prim Health Care 20:102–107

20.

Klarskov P, Nielsen K, Knudsen LM, Norgaard JP, Djurhuus JC (1991) Long-term results of pelvic floor training for female genuine stress incontinence. Int Urogynecol J 2:132–135
Acknowledgement
The study was supported by a grant from the Västmanland County Research Foundation.
Additional information
Editorial Comment: In this survey of 78 women aged 23–51 with reported urinary incontinence, only 20 (26%) sought professional help for this problem. Although the majority of women in this younger sample deemed their problem to be minor, increasing urinary leakage, embarrassment and fear of odor were the most frequent reasons given for seeking help. This study highlights the taboo regarding urinary incontinence.
APPENDIX
APPENDIX
Interview Questionnaire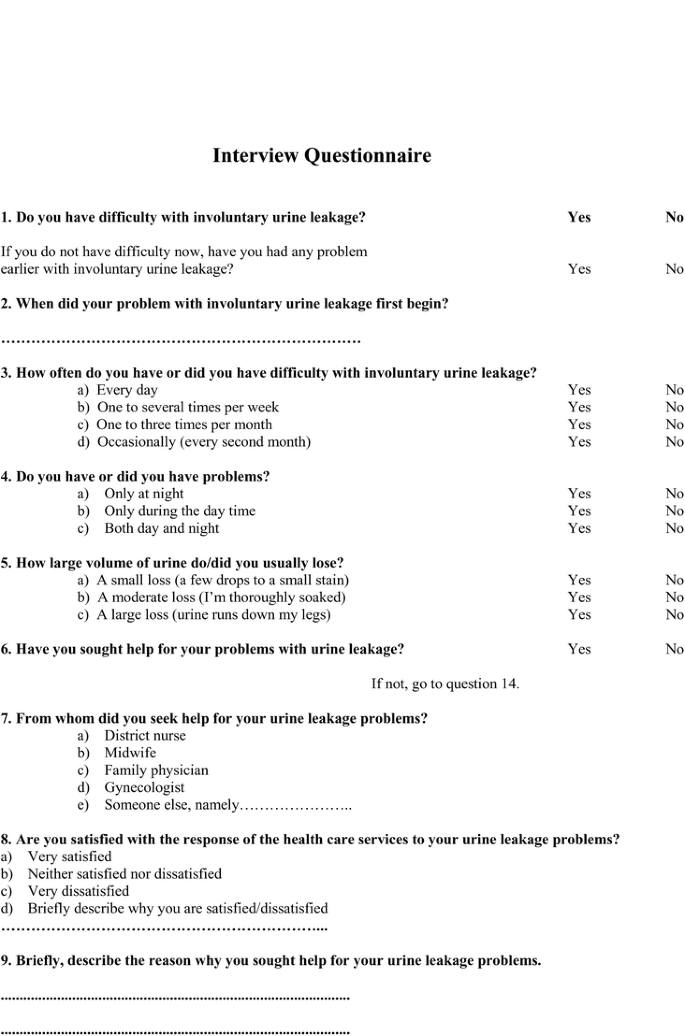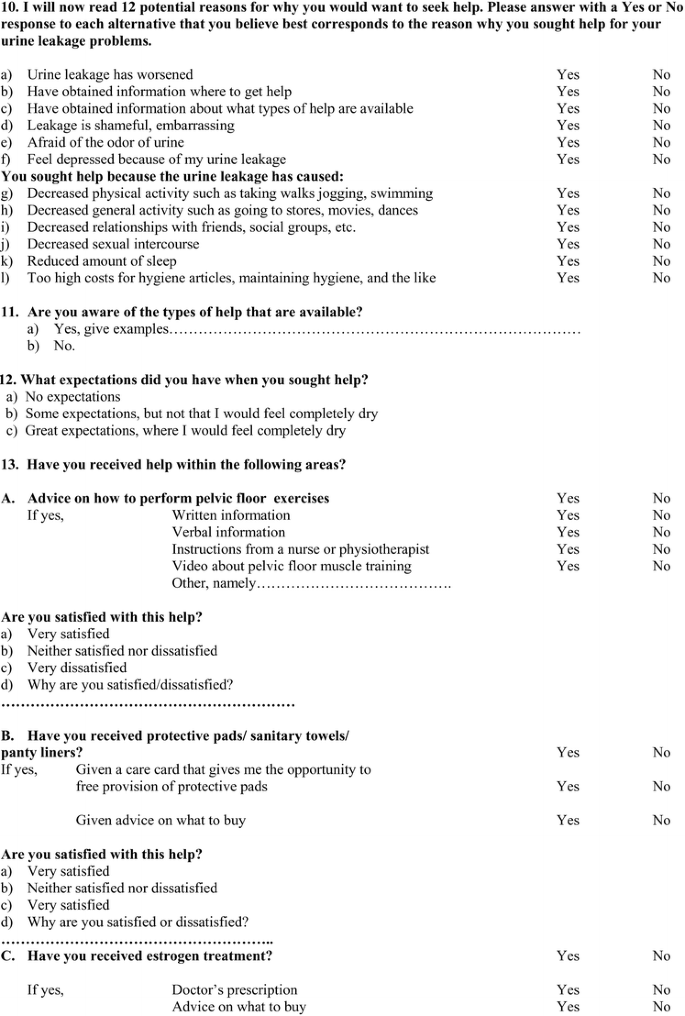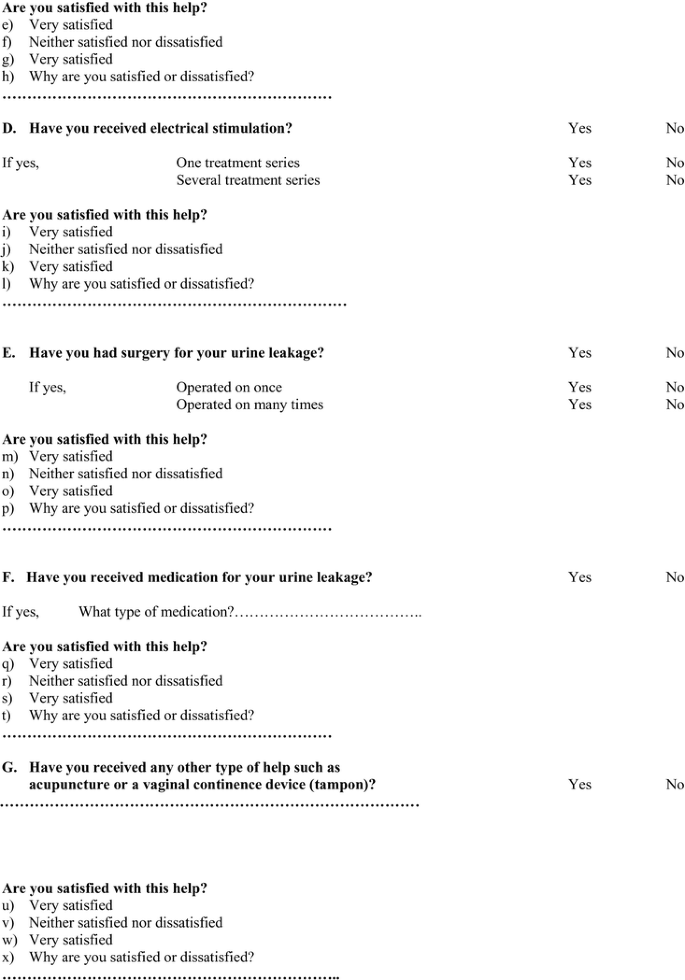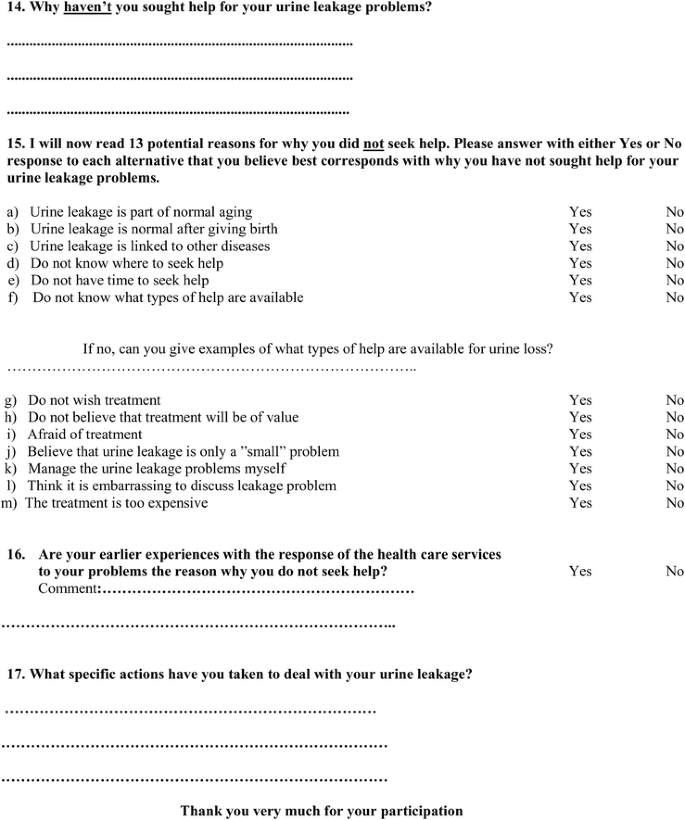 About this article
Cite this article
Hägglund, D., Walker-Engström, ML., Larsson, G. et al. Reasons why women with long-term urinary incontinence do not seek professional help: a cross-sectional population-based cohort study. Int Urogynecol J 14, 296–304 (2003). https://doi.org/10.1007/s00192-003-1077-9
Received:

Accepted:

Published:

Issue Date:
Keywords
Seeking help

Urinary incontinence

Women