Abstract
This study addresses the following matters: What is the structure and mechanism of modern capital economic dynamics that motivates the growth limits of capitalism? The modern economy can be modeled as Entrepreneurial Cyclical Dynamics of Open Innovation with three sub-economies such as market open innovation by SMEs and start-ups, closed open innovation by big business, and social open innovation. When there is low balance among the three sub-economies, which is to say, if any of the sub-economies is too big, or too small, the economy dynamics decreases, and the economic growth rate slows down to nearly zero or even negative according to the model simulation. South Korea, with a low internal reserve policy, is in this situation. When there is medium balance among three sub-economies, which is to say, any of the sub-economies is big enough to lead the total economy but is not sufficiently big to control totally the other two economies, the economy dynamics increases and the economic growth rate will be maintained at a high level according to the model simulation. India, with its grassroots innovation festival, demonstrates this situation. When there is a high balance among the three sub-economies, which is to say, the three sub-economies are well balanced and there is no change in the economic system, the economy dynamics become too low and the economic growth rate stays at a low level according to the model simulation. Japan's Hitachi is moving from this situation to a medium balance.
Access options
Buy single article
Instant access to the full article PDF.
US$ 39.95
Tax calculation will be finalised during checkout.
Subscribe to journal
Immediate online access to all issues from 2019. Subscription will auto renew annually.
US$ 79
Tax calculation will be finalised during checkout.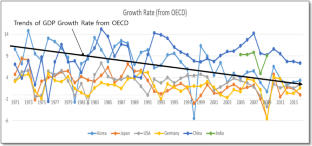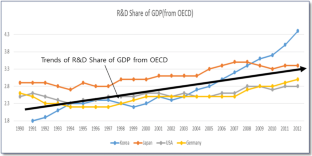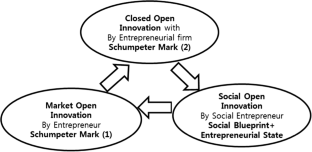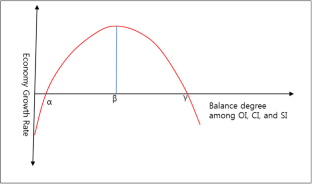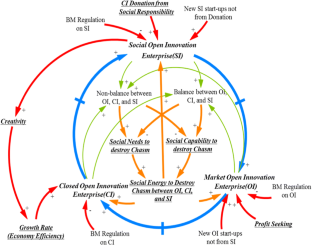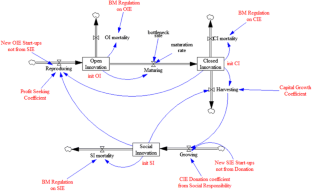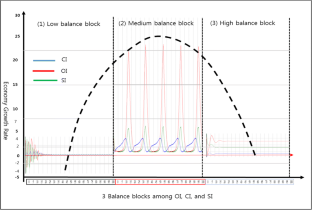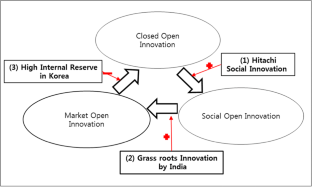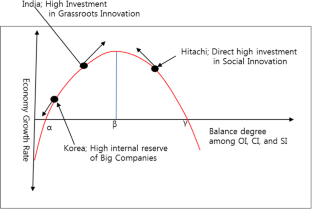 References
Abramovitz M (1986) Catching up, forging ahead, and falling behind. J Econ Hist 46(2):385–406

Abramovitz M (1995) The elements of social capability. In: Koo BH, Perkins DH (eds) Social capability and long-term economic growth. Palgrave Macmillan, London

Abramovitz M, David PA (1996) Convergence and deferred catch-up: productivity leadership and the waning of American exceptionalism. In: Landau R, Taylor T, Wright G (eds) The mosaic of economic growth. Stanford University Press, Stanford

Barlas Y (1994) Model validation in system dynamics. In: Monaghan C, Wolstenholme E (eds) System dynamics: methodological and technical issues, conference proceedings of the 12th International System Dynamics Conference, University of Stirling, Scotland. UK. System Dynamics Society, New York, pp 1–10

Breschi S, Malerba F, Orsenigo L (2000) Technological regimes and Schumpeterian patterns of innovation. Econ J 110:388–410

Bruun C (2003) The economy as an agent-based whole—simulating Schumpeterian dynamics. Ind Innov 10:475–491

Chauvet E, Paullet JE, Previte JP, Walls Z (2002) A Lotka-Volterra three-species food chain. Math Mag 75(4):243–255

Chesbrough HW (2006) Open innovation: the new imperative for creating and profiting from technology. Harvard Business School Press, Boston

Chesbrough HW (2013) Open business models: how to thrive in the new innovation landscape. Harvard Business School Press, Boston

Dahlman CJ, Nelson R (1995) Social absorption capability, National Innovation Systems and economic development. In: Koo BH, Perkins DH (eds) Social capability and long-term economic growth. Palgrave Macmillan, London

Day RH (1984) Disequilibrium economic dynamics: a post-Schumpeterian contribution. J Econ Behav Organ 5:57–76

de Felice A (2014) Measuring the social capabilities and the implication on innovation: evidence from a special industrial cluster. J Econ Stud 41(6):907–928

Gupta AK (2013) Tapping the entrepreneurial potential of grassroots innovation. Stanf Soc Innov Rev 11:18–20

Hanusch H, Pyka A (2006) Principles of neo-Schumpeterian economics. Camb J Econ 31(2):275–289

Henkin GM, Polterovich VM (1991) Schumpeterian dynamics as a non-linear wave theory. J Math Econ 20:551–590

Hitachi Home Page, http://www.hitachi.com/

Iwai K (2000) A contribution to the evolutionary theory of innovation, imitation and growth. J Econ Behav Organ 43:167–198

Jang HS (2014) Capitalism in Korea (Korean). Heybooks, Seoul

Jang HS (2015) Why should we be angry?; capitalism in Korea 2nd inequality of Korean which was made by the failure of distribution(Korean). Heybooks, Seoul

Jeon JH, Kim SK, Koh JH (2015) Historical review on the patterns of open innovation at the national level: the case of the Roman period. J Open Innov Technol Mark Complex 1:1–17

Keynes JM (1937) The general theory of employment. Q J Econ 51:209–223

Kodama F, Shibata T (2015) Demand articulation in the open-innovation paradigm. J Open Innov Technol Mark Complex 1:1–21

Kofoid C (1925) Elements of physical biology. American Public Health Association

Kondratieff ND (1979) The long waves in economic life. Rev (Fernand Braudel Center):519–562

Koo BH, Perkins DH (1995) Social capability and long-term economic growth. Palgrave Macmillan, London

Lee K (2013) Schumpeterian analysis of economic catch-up: knowledge, path-creation, and the middle-income trap. Cambridge University Press, Cambridge

Lee K, Lim C (2001) Technological regimes, catching-up and leapfrogging: findings from the Korean industries. Res Policy 30(3):459–483

Lotka AJ (1920) Analytical note on certain rhythmic relations in organic systems. Proc Natl Acad Sci U S A 6:410–415

Luna-Reyes LF, Andersen DL (2003) Collecting and analyzing qualitative data for system dynamics: methods and models. Syst Dyn Rev 19:271–296

Lundvall B-Å (2013) Innovation studies: a personal interpretation of the state of the art. In: Innovation studies: evolution and future challenges, pp 21–70

Malerba F, Orsenigo L (1996) The dynamics and evolution of industries. Ind Corp Chang 5:51–87

Maltus TR (2006) An essay on the principle of population, vol 1. Cosimo, Inc., New York

Mathews J (2002) A resource-based view of Schumpeterian economic dynamics. J Evol Econ 12:29–54

Mazzucato M (2011) The entrepreneurial state. Soundings 49(49):131–142

Moore JF (1993) Predators and prey: a new ecology of competition. Harv Bus Rev 71(3):75–86

Morioka M, Kuramochi K, Mishina Y, Akiyama T, Taniguchi N (2015) City management platform using big data from people and traffic flows. Hitachi Rev 64:52–57

Nelson RRWSG (1982) An evolutionary theory of economic change. Harvard University Press, Cambridge

Nelson, R. R., Dosi, G., Helfat, C. E., Pyka, A., Saviotti, P. P., Lee, K., . . . Malerba, F. (2018). Modern evolutionary economics: an overview. Cambridge University Press, Cambridge

Patra SK, Krishna VV (2015) Globalization of R&D and open innovation: linkages of foreign R&D centers in India. J Open Innov Technol Mark Complex 1:1–24

Piketty T (1995) Social mobility and redistributive politics. Q J Econ 110(3):551–584

Piketty T (2015) About capital in the twenty-first century. Am Econ Rev 105(5):48–53

Pyka A (2017) Transformation of economic systems: the bio-economy case. In: Knowledge-driven developments in the bioeconomy. Springer, Berlin, pp 3–16

Saviotti PP, Pyka A (2004) Economic development by the creation of new sectors. J Evol Econ 14(1):1–35

Saviotti PP, Pyka A (2008) Micro and macro dynamics: industry life cycles, inter-sector coordination and aggregate growth. J Evol Econ 18(2):167–182

Schumpeter JA (1934) The theory of economic development: an inquiry into profits, capital, credit, interest, and the business cycle, vol 55. Transaction Publishers, Piscataway

Schumpeter JA (1939) Business cycles: a theoretical, historical, and statistical analysis of the capitalist process, vol 1. McGraw-Hill, New York

Schumpeter JA (1942) Capitalism, socialism and democracy. Routledge, London

Schumpeter JA (1954) History of economic analysis. Oxford University Press, New York

Simon HA (1972) Theories of bounded rationality. In: McGuire CB, Radner R (eds) Decision and organization. North-Holland Pub. Co., Amsterdam, pp 161–176

Smith A, Fressoli M, Thomas H (2014) Grassroots innovation movements: challenges and contributions. J Clean Prod 63:114–124

Sterman JD (2001) System dynamics modeling: tools for learning in a complex world. Calif Manag Rev 43:8–25

Stiglitz JE (2012) The price of inequality: how today's divided society endangers our future. WW Norton & Company, New York City

Teece DJ (2007) Explicating dynamic capabilities: the nature and microfoundations of (sustainable) enterprise performance. Strateg Manag J 28:1319–1350

Teece DJ, Pisano G, Shuen A (1997) Dynamic capabilities and strategic management. Strateg Manag J 18:509–533

Temple J, Johnson PA (1998) Social capability and economic growth. Q J Econ 113(3):965–990

Van den Bergh JC (2004) Evolutionary analysis of the relationship between economic growth, environmental quality and resource scarcity, Tinbergen Institute Discussion Paper, No. 04-048/3

Verhulst P-F (2009) Notice sur la loi que la population poursuit dans son accroissement. Correspondance Mathématique et Physique 10:113–121

Volterra V (1926) Fluctuations in the abundance of a species considered mathematically. Nature Publishing Group, London

Winter SG (1984) Schumpeterian competition in alternative technological regimes. J Econ Behav Organ 5:287–320

Witt U (2002) How evolutionary is Schumpeter's theory of economic development? Ind Innov 9:7–22

Witt U (2009) Novelty and the bounds of unknowledge in economics. J Econ Methodol 16(4):361–375

Witt U, Brenner T (2008) Output dynamics, flow equilibria and structural change—a prolegomenon to evolutionary macroeconomics. J Evol Econ 18(2):249–260

Woolcock M (2001) The place of social capital in understanding social and economic outcomes. Can J Pol Res 2(1):11–17

Yoshikawa Y, Sato A, Hirasawa S, Takahashi M, Yamamoto M (2012) Hitachi's vision of the smart city. Hitachi Rev 61:111

Yun JJ (2015) How do we conquer the growth limits of capitalism? Schumpeterian dynamics of open innovation. J Open Innov Technol Mark Complex 1:17

Yun JJ, Won D, Hwang B, Kang J, Kim D (2015) Analysing and simulating the effects of open innovation policies: application of the results to Cambodia. Sci Public Policy 42:743–760

Yun JJ, Won D, Jeong E, Park K, Yang J, Park J (2016a) The relationship between technology, business model, and market in autonomous car and intelligent robot industries. Technol Forecast Soc 103:142–155

Yun JJ, Won D, Park K (2016b) Dynamics from open innovation to evolutionary change. J Open Innov Technol Mark Complex 2:7
Acknowledgements
This work was supported by the DGIST R&D Program of the Ministry of Science, ICT and Future Planning (16, and 17). This paper was first presented at ISS 2016, and SOItmC, and was fully updated based on several anonymous reviewers' comments. JinHyo Joseph Yun has created original ideas and provided basic concepts, wrote the all the drafts, and has taken the role of first and corresponding author. KyungBae Park made the entrepreneurial cyclical dynamics causal model and mathematical model. DongKyu Won performed system dynamics simulations of total and individual cases. So, JinHyo Joseph Yun as corresponding author wants to point out KyungBae Park, and DongKyu Won as co-corresponding author together with the agreement of all authors.
Ethics declarations
Conflict of interests
None of the authors have any conflict of interest.
About this article
Cite this article
Yun, J.J., Won, D. & Park, K. Entrepreneurial cyclical dynamics of open innovation. J Evol Econ 28, 1151–1174 (2018). https://doi.org/10.1007/s00191-018-0596-y
Keywords
Entrepreneurial cyclical dynamics

Market open innovation

Closed open innovation

Social open innovation

New combination
JEL Classification