Abstract
The analysis of rents and rent-seeking is highly relevant for evolutionary economics but it has received little attention. This paper surveys the recent literature on technological change, rents, and rent-seeking applied to economic development. Economic development requires developing countries to upgrade technologically while coping with pervasive rent-seeking activities. We assess these issues in turn. This paper first surveys the literature on technical learning and institutional change due to the adoption and adaptation of new technology. Next, the debate on rents and rent-seeking, especially in relation to the issue of technological change in the process of development, is presented. Finally, we assess the roles of the state in solving the critical constraints faced by firms and industries. This paper asserts that the processes of development and industrial upgrading require understanding the mechanisms of rent management—a configuration of incentives and pressures that fully correspond to the existing political, institutional, and industrial structures of a developing country. The rent management analysis emphasizes the diversity of empirical contexts across and within countries.
Access options
Buy single article
Instant access to the full article PDF.
US$ 39.95
Tax calculation will be finalised during checkout.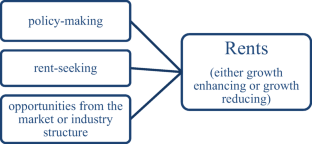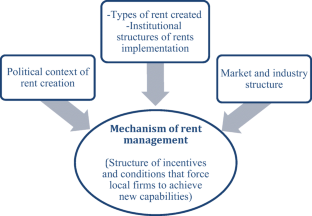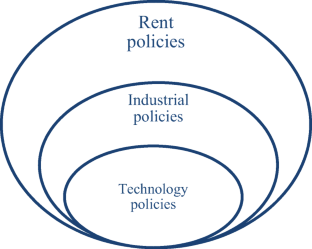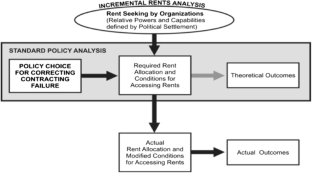 Notes
1.

Friedrich List (1984) may also be considered an early promoter of State-led technological change and industrial policy. See especially his 1841 Das nationale System der politischen Ökonomie (National System of Political Economy; English edition 1856).

2.

Similarly, James Street concludes that, according to Veblen, the drive of technological change for development is possibly at odds with the existing power structure that benefits from the status quo. This is because "the process of social change represented a running conflict between emerging techniques of production and the social institutions that tended to preserve existing power relationships and that, if sufficiently potent, could inhibit further technical progress" (Street 1987, 1864).

3.

"If all land had the same properties, if it were boundless in quantity, and uniform in quality, no charge could be made for its use, unless where it possessed peculiar advantages of situation. It is only then because land is of different qualities with respect to its productive powers, and because in the progress of population, land of an inferior quality, or less advantageously situated, is called into cultivation, that rent is ever paid for the use of it" (Ricardo 1817, 53–54).

4.

An excellent introduction may be found in Mueller (1989, Ch.13).

5.

Rent-seeking per se they define as "any redistributive activity that takes up resources" (Murphy et al. 1993, 409).

6.

Krueger's 1974 seminal paper limited its concern to rents accruing from quotas.

7.

In defining rent-seeking as a process and rent creation as an instrument for growth, the heterodox approach does not distinguish between rent policy (coming from either rent-seeking or policy making) and industrial policy because industrial policy inherently creates rents for industries and firms.

8.

The policies implemented by the East Asian Tigers are frequently referred to as industrial policies; although Hausmann and Rodrik (2003) explicitly call them rents.

9.

The theory of the "Big Push" model emphasizes that underdeveloped countries require large amounts of investments to embark on the path of economic development from their present state of backwardness. This theory proposes that a "bit by bit" investment program will not impact the process of growth as much as is required for developing countries.

10.

Chang proposes four specific functions that such a state must perform: (1) coordination for change, (2) provision of vision, (3) institution building, and (4) conflict management.

11.

His examples of "successful" developmental states include nineteenth-century Prussia, Meiji Japan, postwar France, and post-1949 Taiwan.

12.
References
Abegaz B (2013) Political parties in business: rent seekers, Developmentalists, or both? J Dev Stud 49(11):1467–1483

Amsden A (1989) Asia's next Giant: South Korea and late industrialization. Oxford University Press, New York

Amsden A (2009) Nationality of firm ownership in developing countries: who should 'Crowd Out' whom in imperfect markets? In: Cimoli M, Dosi G, Stiglitz JE (eds) Industrial policy and development: the political economy of capability accumulation. Oxford University Press, Oxford, pp 409–423

Ayres CE (1944) The theory of economic Progress. University of North Carolina Press, Chapel Hill

Baran P (1957) The political economy of growth. Monthly Review Press, New York

Buchanan JM (1980) Rent seeking and profit seeking. In: Buchanan JM, Tollison RD, Tullock G (eds) Toward a theory of the rent-seeking society. Texas A&M University, College Station

Chang H-J (1999) The economic theory of developmental state. In: Woo-Cumings M (ed) The Developmental State. Cornell University Press, Cornell, pp 182–199

Chang H-J, Cheema A, Mises L (2002) Conditions for successful technology policy in developing countries: learning rents, state structures and institutions. Econ Innov New Technol 11(4–5):369–398

Cimoli M, Dosi G, Stiglitz JE (2009) Industrial policy and development: the political economy of capabilities accumulation the initiative for policy dialogue. Oxford University Press, New York

Dosi G, Nelson R (2009) Technical change and industrial dynamics as evolutionary processes. Laboratory of Economics and Management Sant'Anna School of Advanced Studies, Pisa

Ellerman D (2004) Revisiting Hirschman on development assistance and unbalanced growth. East Econ J 30(2):311–331

Gerschenkron A (1962) Economic backwardness in historical perspective. Harvard University Press, Cambridge

Hausmann R, Rodrik D (2003) Economic development as self-discovery. J Dev Econ 72(2):603–633

Hirschman A (1957) Economic policy in underdeveloped countries. Econ Dev Cult Chang 5(4):362–370

Hirschman A (1958) The strategy of economic development. Yale University Press, New Haven

James DD (1988) Accumulation and Utilitzation of internal technological capabilities in the third world. J Econ Issues 33(2):338–353

Kelsall T (2013) Business, politics and the state in Africa. Zed Books, London

Khan MH (1995) State failure in weak states: a critique of new institutionalist Explainations. In: Harriss J, Hunter J, Lewis CM (eds) The new institutional Economcis and third world development. Routledge, London, pp 71–86

Khan MH (2000a) Rent-seeking as process. In: Khan MH, Jomo KS (eds) Rents, rent-seeking and economic development: theory and evidence in Asia. Cambridge University Press, Cambridge, pp 70–144

Khan MH (2000b) Rents, efficiency and growth. In: Khan MH, Jomo KS (eds) Rents, rent-seeking and economic development: theory and evidence in Asia. Cambridge University Press, Cambridge, pp 21–69

Khan MH (2009) Learning, technology acquisition and governance challenges in developing countries. School of Oriental and African Studies, University of London, London

Khan, Mushtaq H. (2010) Political settlements and the governance of growth-enhancing institutions. Growth-Enhancing Governance. Accessed November 10, 2010

Khan, Mushtaq H. (2011) "The Political Economy of Inclusive Growth." OECD-WB Conference on Challenges and Policies for Promoting Inclusive Growth, Paris, March 24–25, March 24–25

Khan MH (2013) Political settlements and the Design of Technology Policy. In: Stiglitz J, Lin JY, Patel E (eds) The industrial policy revolution II. Africa in the twenty-first century. Palgrave, London, pp 243–280

Khan MH, Jomo KS (2000) Rents, rent-seeking and economic development: theory and the Asian evidence. Cambridge University Press, Cambridge

Krueger AO (1974) Political economy of rent-seeking society. Am Econ Rev 64(3):291–303

Kuznets S (1966) Economic growth and structure: selected essays. Heinemann, London

Lall, Sanjaya. (2004) Reinventing industrial strategy: the role of government policy in building industrial competitiveness. Geneva: UNCTAD, The Intergovernmental Group on Monetary Affairs and Development (G-24),

List F (1984) The National Systems of political economy. Longmans, Green and Co., London

Marshall A (1890) Principles of economics, vol I. Macmillan and Company, London

Marx K (1920) The poverty of philosophy, being a translation of the Misere de la Philosophie. Charles H. Kerr and Company, Chicago

Medema SG (1991) Another look at the problem of rent seeking. J Econ Issues 25(4):1049–1065

Mueller DC (1989) Public choice II: a revised edition of public choice. Cambridge University Press, Cambridge

Murphy KM, Shleifer A, Vishny RW (1993) Why is rent-seeking so costly to growth? Am Econ Rev 83(2):409–414

Myrdal G (1968) Asian Drama: an inquiry into the poverty of nations. Twentieth Century Fund, New York

Myrdal G (1979) Underdevelopment and the evolutionary imperative. Third World Q 1(2):24–42

Nelson RR (2008) Economic development from the perspective of evolutionary economic theory. Oxf Dev Stud 36(1):9–21

Ngo CN (2016) Developmental rent management analysis: learning, upgrading, and innovation. J Econ Issues 50(4):1045–1068

Ngo CN (forthcoming) Industrial Development in Planned Economies: Rent Seeking and the Politico-Economic Interplay in Vietnam. Routledge, London

North, Douglass C., John Joseph Wallis, and Barry R. Weingast (2006) A conceptual framework for interpreting recorded human history. National Bureau Of Economic Research

North, Douglass C., John Joseph Wallis, Steven B. Webb, and Barry R. Weingast (2007) Limited access orders in the developing world: a new approach to the problems of development. In World Bank: World Bank

North DC, Wallis JJ, Weingast BR (2009) Violence and social orders: a conceptual framework for Intepgreting recorded human history. Cambridge University Press, New York

Posner RA (1975) The social costs of monopoly and regulation. J Polit Econ 83(4):807–827

Rajagopalan R (1996) Rent-seeking: a selective survey of recent literature. Vikalpa 21(1):23–31

Ricardo D (1817) On the principles of political economy, and taxation. John Murray, London

Rodrik D (2007) One Economics, Many Recipes : Globalization, Institutions and Economic Growth. Princeton University Press, Princeton

Rosenstein-Rodan PN (1943) Problems of industrialization of eastern and South-Eastern Europe. Econ J 53(June–September):202–211

Rosenstein-Rodan PN (1961) Notes on the Theory of the 'Big Push'. In: Ellis HS, Wallich HC (eds) Economic Development for Latin America. St. Martin's, New York

Samuels WJ, Mercuro N (1984) A critique of rent-seeking theory. In: Colander DC (ed) Neoclassical political economy: the analysis of rent-seeking and DUP activities. Ballinger, Cambridge, pp 55–70

Schmitz, H., O. Johnson, and T. Altenburg (2013) Rent management: the heart of green industrial policy

Schumpeter, Joseph A.(1934 [1983]) The Theory of Economic Development: An Inquiry Into Profits, Capital, Credit, Interest, and the Business Cycle. London: Routledge. Reprint, 1983

Schweinberger A (2014) State capitalism, entrepreneurship, and networks: China's rise to a superpower. J Econ Issues 48(1):169–180

Scitovsky T (1954) Two concepts of external economics. J Polit Econ 62(2):143–151

Street JH (1987) The institutionalist theory of economic development. J Econ Issues 21(4):1861–1887

Tullock G (1967) Welfare costs of tariffs, monopolies, and theft. Western Econ J 5(3):224–232

Tullock G (1980) Efficient rent seeking. In: Buchanan JM, Tollison RD, Tullock G (eds) Towards a theory of the rent seeking society. A&M University Press, College Station, pp 97–112

Veblen TB (1904) The theory of business Enterprise. Charles Scribner's Sons, New York

Wade R (1990) Governing the Market : Economic Theory and the Role of Government in East Asian Industrialization. Princeton University Press, Princeton

Whitfield L, Therkildsen O, Buur L, Kjaer AM (2015) The politics of African industrial policy. Cambridge University Press, New York
About this article
Cite this article
Ngo, C.N., McCann, C.R. Rethinking rent seeking for technological change and development. J Evol Econ 29, 721–740 (2019). https://doi.org/10.1007/s00191-018-0591-3
Keywords
Developing countries

Institutions

Rents

Rent-seeking

Rent management

Technological adoption

Learning and innovation
JEL codes