Abstract
This paper examines the relationships between firm age and entrepreneurs experience on SME performance after the 2008/09 global financial crisis. We find that in general the crisis had a long-lasting scarring effect on the SME sector, but there is evidence of some recovery in performance. Interestingly, the well-established, and negative, firm age-growth relationship still holds, but entrepreneurial experience did not have any substantive effects on small business performance. Our findings suggest that the severity of the crisis meant that previous entrepreneur experiences had little value in this unique and uncertain environment. However, young firms still accounted for a disproportionately high share of growth, especially among the fastest growing firms.
Access options
Buy single article
Instant access to the full article PDF.
US$ 39.95
Tax calculation will be finalised during checkout.
Subscribe to journal
Immediate online access to all issues from 2019. Subscription will auto renew annually.
US$ 79
Tax calculation will be finalised during checkout.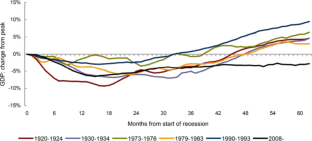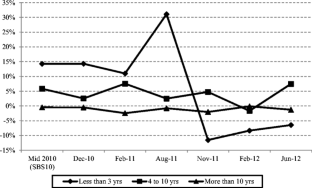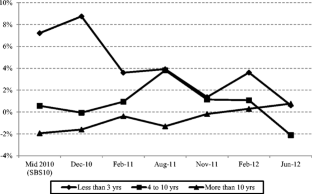 Notes
1.

The nature of empirical evidence has been found to be dependent on the inclusion or exclusion of exiting firms in the estimation sample, and whether sample firms were below or above the minimum efficient scale (Teruel-Carrizosa 2010).

2.

Before 2008, the equivalent Annual Small Business Survey was conducted annually.

3.

The six waves are: December 2010, February 2011, August 2011, November 2011, February 2012 and June 2012. No firms were re-surveyed in more than one Barometer wave.

4.

We also try to allow for cluster effects (by sector) in our analyses as robustness checks but that does not change our findings substantially.

5.

Lagged performance is only available when using the Barometer data set.
References
Achtenhagen L, Naldi L, Melin L (2010) Business growth - do practitioners and scholars really talk about the same thing? Enterp Theory Pract 34(2):289–316

Acs Z, Storey D (2004) Introduction: entrepreneurship and economic development. Reg Stud 38:871–877

Anyadike-Danes M, Bjuggren CM, Gottschalk S, Hölzl W, Johansson D, Maliranta M, Myrann AG (2014) An International cohort comparison of size effects on job growth (April 13, 2014). IFN Working Paper No 1019

Audretsch DB, Bönte W, Keilbach M (2008) Entrepreneurship capital and its impact on knowledge diffusion and economic performance. J Bus Ventur 23:687–698

Audretsch DB, Keilbach M (2004) Does entrepreneurship capital matter? Enterp Theory Pract 28(5):419–429

Audretsch DB, Mahmood T (1994) Firm selection and industry evolution: the post-entry performance of new firms. J Evol Econ 4(3):243–260

Bank of England (2010) Agents' summary of business conditions, January 2010. Bank of England, London

Beck T, Demirguc-Kunt A (2006) Small and medium-size enterprises: access to finance as a growth constraint. J Bank Financ 30(11):2931–2943

Birch D (1979) The job generation process. Report, program on neighborhood and regional change. MIT, Cambridge

Birch D (1987) Job creation in America. Free Press, New York

Bottazzi G, Secchi A (2013) Financial fragility and the distribution of firm growth rates. Routledge, London

Burke A, Fitzroy F, Nolan M (2000) When less is more: distinguishing between entrepreneurial choice and performance. Oxf Bull Econ Stat 62:565–587

Chandler G, Hanks S (1993) Measuring the performance of emerging business. J Bus Ventur 8:391–408

Chandler G, Hanks S (1994) Market attractiveness, resource-based capabilities, venture strategies, and venture performance. J Bus Ventur 9:331–349

Churchill NC, Lewis VL (1983) The five stages of small business growth. Harv Bus Rev 61(3):30–50

Coad A (2009) The growth of firms: a survey of theories and empirical evidence. Edward Elgar, Cheltenham

Coad A, Frankish J, Nightingale P, Roberts R (2014) Business experience and start-up size: buying more lottery tickets next time around? Small Bus Econ 43(3):529–547

Coad A, Segarra A, Teruel M (2013) Like milk or wine: does firm performance improve with age? Struct Chang Econ Dyn 24(March):173–189

Cowling M (2002) The contribution of the self-employed to employment in the EU. Small Business Service, London

Cowling M (2006) Early stage survival and growth. In: Parker S (ed) Handbook of entrepreneurship research: the life cycle of entrepreneurial ventures. Springer, Berlin, pp 477–504

Cowling M, Liu W, Ledger A (2012) Small business financing in the UK before and after the financial crisis. International Small Business Journal 30(7):778–800

Cowling M, Liu W, Ledger A, Zhang N (2015) What really happens to small and medium-sized enterprises in a global economic recession? UK evidence on sales and job dynamics. International Small Business Journal 33(5):488–513

Dass P (2000) Relationship of firm size, initial diversification, and internationalization with strategic change. J Bus Res 48:135–146

Davidsson P, Achtenhagen L, Naldi L (2010) Small firm growth. Foundations and Trends in Entrepreneurship 6(2):69–166

Davidsson P, Wiklund J (2000) Conceptual and empirical challenges in the study of firm growth. In: Sexton D, Landström H (eds) The Blackwell handbook of entrepreneurship. Blackwell, Oxford, pp 26–44

Davila A, Foster G, Gupta M (2003) Venture capital financing and the growth of startup firms. J Bus Ventur 18(6):689–708

Davis SJ, Haltiwanger J, Schuh S (1996) Job creation and destruction. MIT Press, Cambridge

Dean TJ, Brown RL, Bamford CE (1998) Differences in large and small firm responses to environmental context: strategic implications from a comparative analysis of business formations. Strateg Manag J 19:709–728

Delmar F (1997) Measuring growth: methodological considerations and empirical results. In: Donkels R, Miettinen A (eds) Entrepreneurship and SME research: on its way to the new millennium. Ashgate, Aldershot, pp 190–216

Dimov DP, Shepherd DA (2005) Human capital theory and venture capital firms: exploring 'home runs; and 'strike outs'. J Bus Ventur 20:1–21

Durand R, Coeurderoy R (2001) Age, order of entry, strategic orientation and organizational performance. J Bus Ventur 16:471–494

Evans DS (1987) The relationship between firm growth, size and age: estimates for 100 manufacturing industries. J Ind Econ 35(4):567–581

Fort TC, Haltiwanger J, Jarmin RS, Miranda J (2013) How firms respond to business cycles: the role of firm age and firm size. IMF Economic Review 61(3):520–559

Geroski P, Gugler K (2004) Corporate growth convergence in Europe. Oxf Econ Pap 56:597–620

Grilli L (2010) When the going gets tough, do the tough get going? The pre-entry work experience of founders and high-tech start-up survival during an industry crisis. International Small Business Journal 29(6):626–647

Haltiwanger J, Jarmin R, Miranda J (2013) Who creates jobs? Small vs large vs young. Rev Econ Stat 95(2):347–361

Haltiwanger J, Krizan CJ (1999) Small business and job creation in the United States: the role of new and young businesses. In: Acs Z (ed) Are small firms important? Their role and impact. Kluwer Academic, Norwell

Honig B (1998) What determines success? Examining the human, financial, and social capital of Jamaican micro-entrepreneurs. J Bus Ventur 13:371–394

Kitching J, Smallbone D, Xheneti M, Kasperova E (2011) Adapting to a fragile recovery: SME responses to recession and post-recession performance. In: 34th Institute for Small Business and Entrepreneurship (ISBE) Annual Conference: Sustainable futures: enterprising landscapes and communities; 9–10 Nov 2011, Sheffield, U.K. ISBN 9781900862233

Kitson M (1995) Seedcorn or chaff? Unemployment and small firm performance. ESRC Centre for Business Research, Cambridge University, Working Paper No.2

Latham S (2009) Contrasting strategic response to economic recession in start-up versus established software firms. J Small Bus Manag 47(2):180–201

Leitch CHF, Neergaard H (2010) Entrepreneurial and business growth and the quest for a 'comprehensive theory': tilting at windmills? Enterp Theory Pract 34(2):249–260

Lerner J (1999) The government as venture capitalist: the long-run impact of the SBIR program. J Bus 72(3):285–318

Lerner J (2002) Boom and bust in the venture capital industry and the impact on innovation. Federal Reserve Bank of Atlanta Economic Review 4:25–39

McKelvie A, Wiklund J (2010) Advancing firm growth research: a focus on growth mode instead of growth rate. Enterp Theory Pract 34(2):261–288

National Institute for Economic and Social Research (2012) How recessions compare. London

Neumark D, Wall B, Zhang J (2011) Do small businesses create more jobs? New evidence for the United States from the National Establishment Time Series. Rev Econ Stat 93(1):16–29

Nunes P, Gonçalves M, Serrasqueiro Z (2013) The influence of age on SMEs' growth determinants: empirical evidence. Small Bus Econ 40(2):249–272

ONS (2011) Output in the construction industry: Statistical bulletin Q1. Office of National Statistics, London

Parker S, Congregado E, Golpe A (2012) Is entrepreneurship a leading or lagging indicator of the business cycle? Evidence from UK self-employment data. International Small Business Journal 30(7):736–753

Penrose ET (1959) The theory of the growth of the firm. Sharpe: New York

Porter ME (1980) Competitive strategy: techniques for analyzing industries and competitors. The Free Press, New York

Rauch A, Wiklund J, Lumpkin GT, Frese M (2009) Entrepreneurial orientation and business performance: an assessment of past research and suggestions for the future. Enterp Theory Pract 33:761–787

Reichstein T, Dahl MS, Ebersberger B, Jensen MB (2010) The devil dwells in the tails: a quantile regression approach to firm growth. J Evol Econ 20:219–231

Reid G (2007) The foundations of small business Enterprise. Routledge, London

Sapienza H, Grimm C (1997) Founder characteristics, start-up process and strategy/structure variables as predictors of shortline railroad performance. Enterp Theory Pract 22(1):5–24

Schumpeter J (1942) Capitalism, socialism and democracy. Harper and Row, New York

Shepherd DA, Wiklund J (2009) Are we comparing apples with apples or apples with oranges? Appropriateness of knowledge accumulation across growth studies. Enterp Theory Pract 33(1):105–123

Smallbone D, Deakins D, Battisti M, Kitching J (2012) Small business response to a major economic downturn: empirical perspectives from New Zealand and the United Kingdom. International Small Business Journal 30(7):754–777

Storey D (1994) Understanding the small business sector. Routledge, London

Teruel-Carrizosa M (2010) Gibrat's law and the learning process. Small Bus Econ 34(4):355–373

Unger J, Rauch A, Frese M, Rosenbusch N (2011) Human capital and entrepreneurial success: a meta-analytical review. J Bus Ventur 26:341–358

Vassilakis S (2008) Learning-by-doing. In: Durlauf SN, Blume LE (eds) The new Palgrave dictionary of economics, 2nd edn. Palgrave Macmillan, London

Watson J (2012) Networking: gender differences and the association with firm performance. International Small Business Journal 30(5):536–558

Watson W, Stewart WH, BarNir A (2003) The effects of human capital, organizational demography, and interpersonal processes on venture partner perceptions of firm profit and growth. J Bus Ventur 18:145–164

Weinzimmer LG, Nystrom PC, Freeman SJ (1998) Measuring organizational growth: issues, consequences and guidelines. J Manag 24:235–262

Westhead P, Ucbasaran D, Wright M (2005) Decisions, actions, and performance: do novice, serial, and portfolio entrepreneurs differ? J Small Bus Manag 43:393–417

Wickham M (2010) London's labour market in the recent recession, GLA economics Working paper 44. GLA, London

Wiklund J, Patzelt H, Shepherd D (2009) Building an integrative model of small business growth. Small Bus Econ 32(4):351–374

Yasuda T (2005) Firm growth, size, age and behavior in japanese manufacturing. Small Bus Econ 24(1):1–15

Zarutskie R (2010) The role of top management team human capital in venture capital markets: evidence from first-time funds. J Bus Ventur 25(2):155–172

Zhao Y, Li Y, Lee SH, Chen LB (2011) Entrepreneurial orientation, organizational learning, and performance: evidence from China. Enterp Theory Pract 35(2):293–317
Acknowledgements
Initial funding for this study was provided by the UK Department for Business, Innovation and Skills.
Ethics declarations
Conflicts of interest
The authors declare that they have no conflict of interest.
About this article
Cite this article
Cowling, M., Liu, W. & Zhang, N. Did firm age, experience, and access to finance count? SME performance after the global financial crisis. J Evol Econ 28, 77–100 (2018). https://doi.org/10.1007/s00191-017-0502-z
Keywords
Firm age

Entrepreneurs experience

Job dynamics

Sales dynamics

Financial crisis
JEL Classification