Abstract
The financial crisis started in 2007–8, initially in the US, but its consequences have been felt throughout the global economy. However, its effects were far from uniform. While parts of Asia and Africa continued to grow fast, Europe experienced a large set back. This paper emphasizes three important factors: differences across countries in technological development; differences in capacities to exploit the opportunities offered by technology; and differences in the ability to compete in international market. A formal model, based on this approach, is developed and applied to data for 100 countries in the period 1997–2012. Empirical indicators reflecting the various factors are developed, a dataset constructed and econometric estimates of the model performed. The results are used to explore the factors behind the slowdown in economic growth, with a particular emphasis on the continuing stagnation in Europe. A major factor turns out to be the increased financialization of the economy. The negative effect of the growth of finance prior to the crisis is especially pronounced for the countries that suffered most during the crisis.
Access options
Buy single article
Instant access to the full article PDF.
US$ 39.95
Tax calculation will be finalised during checkout.
Subscribe to journal
Immediate online access to all issues from 2019. Subscription will auto renew annually.
US$ 79
Tax calculation will be finalised during checkout.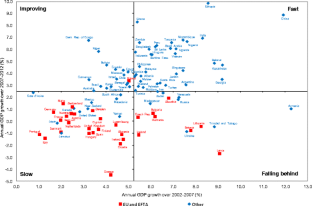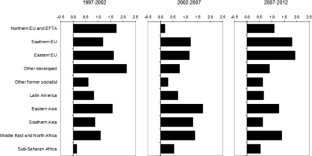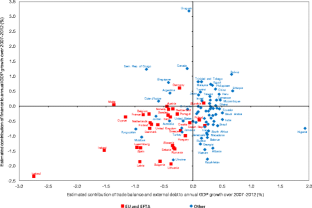 Notes
1.

However, while this earlier work assumed strictly balanced trade, the model presented below allows for deviations from this rule.

2.

This may occur through adjustments of the fiscal and monetary policy stance, but it may also be the result of the working of markets, such as the capital, labor and currency markets.

3.

4.

As can be seen from Eq. (6), the expected sign of the effects of changing relative prices on growth depends on whether or not the so-called Marshall-Lerner condition is satisfied.

5.

We hold it as unlikely that changes in a country's technological capability and social capacity can be seen as mere reflections of its rate of economic growth. A stronger case may exist for an effect of economic growth on price growth, since the price-level by definition is a relation between the value and quantity of what is produced. However, the largest share of value added consists of wages, which often are determined through negotiations of various sorts, and subject to influence by institutions, politics etc., which we in the present context have chosen to consider as exogenous.

6.

In principle, this increases the possibility for reverse causation. Arguably, most countries are too small to have a significant influence on world demand. Nevertheless, there may be a few countries among the one hundred taken into account here for which this assumption can be questioned, and we will test for the sensitivity of the estimates to this.

7.

Missing observations were estimated using the impute procedure in Stata 11.2, for more information see Stata (2005, pp. 217–221). The procedure, which is regression-based, uses information from other variables in the data set to fill in missing values. This applies to the following cases (% of estimated observations in brackets): R&D expenditures (11 %); gross tertiary enrolment (1 %); quality of bureaucracy (9 %), freedom from corruption (1 %) and external debt (10 %).

8.

If necessary unity was added to avoid logs of zero.

9.

See Fagerberg (1994) for an overview and discussion.

10.

Both merchandise trade and trade in services are included. While merchandise trade is used at 3-digit level of SITC, rev. 3, with 255 product categories, the available data on trade in services only allow us to distinguish three service categories (transport, travel and other services).

11.

Several other potentially relevant control variables were tested for possible inclusion in the model. However, as the estimated coefficients did not come out anywhere close to being significant at conventional levels, they were not retained in the model. This includes the size of government (general government final consumption expenditure as % of GDP), income inequality as measured by the Gini index, access to ocean or navigable rivers, Köppen–Geiger ecozones, Holdridge life zones and the composition of religious adherence.

12.

Beta values are reported, i.e. the variables enter the analysis with mean of zero and standard deviation of one, thus the estimated coefficients refer to the impact of change by one standard deviation.

13.

Results from these additional tests are available from the authors on request.

14.

Arcand et al. (2015) suggest that the effect of financial development (F), measured in different ways, on economic growth should be modelled as F = a1 S + a2 S2, where S is an indicator of the size of the financial sector. However, according to the model developed in this paper, it is the growth of financial capability, not its initial level, that should be expected to affect subsequent economic growth, and this leads to a different specification. Note that, by totally differentiating F we get dF = a1 dS + 2 a2 S dS, i.e., the two terms included in the model here.

15.

We also tested for a possible change in the impact of the interaction terms ((Δ finance × finance) and (Δ trade balance × external debt)) during the crisis; however, this hypothesis was not supported.

16.

See Fagerberg and Verspagen (2015) for a more in-depth discussion of this issue.
References
Abramovitz M (1986) Catching up, forging ahead, and falling behind. J Econ Hist 46(386):406

Abramovitz M (1994a) The origins of the postwar catch-up and convergence boom. In: Fagerberg J, Verspagen B, von Tunzelmann N (eds) The dynamics of technology, trade and growth. Edward Elgar, Aldershot, pp 21–52

Abramovitz M (1994b) Catch-up and convergence in the postwar growth boom and after. In: Baumol WJ, Nelson RR, Wolf EN (eds) Convergence of productivity – cross-national studies and historical evidence. Oxford University Press, Oxford, pp 86–125

Arcand J, Berkes E, Panizza U (2015) Too much finance? J Econ Growth 20:105–148

Castellacci F, Natera JM (2011) A new panel dataset for cross-country analyses of national systems, growth and development (CANA). Innov Dev 1:205–226

Cecchetti SG, Kharroubi E (2012) Reassessing the impact of finance on growth, BIS Working Paers No 381, Bank for International Settlements, July 2012

Conference Board (2014) Total economy database. January 2014, http://www.conference-board.org/data/economydatabase/

Cornwall J (1976) Diffusion, convergence and Kaldor's Law. Econ J 86:307–314

Darvas Z (2012) Real effective exchange rates for 178 countries: a new database. Working Paper 2012/06, Bruegel, 15 March 2012 (Update, 26 June 2014); http://www.bruegel.org/datasets/real-effective-exchange-rates-for-178-countries-a-new-database/

Université catholique de Louvain (2014) EM-DAT: The OFDA/CRED International Disaster Database. Brussels, www.emdat.be, download on 8. 8.2014.

Easterly W (2001) The lost decades: explaining developing Countries' stagnation in spite of policy reform 1980–1998. J Econ Growth 6:135–157

Fagerberg J (1988) International competitiveness. Econ J 98:355–374

Fagerberg J (1994) Technology and international differences in growth rates. J Econ Lit XXXII(3):1147–1175

Fagerberg J, Srholec M (2008) National innovation systems, capabilities and economic development. Res Policy 37:1417–1435

Fagerberg J, Verspagen B (2015) One Europe or Several? Causes and consequences of the european stagnation. In Fagerberg J, Laestadius S, Martin BR (eds) The triple challenge for Europe economic development, climate change and governance, Oxford University Press, forthcoming

Fagerberg J, Srholec M, Knell M (2007) The competitiveness of nations: why some countries prosper while others fall behind. World Dev 35:1595–1620

Fearon JD (2003) Ethnic and cultural diversity by country. J Econ Growth 8:195–222

Gerschenkron A (1962) Economic backwardness in historical perspective. The Belknap Press, Cambridge

Heritage Foundation (2014) 2014 Index of economic freedom, all index data. The Heritage Foundation, http://www.heritage.org/index/explore?view=by-region-country-year, download on 13.6.2014.

Kaldor N (1981) The role of increasing returns, technical progress and cumulative causation in the theory of international trade and economic growth. Econo Appl (ISMEA) 34:593–617

Kaufmann D, Kraay A, Mastruzzi M (2014) Worldwide Governance Indicators, on-line. World Bank, http://info.worldbank.org/governance/wgi/index.aspx#doc-sources, download on 13.6.2014.

Lall S (1992) Technological capabilities and industrialization. World Dev 20:165–186

Law SH, Singh N (2014) Does too much finance harm economic growth? J Bank Financ 41:36–44

Li G (1985) Robust regression. In: Hoaglin DC, Mosteller F, Tukey JW (eds) Exploring data tables, trends, and shapes. Wiley, New York, pp 281–340

Maddison A (1991) Dynamic forces in capitalist development: a long-Run comparative view. Oxford University Press, New York

Metcalfe JS (1988) The diffusion of innovation: an interpretive survey. In: Dosi G (ed) Technological change and economic theory. Francis Pinter, London

National Science Board (2012) Science and engineering indicators 2012. National Science Foundation, Arlington

National Science Board (2014) Science and engineering indicators 2014. National Science Foundation, Arlington

OECD (2014) OECD.Stat. Paris: OECD, download on 8. 8.2014.

Rodríguez-Pose A (1999) Innovation prone and innovation averse societies: economic performance in Europe. Growth Chang 30(1):75–105

Sachs JD (2003) Institutions don't rule: direct effects of geography on per capita income. NBER Working Paper No. 9490, http://www.nber.org/papers/w9490.

Solow RM (1956) A contribution to the theory of economic growth. Q J Econ 70(1):65–94

Stata (2005) Stata data management, reference manual, release 9. College Station: Stata Press.

Thirlwall AP (1979) The balance of payments constraints as an explanation of international growth rate differences. Banca Nazionale del Lav Q Rev 32:45–53

UNCTAD (2014) UNCTAD Handbook of statistics 2012, UNCTADstat on-line. Geneva: UNCTAD, download on 16. 10. 2014.

UNESCO (2014) Science, technology and innovation; Data Centre. Geneva: UNESCO Institute for Statistics, download on 8. 8.2014.

USPTO (2014) Extended year set - patents by country, State, and Year Utility Patents (December 2013). U.S. Patent and Trademark Office, http://www.uspto.gov/web/offices/ac/ido/oeip/taf/cst_utlh.htm, download on 8. 8.2014.

Veblen T (1915) Imperial Germany and the industrial revolution. Macmillan, New York

Vernon R (1966) International investment and international trade in the product cycle. Q J Econ 80:190–207

World Bank (2014) World development indicators 2013, World Bank, last updated on 18. 12. 2013, download on 8. 8.2014

World Bank (2015) Quarterly external debt statistics, World Bank, download on 6. 8.2015
Acknowledgments
Financial support from the VINNOVA Core Funding of Centers for Innovation Systems (project 2010–01370 on 'Transformation and Growth in Innovation Systems: Innovation Policy for Global Competitiveness of SMEs and R&I Milieus'), Czech Science Foundation (project P402/10/2310 on 'Innovation, productivity and policy: What can we learn from micro data?') and Czech Academy of Sciences (institutional support RVO 67985998 and agenda 'Strategie AV21') are gratefully acknowledged. Earlier versions of the paper were presented at the 15th ISS Conference, 27–30 July, 2014, Jena, Germany, the 2013 Eu-SPRI Forum Conference on Management of Innovation Policies, 10–12 April, 2013, Madrid, Spain and the Joint UNU-MERIT/School of Governance Seminar, 6 June 2013, Maastricht, Netherlands.
Appendix
Appendix
Table 7
Table 8
Table 9
From (3):
$$ x={\varepsilon}_{XT}t+{\varepsilon}_{XC}c+{\varepsilon}_{XP}p+{\varepsilon}_{XW}w $$
(10)
$$ m=-{\varepsilon}_{MT}t-{\varepsilon}_{MC}c-{\varepsilon}_{MP}p+{\varepsilon}_{MY}y $$
(11)
By subtracting (11) from (10):
$$ x-m=\left({\varepsilon}_{XT}+{\varepsilon}_{MT}\right)t+\left({\varepsilon}_{XC}+{\varepsilon}_{MC}\right)c+\left({\varepsilon}_{XP}+{\varepsilon}_{MP}\right)p+{\varepsilon}_{XW}w-{\varepsilon}_{MY}y $$
(12)
From (9) and (12) follows, by eliminating x − m:
$$ b-p=\left({\varepsilon}_{XT}+{\varepsilon}_{MT}\right)t+\left({\varepsilon}_{XC}+{\varepsilon}_{MC}\right)c+\left({\varepsilon}_{XP}+{\varepsilon}_{MP}\right)p+{\varepsilon}_{XW}w-{\varepsilon}_{MY}y $$
By solving for y:
$$ y=\frac{\varepsilon_{XT}+{\varepsilon}_{MT}}{\varepsilon_{MY}}t+\frac{\varepsilon_{XC}+{\varepsilon}_{MC}}{\varepsilon_{MY}}c+\frac{\varepsilon_{XP}+{\varepsilon}_{MP}+1}{\varepsilon_{MY}}p-\frac{1}{\varepsilon_{MY}}b+\frac{\varepsilon_{XW}}{\varepsilon_{MY}}w $$
(13)
$$ t={\varepsilon}_{TN}n+{\varepsilon}_{TD}d $$
$$ t=\gamma {\varepsilon}_{TD}-\gamma {\varepsilon}_{TD}{T}^{gap}+{\varepsilon}_{TN}n $$
(14)
By substituting (14) into (13):
$$ y=\gamma {\varepsilon}_{TD}\frac{\varepsilon_{XT}+{\varepsilon}_{MT}}{\varepsilon_{MY}}-\gamma {\varepsilon}_{TD}\frac{\varepsilon_{XT}+{\varepsilon}_{MT}}{\varepsilon_{MY}}{T}^{gap}+{\varepsilon}_{TN}\frac{\varepsilon_{XT}+{\varepsilon}_{MT}}{\varepsilon_{MY}}n+\frac{\varepsilon_{XC}+{\varepsilon}_{MC}}{\varepsilon_{MY}}c+\frac{\varepsilon_{XP}+{\varepsilon}_{MP}+1}{\varepsilon_{MY}}p-\frac{1}{\varepsilon_{MY}}b+\frac{\varepsilon_{XW}}{\varepsilon_{MY}}w $$
About this article
Cite this article
Fagerberg, J., Srholec, M. Global dynamics, capabilities and the crisis. J Evol Econ 26, 765–784 (2016). https://doi.org/10.1007/s00191-016-0453-9
Keywords
Technological capabilities

social capabilities

competitiveness

economic growth

crisis
JEL Classification