Abstract
This article aims to provide some elements of an evolutionary theory of property rights. It applies a systems-based capital-theoretic perspective to explain the formation and transformation of property rights structures. The approach emphasizes how entrepreneurs create capital combinations by connecting capital goods—defined widely to include property rights, such as patents—in their production plans. Their actions change complementarity relations between property rights as used in production. We treat the property rights structure as a complex adaptive system that exhibits increasing structural complexity as it evolves. Entrepreneurs discover gaps in the property rights system. As they organize production to exploit profit opportunities, entrepreneurs regroup existing intellectual property rights (IPR) into new modules, such as patent pools, that encapsulate more complex combinations of basic building blocks of intellectual property. A patent pool constitutes an interpolation of a new meso level within the macro IPR structure. We apply our framework to the first of the patent pools for digital video compression technology used in digital television and DVDs.
This is a preview of subscription content, log in to check access.
Access options
Buy single article
Instant access to the full article PDF.
US$ 39.95
Price includes VAT for USA
Subscribe to journal
Immediate online access to all issues from 2019. Subscription will auto renew annually.
US$ 99
This is the net price. Taxes to be calculated in checkout.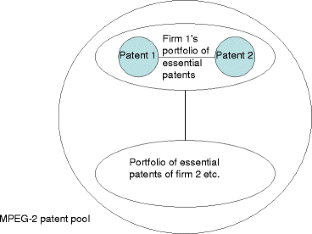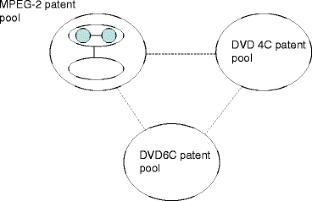 Notes
1.

2.

Limiting property rights to a small closed class of well defined types results from the legal principle of numerus clausus, which is Latin for "the number is closed" (Merrill and Smith 2000: 9–11).

3.

4.

See Harper (2014) for discussion of how Blu-ray technology has increased the complexity of the network of patent pools for digital video optical media.

5.

The "economics jury" is still out when it comes to determining the empirical effects of patent pools on innovation (i.e., whether patent pools encourage or inhibit innovation). For any given patent pool, the effects on innovation will depend, among other things, upon the specific content and structure of the rules of organization that form a particular pool and the institutional and historical details of the relevant industry at the meso-level. See Flamm (2013) and references therein.
References
Barzel Y (1997) Economic analysis of property rights, 2nd edn. Cambridge University Press, Cambridge

Buchanan JM, Yoon YJ (2000) Symmetric tragedies: commons and anticommons. J Law Econ 43(1):1–13

CableLabs (1995) MPEG IPR backgrounder.Available at: http://www.cablelabs.com/news/pr/ipr_backgrounder.html. Accessed 30 August 2013

Coase RE (1960) The problem of social cost. J Law Econ 3:1–44

Demsetz H (1967) Toward a theory of property rights. Am Econ Rev 57(2):347–359

Dopfer K, Potts J (2008) The general theory of economic evolution. Routledge, London and New York

Dopfer K, Foster J, Potts J (2004) Micro-meso-macro. J Evol Econ 14:263–79

Eisenberg RS (2011) Patent costs and unlicensed use of patented inventions. Univ Chicago Law Rev 78(1):53–69

Ellickson RC (1991) Order without law: how neighbors settle disputes. Harvard University Press, Cambridge

Endres AM, Harper DA (2012) The kinetics of capital formation and economic organization. Camb J Econ 36(4):963–980

Fauchart E, von Hippel E (2008) Norms-based intellectual property systems: the case of French chefs. Organ Sci 19(2):187–201

Fisher I (1906) The nature of capital and income. Macmillan, New York

Flamm K (2013) A tale of two standards: patent pools and innovation in the optical disk drive industry. NBER Working Paper No. 18931

Foster J (2005) From simplistic to complex systems in economics. Camb J Econ 29(6):873–892

Foster J, Pyka A (2014) Co-evolution and complex adaptive systems in evolutionary economics. Springer Series Economic Complexity and Evolution. Springer, Berlin

Gorga E, Halberstam M (2007) Knowledge inputs, legal institutions and firm structure: towards a knowledge-based theory of the firm. Northwest Univ Law Rev 101(3):1123–1206

Grossman SJ, Hart OD (1986) The costs and benefits of ownership: a theory of vertical and lateral integration. J Polit Econ 94(4):691–719

Hadfield GK (2012) Legal infrastructure and the new economy. I/S: A J Law Policy Inf Soc 8(1):1–59

Harper DA (1996) Entrepreneurship and the market process: an inquiry into the growth of knowledge. Routledge Publishers, New York

Harper DA (2013) Property rights, entrepreneurship and coordination. J Econ Behav Organ 88:62–77

Harper DA (2014) Intellectual property as a complex adaptive system. In: Foster J, Pyka A (eds) Co-evolution and complex adaptive systems in evolutionary economics. Springer Series Economic Complexity and Evolution. Springer, Berlin

Harper DA, Endres AM (2010) Capital as a layer cake: a systems approach to capital and its multi-level structure. J Econ Behav Organ 74(1–2):30–41

Harper DA, Endres AM (2012) The anatomy of emergence, with a focus upon capital formation. J Econ Behav Organ 82(2–3):352–367

Heller MA (1998) The tragedy of the anticommons: property in the transition from Marx to markets. Harv Law Rev 111(3):621–688

Heller MA, Eisenberg RS (1998) Can patents deter innovation? The anticommons in biomedical research. Science 280(5364):698–701

Lachmann LM (1956) Capital and its structure. G. Bell & Sons, London

Lampe R, Moser P (2011) Patent pools and the direction of innovation: evidence from the 19th-century sewing machine industry. NBER Working Paper No. 17573

Landes WM, Posner RA (1976) Legal precedent: a theoretical and empirical analysis. J Law Econ 19(2):249–307

Langlois RN (2002) Modularity in technology and organization. J Econ Behav Organ 49:19–37

Levin R, Klevorik A, Nelson R, Winter S, Gilbert R, Griliches Z (1987) Appropriating the returns from industrial research and development. Brook Pap Econ Act 3:783–831

Lohr S (2011) A bull market in tech patents. New York Times, August 16

Merrill TW, Smith HE (2000) Optimal standardization in the law of property: the numerus clausus principle. Yale Law J 110(1):1–70

MPEG LA (2011) MPEG-2 Patent Portfolio License Briefing (12/3/11 version). Available at: http://www.mpegla.com/main/programs/M2S/Documents/m2sweb.pdf. Accessed 4 June 2012

Ostrom E, Gardner R, Walker JM (1994) Rules, games, and common-pool resources. University of Michigan Press, Ann Arbor

Ottoz E, Cugno F (2011) Choosing the scope of trade secret law when secrets complement patents. Int Rev Law Econ 31(4):219–227

Parchomovsky G, Wagner RP (2005) Patent portfolios. Univ Pennsylvannia Law Rev 154(1):1–77

Potts J (2000) The new evolutionary microeconomics: complexity, competence and adaptive behaviour. Edward Elgar, Cheltenham

Ricketts M (1987) Rent-seeking, entrepreneurship, subjectivism, and property rights. J Inst Theor Econ 143:457–466

Ruhl JB (2008) Law's complexity: a primer. Georgia State Univ Law Rev 24:885–911

Teece DJ (1986) Profiting from technological innovation: implications for integration, collaboration, licensing and public policy. Res Policy 15(6):285–305

van Triest S, Vis W (2007) Valuing patents on cost-reducing technology: a case study. Int J Prod Econ 105(1):282–292

von Hayek FA[1944] (2007) The road to serfdom: text and documents. University of Chicago Press, Chicago

von Hippel E (1996) Lead users: a source of novel product concepts. Manag Sci 32(7):791–805

Williamson O (1985) The economic institutions of capitalism. Free Press, New York

Wilson DS, Ostrom E, Cox ME (2013) Generalizing the core design principles for the efficacy of groups. J Econ Behav Organ 90S:S21—S32

Winter SG (1987) Knowledge and competence as strategic assets. In: Teece DJ (ed) The competitive challenge: strategies for industrial innovation and renewal. Ballinger Publishing Co., Cambridge, pp 159–184
About this article
Cite this article
Harper, D.A. Property rights as a complex adaptive system: how entrepreneurship transforms intellectual property structures. J Evol Econ 24, 335–355 (2014). https://doi.org/10.1007/s00191-014-0345-9
Keywords
Property rights

Entrepreneurship

Complexity

Economic organization

Capital

Patent pools
JEL Classifications