Abstract
This article presents the theory of the experimentally organized economy and competence blocs. The theory assumes that information is immense and that economic actors are boundedly rational. This makes practically all economic activities to some extent uncertain and unpredictable; they become experimental in nature. Economic growth is, hence, viewed as an evolutionary process of the discovery, use and selection of knowledge. So-called competence blocs—the minimum set of agents with different, but complementary competencies required to generate and commercialize new combinations—are identified as necessary for efficient resource allocation. The incentives given by the institutions to the actors in the competence bloc are crucial for economic performance.
Access options
Buy single article
Instant access to the full article PDF.
USD 39.95
Price includes VAT (USA)
Tax calculation will be finalised during checkout.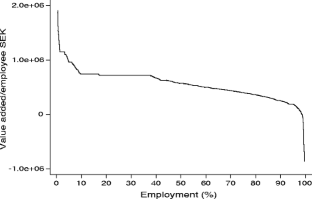 Notes
1.

It is beyond the scope of this essay to compare or to evaluate the theory of the EOE and competence blocs with other economic theories, e.g. endogenous growth theory (e.g. Romer 1986; Lucas 1988; Aghion and Howitt 1998), neoclassical general equilibrium theory (e.g. Walras 1874; Solow 1957), national systems of innovation (e.g. Lundvall 1992; Edquist and McKelvey 2000) or technological systems (e.g. Carlsson and Stankiewicz 1991; Carlsson 1997).

2.

3.

According to the Viking mythology, Särimner was a pig in Valhalla, the dwelling of Gods and dead warriors. The warriors slaughtered and ate Särimner. The next day he returned, once again to be slaughtered and eaten.

4.

Note the similarities with the actors inventors, entrepreneurs and creditors in Schumpeterian theory. I have extended the original definition of the competence bloc to include inventors and skilled labor.

5.

In Schumpeterian theory, innovators and entrepreneurs are synonymous, as they carry out the same function. That is not the case in the theory of the EOE and competence blocs.

6.

Cf., for example, Lazerson and Lorenzoni (1999) who conclude that no industrial district in Italy has been promoted by active industrial policy. The industrial revolution in England involved no public activities (Mathias 1969), except institutional changes protecting private property rights and promoting private entrepreneurship (North and Thomas 1973).

7.

This suggests that the total tax level may influence economic growth.

8.

Observe that another competence is added, namely the competence to use the political system to redistribute private wealth. Hence, redistribution implies that unproductive competence controls a larger share of total resources (cf. Bhagwati 1982; Baumol 1990; Tollison 1997). This effect is not explicit in the current version of the theory of the EOE and competence blocs.

9.

Transformation costs are the costs incurred when physically transforming inputs (land, capital, labor etc.) into outputs, while transactions costs define the costs incurred when transferring property rights from one actor to another.

10.

11.

These four operational tasks are identified as the information activities of both the firm and the entire economy and are called the statistical accounts of the knowledge-based information economy (Eliasson 1990b). They are estimated to have covered more than 50% of the resource input into the average Swedish manufacturing firm in the late 1980s (Eliasson 1990a).

12.

13.

A common explanation of the positive effects on firm growth of many firms and entrepreneurs, suggested by, e.g., Davidsson et al. (1994), is that existing entrepreneurs are positive role models for "to-be" entrepreneurs. The theory of the EOE and competence blocs does not dispute this particular effect but advances a few additional explanations related to competence and knowledge.

14.

15.

16.

The only thing that can protect a firm is a monopoly that reduces competition, guaranteed and enforced by government. Superior products, organization, technology, etc. creating a private monopoly are not a problem in the same way since monopoly profits sooner or later will be eroded by new entry (if allowed).
References
Aghion P, Howitt P (1998) Endogenous growth theory. MIT, Cambridge

Åkerman J (1939, 1944) Ekonomisk teori: del 1 och 2 (Economic theory: part 1 and 2). Gleerup, Lund

Alchian A (1950) Uncertainty, evolution and economic theory. J Polit Econ 58:211–221

Baumol W (1990) Entrepreneurship: productive, unproductive, and destructive. J Polit Econ 98:893–921

Bergström F (1998) Essays on the political economy of industrial policy. Doctoral thesis, Stockholm School of Economics, Stockholm

Bergström F (2000) Capital subsidies and the performance of firms. Small Bus Econ 14:183–193

Bhagwati J (1982) Directly-unproductive profit-seeking (DUP) activities. J Polit Econ 90:988–1002

Carlsson B (1983) Industrial subsidies in Sweden: macroeconomic effects and an international comparison. J Ind Econ 32:1–23

Carlsson B (ed) (1997) Technological systems: cases, analyses, comparisons. Kluwer, Dordrecht

Carlsson B, Stankiewicz R (1991) On the nature, function, and composition of technological systems. J Evol Econ 1:93–118

Coase R (1937) The nature of the firm. Economica 4:386–405

Dahlman C (1979) The problem of externality. J Law Econ 22:141–162

Dahmén E (1950) Svensk industriell företagarverksamhet: kausalanalys av den industriella utvecklingen 1919–1939, volume I and II. IUI, Stockholm. Translated (volume I) by Leijonhufvud A (1970) Entrepreneurial activity and the development of Swedish industry 1919–1939. Irwin, Homewood

Davidsson P, Lindmark L, Olofsson C (1994) Dynamiken i svenskt näringsliv (The dynamics of Swedish industry). Studentlitteratur, Lund

Davis S, Henrekson M (1997) Industrial policy, employer size and economic performance in Sweden, pp 353–397. In: Freeman R, Swedenborg B, Topel R (eds) The welfare state in transition. Chicago University Press, Chicago

Dopfer K, Potts J (2004) Principles of evolutionary economics. Routledge, London

Edquist C, McKelvey M (eds) (2000) Systems of innovation: growth competitiveness and employment. Edward Elgar, Cheltenham

Eliasson G (1984) Micro heterogeneity of firms and the stability and the stability of industrial growth. J Econ Behav Organ 5:249–274

Eliasson G (1985) The firm and financial markets in the Swedish micro-to-macro model: theory, model and verification. Almkvist & Wiksell International, Stockholm

Eliasson G (1987) Technological competition and trade in the experimentally organised economy. Research report no. 32. IUI, Stockholm

Eliasson G (1990a) The firm as a competent team. J Econ Behav Organ 13:275–298

Eliasson G (1990b) The knowledge based information economy. In: Eliasson G, Fölster S, Lindberg T, Pousette T, Taymaz E (eds) The knowledge based information economy. IUI, Stockholm

Eliasson G (1991a) Deregulation, innovative entry and structural diversity as a source of stable and rapid economic growth. J Evol Econ 1:49–63

Eliasson G (1991b) Modeling the experimentally organized economy: dynamics in an empirical micro-macro model of endogenous economic growth. J Econ Behav Organ 16:153–182

Eliasson G (1995) Teknologigenerator eller nationellt prestigeprojekt? Exemplet svensk flygindustri. City University Press, Stockholm

Eliasson G (1996) Firm objectives, controls and organization. The use of information and the transfer of knowledge within the firm. Kluwer, Dordrecht

Eliasson G (1998a) From plan to markets. J Econ Behav Organ 34:49–68

Eliasson G (1998b) Svensk datorindustri—en kompetensblocksanalys av dess framväxt och försvinnande. In: Heum P (ed) Kompetense og verdiskaping, SNF årbok. Fagbokforlaget, Bergen

Eliasson G (2000) Industrial policy, competence blocs and the role of science in economic development. J Evol Econ 10:217–241

Eliasson G (2001) The role of knowledge in economic growth. In: Helliwell J (ed) The contribution of human and social capital to sustained economic growth and well-being. OECD, Paris, pp 42–63

Eliasson G (2003) The venture capitalist as a competent outsider. In: Alho K, Lassila J, Ylä-Anttila P (eds) Talouden tutkimus ja päätöksenteko—kirjoituksia rakennemuutoksesta, kasvusta ja talouspolitiikasta (Economic research and decision making—essays on structural change, growth and economic policy). Taloustieto Oy, Helsingfors, pp 111–142

Eliasson G, Eliasson U (1997) Företagandets konst: om konstproduktionen i renässansens Florens. City University Press, Stockholm

Eliasson G, Eliasson Å (1996) The biotechnical competence bloc. Rev. Econ. Ind. 78:7–26

Eliasson G, Vikersjö K (1999) Recruiting in a European company. Vocat Train 12:14–19

Eliasson G, Wihlborg C (2003) On the macroeconomic effects of establishing tradability in weak property rights. J Evol Econ 13:607–632

Eliasson G, Johansson D, Taymaz (2005) Firm turnover and the rate of macro economic growth - simulating the macroeconomic effects of Schumpeterian creative destruction. In: Eliasson G (ed) The birth, the life and death of firms in a growing and experimentally organized economy: studies in Schumpeterian creative destruction. Ratio, Stockholm, pp 305–356

Erixon L (2005) Combining Keyenes and Schumpeter. Ingvar Svennilson's contribution to the Swedish growth school and modern economics. J Evol Econ 15:187–210

Fridh A-C (2002) Dynamic and growth: the health care industry. Doctoral thesis, Department of Industrial Economics and Management, Royal Institute of Technology, Stockholm

Hayek F (1937) Economics and knowledge. Economica 4:33–54

Hayek F (1945) The use of knowledge in society. Am Econ Rev 35:21–30

Hayek F (1978) Competition as a discovery procedure. In: Nishiyami C, Leube K (ed) The essence of Hayek. Hoover Institution Press, Stanford, pp 255–265

Henrekson M, Johansson D (2009) Competencies and institutions fostering high-growth firms. Foundations and Trends in Entrepreneurship 5:1–80

Johansson D (2000) Den experimentellt organiserade ekonomin, kompetensblock och ekonomisk tillväxt (The experimentally organized economy, competence blocs and economic growth). Ekon Debatt 28:655–668

Johansson D (2001) The dynamics of firm and industry growth: the Swedish computing and communications industry. Doctoral thesis, Department of Industrial Economics and Management, Royal Institute of Technology, Stockholm

Johansson D (2005) The turnover of firms and industry growth. Small Bus Econ 24:487–495

Johansson D, Karlson N (2002) Den svenska tillväxtskolan—om den ekonomiska utvecklingens kreativa förstörelse (The Swedish growth school—on the creative destruction of economic development). Ratio, Stockholm

Jonasson A (2001) Innovative pricing. Doctorate thesis, Department of Industrial Economics and Management, Royal Institute of Technology, Stockholm.

Lazerson M, Lorenzoni G (1999) The firms that feed industrial districts: a return to the Italian source. Ind Corp Change 8:235–266

Lucas R (1978) On the size distribution of firms. Bell J Econ 9:508–523

Lucas R (1988) On the mechanics of economic development. J Monet Econ 22:2–41

Lundvall B-Å (ed) (1992) National systems of innovation: towards a theory of innovation and interactive learning. Printer Press, London

Luukkonen T, Palmberg C (2006) The different dynamics of the biotechnology and ICT sectors in Finland. In: Carayannis E, Campbell D (eds) Knowledge creation, diffusion and use in innovative networks and clusters: a comparative systems approach across the United States, Europe and Asia. Praeger and Greenwood Press, Westport, pp 158–182

Mathias P (1969) The first industrial nation: an economic history of Britain 1700–1914. Methuen, London

Moe T (1997) The positive theory of public bureaucracy. In: Mueller D (ed) Perspectives on public choice: a handbook. Cambridge University Press, Cambridge, pp 455–480

Nelson R, Winter S (1982) An evolutionary theory of economic change. Harvard University Press, Cambridge

North D (1990) Institutional change and economic performance. Cambridge University Press, Cambridge

North D, Thomas R (1973) The rise of the Western World, a new economic history. Cambridge University Press, Cambridge

North D, Wallis J (1994) Integrating institutional change and technical change in economic history: a transaction cost approach. J Inst Theor Econ 150:609–624

Paldam M (1997) Political business cycles. In: Mueller D (ed) Perspectives on public choice: a handbook. Cambridge University Press, Cambridge, pp 342–370

Pelikan P (1993) Ownership of firms and efficiency: the competence argument. Const Polit Econ 4:349–392

Polanyi M (1967) The tacit dimension. Routledge, London

Pyka A, Hanusch H (2006) Applied evolutionary economics and the knowledge-based economy. Edward Elgar, Cheltenham

Romer P (1986) Increasing returns and long-run growth. J Polit Econ 94:1002–1037

Salter W (1960) Productivity and technical change. Cambridge University Press, Cambridge

Sandgren S (2005) Learning and earning: studies on a cohort of Swedish men. Doctoral thesis, Department of Industrial Economics and Management, Royal Institute of Technology, Stockholm

Schumpeter J (1934) The theory of economic development. Transaction, London

Simon H (1955) A behavioral model of rational choice. Q J Econ 69:99–118

Simon H (1990) Invariants of human behavior. Annu Rev Psychol 41:1–19

Solow R (1957) Technical change and the aggregate production function. Rev Econ Stat 39:312–320

Smith A (1776) An inquiry into the nature and causes of the wealth of nations. Basil

Tollison R (1997) Rent seeking. In: Mueller D (ed) Perspectives on public choice: a handbook. Cambridge University Press, Cambridge, pp 506–525

Wallis J, North D (1986) Measuring the transaction sector in the American economy. In: Engerman S, Gallman R (eds) Long-term factors in American economic growth. Chicago University Press, Chicago, pp 95–148

Walras L (1874) Éléments d'économie politique pure ou théorie de la richesse sociale (Elements of pure economics or the theory of social wealth). Lausanne

Wicksell K (1898) Geldzins und güterpreise: eine studie über die den tauschwert des geldes bestimmenden ursachen (Interest and prices: a study of the causes regulating the value of money). Jena

Wintrobe R (1997) Modern bureaucratic theory. In: Mueller D (ed) Perspectives on public choice: a handbook. Cambridge University Press, Cambridge, pp 429–454
Acknowledgement
I am grateful for comments from Niclas Berggren, Gunnar Eliasson and participants at seminars at The Ratio Institute and The Royal Institute of Technology. Financial support from Sparbanksstiftelsen Alfa is gratefully acknowledged.
About this article
Cite this article
Johansson, D. The theory of the experimentally organized economy and competence blocs: an introduction. J Evol Econ 20, 185–201 (2010). https://doi.org/10.1007/s00191-009-0149-5
Keywords
Experimentally organized economy

Competence blocs

Evolutionary theory

Competent team

The Swedish growth school
JEL Classification