Abstract
Variations of marine gravity reflect mass changes in Earth's interior, including magma motions during volcanic eruption, which manifest in submarine mass transports. Absolute gravimeters have been used to detect and study evolutions of magma mass motions, however, only for land volcanoes. Here for the first time, we used radar altimeter-derived time-varying marine gravity fields, corresponding to before, during and after the Nishinoshima volcanic eruption, Izu–Bonin arcs near Japan, to quantify the evolution of undersea volcanic magma mass motions. The magma depths were observed to become shallower and <  2 km, which are almost in exact accordance with seismic results. We find that the magma volume decreased beneath the Nishinoshima volcano, while increased or being fed by deeper reservoirs to the east and northeast of Nishinoshima. We conclude that the Nishinoshima volcano may continue to be active in the future. This study highlights the use of satellite radar altimetry as an innovative and viable tool to study subaqueous volcanism.
Access options
Buy single article
Instant access to the full article PDF.
USD 39.95
Price includes VAT (USA)
Tax calculation will be finalised during checkout.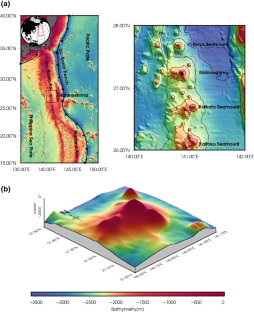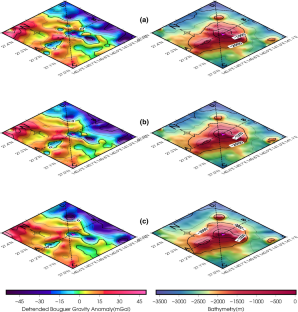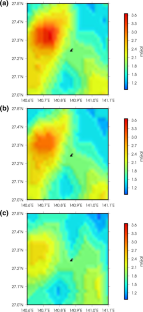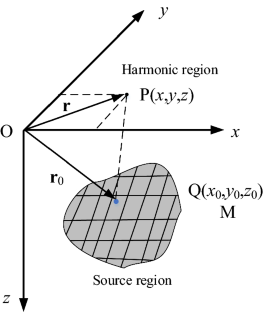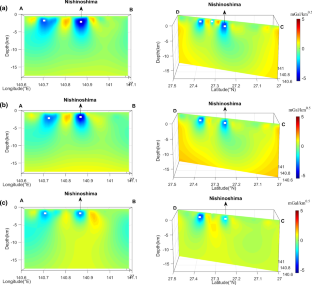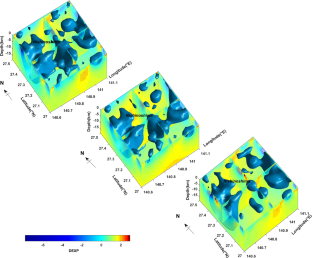 Data availability
The radar altimeter-derived marine gravity data, topography data and gravity error used in this paper were obtained from ftp://topex.ucsd.edu/pub/archive/grav/, and the GEBCO 2019 Grid are available at https://www.gebco.net/. The datasets generated during and/or analyzed during the current study are available from the corresponding author on reasonable request.
References
Abbas MA, Fedi M (2014) Automatic DEXP imaging of potential fields independent of the structural index. Geophys J Int 199(3):1625–1632. https://doi.org/10.1093/gji/ggu354

Andersen OB, Knudsen P, Berry PAM (2009) The DNSC08GRA global marine gravity field from double retracked satellite altimetry. J Geod 84(3):191–199. https://doi.org/10.1007/s00190-009-0355-9

Andersen OB, Knudsen P, Kenyon S, Holmes S, Factor JK (2019) Evaluation of the Global Altimetric Marine Gravity Field DTU15: Using Marine Gravity and GOCE Satellite Gravity. In L. Sánchez, & J. T. Freymueller (Eds.), International Symposium on Advancing Geodesy in a Changing World - Proceedings of the IAG Scientific Assembly, 2017 (pp. 77–81). Springer. International Association of Geodesy Symposia Vol. 149. https://doi.org/10.1007/1345_2018_52

Bagnardi M, Poland MP, Carbone D, Baker S, Battaglia M, Amelung F (2014) Gravity changes and deformation at Kīlauea volcano, Hawai'i, associated with summit eruptive activity, 2009–2012. J Geophys Res Solid Earth 119(9):7288–7305. https://doi.org/10.1002/2014JB011506

Baniamerian J, Fedi M, Oskooi B (2016) Research note: compact depth from extreme points: a tool for fast potential field imaging. Geophys Prospect 64(5):1386–1398. https://doi.org/10.1111/1365-2478.12365

Carbone D, Poland MP (2012) Gravity fluctuations induced by magma convection at Kilauea volcano. Hawai'i Geology 40(9):803–806. https://doi.org/10.1130/g33060.1

Cella F, Fedi M (2012) Inversion of potential field data using the structural index as weighting function rate decay. Geophys Prospect 60(2):313–336. https://doi.org/10.1111/j.1365-2478.2011.00974.x

Cella F, Fedi M, Florio G (2010) Toward a full multiscale approach to interpret potential fields. Geophys Prospect 57(4):543–557. https://doi.org/10.1111/j.1365-2478.2009.00808.x

Chandler MT, Wessel P (2008) Improving the quality of marine geophysical track line data: along-track analysis. J Geophys Res Solid Earth. https://doi.org/10.1029/2007JB005051

Chen M, Fang J, Cui R (2018) Lithospheric structure of the South China Sea and adjacent regions: results from potential field modelling. Tectonophysics 726:62–72. https://doi.org/10.1016/j.tecto.2018.01.021

Fairhead JD, Green CM, Odegard ME (2001) Satellite-derived gravity having an impact on marine exploration. Lead Edge 20(8):873–876. https://doi.org/10.1190/1.1487298

Fedi M (2007) DEXP: a fast method to determine the depth and the structural index of potential fields sources. Geophysics 72(1):I1–I11. https://doi.org/10.1190/1.2399452

Fedi M, Cella F, D'Antonio M, Florio G, Paoletti V, Morra V (2018) Gravity modeling finds a large magma body in the deep crust below the Gulf of Naples. Italy Sci Rep 8(1):8229. https://doi.org/10.1038/s41598-018-26346-z

Fedi M, Florio G, Quarta TA (2009) Multiridge analysis of potential fields: geometric method and reduced Euler deconvolution. Geophysics 74(4):L53–L65. https://doi.org/10.1190/1.3142722

Forsberg R, Olesen AV (2010) Airborne gravity field determination. In: Xu G (ed) Sciences of geodesy-I. Springer, NY, pp 83–104. https://doi.org/10.1007/978-3-642-11741-1_3

Fullea J, Fernàndez M, Zeyen H (2008) FA2BOUG—A FORTRAN 90 code to compute Bouguer gravity anomalies from gridded free-air anomalies: application to the Atlantic-Mediterranean transition zone. Comput Geosci 34(12):1665–1681. https://doi.org/10.1016/j.cageo.2008.02.018

Global Volcanism Program (2017) Report on Nishinoshima (Japan). In: Crafford AE, Venzke E (eds) Bulletin of the global volcanism network, vol 42. Smithsonian Institution, p 11. https://doi.org/10.5479/si.GVP.BGVN201711-284096

Global Volcanism Program (2018) Report on Nishinoshima (Japan). In: Krippner JB, Venzke E (eds) Bulletin of the global volcanism network, vol 43. Smithsonian Institution, p 9. https://doi.org/10.5479/si.GVP.BGVN201809-284096

Hsiao YS, Kim K, Kim JW, Lee BY, Hwang C (2011) Bathymetry estimation using the gravity-geologic method: an investigation of density contrast predicted by the downward continuation method. Terres Atmos Ocean Sci 22(3):347–358. https://doi.org/10.3319/TAO.2010.10.13.01(Oc)

Hwang C, Chang ETY (2014) Seafloor secrets revealed. Science 346(6205):32–33. https://doi.org/10.1126/science.1260459

Ito K (2018) Geophysical and geological characteristics of Nishinoshima volcano obtained before the 2013 eruption. Report of Hydrographic and Oceanographic Researches. 55:1–19. http://hdl.handle.net/1834/15520 (in Japanese with English abstract)Japan Coast Guard (2016) Nishinoshima volcano. Retrieved from http://www1.kaiho.mlit.go.jp/GIJUTSUKOKUSAI/kaiikiDB/kaiyo18-e1.htm

Johnson DJ, Eggers AA, Bagnardi M, Battaglia M, Poland MP, Miklius A (2010) Shallow magma accumulation at Kilauea volcano, Hawai'i, revealed by microgravity surveys. Geology 38(12):1139–1142. https://doi.org/10.1130/G31323.1

Kaneko T, Maeno F, Yasuda A, Takeo M, Takasaki K (2019) The 2017 Nishinoshima eruption: combined analysis using Himawari-8 and multiple high-resolution satellite images. Earth Planets Space 71:140. https://doi.org/10.1186/s40623-019-1121-8

Kazama T, Okubo S, Sugano T, Matsumoto S, Sun W, Tanaka Y, Koyama E (2015) Absolute gravity change associated with magma mass movement in the conduit of Asama Volcano (Central Japan), revealed by physical modeling of hydrological gravity disturbances. J Geophys Res Solid Earth 120(2):1263–1287. https://doi.org/10.1002/2014JB011563

Natsuaki R, Watanabe M, Motohka T, Ohki M, Shimada M (2015) Assessment of the stability for active volcanic small island by use of SAR interferometry: a case study in Nishinoshima island. IEEE, Synthetic Aperture Radar. https://doi.org/10.1109/APSAR.2015.7306334

Nishida K, Ichihara M (2016) Real-time infrasonic monitoring of the eruption at a remote island volcano using seismoacoustic cross correlation. Geophys J Int 204(2):748–752. https://doi.org/10.1093/gji/ggv478

Okada C, Ono T, Hamasaki S, Takahashi H, Morishita T, Itio H et al (2016) Preliminary result of the ocean bottom seismographic observation at Nishinoshima volcano. Rep Hydrogr Oceanogr Res 53:29–44 ((in Japanese with English abstract))

Pachauri RK, Meyer LA (eds), (2014) Climate Change 2014: Synthesis Report. Contribution of Working Groups I, II and III to the Fifth Assessment Report of the Intergovernmental Panel on Climate Change (IPCC) [Core Writing Team, R.K. Pachauri and L.A. Meyer (eds.)]. Geneva, Switzerland, pp 151

Panet I, Flury J, Biancale R, Gruber T, Johannessen J, Broeke MR et al (2013) Earth system mass transport mission (e.motion): a concept for future earth gravity field measurements from space. Surveys Geophys 34(2):141–163. https://doi.org/10.1007/s10712-012-9209-8

Paoletti V, Ialongo S, Florio G, Fedi M, Cella F (2013) Self-constrained inversion of potential fields. Geophys J Int 195(2):854–869. https://doi.org/10.1093/gji/ggt313

Paoletti V, Passaro S, Fedi M, Marino C, Tamburrino S, Ventura G (2016) Subcircular conduits and dikes offshore the Somma-Vesuvius volcano revealed by magnetic and seismic data. Geophys Res Lett. https://doi.org/10.1002/2016GL070271

Rousset D, Lesquer A, Bonneville A, Lénat JF (1989) Complete gravity study of Piton de la fournaise volcano. Reunion Island J Volcanol Geotherm Res 36(1–3):0–52. https://doi.org/10.1016/0377-0273(89)90004-8

Rymer H, Brown GC (1986) Gravity fields and the interpretation of volcanic structures: geological discrimination and temporal evolution. J Volcanol Geotherm Res 27(3–4):0–254. https://doi.org/10.1016/0377-0273(86)90015-6

Sandwell D, Garcia E, Soofi K, Wessel P, Chandler M, Smith WHF (2013) Toward 1-mGal accuracy in global marine gravity from CryoSat-2, Envisat, and Jason-1. Lead Edge 32(8):892–899. https://doi.org/10.1190/tle32080892.1

Sandwell DT, Harper H, Tozer B, Smith WHF (2019) Gravity field recovery from geodetic altimeter missions. Adv Space Res. https://doi.org/10.1016/j.asr.2019.09.011

Sandwell DT, Muller RD, Smith WHF, Garcia E, Francis R (2014) New global marine gravity model from CryoSat-2 and Jason-1 reveals buried tectonic structure. Science 346(6205):65–67. https://doi.org/10.1126/science.1258213

Sandwell DT, Smith WHF (2009) Global marine gravity from retracked Geosat and ERS-1 altimetry: ridge segmentation versus spreading rate. J Geophys Res Solid Earth. https://doi.org/10.1029/2008jb006008

Sano T, Shirao M, Tani K, Tsutsumi Y, Kiyokawa S, Fujii T (2016) Progressive enrichment of arc magmas caused by the subduction of seamounts under Nishinoshima volcano, Izu-Bonin Arc. Japan J Volcanol Geotherm Res. https://doi.org/10.1016/j.jvolgeores.2016.03.004

Shinohara M, Ichihara M, Sakai S, Yamada T, Takeo M, Sugioka H et al (2017) Continuous seismic monitoring of Nishinoshima volcano, Izu-Ogasawara, by using long-term ocean bottom seismometers. Earth, Planets Space 69(1):159. https://doi.org/10.1186/s40623-017-0747-7

Shum CK, Ries JC, Tapley BD (1995) The accuracy and applications of satellite altimetry. Geophys J Roy Astron Soc 121(2):321–336. https://doi.org/10.1186/10.1111/j.1365-246X.1995.tb05714.x

Smith WHF, Sandwell DT (1997) Global sea floor topography from satellite altimetry and ship depth soundings. Science 277(5334):1956–1962. https://doi.org/10.1126/science.277.5334.1956

Sun W, Okubo S (1993) Surface potential and gravity changes due to internal dislocations in a spherical Earth I. Theory for a point dislocation. Geophys J Int 114(3):569–592. https://doi.org/10.1111/j.1365-246X.1993.tb06988.x

Takagi A, Nagaoka Y (2017) Seismicity recorded by ocean bottom seismometers around Nishinoshima. In: monitoring studies of the 2013–2015 Nishinoshima eruption vol 78. Technical Reports of the Meteorological Research Institute pp 59–69. (in Japanese). https://doi.org/10.11483/mritechrepo

Tamura Y, Sato T, Fujiwara T, Kodaira S, Nichols A (2016) Advent of continents: a new hypothesis. Sci Rep 6(1):33517. https://doi.org/10.1038/srep33517

Tapley BD, Bettadpur S, Ries JC, Thompson PF, Watkins MM (2004) GRACE measurements of mass variability in the earth system. Science 305(5683):503–505. https://doi.org/10.1126/science.1099192

Tapley B, Watkins M, Flechtner F, Reigber C, Bettadpur S, Rodell M et al (2019) Contributions of GRACE to understanding climate change. Nature Clim Change. https://doi.org/10.1038/s41558-019-0436-2

Zhang S (2016) Sandwell DT (2016) retracking of SARAL/Altika radar altimetry waveforms for optimal gravity field recovery. Mar Geod. https://doi.org/10.1080/01490419.2016.1265032
Acknowledgments
We acknowledge David Sandwell, University of California at San Diego, for providing the radar altimeter-derived gravity data used in this study. The IHO (International Hydrographic Organization) provided the Compilation Group (2019) GEBCO 2019 Grid (https://doi.org/10.5285/836f016a-33be-6ddc-e053-6c86abc0788e). This work is supported by the National Natural Science Foundation of China (Grant Nos. 41774022, 41621091, and 41931076) and the Basic Frontier Science Research Program of Chinese Academy of Sciences (Grant No. ZDBS-LY-DQC028).
Ethics declarations
Conflict of interest
The authors declare that they have no competing interests.
Supplementary Information
Below is the link to the electronic supplementary material.
About this article
Cite this article
Li, Q., Bao, L. & Shum, C.K. Altimeter-derived marine gravity variations reveal the magma mass motions within the subaqueous Nishinoshima volcano, Izu–Bonin Arc, Japan. J Geod 95, 46 (2021). https://doi.org/10.1007/s00190-021-01488-7
Received:

Accepted:

Published:
Keywords
Satellite altimetry

Time variable gravity

Subaqueous volcano

Magma motions

Nishinoshima