Abstract
The geodetic VLBI community began using VLBA antennas in 1989 for geodesy and astrometry. We examine how usage of the VLBA has improved the celestial reference frame, the terrestrial reference frame, and Earth orientation parameters. Without the VLBA, ICRF2 would have had only 1011 sources instead of 3414. ICRF3 will contain at least 4121 sources, with approximately 70 % or more coming exclusively from VLBA astrometry and geodesy sessions. The terrestrial reference frame is also more stable and precise due to VLBA geodesy sessions. Approximately two dozen geodesy stations that have participated in VLBA sessions show average position formal errors that are \(\sim \)13–14 % better in the horizontal components and \(\sim \)5 % better in the vertical component than would be expected solely from the increased number of observations. Also the Earth orientation parameters obtained from the RDV sessions represent the most accurate EOP series of any of the long-term VLBI session types.
This is a preview of subscription content, log in to check access.
Access options
Buy single article
Instant access to the full article PDF.
US$ 39.95
Price includes VAT for USA
Subscribe to journal
Immediate online access to all issues from 2019. Subscription will auto renew annually.
US$ 199
This is the net price. Taxes to be calculated in checkout.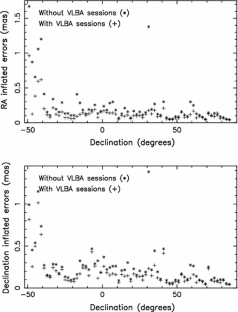 Notes
1.

2.

A 'session' is a continuous VLBI observing run, usually 24 h in length.

3.

4.

An observation is a single baseline delay and rate measurement.

5.

All source position errors given here are 'inflated' as was done in ICRF2, by multiplying the formal solution errors by 1.5 and then adding in 40 \(\mu \)-arc-seconds in an RSS sense.

6.

7.

8.

9.
Acknowledgments
The VLBA is operated by the National Radio Astronomy Observatory, which is a facility of the National Science Foundation, and operated under cooperative agreement by Associated Universities, Inc. I thank Karine Le Bail for SSA time-series analysis of the EOP series and Alan Fey for information on the USNO/NRAO UT1 Intensive sessions. Support for this work was provided through NASA contract NNG12HP00C.
About this article
Cite this article
Gordon, D. Impact of the VLBA on reference frames and earth orientation studies. J Geod 91, 735–742 (2017). https://doi.org/10.1007/s00190-016-0955-0
Received:

Accepted:

Published:

Issue Date:
Keywords