Abstract
Our study analyses satellite and land-based observations of the Yakutsk region centred at the Lena watershed, an area characterised mainly by continuous permafrost. Using monthly solutions of the Gravity Recovery And Climate Experiment satellite mission, we detect a mass increase over central Siberia from 2002 to 2007 which reverses into a mass decrease between 2007 and 2011. No significant mass trend is visible for the whole observation period. To further quantify this behaviour, different mass signal components are studied in detail: (1) inter-annual variation in the atmospheric mass, (2) a possible effect of glacial isostatic adjustment (GIA), and (3) hydrological mass variations. In standard processing the atmospheric mass signal is reduced based on the data from numerical weather prediction models. We use surface pressure observations in order to validate this atmospheric reduction. On inter-annual time scale the difference between the atmospheric mass signal from model prediction and from surface pressure observation is \(<\)4 mm in equivalent water height. The effect of GIA on the mass signal over Siberia is calculated using a global ice model and a spherically symmetric, compressible, Maxwell-viscoelastic earth model. The calculation shows that for the investigated area any effect of GIA can be ruled out. Hence, the main part of the signal can be attributed to hydrological mass variations. We briefly discuss potential hydrological effects such as changes in precipitation, river discharge, surface and subsurface water storage.
Access options
Buy single article
Instant access to the full article PDF.
USD 39.95
Price excludes VAT (USA)
Tax calculation will be finalised during checkout.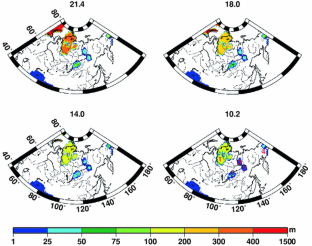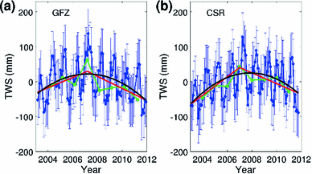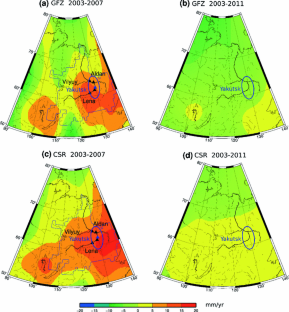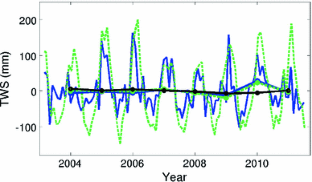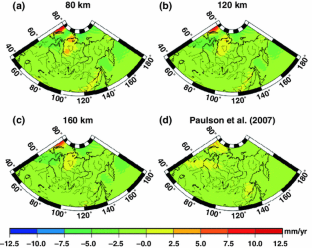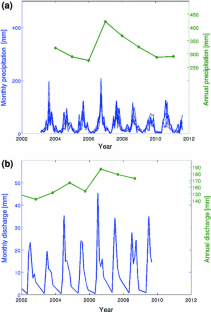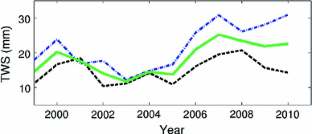 References
Alexanderson H, Hjort C, Möller P, Antonov O, Pavlov M (2001) The North Taymyr ice-marginal zone, Arctic Siberia—a preliminary overview and dating. Global Planet Change 31(1–4):427–445

Alexanderson H, Adrielsson L, Hjort C, M ller P, Antonov O, Eriksson S, Pavlov M (2002) Depositional history of the North Taymyr ice-marginal zone, Siberia—a landsystem approach. J Quat Sci 17(4):361–382

Andersen O, Krogh P, Bauer-Gottwein P, Leiriao S, Smith R, Berry P (2010) Terrestrial water storage from GRACE and satellite altimetry in the Okavango Delta (Botswana). In: Mertikas SP (ed) Gravity, geoid and earth observations, IAG symposium, vol 135. Springer, Berlin, pp 521–526. doi:10.1007/978-3-642-10634-7_70

Becker M, LLovel W, Cazenave A, Güntner A, Cretaux J-F (2010) Recent hydrological behavior of the East African great lakes region inferred from GRACE, satellite altimetry and rainfall observations. CR Geosci 342:223–233. doi:10.1016/j.crte.2009.12.010

Berezovskaya S, Yang D, Kane DL (2004) Compatibility analysis of precipitation and runoff trends over the large Siberian watersheds. Geophys Res Lett 31:L21502. doi:10.1029/2004GL021277

Berezovskaya S, Yang D, Hinzman L (2005) Long-term annual water balance analysis of the Lena River. Global Planet Change 48:84–95. doi:10.1016/j.gloplacha.2004.12.006

Brigham-Grette J, Gualtieri L, Glushkova O, Hamilton T, Mostoller D, Kotov A (2003) Chlorine-36 and 14c chronology support a limited last glacial maximum across Central Chukotka, northeastern Siberia, and no Beringian ice sheet. Quat Res 59(3):386–398

Brouchkov A, Fukuda M, Fedorov A, Konstantinov P, Iwahana G (2004) Thermokarst as a short-term permafrost disturbance. Central Yakutia. Permafrost Periglac Process 15:81–87

Brown J, Ferrians OJ, Heginbottom JA, Melnikov ES (1998) Circum-Arctic map of permafrost and ground-ice conditions. National Snow and Ice Data Center/World Data Center for Glaciology. Digital Media, Boulder. Revised February 2001

Chao BF, Wu YH, Zhang Z, Ogawa R (2011) Gravity variation in Siberia: GRACE observation and possible causes. Terr Atmos Ocean Sci 22:149–155. doi:10.3319/TAO.2010.07.26.03(TibXS)

Chen J, Wilson C, Tapley B, Yang Z, Niu G (2009) 2005 drought event in the Amazon River basin as measured by GRACE and estimated by climate models. J Geophys Res 114(B5):1–9. doi:10.1029/2008JB006056

Cheng M, Tapley BD (2004) Variations in the Earth's oblateness during the past 28 years. J Geophys Res 109:B09402. doi:10.1029/2004JB003028

Chevychelov A, Bosikov N (2010) Natural conditions. In: Troeva E, Isaev A, Karpov N (eds) The Far North: plant biodiversity and ecology of Yakutia, vol 3. Springer, Heidelberg. doi:10.1007/978-90-481-3774-9

Chudinova SM, Frauenfeld OW, Barry RG, Zhang T, Sorokovikov VA (2006) Relationship between air and soil temperature trends and periodicities in the permafrost regions of Russia. J Geophys Res 111:F02008. doi:10.1029/2005JF000342

Costard F, Gautier E (2008) Large rivers: geomorphology and management, The Lena River: hydromorphodynamic features in a deep permafrost zone, chap 11. Wiley, Chichester

Czudek T, Demek J (1970) Thermokarst in Siberia and its influence on the development of lowland relief. Quat Res 1:103–120. doi:10.1016/0033-5894(70)90013-X

Denton GH, Hughes TJ (1981) The Last great ice sheets. Wiley, New York

Döll P, Kaspar F, Lehner B (2003) A global hydrological model for deriving water availability indicators: model tuning and validation. J Hydrol 270:105–134. doi:10.1016/S0022-1694(02), 00283-4

Duan XJ, Guo JY, Shum CK, van der Wal W (2009) On the postprocessing removal of correlated errors in GRACE temporal gravity field solutions. J Geod 83:1095–1106. doi:10.1007/s00190-009-0327-0

Dziewonski AM, Anderson DL (1981) Preliminary reference Earth model. Phys Earth Planet Interiors 25:297–356

ECMWF (2009) MARS User Guide. Technical Notes

Farrell WE, Clark JA (1976) On postglacial sea level. Geophys J R Astr Soc 46:647–667

Flechtner F (2007) AOD1B product description document for product releases 01 to 04. GFZ level-2 processing standards document for level-2 product release 0004, Rev. 1.0, GRACE 327 743 (GR-GFZ-STD-001), Deutsches GeoForschungsZentrum (GFZ), Potsdam, Germany

Frappart F, Ramillien G, Biancamaria S, Mognard NM, Cazenave A (2006) Evolution of high-latitude snow mass derived from the GRACE gravimetry mission (2002–2004). J Geophys Res 33:1–5. doi:10.1029/2005GL024778

Frappart F, Papa F, G ntner A, Werth S, Ramillien G, Prigent C, Rossow WB, Bonnet M-P (2010) Interannual variations of the terrestrial water storage in the lower Ob-basin from a multisatellite approach. Hydrol Earth Syst Sci 14:2443–2453. doi:10.5194/hess-14-2443-2010

Frappart F, Ramillien G, Famiglietti JS (2011) Water balance of the Arctic drainage system using GRACE gravimetry products. Int J Remote Sens 32:431–453. doi:10.1080/01431160903474954

Groisman PY, Knight R, Razuraev V, Bulygina O, Karl T (2006) State of the ground: climatology and changes during the past 69 years over Northern Eurasia for a rarely used measure of snow cover and frozen land. J Clim 19:4933–4955. doi:10.1175/JCLI3925.1

Gualtieri L, Glushkova O, Brigham-Grette J (2000) Evidence for restricted ice extent during the last glacial maximum in the Koryak Mountains of Chukotka, far Eastern Russia. Bull Geol Soc Am 112(7):1106–1118

Güntner A, Stuck J, Werth S, Döll P, Verzano K, Merz B (2007) A global analysis of temporal and spatial variations in continental water storage. Water Resour Res 43(5):19

Han S-C, Jekeli C, Shum CK (2004) Time-variable aliasing effects of ocean tides, atmosphere, and continental water mass on monthly mean GRACE gravity field. J Geophys Res 109:B04403. doi:10.1029/2003JB002501

Iijima Y, Fedorov AN, Park H, Suzuki K, Yabuki H, Maximov TC, Ohata T (2010) Abrupt increases in soil temperatures following increased precipitation in a permafrost region, Central Lena River Basin, Russia. Permafrost Periglac Processes 21:30–41. doi:10.1002/ppp.662

Kaufmann G (2004) Program package ICEAGE, Version 2004. Manuscript. Institut für Geophysik der Universität Güttingen, p 40

Kaufmann G, Lambeck K (2002) Glacial isostatic adjustment and the radial viscosity profile from inverse modeling. J Geophys Res 107(B11):ETG5-1–ETG5-15

Kravtsova VI, Bystrova AG (2009) Changes in thermokarst lake sizes in different regions of Russia for the last 30 years. Kriosfera Zemli (Earth Cryosphere) 13:16–26

Lambeck K, Purcell A, Funder S, kjær KH, Larsen E, Möller P (2006) Constraints on the Late Saalian to early Middle Weichselian ice sheet of Eurasia from field data and rebound modelling. Boreas 35(3): 539–575

Lambeck K, Purcell A, Zhao J, Svensson N-O (2010) The Scandinavian Ice Sheet: from MIS 4 to the end of the Last Glacial Maximum. Boreas 39(2):410–435

Landerer FW, Dickey JO, Güntner A (2010) The terrestrial water budget of the Eurasian pan-Arctic from GRACE-Satellite measurements during 2003–2009. J Geophys Res 115:D23115. doi:10.1029/2010JD014584

Leblanc M, Tregoning P, Ramillien G, Tweed S, Fakes A et al (2009) Basin-scale, integrated observations of the early 21st century multiyear drought in southeast Australia. Water Resour Res 45(4):W04408. doi:10.1029/2008WR007333

Lee H, Shum CK, Tseng K-H, Guo J-Y, Kuo C-Y (2011) Present-day lake level variation from Envisat altimetry over the Northeastern Qinghai-Tibetan Plateau: links with precipitation and temperature. Terr Atmos Ocean Sci 22:169–175. doi:10.3319/TAO.2010.08.09.01(TibXS)

Matsuo K, Heki K (2010) Time-variable ice loss in Asian high mountains from satellite gravimetry. Earth Planet Sci Lett 290(1–2):30–36. doi:10.1016/j.epsl.2009.11.053

McBean G, Chen D, Førland E, Fyfe J, Groisman PY, King R, Melling H, Vose R, Whitfield PH (2005) Arctic climate impact assessment. Cambridge University Press, Cambridge, pp 20-60

Mitrovica JX, Davis JL, Shapiro II (1994) A spectral formalism for computing three-dimensional deformations due to surface loads 1. Theory. J Geophys Res 99(B4):7057–7073

Mitrovica JX, Milne GA (1998) Glaciation-induced perturbations in the Earth's rotation: a new appraisal. J Geophys Res 103:985–1005

Möller P, Hjort C, Alexanderson H, Sallaba F (2011) Glacial history of the Taymyr Peninsula and the Severnaya Zemlya Archipelago, Arctic Russia. Dev Quat Sci 15:373–384. doi:10.1016/B978-0-444-53447-7.00028-3

Morishita Y, Heki K (2008) Characteristic precipitation patterns of El Nino/La Nina in time-variable gravity fields by GRACE. Earth Planet Sci Lett 272(3–4):677–682. doi:10.1016/j.epsl.2008.06.003

Muskett RR, Romanovsky VE (2009) Groundwater storage changes in Arctic permafrost watersheds from GRACE and in situ measurements. Environ Res Lett 4:045009. doi:10.1088/1748-9326/4/4/045009

Muskett RR, Romanovsky VE (2011) Alaskan permafrost groundwater storage changes derived from GRACE and ground measurements. Remote Sens 3:378–397. doi:10.3390/rs3020378

Ogawa R (2010) Transient, seasonal and inter-annual gravity changes from GRACE data: Geophysical modelings, Hakkaido University, Sapporo, Japan. PhD thesis

Ogawa R, Chao BF, Heki K (2011) Acceleration signal in grace time-variable gravity in relation to interannual hydrological changes. Geophys J Int 184:673–679

Osawa A, Zyryanova O, Matsuura Y, Kajimoto T, Wein RW (2009) Permafrost ecosystem: Siberian Larch forests. Springer, Heidelberg

Papa F, Prigent C, Rossow WB (2008) Monitoring flood and discharge variations in the Large Siberian Rivers From a multi-satellite technique. Surv Geophys 29:297–317

Paulson A, Zhong S, Wahr J (2007) Inference of mantle viscosity from grace and relative sea level data. Geophys J Int 171(2):497–508

Peltier W (2004) Global glacial isostasy and the surface of the ice-age earth: the ice-5g (vm2) model and grace. Annu Rev Earth Planet Sci 32:111–149

Ramillien G, Frappart F, Güntner ACA (2005) Time variations of land water storage from an inversion of 2 years of GRACE geoids. Earth Planet Sci Lett 235:283–301

Rawlins M, Serreze M, Schroeder R, Zhang X, McDonald K (2009) Diagnosis of the record discharge of Arctic-draining Eurasian rivers in 2007. Environ Res Lett 4:045011. doi:10.1088/1748-9326/4/4/045011

Ray R, Rowlands D, Egbert G (2003) Tidal models in a new era of satellite gravimetry. Space Sci Rev 108:271–282. doi:10.1023/A:1026223308107

Rennermalm AK, Wood EF, Troy TJ (2010) Observed changes in pan-arctic cold-season minimum monthly river discharge. Clim Dyn 35:923–939. doi:10.1007/s00382-009-0730-5

Rodell M et al (2004) The global land data assimilation system. Bull Am Meteorol Soc 85:381–394. doi:10.1175/BAMS-85-3-381

Rodell M, Velicogna I, Famiglietti J (2009) Satellite-based estimates of groundwater depletion in India. Nature 460(7258):999–1002. doi:10.1038/nature08238

Schmidt R, Petrovic S, Güntner A, Barthelmes F, Wuensch J, Kusche J (2008) Periodic components of water storage changes from GRACE and global hydrology models. J Geophys Res 113:B08419. doi:10.1029/2007JB005363

Seo K-W, Ryu D, Kim B-M, Waliser DE, Tian B, Eom J (2010) GRACE and AMSR-E-based estimates of winter season solid precipitation accumulation in the Arctic drainage region. J Geophys Res 115:D20117. doi:10.1029/2009JD013504

Shiklomanov AI, Lammers RB, Rawlins MA, Smith LC, Pavelsky TM (2007) Temporal and spatial variations in maximum river discharge from a new Russian data set. J Geophys Res 112:G04S53. doi:10.1029/2006JG000352

Stauch G, Lehmkuhl F, Frechen M (2007) Luminescence chronology from the Verkhoyansk Mountains (North-Eastern Siberia). Quat Geochronol 2(1–4):255–259

Stauch G, Gualtieri L (2008) Late Quaternary glaciations in northeastern Russia. J Quat Sci 23(6–7):545–558. doi:10.1002/jqs.1211

Stauch G, Lehmkuhl F (2011) Extent and timing of Quaternary glaciations in the Verkhoyansk Mountains. Dev Quat Sci 15:877–881. doi:10.1016/B978-0-444-53447-7.00064-7

Steffen H, Müller J, Peterseim N (2012) Mass variations in the Siberian permafrost region from GRACE. In: Kenyon SeaE (ed) Geodesy for Planet Earth, IAG symposium, vol 136. Springer, Berlin, pp 597–603. doi:10.1007/978-3-642-20338-1_73

Steffen H, Kaufmann G (2005) Glacial isostatic adjustment of Scandinavia and northwestern Europe and the radial viscosity structure of the Earth's mantle. Geophys J Int 163(2):801–812. doi:10.1111/j.1365-246X.2005.02740.x

Steffen H, Denker H, Müller J (2008) Glacial isostatic adjustment in Fennoscandia from GRACE data and comparison with geodynamic models. J Geodyn 46(3–5):155–164. doi:10.1016/j.jog.2008.03.002

Steffen H, Gitlein O, Denker H, Müller J, Timmen L (2009) Present rate of uplift in Fennoscandia from GRACE and absolute gravimetry. Tectonophysics 474:69–77. doi:10.1016/j.tecto.2009.01.012

Steffen H, Wu P (2011) Glacial isostatic adjustment in Fennoscandia—a review of data and modeling. J Geodyn 52(3–4):169–204. doi:10.1016/j.jog.2011.03.002

Svendsen JI, Alexanderson H, Astakhov VI, Demidov I, Dowdeswell JA, Funder S et al (2004) Late Quaternary ice sheet history of northern Eurasia. Quat Sci Rev 23(11–13):1229–1271. doi:10.1016/j.quascirev.2003.12.008

Velichko AA, Timireva SN, Kremenetski KV, MacDonald GM, Smith LC (2011) West Siberian Plain as a late glacial desert. Quat Int 237(1–2):45–53. doi:10.1016/j.quaint.2011.01.013

Velicogna I, Wahr J, den Dool HV (2001) Can surface pressure be used to remove atmospheric contributions from GRACE data with sucient accuracy to recover hydrological signals? J Geophys Res 106:16415-16434. doi:10.1029/2001JB000228

Velicogna I, Tong J, Zhang T, Kimball J (2012) Increasing subsurface water storage in discontinuous permafrost areas of the Lena River Basin, Eurasia, detected from grace. Geophys Res Lett 39(9):L09403. doi:10.1029/2012GL051623

Vey S, Dietrich R, Rülke A, Fritsche M, Steigenberger P, Rothacher M (2010) Validation of precipitable water vapor within the NCEP/DOE reanalysis using global GPS observations from one decade. J Clim 23:1675-1695. doi:10.1175/2009JCLI2787.1

Wahr J, Molenaar M, Bryan F (1998) Time variability of the Earth's gravity field: hydrological and oceanic effects and their possible detection using GRACE. J Geophys Res 103:30205–30229. doi:10.1029/98JB02844

Wang HS, Wu P, van der Wal W (2008) Using postglacial sea level, crustal velocities and gravity-rate-of-change to constrain the influence of thermal effects on mantle lateral heterogeneities. J Geodyn 46(3–5):104–117. doi:10.1016/j.jog.2008.03.003

Werth S, Güntner A (2010) Calibration analysis for water storage variability of the global hydrological model WGHM. Hydrol. Earth Syst Sci 14:59–78. doi:10.5194/hess-14-59-2010

Werth S, Güntner A, Schmidt R, Kusche J (2009) Evaluation of GRACE filter tools from a hydrological perspective. Geophys J Int 179:1499–1515. doi:10.1111/j.1365-246X.2009.04355.x

Yang D, Kane DL, Hinzman LD, Zhang X, Zhang T, Ye H (2002) Siberian Lena River hydrologic regime and recent change. J Geophys Res 107:4694. doi:10.1029/2002JD002542

Zech W, Bäumler R, Savoskul O, Braitseva O, Melekestsev J (1997) Evidence of middle pleistocene glaciation in SW-Kamchatka. Zeitschrift für Gletscherkunde und Glazialgeologie 33(1):15–20

Zech W, Zech R, Zech M, Leiber K, Dippold M, Frechen M, Bussert R, Andreev A (2011) Obliquity forcing of Quaternary glaciation and environmental changes in NE Siberia. Quat Int 234(1–2):133–145

Zenner L, Gruber T, Jaeggi A, Beutler G (2010) Propagation of atmospheric model errors to gravity potential harmonic-impact on GRACE de-aliasing. Geophys J Int 182:797–807. doi:10.1111/j.1365-246X.2010.04669.x

Zorin YA, Kozhevnikov VM, Novoselova MR, Turutanov EK (1989) Thickness of the lithosphere beneath the Baikal rift zone and adjacent regions. Tectonophysics 168:327–337. doi:10.1016/0040-1951(89)90226-6
Acknowledgments
This paper benefited from excellent reviews by three anonymous reviewers, additional comments by editors Roland Klees and Jürgen Kusche, and thorough proof reading by Christopher Farrow, University of Calgary. We thank Yoshihiro Iijima, Research Institute for Global Change Yokosuka, Japan and Alexander N. Fedorov, Melnikov Permafrost Institute Yakutsk, Russia for providing us the soil moisture data. Many thanks go to Kurt Lambeck for discussion and providing the RSES ice model and Georg Kaufmann for providing the modelling software ICEAGE (Kaufmann 2004). We are grateful to Majid Naeimi, Excellence Cluster QUEST, Hannover for his support in the GRACE data analysis. Our thanks go to Günter (Molo) Stoof for supporting the climate data acquisition. We thank the National Oceanic and Atmospheric Administration (NOAA) for making meteorological observations via its website (ftp://ncdc.noaa.gov) available to us.
About this article
Cite this article
Vey, S., Steffen, H., Müller, J. et al. Inter-annual water mass variations from GRACE in central Siberia. J Geod 87, 287–299 (2013). https://doi.org/10.1007/s00190-012-0597-9
Received:

Accepted:

Published:

Issue Date:

DOI: https://doi.org/10.1007/s00190-012-0597-9
Keywords
GRACE

Permafrost

Mass transport

Earth's system

Hydrology