Abstract
We consider the pursuit problem in 2-person differential game, one player is a pursuer and another one is an evader. The problem is given by a system of differential–difference equations with time lag. The players choose their controls in the form of measurable functions with values from certain compacts. The goal of the pursuer is to catch the evader in the shortest possible time. The goal of the evader is to avoid the meeting of the players' trajectories on a whole semiinfinite interval of time or if it is impossible to maximally postpone the moment of meeting. For such a conflict-controlled process we derive conditions on its parameters and initial state, which are sufficient for the trajectories of the players to meet at a certain moment of time for any counteractions of the evader.
Access options
Buy single article
Instant access to the full article PDF.
US$ 39.95
Tax calculation will be finalised during checkout.
Subscribe to journal
Immediate online access to all issues from 2019. Subscription will auto renew annually.
US$ 79
Tax calculation will be finalised during checkout.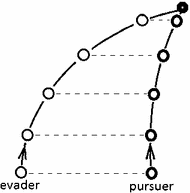 References
Aubin J, Frankowska H (1990) Set-valued analysis. Birkhäuser, Boston

Bellman R, Cooke K (1963) Differential–difference equations. Academic Press, New York

Bettiol P, Cardaliaguet P, Quincampoix M (2006) Zero-sum state constrained differential games: existence of value for Bolza problem. Int J Game Theory 34(4):495–527. doi:10.1007/s00182-006-0030-9

Buckdahn R, Li J, Quincampoix M (2013) Value function of differential games without Isaacs conditions. An approach with nonanticipative mixed strategies. Int J Game Theory 42(4):989–1020. doi:10.1007/s00182-012-0351-9

Cardaliaguet P (2008) Representations formulas for some differential games with asymmetric information. J Optim Theory Appl 138(1):1–16. doi:10.1007/s10957-008-9377-3

Chikrii A, Baranovskaya L, Chikrii Al (1996) Game problem of approach for one class of systems with after effect. 7th international symposium on dynamic games and applications, Japan, Kanagawa, pp 101–107

Chikrii A (1997) Conflict controlled processes. Kluwer Academic Publication, Boston

Chikrii A, Dzyubenko K (1997) Bilinear Markovian processes of search for moving objects. Probl Control Inform 1:92–107

Chikrii A, Rappoport I, Chikrii K (2007) Multivalued mappings and their selectors in the theory of conflict-controlled processes. Cybern Syst Anal 43(5):719–730. doi:10.1007/s10559-007-0097-8

Chikrii K (2014) Motion game control under temporary failure of control unit. Cybern Syst Anal 50(3):439–444. doi:10.1007/s10559-014-9632-6

Eidel'man S, Chikrii A (2000) Dynamic game problems of approach for fractional-order equations. Ukr Math J 52(11):1787–1806. doi:10.1023/A:1010439422856

Filippov A (1985) Differential equations with discontinuous right-hand sides [in Russian]. Nauka, Moscow

Halanay A (1966) Differential equations: stability, oscillations, time lags. Academic Press, New York

Hale J (1977) Theory of functional differential equations. Springer, New York

Ioffe A, Tihomirov V (1979) Theory of extremal problems. North-Holland Publishing Company, New York

Isaacs R (1965) Differential games: a mathematical theory with applications to warfare and pursuit, control and optimization. Wiley, New York

Krasovskii N (1970) Game problems on motions encounter [in Russian]. Nauka, Moscow

Krasovskii N, Subbotin A (1988) Game-theorical control problems. Springer, Berlin

Krivonos Yu, Matichin I, Chikrii A (2005) Dynamic games with discontinuous trajectories [in Russian]. Naukova Dumka, Kyiv

Lukoyanov N (2009) On optimality conditions for the guaranteed result in control problems for time-delay systems. Trudy Inst Mat i Mekh UrO RAN 15(3):158–169

Pontryagin L (1988) Selected scientific works [in Russian]. Nauka, Moscow
Acknowledgments
The authors would like to thank Vitalii Konarovskyi for his valuable comments and suggestions.
About this article
Cite this article
Liubarshchuk, I., Althöfer, I. The problem of approach in differential–difference games. Int J Game Theory 45, 511–522 (2016). https://doi.org/10.1007/s00182-015-0467-9
Accepted:

Published:

Issue Date:
Keywords
Differential–difference games

Dynamic games

Pursuit problem

The Method of Resolving Functions