Abstract
We examine the contribution of de jure and de facto institutional instability to long-run growth and development for a large panel of countries in the period 1820–2016. To this end, we extract the latent components of de jure and de facto instability of political institutions from several existing datasets. We distinguish between two types of instability where the positive type is associated with adaptive efficiency, while the negative type promulgates insecurity of property rights and institutional weakening. The evidence suggests that greater de jure and de facto institutional instability has a strong negative impact on income and growth, where de facto instability appears to be relatively more important than de jure instability. The negative effects of institutional instability operate independently of the positive effects of institutional quality, which implies that even second-best institutions are able to sustain a high-level growth path and economic development if they manage to maintain a minimum level of stability. The negative effects of greater institutional instability are robust across a variety of specification checks, and do not seem to be driven by sample selection bias. Instrumental variable estimates provide results with strong identification properties and suggest that the effect of institutional instability on long-run growth and development appears to be causal. Our instrumental variable estimates show that a modest increase in de facto instability is associated with 26 percent lower per capita income in the long run.
Access options
Buy single article
Instant access to the full article PDF.
US$ 39.95
Tax calculation will be finalised during checkout.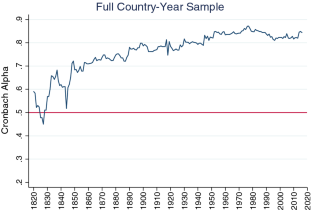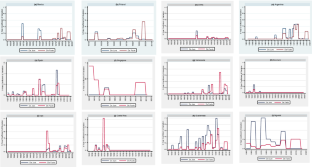 Notes
1.

North (2005) defines adaptive efficiency as the ability of societies "…to flexibly adjust in the face of shocks and evolve institutions that effectively deal with altered reality."

2.

An alternative we could construct CVs on the original polity indicators and use PCA analysis on them. As this sequence appears to be logic when constructing latent indices of institutional instability, it is by default quantitatively unchanged with our approach because calculating them from over Polity components would have a very similar inter-component variation, which would be reflected in the resulting synthetic instability indices. We tried this approach without finding any changes to our results.

3.

The importance of taking care of institutional quality in testing the relationship between political instability and investment has been shown, for example, by Svensson (1998).
References
Acemoglu D. Constitutions, politics, and economics: a review essay on Persson and Tabellini's, the economic effects of constitutions. J Econ Lit. 2005;43(4):1025–48.

Acemoglu D, Johnson S. Unbundling institutions. J Polit Econ. 2005;113(5):949–95.

Acemoglu D, Robinson JA. Economic origins of dictatorship and democracy. Cambridge: Cambridge University Press; 2006.

Acemoglu D, Johnson S, Robinson JA. The colonial origins of comparative development: an empirical investigation. Am Econ Rev. 2001;91(5):1369–401.

Acemoglu D, Johnson S, Robinson JA. Reversal of fortune: geography and institutions in the making of the modern world income distribution. Q J Econ. 2002;117(4):1231–94.

Acemoglu D, Naidu S, Restrepo P, Robinson JA. Democracy does cause growth. J Polit Econ. 2019;127(1):47–100.

Ahir H, Bloom N, Furceri D. The World uncertainty index, mimeo. 2019.

Alesina A, Tabellini G. External debt, capital flight and political risk. J Int Econ. 1989;27(3–4):199–220.

Alesina A, Özler S, Roubini N, Swagel P. Political instability and economic growth. J Econ Growth. 1996;1(2):189–211.

Aron J. Growth and institutions: a review of the evidence. World Bank Res Obs. 2000;15(1):99–135.

Austin G. The 'reversal of fortune' thesis and the compression of history: perspectives from African and comparative economic history. J Int Dev. 2008;20(8):996–1027.

Barro RJ. Economic growth in a cross section of countries. Q J Econ. 1991;106(2):407–43.

Baumol WJ. Entrepreneurship: productive, unproductive, and destructive. J Polit Econ. 1990;98(5):893–921.

Berggren N, Bergh A, Bjørnskov C. The growth effects of institutional instability. J Inst Econ. 2012;8(2):187–224.

Bertocchi G, Canova F. Did colonization matter for growth? An empirical exploration into the historical causes of Africa's underdevelopment. Eur Econ Rev. 2002;46(10):1851–71.

Bolen JB, Williamson CR. The path of reform: the consequences of institutional volatility. Kyklos. 2019;72(3):400–25.

Bolt J, Van Zanden JL. The Maddison project: collaborative research on historical national accounts. Econ Hist Rev. 2014;67(3):627–51.

Brunetti A, Weder B. Investment and institutional uncertainty: a comparative study of different uncertainty measures. Weltwirtschaftliches Arch. 1998;134(3):513–33.

Bueno de Mesquita, B. Political instability as a source of growth. Hoover Institute Essays in Public Policy. 2000.

Cameron AC, Gelbach JB, Miller DL. Robust inference with multiway clustering. J Bus Econ Stat. 2011;29(2):238–49.

Campos NF, Nugent JB. Who is afraid of political instability? J Dev Econ. 2002;67(1):157–72.

Campos NF, Karanasos MG, Tan B. Two to tangle: financial development, political instability and economic growth in Argentina. J Bank Finance. 2012;36(1):290–304.

Collins SM. On becoming more flexible: exchange rate regimes in Latin America and the Caribbean. J Dev Econ. 1996;51(1):117–38.

Cooter RD, Schäfer HB. Solomon's knot: how law can end the poverty of nations. Princeton: Princeton University Press; 2011.

Cox G, McCubbins MD. The institutional determinants of economic policy outcomes. In: Haggard S, McCubbins MD, editors. Presidents, parliaments, and policy. Cambridge: Cambridge University Press; 2001.

Cukierman A, Web SB, Neyapti B. Measuring the independence of central banks and its effect on policy outcomes. World Bank Econ Rev. 1992;6(3):353–98.

De Vellis RF. Scale development: theory and applications. 3rd ed. Thousand Oaks: Sage Publications; 2012.

Driscoll JC, Kraay AC. Consistent covariance matrix estimation with spatially dependent panel data. Rev Econ Stat. 1998;80(4):549–60.

Durlauf SN, Johnson PA, Temple JR. Growth econometrics. In: Aghion P, Durlauf SN, editors. Handbook of economic growth, vol. 1. Amsterdam: Elsevier; 2005. p. 555–677.

Fatás A, Mihov I. Policy volatility, institutions, and economic growth. Rev Econ Stat. 2013;95(2):362–76.

Feenstra RC, Inklaar R, Timmer MP. The next generation of the Penn World Table. Am Econ Rev. 2015;105(10):3150–82.

Fleisher B, Li H, Zhao MQ. Human capital, economic growth, and regional inequality in China. J Dev Econ. 2010;92(2):215–31.

Földvarí P. De facto versus de jure political institutions in the long-run: a multivariate analysis, 1820–2000. Soc Indic Res. 2017;130(2):759–77.

Galiani S, Weinschelbaum F. Modeling informality formally: households and firms. Econ Inq. 2012;50(3):821–38.

Gates S, Hegre H, Jones MP, Strand H. Institutional inconsistency and political instability: polity duration, 1800–2000. Am J Polit Sci. 2006;50(4):893–908.

Glaeser EL, La Porta R, Lopez-de-Silanes F, Shleifer A. Do institutions cause growth? J Econ Growth. 2004;9(3):271–303.

Golden MA, Picci L. Pork-barrel politics in postwar Italy, 1953–94. Am J Polit Sci. 2008;52(2):268–89.

Grier RM. Colonial legacies and economic growth. Public Choice. 1999;98(3–4):317–35.

Haber S, Menaldo V. Do natural resources fuel authoritarianism? A reappraisal of the resource curse. Am Polit Sci Rev. 2011;105(1):1–26.

Haber S, Maurer N, Razo A. The politics of property rights: political instability, credible commitments, and economic growth in Mexico, 1876–1929. Cambridge: Cambridge University Press; 2003.

Hadenius A, Teorell J. Pathways from authoritarianism. J Democr. 2007;18(1):143–57.

Inklaar R, Bolt J, de Jong H, Van Zanden JL. Rebasing 'Maddison': new income comparisons and the shape of long-run economic development. Research Memorandum, No. 174, Groningen Growth and Development Center. 2018.

Judson RA, Owen AL. Estimating dynamic panel data models: a guide for macroeconomists. Econ Lett. 1999;65(1):9–15.

Klein Goldewijk K, Beusen A, Doelman J, Stehfest E. Anthropogenic land use estimates for the Holocene–HYDE 3.2. Earth Syst Sci Data. 2017;9(1):927–53.

Klerman DM, Mahoney PG, Spamann H, Weinstein MI. Legal origin or colonial history? J Legal Anal. 2011;3(2):379–409.

Kovac M, Spruk R. Institutional development, transaction costs and economic growth: evidence from a cross-country investigation. J Inst Econ. 2016;12(1):129–59.

La Porta R, Lopez-de-Silanes F, Shleifer A. The economic consequences of legal origins. J Econ Lit. 2008;46(2):285–332.

Levitsky S, Murillo VM. Argentine democracy: the politics of institutional weakness. University Park: Penn State University Press; 2005.

Levitsky S, Murillo MV. Variation in institutional strength. Annu Rev Polit Sci. 2009;12(1):115–33.

Londregan JB, Poole KT. Poverty, the coup trap, and the seizure of executive power. World Polit. 2011;42(2):151–83.

Londregan JB, Poole KT. Poverty, the coup trap, and the seizure of executive power. World Polit: Qrs. J. Int. Relat. 1990;151–83.

Maddison A. The world economy. Volume 2: historical statistics. Paris: Organization for Economic Cooperation and Development (OECD); 2007.

Marshall MG, Gurr TR, Jaggers K. Polity IV project: political regime characteristics and transitions, 1800–2016. Center for Systemic Peace. 2016.

Mauro P. Corruption and growth. Q J Econ. 1995;110(3):681–712.

McEvedy C, Jones R. Atlas of world population history. London: Penguin Books; 1978.

Mohl P, Hagen T. Do EU structural funds promote regional growth? New evidence from various panel data approaches. Reg Sci Urban Econ. 2010;40(5):353–65.

Murillo MV, Levitsky S. Lessons from Latin America: building institutions on weak foundations. J Democr. 2013;24(2):93–107.

Nickell S. Biases in dynamic models with fixed effects. Econometrica. 1981;49(6):1417–26.

North DC. Structure and change in economic history. New York: Norton; 1981.

North DC. Transaction costs, institutions, and economic history. J Inst Theor Econ. 1984;140(1):7–17.

North DC. Institutions, institutional change and economic performance. New York: Cambridge University Press; 1990.

North DC. Understanding the process of economic change. Princeton: Princeton University Press; 2005.

North DC, Wallis JJ, Weingast BR. Violence and social orders: a conceptual framework for interpreting recorded human history. Cambridge: Cambridge University Press; 2009.

Nunn N, Puga D. Ruggedness: the blessing of bad geography in Africa. Rev Econ Stat. 2012;94(1):20–36.

O'Donnell G. Delegative democracy. J Democr. 1994;5(1):55–69.

Olson M. Rapid growth as a destabilizing force. J Econ Hist. 1963;23:529–52.

Olson M. The rise and fall of nations: economic growth, stagflation and social rigidities. New Haven: Yale University Press; 1982.

Organski AFK, Kugler J. The war ledger. Chicago: The University of Chicago Press; 1980.

Ozler S, Tabellini G. External debt and political instability. Working Paper No. 3772, National Bureau of Economic Research. 1991.

Pande R, Udry C. Institutions and development: a view from below. In: Blundell R, Newey W, Persson T, editors. Advances in economics and econometrics. Cambridge: Cambridge University Press; 2006.

Pierson P. The limits of design: explaining institutional origins and change. Governance. 2000;13(4):475.

Porta RL, Lopez-de-Silanes F, Shleifer A, Vishny RW. Law and finance. J Polit Econ. 1998;106(6):1113–55.

Przeworski A, Hernes G, Elster J. Democracy and the market: political and economic reforms in Eastern Europe and Latin America. Cambridge: Cambridge University Press; 1991.

Putterman L, Weil DN. Post-1500 population flows and the long-run determinants of economic growth and inequality. Q J Econ. 2010;125(4):1627–82.

Rajan R. Rent preservation and the persistence of underdevelopment. Am Econ Rev. 2009;1(1):178–218.

Robinson JA. Measuring institutions in the Trobriand Islands: a comment on Voigt's paper. J Inst Econ. 2013;9(1):27–9.

Rodrik D. Institutions for high-quality growth: what they are and how to acquire them. Stud Comp Int Dev. 2000;35(3):3–31.

Rodrik D. Second-best institutions. Am Econ Rev. 2008;98(2):100–4.

Rodrik D, Subramanian A, Trebbi F. Institutions rule: the primacy of institutions over geography and integration in economic development. J Econ Growth. 2004;9(2):131–65.

Roubini N. Economic and political determinants of budget deficits in developing countries. J Int Money Finance. 1991;10(S1):49–72.

Scartascini C, Tommasi M. The making of policy: institutionalized or not? Am J Polit Sci. 2012;56(4):787–801.

Shirley M. Measuring institutions: how to be precise though vague. J Inst Econ. 2013;9(1):31–3.

Spiller PT, Tommasi M. The institutional foundations of public policy in Argentina: a transactions cost approach. Cambridge: Cambridge University Press; 2009.

Svensson J. Investment, property rights and political instability: theory and evidence. Eur Econ Rev. 1998;42(7):1317–41.

Voigt S. How (not) to measure institutions. J Inst Econ. 2013;9(1):1–26.

Wallis JJ. Persistence and change in institutions. In: Sened I, Galiani S, editors. Institutions, property rights, and economic growth: the legacy of Douglass north. Cambridge: Cambridge University Press; 2014.

Williamson OE. Comparative economic organization: the analysis of discrete structural alternatives. Adm Sci Q. 1991;36(2):269–96.

Williamson OE. The new institutional economics: taking stock, looking ahead. J Econ Lit. 2000;38(3):595–613.

Yang B. Does democracy lower growth volatility? A dynamic panel analysis. J Macroecon. 2008;30(1):562–74.

Yang B. Political democratization, economic liberalization, and growth volatility. J Comp Econ. 2011;39(2):245–59.
Additional information
Publisher's Note
Springer Nature remains neutral with regard to jurisdictional claims in published maps and institutional affiliations.
Electronic supplementary material
Below is the link to the electronic supplementary material.
About this article
Cite this article
Hartmann, S., Spruk, R. Long-term effects of institutional instability. Empir Econ 61, 2073–2112 (2021). https://doi.org/10.1007/s00181-020-01934-z
Received:

Accepted:

Published:

Issue Date:
Keywords
Institutional instability

Long-run development

Panel data