Abstract
We estimate the effect of subsidized childcare availability on Hungarian mothers' labor supply, using a discontinuity in kindergarten eligibility at age 3 of children. The effect is identified in a setting where policy intervention has a high potential impact, since maternal labor supply is very low under age 3 of children, but high for mothers with older children. We find that access to subsidized childcare increases maternal labor supply by 11.7 percentage points or 24%, an impact that is higher than what has been found in previous quasi-experimental studies from most other countries. However, the potential effectiveness of future childcare expansion under age 3 may be constrained by further institutional factors, such as very long parental leave, traditional cultural views regarding maternal employment and institutional childcare, and the lack of flexible work forms. A comprehensive policy approach, including linked reforms of these other factors, is needed to achieve such a high effect.
Access options
Buy single article
Instant access to the full article PDF.
US$ 39.95
Tax calculation will be finalised during checkout.
Subscribe to journal
Immediate online access to all issues from 2019. Subscription will auto renew annually.
US$ 119
Tax calculation will be finalised during checkout.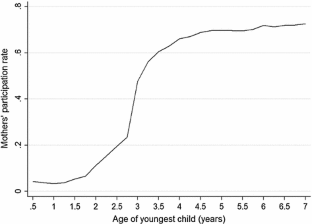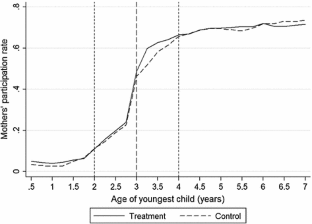 Notes
1.

The European Union has set a target of providing childcare in order to "remove disincentives to female labor force participation" (Mills et al. 2014). Currently Bulgaria, the Czech Republic, Poland, Romania, and the Slovak Republic each provide childcare coverage under 10% for children of that age, and most other CEE countries are below the target coverage rates, especially under age 3 of children.

2.

The difference between the OECD coverage figures referred to in the introduction and the actual LFS data used in the analysis is due to the different reference periods of these data.

3.

Comparable data (not shown in the table) on social norms from the USA and Canada suggest that this issue might be relevant to these countries as well, especially when considering the situation of subgroups within the population. For example, according to the American Values Survey (http://www.people-press.org/values-questions/q41j/women-should-return-to-their-traditional-roles-in-society/#race), only 14% of the White population agree that "Women should return to their traditional roles in society," whereas 28% of Black and 36% of Hispanic population agrees with this statement.

4.

A notable example is Sweden, where parental leave is gender neutral, but 3 months of it is reserved for each parent.

5.

The historical evolution of these factors in CEE countries suggests that these differences may be even stronger than implied by the simple comparison of these current levels. During socialism, a declared dedication to gender equality led to high female employment rates, a generous child benefit system, and extensive institutional childcare. At the same time, the household burden of women was not lowered, working was still not their own choice, and nurseries (for children under 3) were considered rigid healthcare institutions rather than educational ones and generally disliked (Saxonberg 2014). These factors led to an anti-feminist turn in societal views and a strong belief that children should be raised within the family until age 3. The tendencies were reinforced by policy changes that favored mothers staying at home, motivated by concerns related to the fall in labor demand, state budgets, and a fall in fertility following the transition.

6.

The list of peer-reviewed publications is incomplete; however, to our knowledge, there is no such prior publication based on data from the CEE region.

7.

Though current day Germany fits in with other countries in the western high maternal employment rate group, at the time of this study, its basic characteristics were more similar to the Southern group.

8.

Some studies actually measure the effect of changes in the price of childcare, rather than availability.

9.

Gelbach (2002) analyzed Census data on 5-year-olds, using quarter of birth as an instrument for kindergarten enrollment, finding a significant positive effect of 6–24%. However, as also shown later in our case, using a relatively wide window around the cutoff and assuming that the child's age is unrelated to the mother's labor supply may lead to an upward bias in the estimate. Fitzpatrick (2010) updates the results using more detailed data, finding no significant effect, and notes that the difference between these results is likely due to both the differences in the data and methodology used, as well as changes over time in the estimation context.

10.

Fitzpatrick (2010, p. 11), and US Bureau of Labor Statistics (25–54-year-old females).

11.

This was the case during the period analyzed up to 2010. The kindergarten eligibility rules have changed since then to allow younger children to enroll as well.

12.

13.

Of the children of mothers in our treatment group (born before January 1st), those born prior to September 1st may enroll when the school year begins, while those born between September 1 and December 31 may enroll in September prior to their third birthday, at the time of their third birthday, or in a second enrollment wave in January, depending on the institution. Control group mothers' children have to wait until September, when the next school year begins.

14.

Flat-rate parental leave is universal: It can be received by anyone, with high or low previous income, whether they were insured previously or not. The monthly sum of this benefit equals the old-age pension minimum, which was equal to 28,500 HUF/month (120 EUR/month) in 2008. Parental leave also provides basic health insurance and social security payments.

15.

The survey results show that the ratio of those believing that the child is old enough for the mother to return to work increases from 19.6 to 76% at the age of 3.

16.

It is important to emphasize that we always examine the youngest child, as only mothers who do not have an even younger child are likely to be affected by subsidized childcare availability for their 3-year-old. It may occur that expectant mothers are also included in the sample, if the birth occurred after the last observation in our LFS data. These mothers most probably do not plan to return to the labor market, irrespective of childcare availability. However, this does not bias our results, as the probability of their inclusion is likely to be the same in the treatment and the control group.

17.

Nursery (kindergarten) coverage rates are defined as the number of slots available in nursery (kindergarten) in each township, divided by the number of children of age 0–2.99 (3–5.99) in each township. These rates are aggregated to region level, of which there are 530 in the sample.

18.

Using census data, we confirm that the local nursery and kindergarten enrollment rates (using the 5-month windows around age 3) are comparable in magnitude to those used in our analysis.

19.

The individuals in the dataset are observed every third month through 1.5 years; thus, we utilize the fact that when we observe that their age increased by one, their birthday must be within that particular period of 3 months.

20.

For instance, a strong local economy would lead to ample available governmental resources to extend the number of kindergarten seats. At the same time, it leads to higher labor market demand, which in turn increases labor supply.

21.

In the rest of the paper, we use T-STAR instead of OECD data, since it is regionally detailed. The drawback of T-STAR data compared to that of the OECD is that the coverage rates are not available for solely 3-year-olds, but for the group of 3–6-year-olds. However, the two figures are very close to each other, as the OECD data indicate a 73% coverage at age 3, and this rate increases to only 74.2% in the average of 3–6 years of age, according to Table 1. This suggests that most of the kindergarten enrollments occur at age 3; thus, using the 3–6-year-old average is not misleading in our calculations.

22.

With 5-month windows, child age differs by an average of 5 months between the two groups at any point in time, so the effects of these differences may be significant. For example, by June 1, parental leave had ended an average of 7.5 months ago for treatment group mothers, and only 2.5 months ago for control group mothers. Preferences regarding separation from the child are also likely to change significantly during these 5 months around age 3 (Blaskó 2011).

23.

We sort the mothers of 4–5-year-olds into treatment and control groups just as we did in the initial sample. In the treatment group, children were born between August 1 and December 31 and mothers are observed through January 1–March 31. In the control group, children were born between January 1 and May 31 and mothers are observed through June 1–August 31.

24.

Alternatively, we also used mothers of 2-year-olds as the comparison group, with similar results. According to our calculations (regressions with season dummies), the seasonal effects suffered by the different age-groups are similar. These tests are available upon request.

25.

The full set of variables can be seen in "Appendix Table 6".

26.

The first stage results (Eq. (4)) are reported in Table 7 in "Appendix."

27.

It is worth noting that in the case of Hungary, a comparison of available spots and the number of enrolled children suggests that childcare facilities are used to full capacity in the observation period. As a check, we also run our estimation with an alternative childcare measure that allows us to estimate the treatment effect: the number of enrolled children divided by the number of children in the age-group. The estimated treatment effect (9.5 pp) is very similar to the intent to treat effect (8.5 pp) we obtain using our main childcare availability measure, contrary to what was found in Spain (Nollenberger and Rodríguez-Planas 2015), and Germany (Bauernschuster and Schlotter 2015), where the values were 20 pp and 2.8 pp, and 36 pp and 6 pp, respectively.

28.

The reduced form results without seasonal correction are reported in Table 8 in "Appendix."

29.

Treatment mothers: child born between September and December, control mothers: child born between January and April.

30.

Treatment mothers: child born between October and December, control mothers: child born between January and March.
References
Angrist JD (1990) Lifetime earnings and the Vietnam era draft lottery: evidence from social security administrative records. Am Econ Rev 80:313–336

Angrist JD, Krueger AB (1991) Does compulsory school attendance affect schooling and earnings? Q J Econ 106:979–1014. https://doi.org/10.2307/2937954

Arellano M (1987) Computing robust standard errors for within-groups estimators. Oxf Bull Econ Stat 49:431–434

Asai Y (2015) Parental leave reforms and the employment of new mothers: quasi-experimental evidence from Japan. Labour Econ 36:72–83. https://doi.org/10.1016/j.labeco.2015.02.007

Baker M, Gruber J, Milligan K (2008) Universal child care, maternal labor supply, and family well-being. J Polit Econ 116:709–745. https://doi.org/10.1086/591908

Bauernschuster S, Schlotter M (2015) Public child care and mothers' labor supply—evidence from two quasi-experiments. J Public Econ 123:1–16. https://doi.org/10.1016/j.jpubeco.2014.12.013

Berger MC, Black DA (1992) Child care subsidies, quality of care, and the labor supply of low-income, single mothers. Rev Econ Stat 74:635–642. https://doi.org/10.2307/2109377

Berlinski S, Galiani S (2007) The effect of a large expansion of pre-primary school facilities on preschool attendance and maternal employment. Labour Econ 14:665–680. https://doi.org/10.1016/j.labeco.2007.01.003

Bettendorf LJH, Jongen ELW, Muller P (2015) Childcare subsidies and labour supply—evidence from a large Dutch reform. Labour Econ 36:112–123. https://doi.org/10.1016/j.labeco.2015.03.007

Blaskó Z (2011) [Three years at home with the child-but not at any cost-public opinion regarding mothers' employment.] Három évig a gyermek mellett-de nem minden áron. A közvélemény a kisgyermekes anyák munkába állásáról. Demográfia 54:23–44

Blau D (2003) Child care subsidy programs. In: NBER, pp 443–516

Boeckmann I, Misra J, Budig MJ (2014) Cultural and institutional factors shaping mothers' employment and working hours in postindustrial countries. Soc Forces 93:1301–1333. https://doi.org/10.1093/sf/sou119

Bound J, Jaeger DA (1996) On the validity of season of birth as an instrument in wage equations: a comment on Angrist and Krueger's. In: Working paper no. 5835. National Bureau of Economic Research

Cascio EU (2009) Maternal labor supply and the introduction of kindergartens into American public schools. J Hum Resour 44:140–170. https://doi.org/10.3368/jhr.44.1.140

Cascio EU, Haider SJ, Nielsen HS (2015) The effectiveness of policies that promote labor force participation of women with children: a collection of national studies. Labour Econ 36:64–71. https://doi.org/10.1016/j.labeco.2015.08.002

Chevalier A, Viitanen TK (2005) The causality between female labour force participation and the availability of childcare. In: SSRN scholarly paper no. ID 687702. Social Science Research Network, Rochester

Chone P, Leblanc D, Robert-Bobee I (2003) Female labor supply and child care in France. In: SSRN scholarly paper no. ID 462429. Social Science Research Network, Rochester

Connelly R (1992) The effect of child care costs on married women's labor force participation. Rev Econ Stat 74:83–90. https://doi.org/10.2307/2109545

Currie J, Schwandt H (2013) Within-mother analysis of seasonal patterns in health at birth. Proc Natl Acad Sci 110:12265–12270. https://doi.org/10.1073/pnas.1307582110

Del Boca D (2002) The effect of child care and part time opportunities on participation and fertility decisions in Italy. In: IZA discussion paper no. 427. Institute for the Study of Labor (IZA)

Dickert-Conlin S, Elder TE (2009) Suburban legend: school cutoff dates and the timing of births. In: SSRN scholarly paper no. ID 1342520. Social Science Research Network, Rochester

EC (2008) European Commission-PRESS RELEASES-Press release-childcare services in the EU [WWW Document]. http://europa.eu/rapid/press-release_MEMO-08-592_en.htm. Accessed 20 April 2016

Fitzpatrick MD (2010) Preschoolers enrolled and mothers at work? The effects of universal prekindergarten. J Labor Econ 28:51–85. https://doi.org/10.1086/648666

Gelbach JB (2002) Public schooling for young children and maternal labor supply. Am Econ Rev 92:307–322. https://doi.org/10.1257/000282802760015748

Givord P, Marbot C (2015) Does the cost of child care affect female labor market participation? An evaluation of a French reform of childcare subsidies. Labour Econ 36:99–111

Haan P, Wrohlich K (2011) Can child care policy encourage employment and fertility?: evidence from a structural model. Labour Econ 18:498–512. https://doi.org/10.1016/j.labeco.2010.12.008

Haeck C, Lefebvre P, Merrigan P (2015) Canadian evidence on ten years of universal preschool policies: the good and the bad. Labour Econ 36:137–157. https://doi.org/10.1016/j.labeco.2015.05.002

Hardoy I, Schøne P (2015) Enticing even higher female labor supply: the impact of cheaper day care. Rev Econ Househ 13:815–836

Hasková H, Győry A, Szikra D (2012) How did we get the "magic 3"? The timing of parental leave and child care services in the Visegrád-countries. Budapest Institute. http://www.budapestinstitute.eu/uploads/Magic3.pdf

Havnes T, Mogstad M (2011) Money for nothing? Universal child care and maternal employment. J Public 95:1455–1465. https://doi.org/10.1016/j.jpubeco.2011.05.016

Heckman JJ, Moon SH, Pinto R, Savelyev PA, Yavitz A (2010) The rate of return to the HighScope Perry Preschool Program. J Public Econ 94:114–128. https://doi.org/10.1016/j.jpubeco.2009.11.001

Ichino A, Galdeano ASD (2004) Reconciling motherhood and work: evidence from time use data in three countries. In: CSEF working paper no. 114. Centre for Studies in Economics and Finance (CSEF), University of Naples, Italy

Keck W, Saraceno C (2013) The impact of different social-policy frameworks on social inequalities among women in the European Union: the labour-market participation of mothers. Soc Polit 20:297–328. https://doi.org/10.1093/sp/jxt005

Kertesi G, Kézdi G, Molnár T, Szabó-Morvai Á (2012) School catchment areas in Hungary. Institute of Economics, Hungarian Academy of Sciences

Kestenbaum B (1987) Seasonality of birth: two findings from the decennial census. Soc Biol 34:244–248

Kimmel J (1992) Child care and the employment behavior of single and married mothers. In: Upjohn Institute Working Paper https://doi.org/10.17848/wp93-14

Lefebvre P, Merrigan P (2008) Child-care policy and the labor supply of mothers with young children: a natural experiment from Canada. J Labor Econ 26:519–548

Lokshin M (2004) Household childcare choices and women's work behavior in Russia. J Hum Resour 39:1094–1115. https://doi.org/10.2307/3559040

Lundin D, Mörk E, Öckert B (2008) How far can reduced childcare prices push female labour supply? Labour Econ 15:647–659

Mills M, Praeg P, Tsang F, Begall K, Derbyshire J, Kohle L, Miani C, Hoorens S (2014) Use of childcare services in the EU Member States and progress towards the Barcelona targets. RAND Corporation. https://doi.org/10.2838/54302

Nollenberger N, Rodríguez-Planas N (2015) Full-time universal childcare in a context of low maternal employment: quasi-experimental evidence from Spain. Labour Econ 36:124–136

Ribar DC (1995) A structural model of child care and the labor supply of married women. J Labor Econ 13:558–597

Saxonberg S (2014) Gendering family policies in post-communist Europe. Palgrave Macmillan, Basingstoke
Funding
This research was funded by a National Hungarian Research Grant (Nos.: KJS-K-101665/2011 and KJS-K-101862/2011).
Ethics declarations
Conflict of interest
The authors declare that they have no conflict of interest.
Additional information
The authors are grateful to John S. Earle, Gábor Kézdi, Andrea Canidio, Zsombor Cseres-Gergely, Péter Elek, Peter Haan, János Köllő, Miklós Koren, Botond Kőszegi, Sarolta Laczó, Róbert Lieli, Shelly Lundberg, Sergey Lychagin, Nándor Német, Ágota Scharle, Dick Startz, Ádám Szeidl, Álmos Telegdy, Balázs Váradi and the anonymous referees for their valuable comments. Participants of seminars at Central European University, Eötvös Lóránd University, HÉTFA Research Institute, the Centre for Economic and Regional Studies of the Hungarian Academy of Sciences, the Szirák Conference on Labor Market Research, the Visegrad 4 Workshop on Childcare organized by the Budapest Institute, the Conference of the Hungarian Association of Economists, the European Association of Labour Economists Conference in Ljubljana, the DFG Conference in Nuremberg, the 21st Panel Data Conference in Budapest, the 14th Annual IZA-SOLE Transatlantic Meeting of Economists, and the IZA workshop in Washington D.C. provided us with many useful comments. The authors are grateful to the Data Bank at the Centre for Economic and Regional Studies for providing the data.
Appendix
Appendix
See Tables 6, 7, 8, 9, 10, and 11.
About this article
Cite this article
Lovász, A., Szabó-Morvai, Á. Childcare availability and maternal labor supply in a setting of high potential impact. Empir Econ 56, 2127–2165 (2019). https://doi.org/10.1007/s00181-018-1423-x
Received:

Accepted:

Published:

Issue Date:
Keywords
Subsidized Childcare

Maternal Labor Supply

Eligibility Cutoff

Instrumental Variables
JEL Classifications