Abstract
We examine how changes in the unemployment rate affect demand for tertiary education, demand for different fields of university study and degrees' admission thresholds. We use panel data for applications submitted to every undergraduate program in Greece that span seven rounds of admission cohorts combined with a degree-specific job insecurity index, and time series on youth (ages 18–25) unemployment. We find that degree- and major-specific job insecurity turns applicants away from degrees and majors that are associated with poor employment prospects. Results indicate that the steep increase in the unemployment rate that started in 2009 is associated with an increase in the number of university applicants. The effect is heterogeneous across fields, with an increase in the demand for degrees in Psychology as well as for entrance to Naval, Police, and Military Academies, and a decrease in the demand for degrees in Business and Management. We also find that the business cycle changes degrees' admission thresholds by affecting their popularity.
Access options
Buy single article
Instant access to the full article PDF.
US$ 39.95
Tax calculation will be finalised during checkout.
Subscribe to journal
Immediate online access to all issues from 2019. Subscription will auto renew annually.
US$ 119
Tax calculation will be finalised during checkout.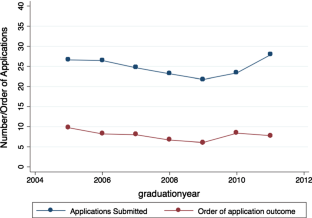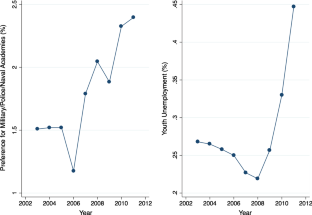 Notes
1.

Although Greece's GDP had started to decline in 2008, austerity measures taken in late 2009 resulted in a very abrupt and deep deceleration of the economy. Two characteristics of the Greek crisis made the downturn distinct in modern times: First, Greece experienced the most severe drop in GDP in post-World War II Europe. Second, the Greek recession was so widespread that if affected virtually every industry and every profession.

2.

3.

See Goulas and Megalokonomou (2015) for a description of the admission process.

4.

The only way a student can avoid this university admission procedure is by not submitting a list of preferences. This might be the case for students who apply to undergraduate programs abroad. These students take national exams but they do not submit a preference list. In this way, these students do not participate in the university application process.

5.

The outcome refers to the degree course in which he is allowed to enroll in that given year.

6.

Changing the number of available university seats reduces the supply of degree seats so only the highest achieving students who have listed this specific degree get admitted. Thus, the admission score of the last admitted student will be higher, which increases the admission threshold.

7.

We thank an anonymous referee for bringing this point into our attention.

8.

Returning candidates have graduated from high school before the current year, and they are re-trying for university admission.

9.

There are 21 categories and a category named "Other." In "Other" we put some degrees that are not associated with any of the remaining 21 categories, for example special religion studies.

10.

Specifically, one university department operates for six years; two university departments operate for two years; two university departments operate for four years; three university departments operate for five years; and sixteen university departments operate for three years.

11.

Some of this information is available online, although not in a systematic way.

12.

An alternative to the weighted popularity index would be the total number of applications a degree receives in a given year. However, it would not take into account possible changes in the supply of existing degrees.

13.

The mean number of applications is the ratio of total number of applications submitted each year over the number of existing university departments in a given year.

14.

This book acts as an informational guide for university applicants.

15.

OAED is the Greek Manpower Employment Organization.

16.

We managed to find the book published in 2006. This book is published every year providing information about the current degree-specific job insecurity index. However, it is not easy to find the book for previous years, but only the current one.

17.

Dorms may not be very popular in Greece.

18.

Note that students who rent accommodation have an incentive to graduate faster (Katsikas and Panagiotidis 2011).

19.

The availability of data on the city of origin of each applicant could potentially allow for netting out differential trends in city preferences.

20.

We calculate the average national exam performance of students who take the national exams each year. Assuming that cohorts are of similar academic quality across time, the only change from one year to another is the overall difficulty of the exam. If the overall performance in one year is greater than that of another year, then we assume that the exams were on average easier that year.

21.

Technological educational institutes offer four-year degrees, and are recognized by the state. Twelfth-grade students who take national exams can report in their preference list degrees from both: academic universities and technological educational institutes. Since 2008 these institutions have offered postgraduate degree programs that lead to a master's degree.

22.

Shatkin (2008) book "150 Best Recession-Proof Jobs" examines the most secure jobs for the US market. Using databases of the U.S. Department of Labor and the U.S. Census Bureau, and occupational outlook ratings from the Bureau of Labor Statistics, which projects job growth and future job openings for more than 750 occupations, the author identified various jobs' sensitivity to changes in the economy and the projected outlook for jobs for the next 10 years. The author also lists the most recession-proof metropolitan areas and states, the most recession-proof skills, and the jobs that are very sensitive to recession.

23.

Note that public sectors employees in Greece enjoy a wage premium (Giordano et al. 2011).

24.

Some Naval Academies are Armed Forces Academies. Their main responsibility is to educate and train competent Naval Officers for the Hellenic Navy. These academies also educate Deck and Engineering Naval cadets. They also educate Supply Officer cadets as well as Coast Guard Officer cadets.

25.

Interested students include combined choices in their preference list. For example, one may list "Economics major while in the armed forces." Both men and women can enlist in the armed forces.

26.

Students' submitted applications outside their top three choices. For example, students' top four choices, top five choices, ..., top N choices.

27.
References
Alderman L, Buchanan L, Porter E, Russell K (2015) Is Greece worse off than the U.S. during the great depression? The New York Times. Retrieved from https://www.nytimes.com/interactive/2015/07/09/business/international/is-greece-worse-off-than-the-us-during-the-great-depression.html

Arcidiacono P (2004) Ability sorting and the returns to college major. J Econom 121:343–375

Arcidiacono P, Hotz J, Songman K (2010) College major choices using elicited measures of expectations and counterfactuals. National Bureau of Economic Research, Working paper 15729

Bedard K, Herman DA (2008) Who goes to graduate/professional school? The importance of economic fluctuations, undergraduate field, and ability. Econ Educ Rev 27:197–210

Beffy M, Fougere D, Maurel A (2011) Choosing the field of study in postsecondary education: do expected earnings matter? Rev Econ Stat 94:334–347

Braun S, Dwenger N, Kubler D (2010) Telling the truth may not pay off: an empirical study of centralized university admissions in Germany. BE J Econ Anal Policy 10(1):1–38

Caroli E, Godard M (2016) Does job insecurity deteriorate health? Health Econ 25:131–147

Chen Y, Kesten O (2013) From Boston to Chinese parallel to deferred acceptance: theory and experiments on a family of school choice mechanisms. Discussion papers, Research Unit: Market Behavior SP II 2013-205, Social Science Research Center Berlin (WZB)

Cooper B (2011) Economic recession and mental health: an overview. Neuropsychiatr 25(3):113–117

Cosgrave J (2015) Greek crisis: firms thriving in the economic crisis. Retrieved 5 Sept 2017 from https://www.cnbc.com/2015/05/19/greek-crisis-firms-thriving-in-the-economic-drama.html

Dickson L (2010) Race and gender differences in college major choice. Ann Am Acad Polit Soc Sci 627:108–124

Giordano R, Depalo D, Coutinho Pereira M, Eugène B, Papapetrou E, Pèrez JJ, Reiss L, Roter M (2011) The public sector pay gap in a selection of Euro area countries. Technical report 1406, European Central Bank

Goulas S, Megalokonomou R (2015) Knowing who you are: the effect of feedback information on short and long term outcomes. University of Warwick. Department of Economics, working paper 1075

Green H (2015) Greece's great depression. Huffington Post. Retrieved 21 Aug 2017 from http://www.huffingtonpost.com/harlan-green/greeces-great-depression_b_7764182.html

Hastings J, Neilson C, Zimmerman S (2014) Are some degrees worth more than others? Evidence from college admission cutoffs in Chile. National Bureau of Economic Research working paper no. 19241

Hershbein BJ (2012) Graduating high school in a recession: work, education, and home production. BE J Econ Anal Policy. https://doi.org/10.1515/1935-1682.2599

Johnson M (2013) The impact of business cycle fluctuations on graduate school enrollment. Econ Educ Rev 34:122–134

Kahn L (2010) The long-term labor market consequences of graduating from college in a bad economy. Labour Econ 17(2):303–316

Katsikas C (2006) Pós na epiléxo sostá tis spoudés mou sta AEI-TEI. Patakis Publications Co, Athens

Katsikas E, Panagiotidis T (2011) Student status and academic performance: accounting for the symptom of long duration of studies in Greece. Stud Educ Eval 37(2):152–161

Mavridis S, Vatalis K (2015) Investment in construction and economic growth in Greece. Proc Econ Finance 24:386–394

McInerney M, Mellor JM, Nicholas LH (2013) Recession depression: mental health effects of the 2008 stock market crash. J Health Econ 32(6):1090–1104

Montmarquettea C, Cannings K, Mahseredjianc S (2002) How do young people choose college majors? Econ Educ Rev 21:543–556

OECD (2016) Population with tertiary education indicator. https://doi.org/10.1787/0b8f90e9-en. Accessed on 15 Nov

Oreopoulos P, von Wachter T, Heisz A (2012) The short- and long-term career effects of graduating in a recession. Am Econ J Appl Econ 4(1):1–29

Porter R, Umbach P (2006) College major choice: an analysis of person-environment fit. Res Higher Educ 47(4):429–449

Shatkin L (2008) 150 best recession proof jobs. Jist Publishing, St. Paul

Uutela A (2010) Economic crisis and mental health. Curr Opin Psychiatry 23(2):127–130

Wee SL (2013) Born under a bad sign: the cost of entering the job market during a recession. University of Maryland mimeo

Wiswall M, Zafar B (2011) Belief updating among college students: evidence from experimental variation in information. Federal Reserve Bank of New York. Staff Reports, p 516
Electronic supplementary material
Below is the link to the electronic supplementary material.
About this article
Cite this article
Goulas, S., Megalokonomou, R. Which degrees do students prefer during recessions?. Empir Econ 56, 2093–2125 (2019). https://doi.org/10.1007/s00181-018-1418-7
Received:

Accepted:

Published:

Issue Date:
Keywords
Demand for education

University major

Unemployment

Job insecurity

Admission thresholds
JEL Classification