Abstract
In this paper, we explore the relationship between economic conditions and disability insurance (DI) participation in Spain during the Great Recession. Using individual-level longitudinal data, we show that DI awards are procyclical, contrary to the countercyclical behavior found in most of the previous literature. We show that DI applications are not responsive to the business cycle and that economic conditions have no effect on the composition of new DI awardees, suggesting that DI participation in Spain is not driven by partially disabled individuals resorting to the DI program as a result of bad labor market conditions. Furthermore, we argue that the procyclical behavior of DI awards may be driven by an informal increase in screening stringency and by an improvement in the health status of the population as a result of worse economic conditions.
This is a preview of subscription content, log in to check access.
Access options
Buy single article
Instant access to the full article PDF.
US$ 39.95
Price includes VAT for USA
Subscribe to journal
Immediate online access to all issues from 2019. Subscription will auto renew annually.
US$ 199
This is the net price. Taxes to be calculated in checkout.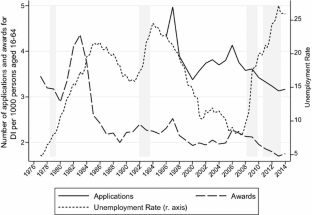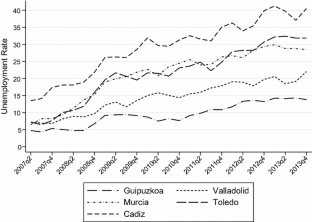 Notes
1.

SSDI is the public contributory DI program in the USA. Supplemental Security Insurance (SSI) is a means-tested program administered also by the US Social Security Administration (SSA).

2.

The outflow from DI is very low in most countries. For several OECD countries in 2008, only around 12% of all DI beneficiaries left the program for reasons other than death or retirement (OECD 2010).

3.

In the non-contributory system, income is evaluated yearly. The income threshold for the year 2016 was set at 5150.6 euros per year for an individual living alone. This amount is adjusted if the individual lives with other members.

4.

The total amount of non-contributory benefits paid in 2014 was a 9.21% of the amount paid in contributory benefits.

5.

Historically there was also a fourth degree, permanent limited disability for the usual job, which has practically fallen into disuse. Very few disabled individuals currently belong to this category. Among all individuals that were receiving a disability benefit at some point during the years 2008 to 2013, only 0.11% of them were classified into this degree. Individuals in this level of disability only receive a one-time lump-sum payment.

6.

Data on applications are only available from the year 1996.

7.

Note that there is no relevant reform of the DI program affecting the entrance to the system during the Great Recession, our analysis period.

8.

Autonomous Communities are the 17 administrative divisions corresponding to the first level of administrative decentralization in Spain. Data on applications disaggregated at the province level are not available.

9.

Regions refer to provinces, which are the 50 administrative divisions corresponding to the second level of administrative decentralization in Spain. They also constitute the regional units in which agencies in charge of granting DI benefits are decentralized.

10.

The total variation of the provincial unemployment rate in our study sample ranges from 2.48 to 41.24, with a mean of 18.37 and a standard deviation of 8.32.

11.

If the individual is not employed, these variables refer to the employment situation of the individual in his/her last employment spell.

12.

The education mismatch variable is constructed as the sum of the squared differences in the distribution of education (considering three levels of education) between unemployed and employed individuals in each region.

13.

Measured with a dummy variable taking the value 1 for individuals with a degree of disability classified by the SSA as "Total" or "Severe," and taking the value 0 for individuals with a degree classified as "Partial." See Sect. 2.1 for information on degrees of disability.

14.

Measured with the logarithm of the amount of years the individual has been in employment before entering the DI program.

15.

Measured with a dummy variable taking the value 1 for individuals with a SSA contributory group considered "high skilled." For individuals that are not working, we take the contributory group of the last employment spell.

16.

In this case, regions refer to Autonomous Communities, which are the 17 administrative divisions corresponding to the first level of administrative decentralization in Spain. Data on applications and denials disaggregated at the province level are not available.

17.

The disability certificate is the main administrative accreditation in Spain that provides access to rights and services targeted to people with disabilities. Individuals have to go through a different evaluation process in order to be granted DI benefits, but in practice the eligibility criteria for the disability certificate and DI benefits are similar.

18.

Which include neuromuscular, intellectual, visual, hearing, cardiovascular, immunological, respiratory, digestive, metabolic, endocrine and other disabilities.

19.

Data before the beginning of the crisis in 2007 is not available, and therefore we use the earlier year available.
References
Aparicio-Feno A (2016) Returns to education and educational outcomes: the case of the Spanish housing boom. J Hum Cap 10(2):235–265

Ariizumi H, Schirle T (2012) Are recessions really good for your health? Evidence from Canada. Soc Sci Med 74(8):1224–1231

Autor D (2015) The unsustainable rise of the disability rolls in the United States: causes, consequences and policy options (Chapter 5). In: Scholz JK, Moon H, Lee S-H (eds) Social policies in an age of austerity: a comparative analysis of the US and Korea. Edward Elgar Publishing, Northampton, pp 107–136

Autor D, Duggan M (2003) The rise in the disability rolls and the decline in unemployment. Q J Econ 118(1):157–205

Autor D, Duggan M (2006) The growth in the social security disability rolls: a fiscal crisis unfolding. J Econ Perspect 20(3):71–96

Benítez-Silva H, Disney R, Jiménez-Martín S (2010) Disability, capacity for work and the business cycle: an international perspective. Econ Policy 25:483–536

Black D, Daniel K, Sanders S (2002) The impact of economic conditions on participation in disability programs: evidence from the coal boom and bust. Am Econ Rev 92(1):27–50

Buchmueller TC, Grignon M, Jusot F (2007) Unemployment and mortality in France, 1982–2002. Center for Health Economics and Policy Analysis Working Paper 07-04

Coe NB, Rutledge MS (2013) How does the composition of disability insurance applicants change across business cycles? Center for Retirement Research at Boston College Working Paper 2013-5

Duggan M, Imberman S (2009) Why are the disability rolls skyrocketing? The contribution of population characteristics, economic conditions, and program generosity. In: Cutler DM, David A (eds) Health at older ages: the causes and consequences of declining disability among the elderly. University of Chicago Press, pp 337–379

Gonzalez F, Quast T (2011) Macroeconomic changes and mortality in Mexico. Empir Econ 40(2):305–319

Haaland VF, Telle K (2015) Pro-cyclical mortality across socieconomic groups and health status. J Health Econ 39:248–258

Heutel G, Ruhm CJ (2016) Air pollution and procyclical mortality. J Assoc Environ Resource Econ 3(3):667–706

Jiménez-Martín S, Vall Castelló J (2009) Business cycle effects on labour force transitions for older people in Spain. FEDEA Working Papers 2009 (25)

Lindner S, Burdick C, Meseguer J (2017) Characteristics and employment of applicants for social security disability insurance over the business cycle. BE J Econ Anal Policy 17(1)

Maestas N, Mullen KJ, Alexander S (2015) Disability Insurance and the Great Recession. Am Econ Rev Pap Proc 105(5):177–182

Mueller A, Rothstein J, von Wachter TM (2016) Unemployment insurance and disability insurance in the Great Recession. J Labor Econ 34(S1):445–475

Neumayer E (2004) Recessions lower (some) mortality rates: evidence from Germany. Soc Sci Med 58(6):1037–1047

OECD (2010) Sickness, disability and work: breaking the barriers: a synthesis of findings across OECD countries. OECD Publishing, Paris

Rege M, Telle K, Votruba M (2009) The effect of plant downsizing on disability pension utilization. J Eur Econ Assoc 7(4):754–785

Regidor E, Vallejo F, Granados JAT, Viciana-Ferníndez FJ, de la Fuente L, Barrio G (2016) Mortality decrease according to socioeconomic groups during the economic crisis in Spain: a cohort study of 36 million people. Lancet 388(10060):2642–2652

Ruhm CJ (2000) Are recessions good for your health? Q J Econ 115(2):617–650

Ruhm CJ (2003) Good times make you sick. J Health Econ 22(4):637–658

Ruhm CJ (2005) Healthy living in hard times. J Health Econ 24(2):341–363

Ruhm CJ, Black WE (2002) Does drinking really decrease in bad times? J Health Econ 21(4):659–678

Rupp K, Stapleton D (1995) Determinants of the growth in the social security administration's disability programs: an overview. Soc Secur Bull 58(4):43–70

Sparks K, Cooper C, Fried Y, Shirom A (1997) The effects of hours of work on health: a meta-analytic review. J Occup Organizational Psychology 70(4):391–408

Tapia Granados JA (2005) Recessions and mortality in Spain, 1980–1997. Eur J Popul 21:393–422
Additional information
We gratefully acknowledge financial support from Recercaixa for the 2014 project "Promoting the labour market integration of disabled workers: A policy evaluation exercise for Spain" and from the Spanish Ministry of Economy Grant ECO2014-52238-R. We thank participants at the XXXV Spanish Health Economics Congress held in 2015 in Granada, the CRES-UPF seminar series and the 2015 "Health at Work" workshop held at Université Paris-Dauphine for valuable comments.
About this article
Cite this article
Jiménez-Martín, S., Juanmarti Mestres, A. & Vall Castelló, J. Great Recession and disability insurance in Spain. Empir Econ 56, 1623–1645 (2019). https://doi.org/10.1007/s00181-017-1396-1
Received:

Accepted:

Published:

Issue Date:
Keywords
Disability insurance

Business cycle

Great Recession

Procyclical health
JEL Classification