Abstract
This study employs the supremum augmented Dicker–Fuller (SADF) and generalized supremum ADF (GSADF) tests to examine the Chinese housing market for the presence of bubbles from 2005 to 2016. We first employed a conventional right-tailed unit root test, and the results clearly suggest that housing prices showed no explosive behaviour in most cities. We further used SADF and GSADF, and the results suggest that most major cities in China experienced bubbles, with the longest bubble period from 2015 to the present, which is still ongoing. The SADF and GSADF results are robust after considering the effects of interest and mortgage rates. Moreover, the northern and southern regions experienced the largest number of bubbles, with over 1.1 bubbles for each city, while the western region experienced the fewest bubbles over the last decade. The western region had bubbles with the shortest durations, around 4 months, than other regions, where the average duration was at least 5 months. This study provides potentially valuable insights into the Chinese housing market and offers important policy implications.
This is a preview of subscription content, log in to check access.
Access options
Buy single article
Instant access to the full article PDF.
US$ 39.95
Price includes VAT for USA
Subscribe to journal
Immediate online access to all issues from 2019. Subscription will auto renew annually.
US$ 199
This is the net price. Taxes to be calculated in checkout.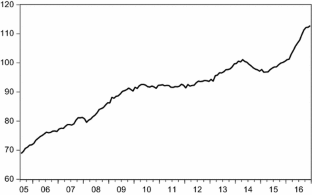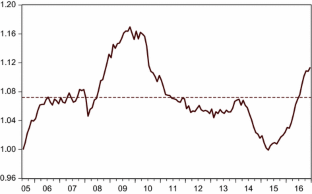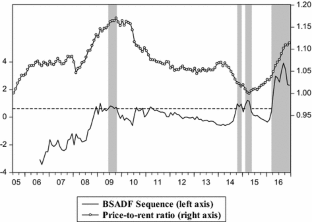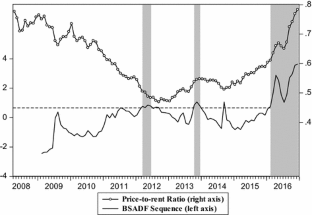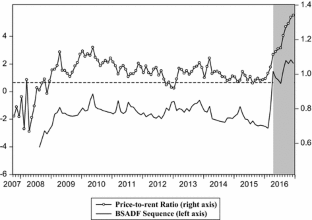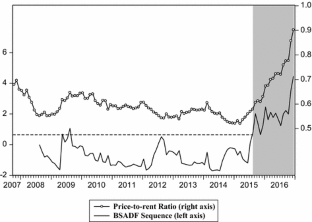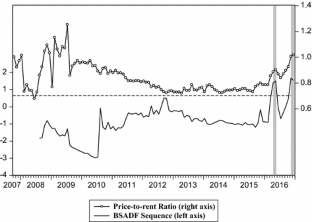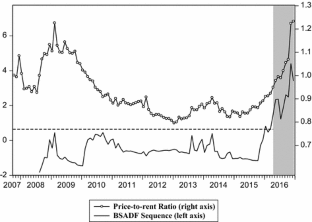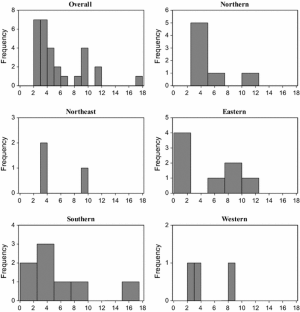 Notes
1.

2.

Engsted (2016) discuss Eugene Fama and Robert Shiller's views on bubbles.

3.

"Appendix" contains the detailed results for the other cities.

4.

The minimum bubble lengths for Beijing, Hangzhou, Hohhot, Zhengzhou, and Xinning are 2.02, 2.03, 2.03, 2.03, and 2.00, respectively.

5.

We understood there are still some factors, such as tax rates, maintenance costs, which could affect the fundamental value of house markets [see, e.g. the discussion in, e.g. Poterba (1992)]. Nonetheless, unavailability of data in Chinese house markets has restricted us to consider them in our analysis.

6.

Following Caspi (2016), we use the difference between expected inflation and the People's Bank of China rate.

7.

We also compute the descriptive statistics for the bubbles in each city and report the results in Table 5 in "Appendix." Interestingly, Zhengzhou experienced the most bubbles during the study period. This city does not have a major increase in its house prices, and policymakers do not frequently mention it about house price bubbles.

8.

The "negative bubble" is defined as the average price during a given bubble period is smaller than the price at bubble start date, while the "positive bubble" is defined as the average price during a given bubble period is larger than the price at bubble start date.
References
Allen F, Gale D (1999) Bubbles, crises, and policy. Oxf Rev Econ Policy 15(3):9–18

Blanchard OJ, Watson MW (1982) Bubbles, rational expectations and financial markets. In: NBER Working Paper No. 945

Campbell JY, Shiller RJ (1986) The dividend-price ratio and expectations of future dividends and discount factors. Rev Financ Stud 1(3):195–228

Campbell J, Perron P (1991) Pitfalls and opportunities: what macroeconomists should know about unit roots. In: NBER Working Paper No. 100

Case KE, Shiller RJ (2003) Is there a bubble in the housing market? Brookings Paper Econ Act 2:299–362

Caspi I (2016) Testing for a housing bubble at the national and regional level: the case of Israel. Empir Econ 2:1–34

Clark SP, Coggin TD (2011) Was there a us house price bubble? an econometric analysis using national and regional panel data. Q Rev Econ Financ 51(2):189–200

Diba BT, Grossman HI (1988) Explosive rational bubbles in stock prices? Am Econ Rev 78:520–530

Engsted T (2016) Fama on bubbles. J Econ Surv 30(2):370–376

Engsted T, Nielsen B (2012) Testing for rational bubbles in a co-explosive vector autoregression. Economet J 15(2):226–254

Etienne XL, Irwin SH, Garcia P (2014) Bubbles in food commodity markets: four decades of evidence. J Int Money Financ 42:129–155

Evans GW (1991) Pitfalls in testing for explosive bubbles in asset prices. Am Econ Rev 81:922–930

Gilbert CL (2010) Speculative influences on commodity futures prices 2006–2008. In: United Nations conference on trade and development Discussion Paper No. 197

Gómez-González JE, Ojeda-Joya JN, Rey-Guerra C, Sicard N (2015) Testing for bubbles in Colombian housing market: a new approach. Revista Desarrollo y Sociedad 75:197–222

Gomez-Gonzalez JE, Ojeda-Joya JN, Franco JP, Torres JE (2017) Asset price bubbles: existence, persistence and migration. S Afr J Econ 85(1):52–67

Gürkaynak R (2008) Econometric tests of asset price bubbles: taking stock. J Econ Surv 22(1):166–186

Hamilton JD, Whiteman CH (1985) The observable implications of self-fulfilling expectations. J Monet Econ 16(3):353–373

Himmelberg C, Mayer C, Sinai T (2005) Assessing high house prices: bubbles, fundamentals and misperceptions. J Econ Perspect 19(4):67–92

Homm U, Breitung J (2012) Testing for speculative bubbles in stock markets: a comparison of alternative methods. J Financ Economet 10(1):198–231

Igan D, Kang H (2011) Do loan-to-value and debt-to-income limits work? evidence from Korea. In: IMF Working Papers, vol: 1–34

Jordà Ò, Schularick M, Taylor AM (2015) Leveraged bubbles. J Monet Econ 76:S1–S20

Kivedal BK (2013) Testing for rational bubbles in the US housing market. J Macroecon 38:369–381

Krainer J, Wei C (2004) House price and fundamental value. FRBSF Economic Letter, Federal Reserve Bank of San Francisco, Issue Oct1

McCarthy J, Peach RW (2004) Are home prices the next bubbles. Federal Reserve Bank of New York. Econ Pol Rev 10:1–17

Okina K, Shirakawa M, Shiratsuka S (2001) The asset price bubbles and monetary policy: Japan's experience in the late 1980s and the lessons. Monet Econ Stud (Spec Edit) 19(2):395–450

Ono A, Uchida H, Udell GF, Uesugi I (2016) Lending pro-cyclicality and macro-prudential policy: evidence from Japanese LTV ratios. In: HIT-REFINEWorking Paper Series 41, Institute of Economic Research, Hitotsubashi University

Pavlidis E, Yusupova A, Paya I, Peel D, Martínez-García E, Mack A, et al. (2015) Episodes of exuberance in housing markets: in search of the smoking gun. J Real Estate Finance Econ: 1–31

Phillips PCB, Yu J (2011) Dating the timeline of financial bubbles during the subprime crisis. Quant Econ 2:455–491

Phillips PCB, Wu Y, Yu J (2011) Explosive behavior in the 1990s Nasdaq: when did exuberance escalate asset values? Int Econ Rev 52:201–226

Phillips PCB, Shi SP, Yu J (2012) Testing for multiple bubbles. Cowles Foundation for Research in Economics, Yale University, Paper No: 1843

Phillips PCB, Shi S, Yu J (2015) Testing for multiple bubbles: historical episodes of exuberance and collapse in the S&P 500. Int Econ Rev 56(4):1043–1078

Poterba JM (1992) Taxation and housing: old questions, new answers. Am Econ Rev 82(2):237–242

Ren Y, Xiong C, Yuan Y (2012) House price bubbles in China. China Econ Rev 23(4):786–800

Shi S, Valadkhani A, Smyth R, Vahid F (2016) Dating the timeline of house price bubbles in Australian capital cities. Econ Rec 92(299):590–605

Shiller RJ (2005) Irrational exuberance. Princeton University Press, Princeton

Smith VL, Suchanek GL, Williams AW (1988) Bubbles, crashes, and endogenous expectations in experimental spot asset markets. Econometrica 56(5):1119–1151

Taipalus K (2012) Detecting asset price bubbles with time-series methods. Bank of Finland, Helsinki

Vissing-Jorgensen A (2003) Perspectives on behavioral finance: does "irrationality" disappear with wealth? evidence from expectations and actions. NBER Macroecon Ann 18:139–194

Wong E, Fong T, Li K, Choi H (2011) Loan-to-value ratio as a macroprudential tool: Hong Kong's experience and cross-country evidence. In: Hong Kong Monetary Authority Working Paper No. 01/2011

Yiu MS, Yu J, Jin L (2013) Detecting bubbles in Hong Kong residential property market. J Asian Econ 28:115–124
Acknowledgements
The author is grateful to the coordinating editor, Robert M. Kunst, and to the two anonymous referees for their helpful comments and insights. Remaining errors, however, are my own.
Appendix 1: Bubble periods for each regional city
Appendix 1: Bubble periods for each regional city
See Table 5.
About this article
Cite this article
Pan, W. Detecting bubbles in China's regional housing markets. Empir Econ 56, 1413–1432 (2019). https://doi.org/10.1007/s00181-017-1394-3
Received:

Accepted:

Published:

Issue Date:
Keywords
Real estate

Rational bubbles

Housing market

Recursive unit root
JEL Classification