Abstract
In this paper, a duration dependence test for speculative bubbles in the Chinese stock market is developed. It is found that bubbles in the aggregate stock price existed before the split share reform. After the reform, we observe the phenomenon of bubble migration across industries. In particular, bubbles migrate from the telecommunications industry to the health care industry. Moreover, we find that monetary policy used to have a significant impact on the bubble size before the reform but the impact diminished after the reform.
Access options
Buy single article
Instant access to the full article PDF.
US$ 39.95
Tax calculation will be finalised during checkout.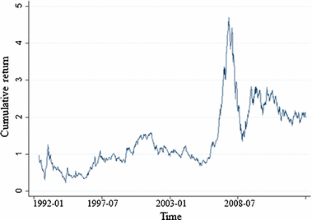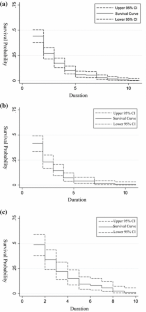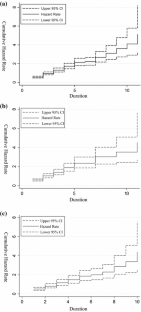 Notes
1.

The China Securities Index (CSI) Company Limited is a joint venture between the Shanghai Stock Exchanges and the Shenzhen Stock Exchange. It provides the creation and management of indices and index-related services. To measure the stock performance of different industries, the company launched 10 industry indices on January 4, 2002.

2.

To offset adverse global economic conditions, the Chinese government launched a CNY 4-trillion stimulus plan on November 9, 2008, to boost domestic demand by providing extra liquidity.

3.

In unreported results, we conduct an ARCH test and find conditional heteroscedasticity in weekly stock return series.

4.

We obtain similar results by using a GARCH-in-mean model with lag returns up to three orders.

5.

6.

The monthly CPI is converted into weekly inflation rates by solving the weekly inflation rate such that the weekly price index grows smoothly and at the same rate between subsequent values of the monthly CPI.

7.

It should be noted that in Eq. (3) refers to population probability, whereas the h(i) refers to the sample probability used in the likelihood tests.

8.

We also use the repo rate as alternative measure of risk-free interest rate. It turns out that our results remain qualitatively unchanged.

9.

We also repeat various specifications of duration dependence tests on industry level and subsample period (pre-reform vs. post-reform). Our results remain qualitatively unchanged. For brevity, these results are not reported, but available upon request.
References
Blanchard OJ, Watson MW (1983) Bubbles, rational expectations and financial markets (no. 0945). National Bureau of Economic Research, Inc

Brueckner JK, Calem PS, Nakamura LI (2012) Subprime mortgages and the housing bubble. J Urban Econ 71(2):230–243

Chan K, Mcqueen G, Thorley S (1998) Are there rational speculative bubbles in Asian stock markets? Pac Basin Finance J 6(1–2):125–151

Diba BT, Grossman HI (1988) Explosive rational bubbles in stock prices? Am Econ Rev 78(3):520–530

Engle RF, Lee GJ (1999) A permanent and transitory component model of stock return volatility. In: Granger WJ, Engle RF, White H (eds) Cointegration, causality, and forecasting: a festschrift in honor of clive. Oxford University Press, Oxford, pp 475–497

Evans DS (1987) Tests of alternative theories of firm growth. J Polit Econ 95(4):657–674

Firth M, Lin C, Zou H (2010) Friend or foe? The role of state and mutual fund ownership in the split share structure reform in China. J Financ Quant Anal 45:685–706

Fukuta Y (2002) A test for rational bubbles in stock prices. Empir Econ 27(4):587–600

Gürkaynak RS (2008) Econometric tests of asset price bubbles: taking stock. J Econ Surv 22(1):166–186

Hamilton JD (1986) On testing for self-fulfilling speculative price bubbles. Int Econ Rev 27(3):545–552

Harman YS, Zuehlke TW (2004) Duration dependence testing for speculative bubbles. J Econ Finance 28(2):147–154

He Q, Rui O (2016) Ownership structure and insider trading: the evidence from China. J Bus Ethics 134(4):553–574

He Q, Xue C, Zhu C (2017) Financial development and the patterns of industrial specialization: the evidence from China. Rev Finance 21(4):1593–1638

Hollander M, Wolfe DA (1999) Nonparametric statistical methods. Wiley, Chichester

Jirasakuldech B, Emekter R, Rao RP (2008) Do Thai stock prices deviate from fundamental values? Pac Basin Finance J 16(3):298–315

LeRoy SF, Porter RD (1981) The present-value relation: tests based on implied variance bounds. Econometrica 49(3):555–574

Liao L, Liu B, Wang H (2014) China's secondary privatization: perspectives from the split–share structure reform. J Financ Econ 113(3):500–518

Lunde A, Timmermann A (2004) Duration dependence in stock prices: an analysis of bull and bear markets. J Bus Econ Stat 22(3):253–273

McQueen G, Thorley S (1994) Bubbles, stock returns, and duration dependence. J Financ Quant Anal 29(3):379–401

Mokhtar SH, Hassan T (2006) Detecting rational speculative bubbles in the Malaysian stock market. Int Res J Finance Econ 6:69–75

Shiller RJ (1981) Do stock prices move too much to be justified by subsequent changes in dividends? Am Econ Rev 71(3):421–436

Wang M, Wong MCS (2015) Rational speculative bubbles in the US stock market and political cycles. Finance Res Lett 13:1–9

West KD (1988) A specification test for speculative bubbles. Q J Econ 102(3):553–580

Zhang B (2008) Duration dependence test for rational bubbles in Chinese stock market. Appl Econ Lett 15(8):635–639
Additional information
This research is supported by the MOE Project of Key Research Institute of Humanities and Social Sciences at Universities (16JJD790056), National Natural Science Foundation of China (71402181), and Fundamental Research Funds for the Central Universities, and the Research Funds of Renmin University of China (13XNJ003). All remaining errors are ours.
About this article
Cite this article
He, Q., Qian, Z., Fei, Z. et al. Do speculative bubbles migrate in the Chinese stock market?. Empir Econ 56, 735–754 (2019). https://doi.org/10.1007/s00181-017-1369-4
Received:

Accepted:

Published:

Issue Date:
Keywords
Survival analysis

Speculative bubbles

Non-tradable shares reform
JEL Classification