Abstract
We examine the relationship between inflation targeting and the behavior of the level and volatility of inflation for eight Asian countries over the period 1987–2013. In contrast to existing studies that rely upon time series methods, we employ a novel panel GARCH model that accounts for heterogeneity and interdependence across countries. Our main contribution is to shed new light on the inflation targeting credibility hypothesis based on lower inflation and inflation volatility as well as on the correlation between unanticipated inflation shocks within a panel GARCH framework. We find strong evidence of a reduction in the level of inflation that operates from the impact of actual inflation targets in the Philippines, South Korea and Thailand. We also find that the adoption of inflation targeting helped lower inflation volatility in the Philippines and South Korea. Overall, the results suggest that Asian inflation targeting regimes are more credible in terms of reducing the level of inflation than lowering inflation volatility. There is also evidence that the covariance of inflation shocks among inflation targeting and non-targeting countries tends to increase.
Access options
Buy single article
Instant access to the full article PDF.
USD 39.95
Price includes VAT (USA)
Tax calculation will be finalised during checkout.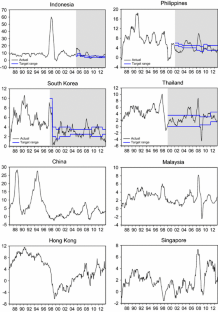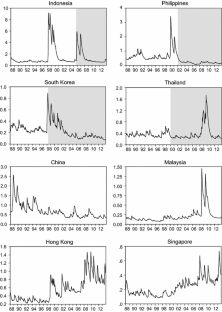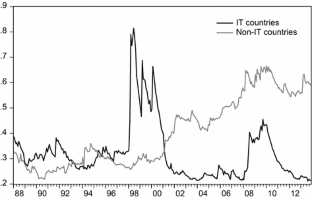 Notes
1.

2.

There are no other conditioning variables in Eq. (1) because our main goal is to characterize the inflation process in Asian countries taken as a panel with special attention given to the impact of inflation targeting. We later argue that our findings are robust to incorporating the effects from an oil price dummy.

3.

4.

5.

The coefficient estimate for IT is robust to the case where the oil price is used as an alternative determinant of inflation. In this first experiment, we followed Bhar and Mallik's (2013) approach in constructing a dummy variable for the oil price. Here, we first convert the oil price into local currency since an appreciating exchange rate can offset the impact of oil price increases. When the oil price (in local currency) rises more than 4% in three consecutive periods, we set the dummy variable equal to (+1). Likewise, we set a value of (−1) if the oil price declines more than 4% in three consecutive periods. The dummy is zero otherwise. As a further robustness check, we then used the quarterly GDP deflator as an alternative determinant of inflation. For comparison, we changed the data frequency of CPI inflation from monthly to quarterly. For both quarterly CPI and GDP deflator data, we confirmed our first panel GARCH findings and those from the first experiment.
References
Aleem A, Lahiani A (2014) Monetary policy credibility and exchange rate pass-through: some evidence from emerging countries. Econ Model 43:21–29

Amira B, Mouldi D, Feridun M (2013) Growth effects of inflation targeting revisited: empirical evidence from emerging markets. Appl Econ Lett 20(6):587–591

Ayres K, Belasen AR, Kutan AM (2014) Does inflation targeting lower inflation and spur growth? J Policy Model 36(2):373–388

Ball L, Sheridan N (2005) Does inflation targeting matter? In: Bernanke B, Woodford M (eds) The inflation targeting debate. University of Chicago Press, Chicago, pp 249–276

Batini N, Laxton D (2007) Under what conditions can inflation targeting be adopted? The experience of emerging markets. In: Mishkin FS, Schmidt-Hebbel K (eds) Monetary policy under inflation targeting. Central Bank of Chile, Chile, pp 1–38

Bernanke B.S, Laubach T, Mishkin FS, Posen AS (1999) Inflation targeting: lessons from the international experience. http://press.princeton.edu/chapters/s02_6380.pdf

Bernanke B, Woodford M (2005) Introduction. In: Bernanke B, Woodford M (eds) The inflation targeting debate. University of Chicago Press, Chicago, pp 1–10

Berument H, Yuksel E (2007) Effects of adopting inflation targeting regimes on inflation variability. Phys A Stat Mech Appl 375(1):265–273

Bhar R, Mallik G (2013) Inflation uncertainty, growth uncertainty, oil prices, and output growth in the UK. Empir Econ 45(3):1333–1350

Bollerslev T (1990) Modelling the coherence in short-run nominal exchange rates: a multivariate generalized ARCH model. Rev Econ Stat 72:498–505

Borio C, Filardo A (2007) Globalisation and inflation: New cross-country evidence on the global determinants of domestic inflation. Working paper no. 227, Bank for International Settlements

Brito RD, Bystedt B (2010) Inflation targeting in emerging economies: panel evidence. J Dev Econ 91(2):198–210

Broto C (2011) Inflation targeting in Latin America: empirical analysis using GARCH models. Econ Model 28(3):1424–1434

Broyden CG (1965) A class of methods for solving nonlinear simultaneous equations. Math Comput 19(92):577–593

Broyden CG (1967) Quasi-newton methods and their application to function minimisation. Math Comput 21(99):368–381

Capistrán C, Ramos-Francia M (2009) Inflation dynamics in Latin America. Contemp Econ Policy 27(3):349–362

Carrasco CA, Ferreiro J (2013) Inflation targeting and inflation expectations in Mexico. Appl Econ 45(23):3295–3304

Ciccarelli M, Mojon B (2010) Global inflation. Rev Econ Stat 92(3):524–535

Cermeño R, Grier KB (2006) Conditional heteroskedasticity and cross-sectional dependence in panel data: an empirical study of inflation uncertainty in the G7 countries. In: Baltagi BH (ed) Panel data econometrics: theoretical contributions and empirical applications. Emerald Group Publishing Limited, Amsterdam, pp 259–277

Cermeño R, Grier K, Grier R (2010) Elections, exchange rates and reform in Latin America. J Dev Econ 92(2):166–174

Cermeño R, Sanin ME (2015) Are flexible exchange rate regimes more volatile? panel GARCH evidence for the G7 and Latin America. Rev Dev Econ 19(2):297–308

Céspedes LF, Chang R, Velasco A (2014) Is inflation targeting still on target? The recent experience of Latin America. Int Finance 17(2):185–208

De Mendonça HF, e Souza GJDG (2012) Is inflation targeting a good remedy to control inflation? J Dev Econ 98(2):178–191

Dufrenot G, Keddad B (2014) Business cycles synchronization in East Asia: a Markov-switching approach. Econ Model 42:186–197

Drakos K, Konstantinou PT (2013) Investment decisions in manufacturing: assessing the effects of real oil prices and their uncertainty. J Appl Econom 28(1):151–165

Elliott G, Rothenberg TJ, Stock JH (1996) Efficient tests for an autoregressive unit root. Econometrica 64(4):813–836

Escobari D, Lee J (2014) Demand uncertainty and capacity utilization in airlines. Empir Econ 47(1):1–19

Fletcher R, Powell MJ (1963) A rapidly convergent descent method for minimization. Comput J 6(2):163–168

Gonçalves CES, Salles JM (2008) Inflation targeting in emerging economies: what do the data say? J Dev Econ 85(1):312–318

Gonçalves CES, Carvalho A (2009) Inflation targeting matters: evidence from OECD economies' sacrifice ratios. J Money Credit Bank 41(1):233–243

Goulas E, Zervoyianni A (2013) Economic growth and crime: does uncertainty matter? Appl Econ Lett 20(5):420–427

Im KS, Pesaran MH, Shin Y (2003) Testing for unit roots in heterogeneous panels. J Econom 115:53–74

Ihrig J, Kamin SB, Lindner D, Marquez J (2010) Some simple tests of the globalization and inflation hypothesis. Int Finance 13(3):343–375

International Monetary Fund (2006). Inflation targeting and the IMF. https://www.imf.org/external/np/pp/eng/2006/031606.pdf

Ito T, Sato K (2008) Exchange rate changes and inflation in post-crisis Asian economies: vector autoregression analysis of the exchange rate pass-through. J Money Credit Bank 40(7):1407–1438

Kontonikas A (2004) Inflation and inflation uncertainty in the United Kingdom: evidence from GARCH modelling. Econ Model 21(3):525–543

Kwiatkowski D, Phillips PCB, Schmidt P, Shin Y (1992) Testing the null hypothesis of stationarity against the alternative of a unit root: how sure are we that economic time series have a unit root? J Econ 54(1–3):159–178

Lee J (2010a) Does inflation targeting matter for monetary policy? further evidence. J Int Finance Econ 10(4):102–106

Lee J (2010b) The link between output growth and volatility: evidence from a GARCH model with panel data. Econ Lett 106(2):143–145

Lee J, Valera HGA (2016) Price transmission and volatility spillovers in Asian rice markets: evidence from MGARCH and panel GARCH models. Int Trade J 30(1):14–32

Leiderman L, Bufman G (2000) Inflation targeting under a crawling band exchange rate regime: lessons from Israel. International Monetary Fund https://www.imf.org/external/pubs/ft/seminar/2000/targets/strach9.pdf

Leyva G (2008) The choice of inflation targeting. Working paper no. 475, Central Bank of Chile

Levin A, Lin CF, Chu CSJ (2002) Unit root tests in panel data: asymptotic and finite-samples properties. J Econ 108:1–24

Lin S, Ye H (2007) Does inflation targeting really make a difference? Evaluating the treatment effect of inflation targeting in seven industrial countries. J Monet Econ 54:2521–2533

Lin S, Ye H (2009) Does inflation targeting make a difference in developing countries? J Dev Econ 89(1):118–123

Lucotte Y (2010) The choice of adopting inflation targeting in emerging economies: do domestic institutions matter? https://hal.archives-ouvertes.fr/hal-00539713

Lucotte Y (2012) Adoption of inflation targeting and tax revenue performance in emerging market economies: an empirical investigation. Econ Syst 36(4):609–628

McDermott JF, McMenamin P (2008) Assessing inflation targeting in Latin America with a DSGE model. Working paper no. 469, Central Bank of Chile

Miles W (2008) Inflation targeting and monetary policy in Canada: what is the impact on inflation uncertainty? N Am J Econ Finance 19(2):235–248

Mishkin FS (1999) International experiences with different monetary policy regimes. J Monet Econ 43(3):579–605

Mishkin FS (2004) Can inflation targeting work in emerging market countries? Working paper no. 10646, National Bureau of Economic Research

Mishkin FS, Schmidt-Hebbel K (2007) Does inflation targeting make a difference? Working paper no. 12876, National Bureau of Economic Research

Mollick AV, Cabral R, Carneiro FG (2011) Does inflation targeting matter for output growth? evidence from industrial and emerging economies. J Policy Model 33(4):537–551

Mumtaz H, Simonelli S, Surico P (2011) International comovements, business cycle and inflation: a historical perspective. Rev Econ Dyn 14(1):176–198

Neely CJ, Rapach DE (2011) International comovements in inflation rates and country characteristics. J Int Money Finance 30(7):1471–1490

Newey WK, West KD (1987) A simple, positive semi-definite, heteroskedasticity and autocorrelation consistent covariance matrix. Econometrica 55(3):703

Ng S, Perron P (2001) Lag length selection and the construction of unit root tests with good size and power. Econometrica 69(6):1519–1554

Ouyang AY, Rajan RS (2016) Does inflation targeting in Asia reduce exchange rate volatility? Int Econ J 30(2):294–311

Payne JE (2009) Inflation targeting and the inflation–inflation uncertainty relationship: evidence from Thailand. Appl Econ Lett 16(3):233–238

Pesaran MH (2004) General diagnostic tests for cross section dependence in panels. CESifo Working Paper Series No. 1229; IZA Discussion Paper No. 1240

Pesaran MH (2007) A simple panel unit root test in the presence of cross-section dependence. J Appl Econ 22(2):265–312

Prasertnukul W, Kim D, Kakinaka M (2010) Exchange rates, price levels, and inflation targeting: evidence from Asian countries. Jpn World Econ 22(3):173–182

Romer D (2006) Advanced macroeconomics, 3rd edn. McGraw-Hill/Irwin, New York

Samarina A, De Haan J (2014) Right on target: exploring the factors leading to inflation targeting adoption. Contemp Econ Policy 32(2):372–389

Samarina A, Terpstra M, De Haan J (2014) Inflation targeting and inflation performance: a comparative analysis. Appl Econ 46(1):41–56

Sek SK, Har WM (2012) Does inflation targeting work in emerging East-Asian economies? Panoeconomicus 59(5):599–608

Svensson LEO (1997) Inflation forecast targeting: implementing and monitoring inflation targets. Eur Econ Rev 41(6):1111–1146

Tang HC (2014) Commodity prices and monetary policy in emerging East Asia during the global financial crisis. Asian Pac Econ Lit 28(1):137–160

Taş BKO (2012) Inflation targeting and inflation uncertainty. Scott J Polit Econ 59(3):283–297

Taş BKO, Ertugrul HM (2013) Effect of inflation targeting on inflation uncertainty: a SWARCH analysis. Aust Econ Rev 46(4):1–16

Taylor JB (2000) Low inflation, pass-through, and the pricing power of firms. Eur Econ Rev 44(7):1389–1408

Valera HGA, Holmes MJ, Hassan GM (2016) Stock market uncertainty and interest rate behaviour: a panel GARCH approach. Appl Econ Lett 1–4: doi:10.1080/13504851.2016.1223817
Acknowledgements
We are grateful for the helpful comments made by the Editors and anonymous referees, participants at the 2015 meeting of the Singapore Economics Conference and to Jim Lee for computational assistance. Financial support from the New Zealand Ministry of Foreign Affairs and Trade (MFAT) (DEVSCH:PHL:8070) is also gratefully acknowledged. Any remaining errors are our own.
About this article
Cite this article
Valera, H.G.A., Holmes, M.J. & Hassan, G.M. Is inflation targeting credible in Asia? A panel GARCH approach. Empir Econ 54, 523–546 (2018). https://doi.org/10.1007/s00181-016-1212-3
Received:

Accepted:

Published:

Issue Date:
Keywords
Inflation targeting

Inflation volatility

Panel GARCH

Credibility

Asia
JEL Classification