Abstract
This paper investigates the value of attributes of theatrical productions using a joint revealed preference–stated preference (RP–SP) method. SP models have advantages over RP models, requiring less data and avoiding multicollinearity problems which often confound RP analysis. However, the advantage to joint RP–SP model is that theatre-goers choices are anchored to real behaviour. The RP–SP model reveals the most important determinant of choice and willingness to pay (WTP) to be the type of show. The Royal Shakespeare Company strongly influenced choice and WTP. Reviews of productions by theatre critics influenced choice. A mixed logit model revealed considerable heterogeneity in theatre-goer tastes for types of show and variation in taste for the attributes of shows by socioeconomic and demographic profile of theatre-goers.
Access options
Buy single article
Instant access to the full article PDF.
USD 39.95
Price includes VAT (USA)
Tax calculation will be finalised during checkout.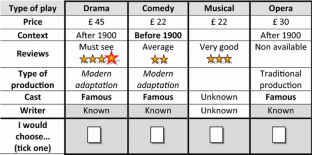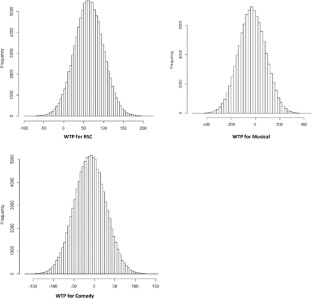 Notes
1.

Abbe-Decarroux and Grin (1992) find that this risk might be a factor of attraction of certain audiences like youngsters since theatre can be more risky and risqué than other performances like opera or concerts.

2.

E.g. where the number of people attending different shows is modelled as a function of the characteristics of the shows.

3.

Peter Lathan in The British Theatre Guide.

4.

5.

6.
References
Abbe-Decarroux F (1994) The perception of quality and the demand for services. J Econ Behav Organ 23(1):99–107

Abbe-Decarroux F, Grin F (1992) Risk, risk aversion and the demand for performing arts. In: Towse RA, Khakee A (eds) Cultural economics. Spinger, Berlin, pp 125–140

Akdede SH, King JT (2006) Demand for and productivity analysis on Turkish public theatre. J Cult Econ 30:219–231

Armstrong P, Garrido R, de Dois Ortuzar J (2001) Confidence intervals to bound the value of time. Transp Res Part E: Logist Transp Rev 37:143–161

Arnold B, Brockett P (1992) On the distribution whose components ratios are Cauchy. Am Stat 46:25–26

Bierlaire M (2003) BIOGEME: a free package for the estimation of discrete choice models. In: Proceedings of the 3rd Swiss transportation research conference. Ascona, Switzerland

Bierlaire M (2008) [biogeme.epfl.ch]. An introduction to BIOGEME Version 1.7

Bliemer MCJ, Rose JM (2008) Construction of experimental designs for mixed logit models allowing for correlation across choice observations. In: 87th annual TRB meeting, Washington, D.C., January 2008, USA

Caussade S, de Dios Ortuzar J, Rizzi L (2005) Assessing the influence of design dimensions on stated choice estimates. Transp Res B 39:621–640

Colbert F, Beauregard C, Valle L (1998) The importance of ticket prices for theatre patrons. Int J Arts Manag 1:8–15

Corning J, Levy A (2002) Demand for live theatre with segmentation and seasonality. J Cult Econ 26: 217–235

Deaton A, Muellbauer J (2007) Econ Consum Behav. Cambridge University Press, Cambridge

de Dios Ortuzar J, Willumsen L (2001) Modelling transport. Wiley, Chichester

Felton MV (1989) Major influences on the demand for opera tickets. J Cult Econ 13:53–64

Ferrini S, Scarpa R (2007) Designs with a priori information for non-market valuation with choice experiments: a Monte Carlo study. J Environ Econ Manag 53:342–363

Grisolía JM, de Dios Ortúzar J (2010) Forecasting vs. observed outturn: studying choice in faster inter-island connections. Transp Res Part A: Policy Pract 44(3):159–168

Grisolía JM, Willis KG (2011) An evening at the theatre: using choice experiments to model preferences for theatres and theatrical productions. Appl Econ 43:3987–3998

Grisolía JM, Willis KG (2012) A latent class model of theatre demand. J Cult Econ 36(2):113–139

Grisolía JM, Willis KG, Wymer C, Law A (2010) Social engagement and regional theatre: patterns of theatre attendance. Cult Trends 19(3):225–244

Hanley N, Schläpfer F, Spurgeon J (2003) Aggregating the benefits of environmental improvements: distance-decay functions for use and non-use values. J Environ Manag 68(3):297–304

Hensher DA, Rose JM, Greene W (1994) Stated preference analysis of travel choice: the state of practise. Transportation 21:107–133

Hensher DA, Rose JM, Greene W (2006) Applied choice analysis: a premier. Cambridge University Press, Cambridge

Hole AR, Kolstad JR (2012) Mixed logit estimation of willingness to pay distributions: a comparison of models in preference and WTP space using data from a health-related choice experiment. Empir Econ 42(2):445–469

Jara-Díaz SR (2007) Transport economic theory. Elsevier Science, Amsterdam

Johnson FR (2004) Combining revealed and stated preferences to predict uptake and adherence. RTI Health Solutions, Research Triangle Park

Kanninen BJ (2002) Optimal design for multinomial choice experiments. J Mark Res 39:214–217

Lancaster K (1966) A new approach to consumer theory. J Polit Econ 74(2):132–157

Louviere JJ, Hensher DA, Swait JD (2000) Stated choice methods: analysis and application. Cambridge University Press, Cambridge

McFadden D (1974) Conditional logit analysis of qualitative choice behaviour. In: Zarembka P (ed) Frontiers in Econometrics. Academic Press, New York, pp 105–142

McFadden D, Train K (2000) Mixed MNL models for discrete response. J Appl Econom 15(5):447–470

Powe NA, Garrod GD, Willis KG (1995) Valuation of urban amenities using a hedonic price model. J Prop Res 12:137–147

Rose JM, Bliemer MCJ (2010) Stated choice experimental design theory: the who, the what and the why. Podium presentation presented at the 3rd conjoint analysis in health conference. Newport Beach, CA. 2010

Royal Shakespeare Company (2008) Annual report and accounts 2007/2008. RSC, Stratford on Avon

Royal Shakespeare Company (2009) Annual report and accounts 2008/2009. RSC, Stratford on Avon

Scarpa R, Thiene M, Train K (2008) Utility in willingness to pay space: a tool to address confounding random scale effects in destination choice to the Alps. Am J Agric Econ 90(4):994–1010

Sillano M, de Dios Ortuzar J (2005) Willingness-to-pay estimation with mixed logit models: some new evidence. Environ Plan A 37(3):525–550

Small KA, Rosen HS (1981) Applied welfare economics with discrete choice models. Econometrica 49: 105–130

Swait J, Louviere J (1993) The Role of the Scale Parameter in the Estimation and Comparison of Multinomial Logit Models. J Mark Res 30(3):305–314

Throsby CD (1994) The production and consumption of the arts: a view of cultural economics. J Econ Lit 32(1):1–29

Throsby CD, Withers GA (1979) The economics of the performing arts. Edward Arnold, London

Throsby D (1990) Perception of quality in demand for the theatre. J Cult Econ 14(1):65–82

Train K (2003) Discrete choice models with simulation. Cambridge University Press, Cambridge

Train K, Weeks M (2005) Discrete choice models in preference space and willing-to-pay space. In: Scarpa R, Alberini A (eds) Applications of simulation methods in environmental and resource economics. Chapter 1. Springer, Dordrecht, pp 1–16

Train KE, Wilson WW (2009) Monte Carlo analysis of SP-off-RP data. J Choice Model 2(1):101–117

Urrutiaguer D (2002) Quality judgements and demand for French public theatre. J Cult Econ 26:185–202

Werck K, Heynelds B (2007) Programmatic choices and the demand for theatre: the case of Flemish theatres. J Cult Econ 31:25–41

Willis KG, Snowball JD (2009) Investigating how the attributes of live theatre productions influence consumption choices using conjoint analysis: the example of the National Arts Festival, South Africa. J Cult Econ 33:168–183

Willis KG (2002) Stated preference and the estimation of environmental values. Int J Environ Stud 59(6):635–646

Withers G (1980) Unbalanced growth and the demand for performing arts: an econometric analysis. South Econ J 46:735–742

Zhao Y, Kockelman K, Karlström A (2012) Welfare calculations in discrete choice settings: an exploratory analysis of error term correlation with finite populations. Transp Policy 19(1):76–84

Zieba M (2009) Full income and price elasticities of demand for German public theatre. J Cult Econ 33:85–108
Acknowledgments
This research was funded by the Arts and Humanities Research Council (AHRC) and Arts Council England (ACE) under their Fellowship on the economic impact of arts and humanities. The authors would like to thank María Francisca Yáñez from Universidad Catolica de Chile, and Marco Boeri from Queen's University Belfast, for their advice in the estimation of the model and WTP; and Jo Kirby, marketing director at the Theatre Royal, Newcastle, for her support in the data collection and useful comments during the work.
About this article
Cite this article
Grisolía, J.M., Willis, K.G. Consumer choice of theatrical productions: a combined revealed preference–stated preference approach. Empir Econ 50, 933–957 (2016). https://doi.org/10.1007/s00181-015-0948-5
Received:

Accepted:

Published:

Issue Date:
Keywords
Theatre

Revealed preference–stated preference

Mixed logit model
JEL Classification