Abstract
The paper uses a new and improved comprehensive dataset on inequality to examine the effects of inequality on per capita income and the effects of per capita income on income inequality. The use of such a comprehensive cross-state panel allows for the estimation of the dynamic responses of inequality and per capita income using panel vector autoregressive (VAR) models. Cumulative impulse responses from a baseline bivariate VAR model indicate that shocks to the Gini index of inequality significantly decrease the level of per capita income. This finding is robust to changes in the measures of inequality used, as well as to the estimation of a three-variable model. We also find that the relationship between inequality and per capita income varies over time and is sensitive to particular episodes in history.
This is a preview of subscription content, log in to check access.
Access options
Buy single article
Instant access to the full article PDF.
US$ 39.95
Price includes VAT for USA
Subscribe to journal
Immediate online access to all issues from 2019. Subscription will auto renew annually.
US$ 199
This is the net price. Taxes to be calculated in checkout.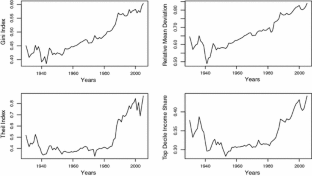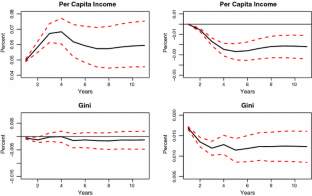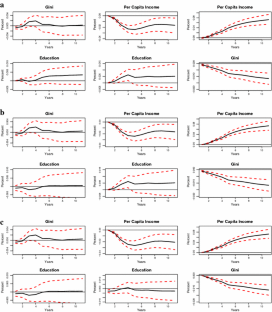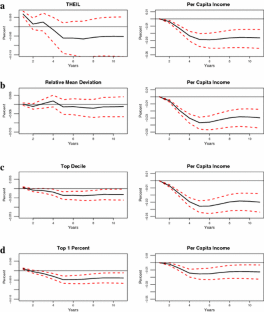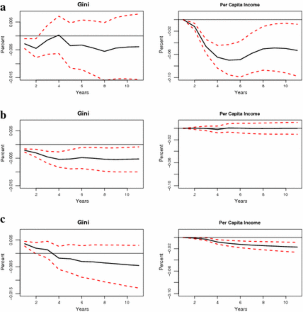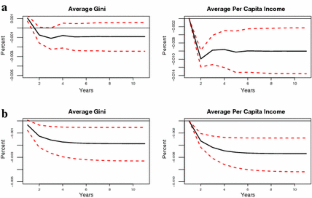 Notes
1.

For example, Forbes states that "if more unequal countries tend to underreport their inequality statistics and also tend to grow more slowly than comparable countries with lower levels of inequality, this could generate a negative bias in cross-country estimates of the impact of inequality on growth".

2.

We do not plot individual state's income growth rates or inequality because these graphs are not original, and can be found in Frank (2009b, p. 59).

3.

Note that for \(t=T\), the helmert procedure cannot be done because there are no data to calculate the forward means for \(t>T\).

4.

Love and Zichino (2006) provide an example of this technique being used in firm-level data. She has graciously provided the code for the estimation of the panel VAR.

5.

The use of state-level data limits the number of variables we can include in the model. Furthermore, data limitations have this estimation end in 2000 not 2005 as it does in the baseline version.

6.

Some researchers may argue that if models that emphasize the role of education are right, inequality should not affect income once education is included in the VAR system. What our finding suggests is that education does not completely explain income, hence the reason inequality still affects income (even though the response is now delayed and less severe as expected).

7.

The impact response of the theil index differs possibly because unlike the other indices, the theil is an entropy index. The Theil index, by construction (unlike the Gini and other inequality measures), is most sensitive to inequality in the top range in the distribution (Kovacevic 2010).

8.

We only construct and present impulse responses for the effect of initial inequality on per capita income. Examining the response of initial inequality on average per capita income is meaningless. For example, it is absurd to examine how inequality in 1990 is affected by the average per capita income from 1990 to 2000.
References
Alesina A, Perotti R (1994) The political economy of growth: a critical survey of the recent literature. World Bank Econ Rev 8:351–371

Alesina A, Rodrik D (1994) Distributive politics and economic growth. Q J Econ 109:465–490

Alesina A, Perotti R (1996) Income distribution, political instability, and investment. Eur Econ Rev 40: 1203–1228

Arellano M, Bover O (1995) Another look at the instrumental variable estimation of error-components models. J Econom 68:29–51

Attanasio O, Picci LM, Scorcu AE (2000) Saving, growth, and investment: a macroeconomic analysis using a panel of countries. Rev Econ Stat 82:182–211

Bachmeier LJ, Cha I (2011) Why don't oil shocks cause inflation? evidence from disaggregate inflation data. J Money Credit Bank 43:1165–1183

Barro RJ (2000) Inequality and growth in a panel of countries. J Econ Growth 5:5–32

Barro RJ, Sala-i-Martin X (1997) Technological diffusion, convergence, and growth. J Econ Growth 2:1–26

Beck T, Demirgüç-Kunt A, Levine R (2007) Finance, inequality and the poor. J Econ Growth 12:27–49

Blanchard OJ, Gali J (2007) The Macroeconomic effects of oil shocks: Why are the 2000s so different from the 1970s? National Bureau of Economic Research, NBER Working Paper No. 13368

Blanchard OJ, Simon J (2001) The long and large decline in U.S. output volatility. Brook Pap Econ Act 1:135–164

Chauvet M, Potter S (2001) Recent changes in the US business cycle. Manch Sch 69:481–508

Choi I (2001) Unit root tests for panel data. J Int Money Financ 20:249–272

Cogley T, Sargent TJ (2001) Evolving post-World War II U.S. inflation dynamics. NBER Macroecon Annu 16:331–372

Conte C (2001) An outline of the U.S. Economy. U.S. Department of State, International Information Programs, Washington, DC

Cutler DM, Katz LF (1992) Rising inequality? Changes in the distribution of income and consumption in the 1980's. Am Econ Rev 82:546–551

Durlauf SN, Quah DT (1999) The new empirics of economic growth. Handb Macroecon 1:235–308

Fallah BN, Partridge MD (2007) The elusive inequality-economic growth relationship: are there differences between cities and the countryside? Ann Reg Sci 41:375–400

Forbes KJ (2000) A reassessment of the relationship between inequality and growth. Am Econ Rev 90: 869–887

Frank MW (2009) Income inequality, human capital, and income growth: evidence from a state-level VAR analysis. Atl Econ J 37:173–185

Frank MW (2009) Inequality and growth in the United States: evidence from a new state-level panel of income inequality measures. Econ Inq 47:55–68

Galor O, Tsiddon D (1997) The distribution of human capital and economic growth. J Econ Growth 2:93–124

Hadri K (2000) Testing for stationarity in heterogeneous panel data. Econom J 3:148–161

Harris RD, Tzavalis E (1999) Inference for unit roots in dynamic panels where the time dimension is fixed. J Econom 91:201–226

Huang H-C, Lin Y-C, Yeh C-C (2009) Joint determinations of inequality and growth. Econ Lett 103:163–166

Im KS, Pesaran HM, Yongcheol Shin (2003) Testing for unit roots in heterogeneous panels. J Econom 115:53–74

Kanbur R (2000) Income distribution and development. Handb Income Distrib 1:791–841

Kilian L, Ohanian LE (1998) Is there a trend break in U.S. GNP? A macroeconomic perspective. Staff Report 244, Federal Reserve Bank of Minneapolis

Kilian L, Vigfusson RJ (2011) Are the responses of the US economy asymmetric in energy price increases and decreases? Quant Econ 2:419–453

Kim CJ, Nelson CR (1999) Has the US economy become more stable? A Bayesian approach based on a Markov-switching model of the business cycle. Rev Econ Stat 81:608–616

Kovacevic M (2010) Measurement of inequality in human development—a review. Human Development Research Paper, United Nations Development Programme

Kuznets S (1955) Economic growth and income inequality. Am Econ Rev 45:1–28

Levin A, Lin CF, Chu JCS (2002) Unit root tests in panel data: asymptotic and finite-sample properties. J Econom 108:1–24

Li H, Zou HF (1998) Income inequality is not harmful for growth: theory and evidence. Rev Dev Econ 2:318–334

Love I, Zicchino L (2006) Financial development and dynamic investment behavior: evidence from panel VAR. Q Rev Econ Financ 46:190–210

Maddala GS, Wu S (1999) A comparative study of unit root tests with panel data and a new simple test. Oxf Bull Econ Stat 61:631–652

McConnell MM, Perez-Queiros G (2000) Output fluctuations in the United States: what has changed since the early 1980's? Am Econ Rev 90:1464–1476

Moore GH, Zarnowitz V (1986) The development and role of the NBER's business cycle chronologies. In: Gordon RJ (ed) The American business cycle: continuity and change. University of Chicago Press, Chicago

Nijman T, Verbeek M (1990) Estimation of time-dependent parameters in linear models using cross-sections, panels, or both. J Econom 46:333–346

Panizza U (2002) Income inequality and economic growth: evidence from American data. J Econ Growth 7:25–41

Partridge MD (1997) Is inequality harmful for growth?. Comment. Am Econ Rev 87:1019–1032

Persson T, Tabellini G (1994) Is inequality harmful for growth? Am Econ Rev 84:600–621

Pesaran HM (2011) On the interpretation of panel unit root tests. University of Cambridge, Mimeographed

Piketty T, Saez E (2003) Income inequality in the United States, 1913–1998. Q J Econ CXVIII:1–39

Pollakowski HO, Ray TS (1997) Housing price diffusion patterns at different aggregation levels: an examination of housing market efficiency. J Hous Res 8:107–124

Romer PM (1990) Human capital and growth: Theory and evidence. Carnegie–Rochester Conf Ser Public Policy 32:251–286

Sensier M, Dijk DV (2004) Testing for volatility changes in US macroeconomic time series. Rev Econ Stat 86:833–839

Stock JH, Watson MW (2002) Has the business cycle changed and why?. NBER Working Papers 9127, National Bureau of Economic Research Inc., Cambridge

Strazicich MC, Lee J, Day E (2004) Are incomes converging among OECD Countries? Time series evidence with two structural breaks. J Macroecon 26:131–145

Turner CS, Tamura R, Mulholland S, Baier S (2007) Income and education of the states of the United States: 1840–2000. J Econ Growth 12:101–158

Warnock VC, Warnock F (2000) Explaining the increased variability in long-term interest rates. Fed Reserv Bank Richmond Econ Q 85:71–96
About this article
Cite this article
Atems, B., Jones, J. Income inequality and economic growth: a panel VAR approach. Empir Econ 48, 1541–1561 (2015). https://doi.org/10.1007/s00181-014-0841-7
Received:

Accepted:

Published:

Issue Date:
Keywords
Inequality

Growth

Panel vector autoregressions
JEL Classification