Abstract
In this paper, we conduct choice experiments in Turkey and Ukraine on the valuation of a marine restoration programme in the Black Sea, to examine whether the value of environmental goods is sensitive to the source of public financing. We contribute to the debate on the optimal composition of public expenditure, an issue that can be controversial in times of financial crises. We discriminate between two funding regimes through the reallocation of public spending. The first proposes financing the marine restoration programme by reducing public expenditure for investments in renewable energy, and the second by reducing public expenditure for civil servants' training. The results reveal that the marginal value of public money depends on the funding source. Furthermore, attribute values are sensitive to the trade-off implied by the funding scheme. The magnitude of the results differs in the two countries considered, because of their heterogeneity in political and cultural dimensions.
Access options
Buy single article
Instant access to the full article PDF.
US$ 39.95
Tax calculation will be finalised during checkout.
Subscribe to journal
Immediate online access to all issues from 2019. Subscription will auto renew annually.
US$ 119
Tax calculation will be finalised during checkout.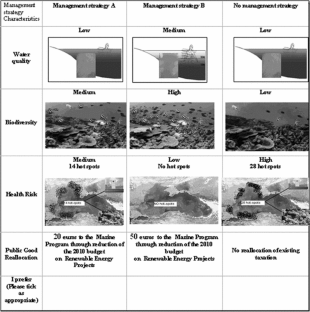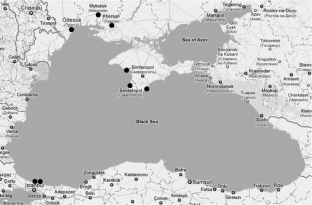 Notes
1.

The World Bank classification of countries according to gross national income (GNI) per capita is available at http://data.worldbank.org/about/country-classifications/country-and-lending-groups. Based on its GNI per capita, every country is classified as low-income, middle-income (subdivided into lower-middle and upper-middle), or high-income. Furthermore, according to the United Nations country grouping, Turkey is a developing economy (sub-grouping: Asia and the Pacific) and Ukraine is an economy in transition from centrally planned to market economy (sub-grouping: Commonwealth of Independent States) (United Nations Statistics Division 2010).

2.

In particular, the survey was developed in collaboration with scientists working in the Sesame FP6 project, a research project assessing and predicting changes in the Mediterranean and Black Sea ecosystems due to climate change. Marine biologists also reviewed the final survey information to ensure accuracy.

3.

In Turkey, training is delivered through the Ministry of National Education and the 'Public Administration Institute for Turkey and the Middle East'. Furthermore, many public institutions have their own 'In-service Training Departments' that are in charge of providing in-service training. Acar and Ozgur (2004) provide an overview of the main policies and institutions associated with training for civil servants in Turkey and discuss challenges in developing effective training policies and practices. In Ukraine, training for civil servants is mainly provided by the National Academy of Public Administration along with its four regional offices and 27 local centres, and a number of Higher Education Institutes.

4.

According to the 2010 Corruption Perceptions Index prepared by Transparency International (2010a), Turkey ranks 56st with a score of 4.4 (on an index from 0 to 10, with 10 corresponding to no corruption at all and 0 to full corruption) and Ukraine 134th with a score of 2.4. Furthermore, Transparency International's (2010b) 2009 Global Corruption Barometer study reports a perceived corruption rate for public officers/civil servants of 3.6 in Turkey and 4.5 in Ukraine on a scale of 1–5 (where 1 corresponds to not at all corrupt and 5 to extremely corrupt). In both countries, respondents named public officials and civil servants as those most affected by corruption compared to other sectors.
References
Acar M, Ozgur H (2004) Training of civil servants in turkey: progress, problems, and prospects. Int J Public Admin 27:197–218

Adaman F, Çarkoğlu A (2000) Türkiye'de Yerel ve Merkezi Yönetimlerde Hizmetlerden Tatmin, Patronaj İlişkileri ve Reform (reform, patronage networks and satisfaction from public services at the local and central levels: the case of Turkey). TESEV, İstanbul

Adaman F, Çarkoğlu A, Şenatalar B (2001) Hanehalkı Gözünden Türkiye'de Yolsuzluk (corruption in turkey from the perspective of household). TESEV, İstanbul

Adaman F, Karalı N, Kumbaroglu G, Or I, Özkaynak B, Zengonobuz U (2011) What determines urban households' willingness to pay for CO\(_2\) emission reductions in Turkey: a contingent valuation survey. Energy Policy 39:689–698

Barbier EB (ed) (2005) Natural resources and economic development. Cambridge University Press, Cambridge

Bennett J, Birol E (eds) (2010) Choice experiments in developing countries: implementation, challenges and policy implications. Edward Elgar.

Bergstrom JC, Boyle KL, Yabe M (2004) Trading taxes versus paying taxes to value and finance public environmental goods. Environ Resour Econ 28:533–549

Bhat CR (2001) Quasi-random maximum simulated likelihood estimation of the mixed multinomial logit model. Transp. Res. B 35:677–693

Black Sea Commission (BSC) (2009) Implementation of the strategic action plan for the rehabilitation and protection of the Black Sea (2002–2007). Publications of the Commission on the Protection of the Black Sea Against Pollution (BSC), 2009–1, Istanbul, Turkey, 247 pp

Bond CA, Giraud-Cullen K, Larson DM (2009) Joint estimation of discount rates and willingness to pay for public goods. Ecol Econ 68:2751–2759

Carlsson F, Martinsson P (2003) Design techniques for stated preference methods in health economics. Health Econ 12:281–294

Carlsson F, Frykblom P, Lagerkvist CJ (2005) Using cheap talk as a test of validity in choice experiments. Econ Lett 89:147–152

Carlsson F, Frykblom P, Lagerkvist CJ (2009) Preferences with and without prices–does the price attribute affect behaviour in stated preference surveys? Environ Resour Econ 38:155–164

Czajkowski M, Hanley N (2009) Using labels to investigate scope effects in stated preference methods. Environ Resour Econ 44:521–535

DeShazo JR, Fermo G (2002) Designing choice sets for stated preference methods: the effects of complexity on choice consistency. J Environ Econ Manag 44:123–143

Dhar R, Simpson I (2003) The effect of forced choice on choice. J Mark Res 40:146–160

Ertör-Akyazı P, Adaman F, Özkaynak B, Zenginobuz Ü (2012) Citizens' preferences on nuclear and renewable energy sources: evidence from Turkey. Energy Policy 47:309–320

Georgiou S, Whittington D, Pearce D, Moran D (eds) (1997) Economic values and the environment in the developing world. Edward Elgar Publishing, United Nations Environment Programme

Hensher DA, Greene WH (2003) The mixed logit model: the state of practice. Transportation 30:133–176

International Energy Agency (2008) Available online at: http://www.iea.org/country/index.asp, last accessed on November 2011

International Energy Agency (2012), Energy policies beyond IEA countries. Ukraine 2012.

Independent International Experts Commission (2010) Proposals for Ukraine: 2010–time for reforms, Kyiv.

Kaya D, Kılıç FÇ (2012) Renewable energies and their subsidies in Turkey and some EU countries–Germany as a special example. J Int Environ Appl Sci 7:114–127

Kataria M (2009) Willingness to pay for environmental improvements in hydropower regulated rivers. Energy Econ 31:69–76

Kontoleon A, Yabe M, Darby L (2005) Alternative payment vehicles in contingent valuation: the case of genetically-modified foods. MPRA Paper No. 1827, University Library of Munich, Germany.

Kragt ME (2013) The effects of changing cost vectors on choices and scale heterogeneity. Environ Resour Econ 54:201–221

Krinsky I, Robb LA (1986) On approximating the statistical properties of elasticities. Rev Econ Stat 68(4):715–719

Lew DK, Wallmo K (2011) External tests of scope and embedding in stated preference choice experiments: an application to endangered species valuation. Environ Resour Econ 48:1–23

López R, Galinato GI, Islam A (2011) Fiscal spending and the environment: theory and empirics. J Environ Econ Manag 62(2):180–198

Luisetti T, Barteman IJ, Turner KR (2011) Testing the fundamental assumption of choice experiments: are values absolute or relative? Land Econ 87:284–296

Meyerhoff J, Liebe U (2009) Status Quo effect in choice experiments: empirical evidence on attitudes and choice task complexity. Land Econ 85:515–528

Morrison M, MacDonald DH (2011) A comparison of compensating surplus and budget reallocation with opportunity costs specified. Appl Econ 43:4677–4688

Narrain U, Gupta S, van't Veld K (2008) Poverty and the environment: exploring the relationship between household incomes, private assets, and natural assets. Land Econ 84(1):148–167

Nunes PALD, Travisi CM (2009) Comparing tax and tax reallocation payments in financing rail noise abatement programmes: results from a stated choice valuation study in Italy. Environ Resour Econ 43:503–517

OECD (2013) Ethics Training for public pfficials. Available online at:http://www.oecd.org/corruption/acn/library/EthicsTrainingforPublicOfficialsBrochureEN.pdf, last accessed on July 2013

Olsen SB, Lundhede TH, Jacobsen JB, Thorsen BJ (2011) Tough and easy choices: testing the influence of utility difference on stated certainty-in-choice in choice experiments. Environ Resour Econ 49:491–510

Payne JW, Bettman JR, Schkade DA (1999) Measuring constructed preferences: towards a building code. J Risk Uncertainty 19:243–270

Poe GL, Giraud KL, Loomis JB (2005) Computational methods for measuring the difference of empirical distributions. Am J Agr Econ 87(2):353–365

Remoundou K, Koundouri P, Kontogianni A, Nunes PALD, Skourtos M (2009) Valuation of natural marine ecosystems: an economic perspective. Environ Sci Policy 12:1040–1051

Renewable Development Initiative of the European Bank for Reconstruction and Development (2006) Turkey, Country Profile. Available online at: http://ebrdrenewables.com/sites/renew/countries/turkey/profile.aspx, last accessed on November 2011

Scarpa R, Ferrini S, Willis K (2005) Performance of error component models for status-quo effects in choice experiments. In: Scarpa R, Alberini A (eds) Applications of simulation methods in environmental and resource economics. Springer, Dordrecht, pp 247–273

Swait J, Louviere J (1993) The role of the scale parameter in the estimation and comparison of multinomial logit models. J Mark Res 30:305–314

Swallow SK, McGonagle MP (2006) Public funding of environmental amenities: contingent choices using new taxes or existing revenues for coastal land conservation. Land Econ 82(1):56–67

Taylor T, Longo A (2010) Valuing algal bloom in the Black Sea Coast of Bulgaria: a choice experiments approach. J Environ Manag 91:1963–1971

Transparency International (2010a) 2010 Corruption perceptions index, available online at: http://www.transparency.org/policy_research/surveys_indices/cpi/2010/results, last accessed on November 2011

Transparency International (2010b) 2009 global corruption parameters, available online at: http://www.transparency.org/, last accessed on November 2011

United Nations Statistics Division (2010) Available online at: http://unstats.un.org/unsd/methods/m49/m49regin.htm, last accessed November 2011

World Bank (2010) World development indicators. Washington DC

Yuksel I (2013) Renewable energy status of electricity generation and future prospect hydropower in Turkey. Renew Energy 50:1037–1043
Acknowledgments
Authors would like to deeply thank Duygu Avcı (Boğaziçi University, Turkey), Dr. Olga Diukanova (Fondazione ENI Enrico Mattei, Venice) and Dr. Liliya Salomatina (Institute of Industrial Economics of National Academy of Sciences of Ukraine) for their assistance in questionnaires translation and surveys implementation in Turkey and Ukraine. We are also grateful to Prof Michalis Skourtos, Dr. Areti Kontogianni (Aegean University, Greece) and Dr. Olivia Langmead (University of Plymouth, UK) for valuable comments and input into the questionnaires design. Anna Dermitzaki assisted greatly in the development of the visual materials used in the surveys. Funding for the research presented in this paper has been provided by the SESAME FP 6 project (Southern European Seas: Assessing and Modelling the Changes in Ecosystems) and is gratefully acknowledged. We are also grateful to the editor and two anonymous referees for valuable comments and suggestions.
Appendix
Appendix
The script depicting budget reductions in the renewable energy projects read as follows:
To cover the cost of the marine restoration programme described above, funds will be raised from the government purse in Ukraine [Turkey]. In this case no new taxes will be introduced. Money will be reallocated to the marine programme through a reduction in the 2010 public budget on renewable energy without any further taxation. Therefore, this money will no longer be available for financing renewable energy projects that would contribute to the increase of the share of renewable energy in the total energy mix in the countries of the Western Black Sea.
Respectively, the script explaining that part of the tax revenues currently being spent on training projects for public servants would be used to finance the marine programme read as follows:
To cover the cost of the marine restoration programme described above, funds will be raised from the government purse in Ukraine [Turkey]. In this case no new taxes will be introduced. Money will be reallocated to the marine programme through a reduction in the 2010 public budget on civil servants' training expenses without any further taxation. Therefore, this money will no longer be available for financing training projects aiming at improving civil servants' skills and productivity and at making them work more efficiently and able to support citizens better.
About this article
Cite this article
Remoundou, K., Adaman, F., Koundouri, P. et al. Is the value of environmental goods sensitive to the public funding scheme? Evidence from a marine restoration programme in the Black Sea. Empir Econ 47, 1173–1192 (2014). https://doi.org/10.1007/s00181-014-0806-x
Received:

Accepted:

Published:

Issue Date:
Keywords
Black Sea

Marine resources

Public goods

Stated choice experiment

Tax revenues reallocation
JEL Classification