Abstract
This paper develops an improved test of economic convergence or divergence using time series methods by introducing nonlinear trends in the form of logarithmic trend functions into the vector error correction model. The usefulness of the method is illustrated in an analysis of the growth pattern between Chinese regions in 1952–2007. Comparing all combinations of regional pairs, the analysis yields support for economic divergence in roughly half of the cases. In the other half, we instead find that regions have grown while maintaining stable income differences. As such, the results show the co-existence of divergence and conditional convergence among China's regions.
Access options
Buy single article
Instant access to the full article PDF.
US$ 39.95
Tax calculation will be finalised during checkout.
Subscribe to journal
Immediate online access to all issues from 2019. Subscription will auto renew annually.
US$ 119
Tax calculation will be finalised during checkout.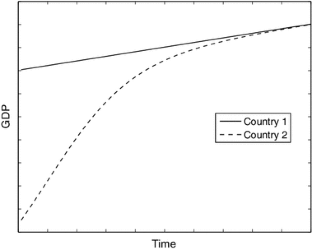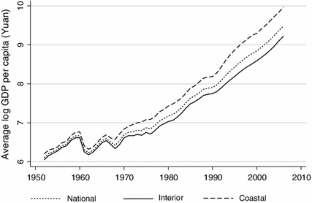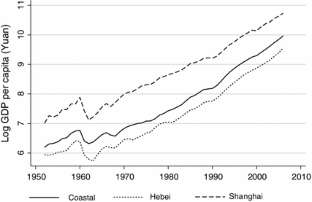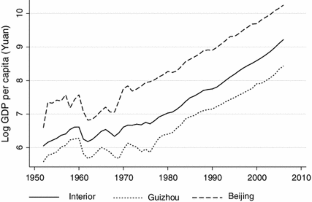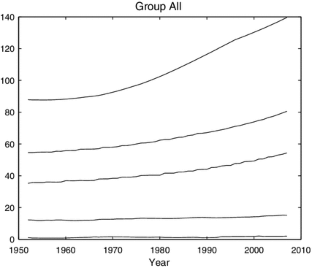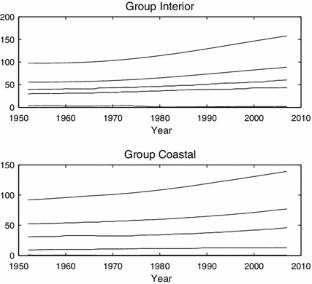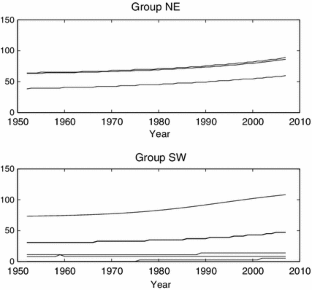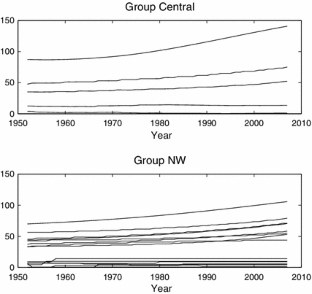 Notes
1.

2.

A similar approach is the nonlinear panel unit root test used by Lau (2010). There are some drawbacks with that method, e.g., the theory applied postulates that all differences between pairs of regions should cointegrate and that the test used only has the alternative hypothesis that a proportion of the differences is stationary.

3.

Following the literature, the term "region" is used to denote China's 22 provinces, 4 self-governing municipalities, and 5 Autonomous Regions. These three types of entities operate at the same administrative level and are directly subordinate to the central government.

4.

We also conducted the tests for the post-1978 period only. Because we have fewer data points for these tests, the analysis is less precise compared to when we use the full sample, and the results will hence not be analyzed here. Nevertheless, the graphical analysis largely supported the findings for the latter years as represented in the figures using the full sample period.

5.

Evans and Karras (1996) argue that the conventional cross-sectional technique of testing for economic convergence produces invalid inferences unless all permanent cross-economy differences in per capita GDP are perfectly controlled for and unless the countries or regions under consideration have income series that exhibit identical first-order autoregressive dynamic structures.

6.

7.

Note that the appropriateness our analysis is not affected by the trend breaks in GDP levels caused by unified chocks to growth on the national level, such as the Great Leap Forward, which can be clearly seen in Figs. 2 and 3. This is because our unit of observation is the difference in log GDP per capital between pairs of regions rather than separate regional time series.

8.

Due to identification of the parameters, without loss of generality, the first observation is normalized to zero and the last to one.

9.

A test based on the Taylor approximation principle presented by Teräsvirta (1994) was also carried out. The result was in accordance with the other tests and are, hence, not reported here.
References
Barro RJ (1991) Economic growth in a cross section of countries. Q J Econ 106(2):385–406

Barro RJ, Sala-i Martin X (1992) Convergence. J Political Econ 100(2):223–251

Barro RJ, Sala-i Martin X (1997) Technological diffusion, convergence and growth. Q J Econ 2(1):1–26

Baumol WW (1986) Productivity growth, convergence, and welfare: what the long-run data show. Am Econ Rev 76(5):1072–1085

Bernard AB (1992) Empirical implications of the convergence hypothesis. Tech. rep, Working Paper MIT, Cambridge, MA

Bernard AB, Durlauf SN (1991) Convergence in international output movements. Tech. rep, NBER Working Paper No 3717

Bernard AB, Durlauf SN (1995) Convergence in international output. J Appl Econom 10(2):97–108

Bernard AB, Durlauf SN (1996) Interpretating tests of the convergence hypothesis. J Econom 71(1–2):161–171

Cai F, Wang D, Du Y (2002) Regional disparity and economic growth in China: the impact of labor market distortions. China Econ Rev 13(2–3):197–212

Carrion-i-Silvestre JL, German-Soto V (2007) Stochastic convergence amongst mexican states. Reg Stud 41(4):531–541

Carrion-i-Silvestre JL, German-Soto V (2009) Panel data stochastic convergence analysis of the mexican regions. Empir Econ 37:303–327

Carvalho V, Harvey AC (2005) Growth, cycles and convergence in us regional time series. Int J Forecast 21(4):667–686

Chen J, Fleisher BM (1996) Regional income inequality and economic growth in China. J Comp Econ 22(2):141–164

Dorwick S, Nguyen DT (1989) Oecd comparative economic growth 1950–85: catch-up and convergence. Am Econ Rev 79(5):1010–1030

Evans P (1998) Using panel data to evaluate growth theories. Inte Econ Rev 39(2):249–265

Evans P, Karras G (1996) Convergence revisited. J Monet Econ 37(2):249–265

Evans P, Kim JU (2011) Stochastic convergence of the catch-up rate and multiple structural breaks in asian countries. Econ Lett 111(3):260–263

Fan S, Kanbur R, Zhang X (2009) Regional inequality in China: trends. Explanations and Policy Responses, Routledge

Harvey A, Bates D (2003) Multivariate unit root tests and testing for convergence. Tech. rep, Cambridge Working Paper in Economics No 0301

Hsueh Tt, Li Q (1999) China's national income 1952–1995. Westview Press, Oxford

Jian T, Sachs JD, Warner AM (1996) Trends in regional inequality in China. China Econ Rev 7(1):1–21

Johansen S (1995) Likelihood-based inference in cointegrated vector autoregressive models. Oxford University Press, Oxford

Johansen S, Nielsen B (1993) Manual for the simulation program disco. Institute of Mathematical Statistics, University of Copenhagen

King A, Ramlogan-Dobson C (2011) Nonlinear time-series convergence: the role of structural breaks. Econ Lett 110(3):238–240

Lau CKM (2010) New evidence about regional income divergence in China. China Econ Rev 21(2):293–309

Li H, Zinan L, Rebelo I (1998) Testing the neoclassical theory of economic growth: evidence from Chinese provinces. Econ Plan 31(2–3):117–132

Lin PC, Lin CH, Ho IL (2013) Regional convergence or divergence in China? Evidence from unit root tests with breaks. Ann Reg Sci 50:223–243

Maasoumi E, Wang L (2007) Economic reform, growth and convergence in China. Econom J 10:1–25

Mankiw GN, Romer D, Weil DN (1992) A contribution to the empirics of economic growth. Q J Econ 107(2):407–437

Mantalos P, Shukur G (2001) Booststrapped johansen tests for cointegration relationships: a graphical analysis. J Stat Comput Simul 68(4):351–371

Matsuki T, Usami R (2011) China's regional convergence in panels with multiple structural breaks. Appl Econ 43(7):873–890

Pedroni P, Yao J (2006) Regional income divergence in China. J Asian Econ 17:294–315

Perron P (1989) The great crash, the oil price shock, and the unit root hypothesis. Econometrica 57(6):1361–1401

Perron P (1990) Testing for a unit root in a time series with a changing mean. J Bus Econ Stat 8(2):153–162

Perron P (1997) Further evidence on breaking trend functions in macroeconomic variables. J Econom 80:355–385

Perron P, Vogelsang TJ (1992a) Nonstationarity and level shifts with an application to purchasing power parity. J Bus Econ Stat 10(3):301–320

Perron P, Vogelsang TJ (1992b) Testing for a unit root in a time series with a changing mean: corrections and extensions. J Bus Econ Stat 10(4):467–470

Perron P, Vogelsang TJ (1993) Erratum: The great crash, the oil price shock, and the unit root hypothesis. Econometrica 61(1):248–249

Quah DT (1993) Galton's fallacy and tests of the convergence hypothesis. Scand J Econ 95(4):427–443

Quah DT (1997) Empirics for growth and distribution: polarization, stratification and convergence clubs.linebreak J Econ Growth 2:127–159

Raiser M (1998) Subsidising inequality: economic reforms, fiscal transfers and convergence across Chinese provinces. Tech. rep, Kiel Working Paper No 758

Solow R (1956) A contribution to the theory of economic growth. Q J Econ 70(1):65–94

Swensen A (2006) Bootstrap algorithms for testing and determining the cointegration rank in var models. Econometrica 74:1699–1714

Teräsvirta T (1994) Specification, estimation and evaluation of smooth transition autoregressive models. J Am Stat Assoc 89(425):208–218

Weeks M, Yao JY (2003) Provincial conditional income convergence in China, 1953–1997. Econ Rev 22(1):59–77

Westerlund J, Edgerton DL, Opper S (2010) Why is Chinese provincial output diverging? J Asian Econ 21(4):333–344

Zou W, Zhou H (2007) Classification of growth clubs and convergence: evidence from panel data in China, 1981–2004. China World Econ 15(5):91–106
Acknowledgments
The authors gratefully acknowledge helpful comments from Tor Eriksson, Bertil Holmlund, Joakim Westerlund, and three anonymous referees. Johanna Rickne acknowledges financial support from the Ragnar Söderberg foundation.
About this article
Cite this article
Lyhagen, J., Rickne, J. Income inequality between Chinese regions: newfound harmony or continued discord?. Empir Econ 47, 93–110 (2014). https://doi.org/10.1007/s00181-013-0745-y
Received:

Accepted:

Published:

Issue Date:
Keywords
China

Output convergence

Nonlinear cointegration

VECM

Regional analysis