Abstract
In recent years, spatial sampling has been the subject of a flourishing literature. Its use had become widespread due to the availability of topographical information about statistical units, especially in the environmental context. New algorithms enable us to take advantage of spatial locations directly. In this paper, we present a new way of using spatial information by using traditional sampling techniques as systematic sampling. By means of a famous optimization method, the traveling salesman problem, it is possible to order the statistical units in a way that preserves the spatial correlation. Next ordered sampling methods are applied on the statistical units. Therefore we can render spatial some non-spatial methods. An economic application on real data is presented and different spatial and non-spatial methods are tested. Results are compared in terms of variance estimation and spatial balance, in order to establish the possibility of spatializing traditional sampling methods and of implementing them on data of different nature, among which economic ones.
This is a preview of subscription content, log in to check access.
Access options
Buy single article
Instant access to the full article PDF.
US$ 39.95
Tax calculation will be finalised during checkout.
Subscribe to journal
Immediate online access to all issues from 2019. Subscription will auto renew annually.
US$ 99
Tax calculation will be finalised during checkout.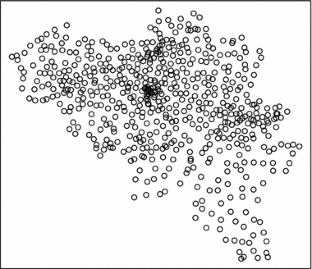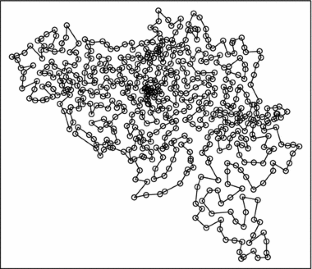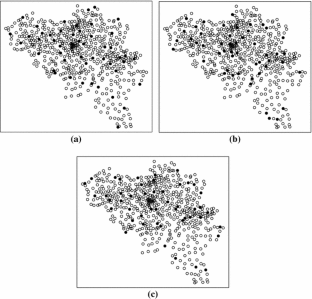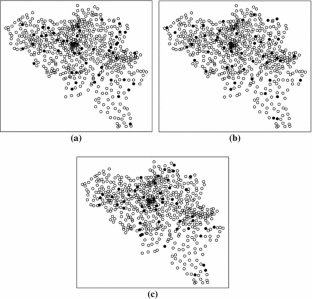 References
Arbia G (1993) The use of GIS in spatial statistical surveys. Int Stat Rev 61:339–359

Bockenhauer H-J, Hromkovic J, Klasing R, Seibert S, Unger W (2000) An improved lower bound on the approximability of metric TSP and approximation algorithms for the TSP with sharpened triangle in3quality. In: Proceedings of 17th symposium on theoretical aspects of computer science, lecture notes on computer science 1770. Springer, Berlin, pp 382–394

Breidt FJ, Chauvet G (2012) Penalized balanced sampling. Biometrika 99:945–958

Brewer KRW, Hanif M (1983) Sampling with unequal probabilities. Spinger, New York

Chauvet G, Tillé Y (2006) A fast algorithm for balanced sampling. Comput Stat 21:53–61

Chauvet G (2012) On a characterization of ordered pivotal sampling. Bernoulli 18:1320–1340

Croes GA (1958) A method for solving traveling salesman problems. Oper Res 6:791–812

Dantzig GB, Fulkerson DR, Johnson SM (1954) Solution of a large scale traveling salesman problem. Oper Res 2:393–410

Deville J-C, Grosbras J-M, Roth N (1988) Efficient sampling algorithms and balanced sample. In: Payne R, Green P (eds) COMPSTAT, proceeding in computational statistics. Physica, Heidelberg, pp 255–266

Deville J-C (1993) Estimation de la variance pour les enquêtes en deux phases. Manuscript, INSEE, Paris

Deville J-C (1998) Une nouvelle (encore une!) méthode de tirage à probabilités inégales. Tech. rept. 9804. Méthodologie Statistique, INSEE

Deville J-C, Tillé Y (1998) Unequal probability sampling without replacement through a splitting method. Biometrika 85:89–101

Deville J-C, Tillé Y (2004) Efficient balanced sampling: the cube method. Biometrika 91:893–912

Dickson MM, Benedetti R, Giuliani D, Espa G (2014) The use of spatial sampling designs in business surveys. Open J Stat 4:345–354

Grafström A, Lundström NLP, Schelin L (2011) Spatially balanced sampling through the pivotal method. Biometrics 68:514–520

Grafström A (2012) Spatially correlated Poisson sampling. J Stat Plan Inference 142:139–147

Grafström A, Tillé Y (2013) Doubly balanced spatial sampling with spreading and restitution of auxiliary totals. Environmetrics 24:120–131

Grafström A (2014) BalancedSampling: balanced and spatially balanced sampling. R package version 1.4, http://www.antongrafstrom.se/balancedsampling

Grötschel M, Holland O (1991) Solution of large-scale traveling salesman problems. Math Program 5:141–202

Hahsler M, Hornik K (2007) TSP-infrastructure for the traveling salesperson problem. J Stat Softw 23:1–21

Hamilton WR (1858) Account of the icosian calculus. Proc R Irish Acad 6:415–416

Hoffman A, Wolfe P (1985) History. In: Lawler EL, Lenstra JK, Kan AHGR, Shmoys DB (eds) The traveling salesman problem: a guided tour of combinatorial optimization. Wiley, Chichester, pp 1–16

Horvitz DG, Thompson DJ (1952) A generalization of sampling without replacement from a finite universe. J Am Stat Assoc 47:663–685

Karp RM (1979) A patching algorithm for the nonsymmetric traveling-salesman problem. SIAM J Comput 8:561–573

Kirkman TP (1856) On the representation of polyhedra. Philos Trans R Soc Ser A 146:413–418

Land AH, Doig AG (1960) An automatic method of solving discrete programming problems. Econometrica 28:497–520

Lawler EL, Lenstra JK, Kan AHGR, Shmoys DB (eds) (1985) The traveling salesman problem: a guided tour of combinatorial optimization. Wiley, Chichester

Lenstra J, Kan AR (1975) Some simple applications of the traveling salesman problem. Oper Res Q 26:717–733

Lin S (1965) Computer solutions of the traveling salesman problem. Bell Syst Tech J 44:2245–2269

Madow WG (1949) On the theory of systematic sampling. Ann Math Stat 20:333–354

Mark DM (1990) Neighbor-based properties of some orderings of two-dimensional space. Geogr Anal 2:145–157

Matai R, Singh SP, Mittal ML (2010) Traveling salesman problem: an overview of applications, formulations, and solution approaches. In: Davendra D (ed) Traveling salesman problem, theory and applications. InTech, pp 1–24

Menger K (1932) Das botenproblem. Ergeb Eines Math Kolloqu 2:11–12

Padberg M, Rinaldi G (1991) A branch-and-cut algorithm for the resolution of large-scale symmetric traveling salesman problems. Siam Rev 33:60–100

Papadimitriou CH (1977) Euclidean TSP is NP-complete. Theor Comput Sci 4:237–244

Punnen AP (2002) The traveling salesman problem: applications, formulations and variations. In: Gutin G, Punnen AP (eds) The traveling salesman problem and its variations. Kluwer, Boston, pp 1–28

Rosenkrantz DJ, Stearns RE, Lewis PM II (1977) An analysis of several heuristics for the traveling salesman problem. SIAM J Comput 6:563–581

Stevens DL Jr, Olsen AR (2004) Spatially balanced sampling of natural resources. J Am Stat Assoc 99:262–278

Thionet P (1953) La théorie des sondages. Institut National de la Statistique et des Études Économiques, Études théoriques, Impremerie nationale, Paris

Tillé Y, Matei A (2005) The R package sampling, the comprehensive R archive network, http://cran.r-project.org/, Manual of the Contributed Packages

Tillé Y (2006) Sampling algorithms. Spinger, New York

Volgenant A (1990) Symmetric traveling salesman problems. Eur J Oper Res 49:153–154

Wang J-F, Stein A, Gao B-B, Ge Y (2012) A review of spatial sampling. Spat Stat 2:1–14

Yates F (1949) Sampling methods for census and surveys. Griffin, London
Acknowledgments
The authors thank two anonymous reviewers for constructive comments that helped to improve the quality of this paper.
About this article
Cite this article
Dickson, M.M., Tillé, Y. Ordered spatial sampling by means of the traveling salesman problem. Comput Stat 31, 1359–1372 (2016). https://doi.org/10.1007/s00180-015-0635-1
Received:

Accepted:

Published:

Issue Date:
Keywords
Sampling methods

Spatial balance

TSP

Variance estimation