Abstract
Self-pierce riveting (SPR) is a major joining method used in the automotive industry. However, there still lacks a fast and easy-to-use joint quality prediction tool available for the automotive engineers. In this study, the simple but effective regression analysis method was applied to quickly predict the SPR joint quality. Two regression models were developed for the prediction of the interlock and the minimum remaining bottom sheet thickness (Tmin). The prediction accuracy of the developed regression models was validated by comparing with the experimental results. Under the studied joint configurations, the mean absolute errors (MAE) of the interlock and Tmin were 0.047 mm and 0.053 mm, respectively, and the corresponding mean absolute percentage errors (MAPE) were 10.4% and 12.3%. With the developed models, the interaction effects between rivet and die parameters on the joint interlock and Tmin were also systematically analysed. The results revealed that the rivet and die parameters demonstrated significant influences on the interlock but not on the Tmin. These interaction effects were further examined by analysing the deformations of the rivet and substrate materials. Moreover, the die-to-rivet volume ratio (R) was found to be critical for the formation of interlock, and a larger interlock is more likely achieved when the R is close to 1.0.
Access options
Buy single article
Instant access to the full article PDF.
US$ 39.95
Tax calculation will be finalised during checkout.
Subscribe to journal
Immediate online access to all issues from 2019. Subscription will auto renew annually.
US$ 119
Tax calculation will be finalised during checkout.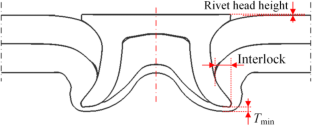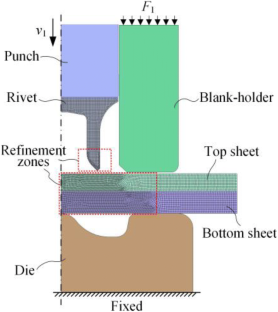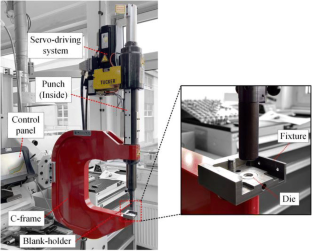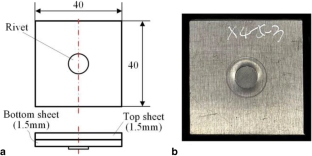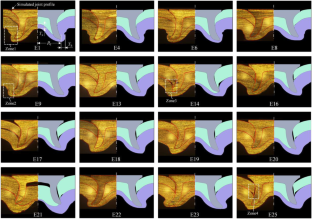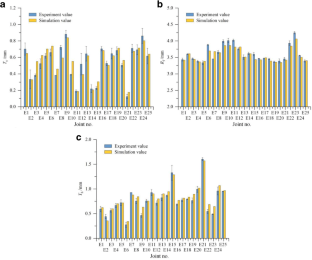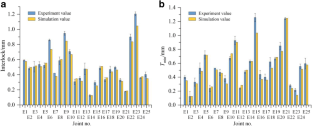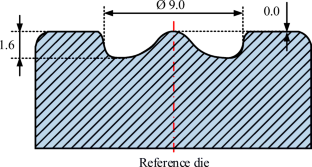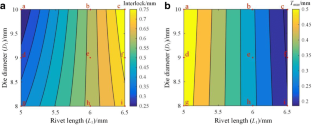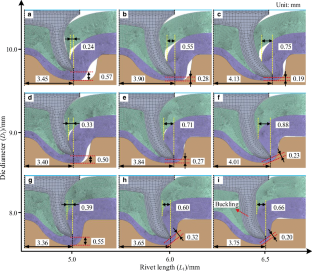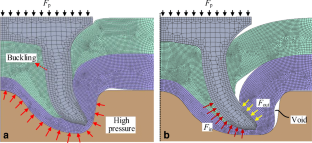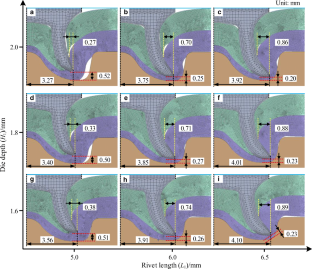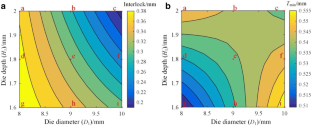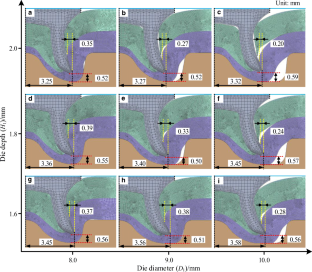 Acknowledgements
The authors would like to thank Dr. Matthias Wissling, Paul Bartig and their team members from Tucker GmbH for their supports during the laboratory tests.
Funding
This research is funded by Jaguar Land Rover Limited.
Ethics declarations
Conflict of interest
The authors declare that they have no conflict of interest.
Ethical approval
Not applicable
Consent to participate
Not applicable
Consent to publish
Not applicable
Additional information
Publisher's note
Springer Nature remains neutral with regard to jurisdictional claims in published maps and institutional affiliations.
About this article
Cite this article
Zhao, H., Han, L., Liu, Y. et al. Modelling and interaction analysis of the self-pierce riveting process using regression analysis and FEA. Int J Adv Manuf Technol 113, 159–176 (2021). https://doi.org/10.1007/s00170-020-06519-9
Received:

Accepted:

Published:

Issue Date:
Keywords
SPR

Multiple regression model

Interaction effect

Rivet length

Die geometry

Die-to-rivet volume ratio