Abstract
A life cycle assessment (LCA) was conducted on an innovative concrete 3D printing system, offering the following main advantages: (1) additive and subtractive capabilities, allowing for the automated post-processing of printed parts, including operations such as surface polishing, grooving and drilling and (2) the use of a cable robot, which is less expensive, lighter, more transportable, more energy-efficient and more easily reconfigurable than alternatives such as gantry-type systems. The production of a 4-m height structural pillar was assessed, comparing it to production with traditional methods, namely, using a mould. The study included the entire supply chain of the 3D printing equipment, operation and end-of-life, based on real data from the design and operation of a demonstration plant installed in Spain. Data for traditional construction was based on literature and expert judgement. The 3D production process included printing the pillar perimeter in four pieces with 3D printing concrete, transporting to the construction site and reinforcing and casting with conventional concrete. Traditional production involved reinforcing and casting with the mould on-site. The results show that when only one pillar needs to be produced, 3D printing has a lower environmental impact in all the environmental indicators assessed when compared to using a mould that is discarded after a single use. As an example, GHG emissions are lower by 38%. It was also found that the contribution of 3D printing to the environmental impact of producing a pillar is almost negligible, representing less than 1% of the pillar's total GHG emissions. However, when the same pillar needs to be produced in higher numbers, the results show that 3D printing and conventional production have a similar environmental impact, given that the mould used in conventional production can be reused, becoming a comparatively efficient option.
Access options
Buy single article
Instant access to the full article PDF.
USD 39.95
Price includes VAT (USA)
Tax calculation will be finalised during checkout.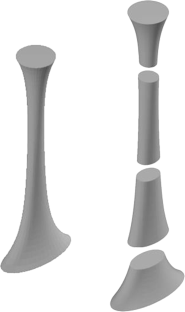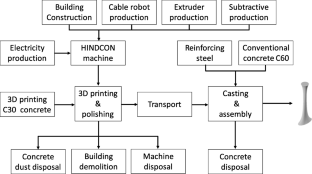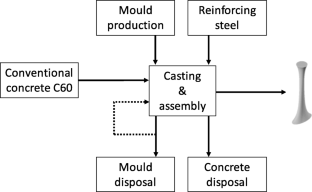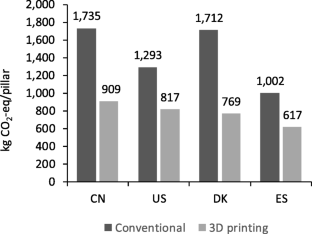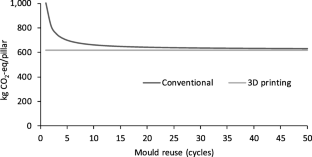 Data Availability
Supplementary material includes the complete inventory analysis description, impact assessment results and sensitivity analysis results.
References
1.

Achillas C, Aidonis D, Iakovou E, Thymianidis M, Tzetzis D (2015) A methodological framework for the inclusion of modern additive manufacturing into the production portfolio of a focused factory. J Manuf Syst 37(1):328–339

2.

Agustí-Juan I, Habert G (2017) Environmental design guidelines for digital fabrication. J Clean Prod 142:2780–2791

3.

Agustí-Juan I, Müller F, Hack N, Wangler T, Habert G (2017) Potential benefits of digital fabrication for complex structures: environmental assessment of a robotically fabricated concrete wall. J Clean Prod 154:330–340

4.

ASTM (2009) Standard terminology for additive manufacturing technologies. The American Society for Material and Testing. West Consholhocken, United States, ASTM International. F2792 - 12a

5.

Barnett E, Gosselin C (2015) Large-scale 3D printing with a cable-suspended robot. Addit Manuf 7:27–44

6.

Buswell R (2007) Freeform construction: mega-scale rapid manufacturing for construction. Autom Constr 16(2):224231

7.

Civil Engineering Portal (2018) Concrete mix design M-60. https://www.engineeringcivil.com/concrete-mix-design-m-60.html (accessed 02/03/2020).

8.

CYPE (2019) Unidad de obra EHS011: Pilar circular de hormigón armado. http://www.generadordeprecios.info/obra_nueva/Estructuras/Hormigon_armado/Pilares/Pilar_circular_de_hormigon_armado.html (accessed 03/03/2020)

9.

Esposito Corcione C, Palumbo E, Masciullo A, Montagna F, Torricelli MC (2018) Fused deposition modeling (FDM): an innovative technique aimed at reusing Lecce stone waste for industrial design and building applications. Constr Build Mater 158:276–284

10.

Faludi J (2017) 3D printing and its environmental implications. In: OECD (2017), The next production revolution: implications for governments and business, OECD Publishing, Paris, Chapter 5

11.

Finnveden, Hauschild MZ, Ekvall T, Guinée J, Heijungs R, Hellweg S, Koehler A, Pennington D, Suh S (2009) Recent developments in life cycle assessment. J Environ Manag 91(1):1–21

12.

Huysegoms L, Rousseau S, Cappuyns V (2018) Friends or foes? Monetized life cycle assessment and cost-benefit analysis of the site remediation of a former gas plant. Sci Total Environ 619–620:258–271

13.

ISO (2006a) Environmental management - life cycle assessment – principles and framework. International Standard Organization (ISO), Geneve

14.

ISO (2006b) Environmental management - life cycle assessment – requirements and guidelines. International Standard Organization (ISO), Geneve

15.

Kellens K, Baumers M, Gutowski TG, Flanagan W, Lifset R, Duflou JR (2017) Environmental dimensions of additive manufacturing: mapping application domains and their environmental implications. J Ind Ecol 21:S49–S68

16.

Khoshnevis B (2003) Toward total automation of on-site construction an integrated approach based on contour crafting. Proceedings of the 20th ISARC, Eindhoven, Holland

17.

Labonnote N, Rønnquist A, Manum B, Rüther P (2016) Additive construction: state-of-the-art, challenges and opportunities. Autom Constr 72(Part 3):347–366

18.

Lcmolds (2019) Square type roman cement column molds. https://www.lcmolds.com/square-type-roman-cement-column-molds/ (accessed 03/03/2020)

19.

Lim S (2012) Developments in construction-scale additive manufacturing processes. Autom Constr 21:262–268

20.

Merciai S, Schmidt J (2017) Methodology for the construction of global multi-regional hybrid supply and use tables for the EXIOBASE v3 database. J Ind Ecol 22(3):516–531

21.

Muñoz I, Rosiek S, Portillo F, Batlles FJ, Martínez-Del-Río J, Acasuso I, Piergrossi V, De Sanctis M, Chimienti S, Di Iaconi C (2019) Prospective environmental and economic assessment of solar-assisted thermal energy recovery from wastewater through a sequencing batch biofilter granular reactor. J Clean Prod 212(1):1300–1309

22.

Papacharalampopoulos A, Bikas H, Foteinopoulos P, Stavropoulos P (2020) A path planning optimization framework for concrete based additive manufacturing processes, 30th International Conference on Flexible Automation and Intelligent Manufacturing (FAIM2020) 15-18 June 2020, Athens, Greece

23.

Pegna J (1997) Exploratory investigation of solid freeform construction. Autom Constr 5(5):427–437

24.

Perkins I, Skitmore M (2015) Three-dimensional printing in the construction industry: a review. Int J Constr Manag 15(1):1–9

25.

Pott A (2018) Cable-driven parallel robots: theory and application. Springer

26.

Pott A, Mütherich H, Kraus W, Schmidt V, Miermeister P, Verl A (2013) IPAnema: A family of cable-driven parallel robots for industrial applications. In: Bruckmann T, Pott A (eds) Cable-driven parallel robots. Mechanisms and machine science, vol 12. Springer, Berlin, Heidelberg

27.

PRé (2016) SimaPro. https://simapro.com/. Accessed 10 Apr 2017

28.

Saade MRM, Yahia A, Amor B (2020) How has LCA been applied to 3D printing? A systematic literature review and recommendations for future studies. J Clean Prod 244:118803

29.

Soler, Durá (2014) Es el momento de comprar terreno industrial y construir su nave. http://www.solerdura.com/es-el-momento-de-comprar-terreno-y-construir-su-nave-industrial/ (accessed 4/09/2019)

30.

Stadler K, Wood R, Bulavskaya T, Södersten CJ, Simas M, Schmidt S, Usubiaga A, Acosta-Fernández J, Kuenen J, Bruckner M, Giljum S, Lutter S, Merciai S, Schmidt J, Theurl MC, Plutzar C, Kastner T, Eisenmenger N, Erb KH, de Koning A, Tukker A (2018) EXIOBASE 3: Developing a time series of detailed environmentally extended multi-regional input-output tables. J Ind Ecol 22(3):502–515

31.

Weidema BP (2009) Using the budget constraint to monetarise impact assessment results. Ecol Econ 68(6):1591–1598

32.

Weidema BP, Wesnæs M (2008) Environmental improvement potentials of meat and dairy products. Joint research Centre, Insitute for Prospective Technological Studies, Seville, Spain

33.

Weidema BP, Hauschild MZ, Jolliet O (2007) Preparing characterisation methods for endpoint impact assessment. In: BP Weidema, M Wesnæs, J Hermansen, T Kristensen, N Halberg, P Eder, L Delgado. Environmental improvement potentials of meat and dairy products. Sevilla: Institute for Prospective Technological Studies, 2008. (EUR 23491 EN). Annex II

34.

Yao Y, Hu M, Di Maio F, Cucurachi S (2020) Life cycle assessment of 3D printing geo-polymer concrete - an ex-ante study. J Ind Ecol 24:116–127
Funding
This research has received funding from the European Union's Horizon 2020 research and innovation programme under grant agreement No 723611.
Ethics declarations
Ethical approval
This study complies with the ethical standards set out by Springer.
Competing interests
The authors declare that they have no competing interests.
Code availability
Not applicable.
Consent to participate
Not applicable.
Consent for publication
Not applicable.
Additional information
Publisher's note
Springer Nature remains neutral with regard to jurisdictional claims in published maps and institutional affiliations.
Supplementary Information
About this article
Cite this article
Muñoz, I., Alonso-Madrid, J., Menéndez-Muñiz, M. et al. Life cycle assessment of integrated additive–subtractive concrete 3D printing. Int J Adv Manuf Technol 112, 2149–2159 (2021). https://doi.org/10.1007/s00170-020-06487-0
Received:

Accepted:

Published:

Issue Date:
Keywords
Additive manufacturing

LCA

Cable robot

Construction

3D printing

Concrete