Abstract
Electrical discharge machining (EDM) is a non-conventional machining process, extensively applicable in the modern industry. Owing the non-contact nature of the process, any electrical conductive material can be machined in high quality, regardless its mechanical properties. Titanium alloys are commonly machined by EDM, as difficulties related with their low thermal conductivity and the high chemical reactivity can be overcome. As titanium alloys are utilized in quality demanding applications and industries, high machined surface quality is required, as well surface integrity. The current study presents an experimental investigation of how ED machining parameters affect the MRR, the TWR, and the SQ on machining Titanium Grade 2 by EDM. For pulse current 9/13/17/25A, and pulse on time 25/50/100/200 μs, a full-scale experiment has been carried out, using graphite electrode. The surface texture (ST) has been estimated in terms of arithmetic mean height (Sa), maximum height of scale-limited surface (Sz), and skewness of the scale-limited surface (Ssk), while also measurements of the surface waviness were conducted as well. For all the aforementioned parameters an analysis of variance (ANOVA) has been performed. Finally, the surface topography and integrity were evaluated through optical and SEM microscopy observation, through which the surface cracks and micro-cracks due to high pressure and temperature gradients can be distinguished and characterized.
Access options
Buy single article
Instant access to the full article PDF.
USD 39.95
Price includes VAT (USA)
Tax calculation will be finalised during checkout.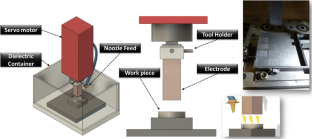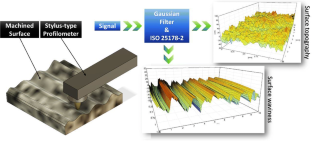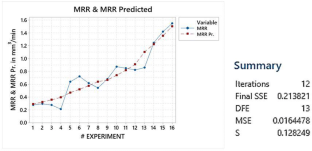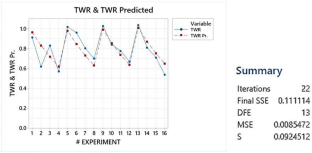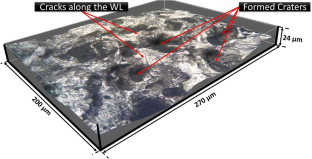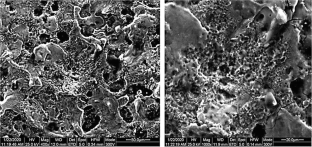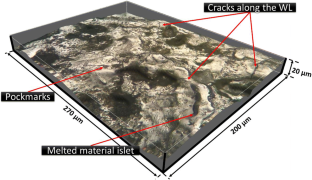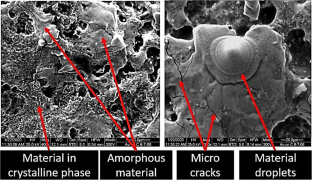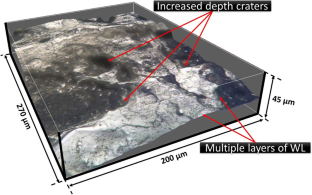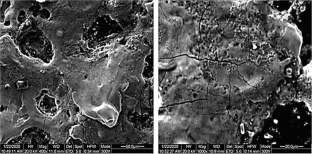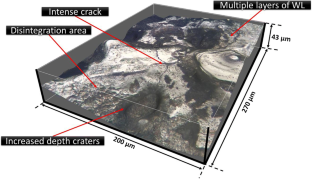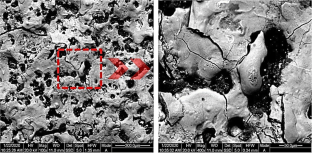 Abbreviations
Elst :

Working electrode weight before the machining (g)

Elfin :

Working electrode weight before the machining (g)

I P :

Pulse on current (A)

MRR:

Material removal rate (mm3/min)

Sa:

The arithmetic mean of the absolute of the height within a definition area A (μm)

Ssk:

The skewness of the scale-limited surface

Sz:

The sum of the largest peak height and pit height value within a definition area in [μm]

T on :

Pulse on time (μs)

TWR:

Tool wear ratio

W st :

Workpiece weight before machining (g)

W fin :

Workpiece weight after machining (g)

t mach :

Machining time (min)

ρ :

Workpiece material density (g/mm3)
References
1.

Jahan MP (2015) In: Jahan MP (ed) Electrical discharge machining (EDM) types, technologies and applications. Nova Science Publishers, New York

2.

Jameson EC (2001) Electrical discharge machining. Society of Manufacturing Engineers, Michigan

3.

Ciubotariu V, Câcu A, Rotundu I, Cucos M-M, Coteata M (2014) Influence of some factors on surface roughness parameters at electrical discharge machining. Appl Mech Mater 657:291–295

4.

Mascaraque-Ramirez C, Franco P (2015) Experimental study of surface finish during electro-discharge machining of stainless steel. Procedia Eng 132:679–685

5.

Mustafa Mazarbhuiya R, Choudhury PK, Patowari PK (2018) An experimental study on parametric optimization for material removal rate and surface roughness on EDM by using Taguchi method. Mater Today Proc 5:4621–4628

6.

Manjaiah M, Narendranath S, Basavarajappa S (2014) A review on machining of titanium based alloys using EDM and WEDM. Rev Adv Mater Sci 36:89–111

7.

Davim PJ (2014) Machining of titanium alloys. Springer International Publishing, Berlin

8.

Hasçalik A, Çaydaş U (2007) Electrical discharge machining of titanium alloy (Ti-6Al-4V). Appl Surf Sci 253:9007–9016

9.

Rahman MM, Khan MAR, Kadirgama K, Noor MM, Bakar RA (2010) Modeling of material removal on machining of Ti-6Al-4V through EDM using copper tungsten electrode and positive polarity. World Acad Sci Eng Technol 71:576–581

10.

Verma V, Sajeevan R (2015) Multi process parameter optimization of diesinking EDM on titanium alloy (Ti6Al4V) using Taguchi approach. Mater Today Proc 2:2581–2587

11.

Laxman J, Raj KG, Rao PV (2015) EDM process parameters effects on titanium super alloy 508–513

12.

Khan MAR, Rahman MM, Zayed U-S, Rahman MS (2016) Optimal set-up and surface finish characteristics in electrical discharge machining on Ti-5Al-2.5Sn using graphite. Perspect Sci 8:440–443

13.

Li L, Feng L, Bai X, Li ZY (2016) Surface characteristics of Ti–6Al–4V alloy by EDM with Cu–SiC composite electrode. Appl Surf Sci 388:546–550

14.

Verma V, Sahu R (2017) Process parameter optimization of die-sinking EDM on titanium grade -V alloy (Ti6Al4V) using full factorial design approach. Mater Today Proc 4:1893–1899

15.

Kumar R, Roy S, Gunjan P, Sahoo A, Sarkar DD, Das RK (2018) Analysis of MRR and surface roughness in machining Ti-6Al-4V ELI titanium alloy using EDM process. Procedia Manuf 20:358–364

16.

Kumar Baroi B, Kar S, Kumar Patowari P (2018) Electric discharge machining of titanium grade 2 alloy and its parametric study. Mater Today Proc 5:5004–5011

17.

Nair S, Dutta A, Narayanan R, Giridharan A (2019) Investigation on EDM machining of Ti6Al4V with negative polarity brass electrode. Mater Manuf Process 00:1–8

18.

Alidoosti A, Ghafari-Nazari A, Moztarzadeh F, Jalali N, Moztarzadeh S, Mozafari M (2013) Electrical discharge machining characteristics of nickel-titanium shape memory alloy based on full factorial design. J Intell Mater Syst Struct 24:1546–1556

19.

Kumar Baroi B, Debnath T, Kumar Patowari P (2020) Materials today : proceedings machinability assessment of titanium grade 2 alloy using deionized water in EDM. Mater, Today Proc

20.

Kushwaha A, Jadam T, Datta S, Masanta M (2019) ScienceDirect assessment of surface integrity during electrical discharge machining of titanium grade 5 alloys ( Ti-6Al-4V ). Mater Today Proc 18:2477–2485

21.

Ahmad S, Lajis MA (2013) Electrical discharge machining (EDM) of Inconel 718 by using copper electrode at higher peak current and pulse duration. In Proceedings of the 2nd International Conference on Mechanical Engineering Research (ICMER)

22.

Karmiris-Obratański P, Zagórski K, Cieślik J, Papazoglou EL, Markopoulos A (2020) Surface topography of Ti 6Al 4V ELI after high power EDM. Procedia Manuf 47:788–794

23.

Kolli M, Kumar A (2015) Effect of dielectric fluid with surfactant and graphite powder on electrical discharge machining of titanium alloy using Taguchi method. Eng Sci Technol an Int J 18:524–535
Additional information
Publisher's note
Springer Nature remains neutral with regard to jurisdictional claims in published maps and institutional affiliations.
About this article
Cite this article
Karmiris-Obratański, P., Zagórski, K., Papazoglou, E.L. et al. Surface texture and integrity of electrical discharged machined titanium alloy. Int J Adv Manuf Technol 115, 733–747 (2021). https://doi.org/10.1007/s00170-020-06159-z
Received:

Accepted:

Published:

Issue Date:
Keywords
EDM

Titanium Grade 2

Surface texture and integrity

ANOVA

Cracks and micro-cracks