Abstract
The service life of hot forging dies was evaluated after being subjected in a double-layer surface treatment. The dies were laser treated, using WC-Co-Cr powder, and then surface nitrided. Previously, the integrity of the layers was proven metallographically. Information about the properties of the surface was measured in order to be used later for the wear calculation. The performance of the treated die compared with the normal one was first assessed by FEM wear simulation. The areas with increased wear were determined, and with the aid of an analytical model, the total wear was predicted after predetermined number of forging cycles. Later, forging dies were manufactured, surface treated, and utilized in real production environment. The results suggested an improvement of 41% and 94% for the different forging trials which also is in good agreement with the simulation results.
Access options
Buy single article
Instant access to the full article PDF.
US$ 39.95
Tax calculation will be finalised during checkout.
Subscribe to journal
Immediate online access to all issues from 2019. Subscription will auto renew annually.
US$ 119
Tax calculation will be finalised during checkout.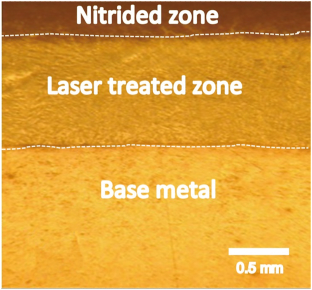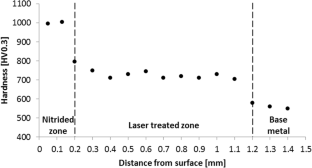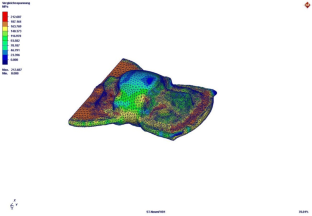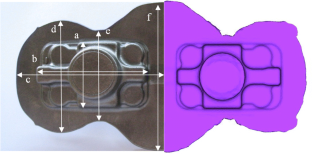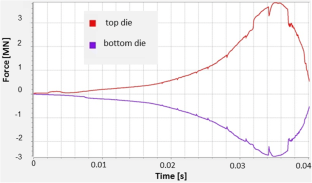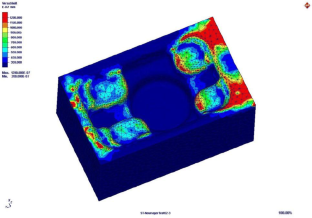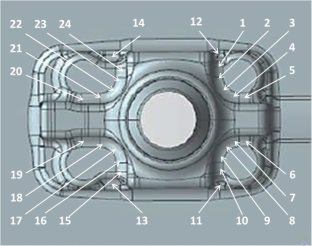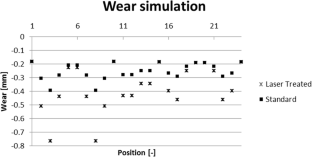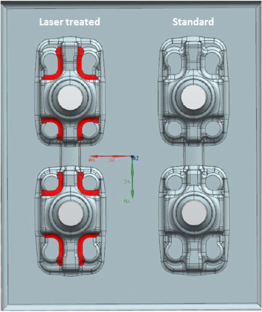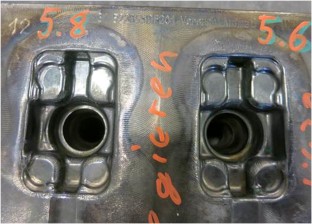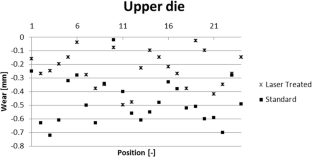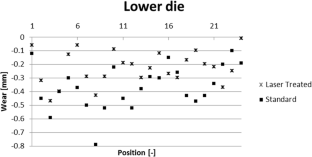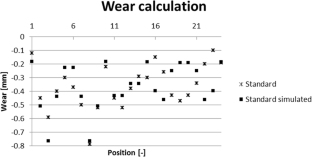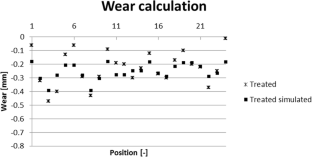 References
1.

Altan T, Vazquez V (1997) Status of process simulation using 2D and 3D finite element method what is practical today? What can we expect in the future? J Mater Process Technol 71:49–63

2.

Groche P, Kappes B (2004) Tribologie der Massivumformung – Modellprüfstände der Tribologie. In: Bartz WJ (ed) Tribologie und Schmierung bei der Massivumformung, vol 13. Expert verlag, Renningen-Malmsheim (Germany), pp 1–14

3.

Cser L, Geiger M, Lange K (1993) Tool life and tool quality in bulk metal forming. Proc Inst Mech Engrs 207:223–239

4.

Powell J (1983) Laser cladding, PHD-thesis, Imperial College of Science and Technology

5.

Behrens BA, Bouguecha A, Lüken I, Mielke J, Bistron M (2014) Tribology in hot forging. Elsevier Ltd. All rights reserved

6.

Xu W, Li W, Wang Y (2014) Experimental and theoretical analysis of wear mechanism in hot-forging die and optimal design of die geometry, College of Material Science and Engineering, Chongqing University, Chongqing 400044, China, Wear 318, 78–88

7.

Hyunok K, Taylan A (2014) Effects of surface finish and die temperature on friction and lubrication in forging, 11th international conference on Technology of Plasticity, ICTP 2014, 19-24 October 2014, Nagoya Congress Center, Nagoya, Japan, Procedia Engineering 81, 1848–1853

8.

Schneider M.F., (1998) Laser cladding with powder effect of some machining parameters on clad properties, Ph.D. Thesis University of Twente, Enschede, The Netherlands

9.

De Hosson JTM, De Mol van Otterloo JL (1996) Microstructural features of laser coatings, Proc. ECLAT 96:337–348

10.

Peidao D, Jianglong L, Gongqi S, Shouze Z, Pengjun C (1996) Laser surface alloying of a low alloy steel with cobalt. J Mater Process Technol 58(1):131–135

11.

Dent AH, DePalo S, Sampath S (2002) Examination of the wear properties of HVOF sprayed nanostructured and conventional WC-co cermets with different binder phase contents. J Therm Spray Technol 11(4):551–558

12.

Kovarik O, Siegl J, Prochazka Z (2008) Fatigue behavior of bodies with thermally sprayed metallic and ceramic deposits. J Therm Spray Technol 17:525–532

13.

Kovarik O, Haušilda P, Siegla J, Matějíčekb J, Davydovc V (2014) Fatigue life of layered metallic and ceramic plasma sprayed coatings, 20th European conference on fracture (ECF20). Procedia Mater Sci 3:586–591

14.

Behrens BA, Yilkiran T, Braeuer G, Paschke H, Weber M (2013) Potential of duplex plasma deposition processes for the improvement of Wear resistance of hot forging dies. Key Engineering Materials Vols 554-557:345–358

15.

Klocke F, Heinen D, Schongen F, Arntz K, Liu Y, Bäcker V, Feldhaus B (2014) Wear protection of deep drawing tools by systematic optimization of highly stressed surfaces, advanced materials research. Vol. 907:439–453

16.

Klocke F., Heinen D., Andrecht D., Arntz K., Vieten H., Zymla C., Dambon O., Schongen F., Bäcker V., Feldhaus B., (2012) Ressourceneffiziente Fertigung von Tiefziehwerkzeugen, Entwicklung und Optimierung von Fertigungsverfahren zur Erhöhung der Ressourceneffizienz, wt Werkstattstechnik online Jahrgang 102 H. 6

17.

Liedtke D (1991) Jönsson, R. W¨armebehandlung – Grundlagen und Anwendung für Eisenwerkstoffe; Expert-Verlag Kontakt & Studium 349: Ehningen bei Böblingen

18.

Grobaski T Preliminary research for the development of a hot forging die life prediction model, MSc thesis, Ohio University

19.

Karagözler AB (2003) Analysis and preform design for long press forgings with non-planar parting surfaces, M. Sc. Thesis, Middle East Technical University, Ankara, Turkey

20.

Kutlu AE (2001) Analysis and design of preforms for non-axisymmetric press, M. Sc. Thesis, Middle East Technical University, Ankara, Turkey

21.

Kim YJ, Choi CH (2009) A study on life estimation of hot forging die. Int J Precis Eng Manuf 10(3):105–113. https://doi.org/10.1007/s12541-009-0054-8

22.

Archard JF., (1953) Contact and rubbing of flat surfaces. Journal of applied physics, 981–988

23.

Lee RS, Jou JL (2003) Application of numerical simulation for wear analysis of warm forging die. J Mater Process Technol 140:43–48

24.

Balla VK, Bose S, Bandyopadhyay A (2010) Microstructure and wear properties of laser deposited WC–12%co composites. Mater Sci Eng A 527:6677–6682

25.

Ben SS (2012) Ion and gas nitriding applied to steel tool for hot work X38CrMoV5 nitriding type: impact on the Wear resistance. Mater Sci Appl 3:640–644. https://doi.org/10.4236/msa.2012.39093

26.

ASM Specialty handbook: heat-resistant materials (1997) ASM International, ISBN: 978–0–87170-596-9

27.

Behrens BA, Bouguecha A, Vucetic M, Chugreev A (2016) Advanced wear simulation for bulk metal forming processes, NUMIFORM 2016. MATEC Web of Conferences 80:04003. https://doi.org/10.1051/matecconf/20168004003
Additional information
Publisher's note
Springer Nature remains neutral with regard to jurisdictional claims in published maps and institutional affiliations.
About this article
Cite this article
Gavalas, E., Rossbach, A. & Feuerhack, A. Performance analysis of laser-treated hot forging dies with WC-Co-Cr. Int J Adv Manuf Technol 106, 1327–1336 (2020). https://doi.org/10.1007/s00170-019-04710-1
Received:

Accepted:

Published:

Issue Date:
Keywords
WC-Co-Cr

Laser

Surface treatment

Wear

FEM

Multilayer

Hot forging