Abstract
Water absorption restrains the mechanical performance of natural fibre reinforced matrix polymer. This paper aims to investigate the influence of water absorption on the different types of natural woven fibre reinforced with polyester resin. The water absorption and thickness swelling study were performed by an immersed composite sample in the distilled water for 30 days. The mechanical performance testing such as tensile testing, flexural and impact was performed on the single and hybrid composite. Based on the results obtained, water absorption of the single type and hybrid composite sample yield about 3–6%. Furthermore, the effect of thickness of swelling is at a minimum. The result of the tensile properties reveals that the layering size has more influence than the layering sequences. The flexural properties are likely to be affected by the type of fabric fabricated on the top. The results of the Charpy impact test show that there is possibly less variation for the value regardless of the layering sequence and the layering size. The water absorption drops the tensile strength about 12–27% and tensile modulus for 15–35% on the 30th day. The result shows that the resistance toward water absorption improved significantly toward hybridisation.
Access options
Buy single article
Instant access to the full article PDF.
USD 39.95
Price includes VAT (USA)
Tax calculation will be finalised during checkout.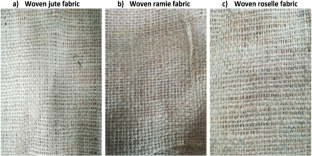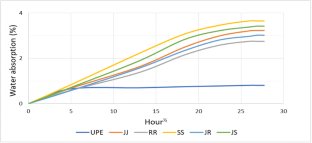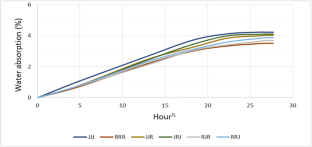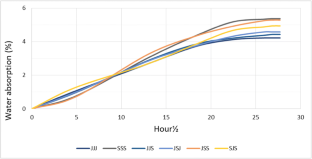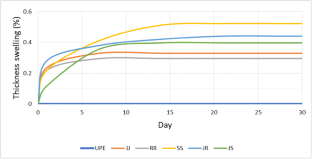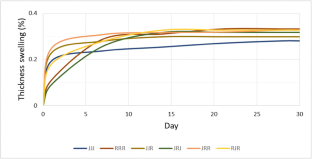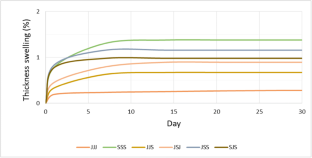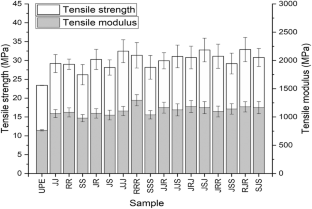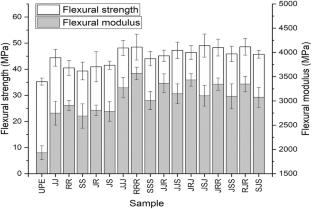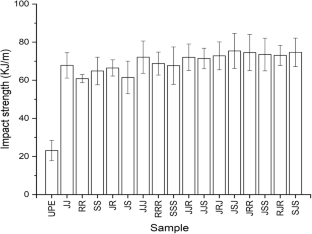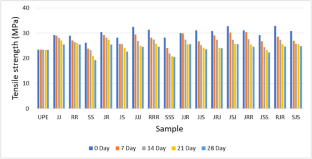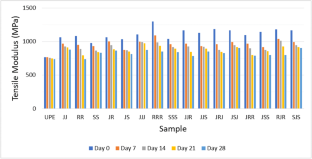 References
1.

Hao M, Hu Y, Wang B, Liu S (2017) Mechanical behavior of natural fiber-based isogrid lattice cylinder. Compos Struct 176:117–123

2.

Kılınç AÇ, Durmuşkahya C, Seydibeyoğlu MÖ (2017) Natural fibers. Elsevier, Amsterdam, pp 209–235

3.

Shah AUR, Prabhakar M, Song J-I (2017) Current advances in the fire retardancy of natural fiber and bio-based composites–A review. Int J Pr Eng Man GT 4(2):247–262

4.

Jaafar J, Siregar JP, Oumer AN, Hamdan MHM, Tezara C, Salit MS (2018) Experimental investigation on performance of short pineapple leaf fiber reinforced tapioca biopolymer composites. BioResources 13(3):6341–6355

5.

Siregar JP, Jaafar J, Cionita T, Jie CC, Bachtiar D, Rejab MRM, Asmara YP (2019) The effect of maleic anhydride polyethylene on mechanical properties of pineapple leaf fibre reinforced polylactic acid composites. Int J Pr Eng Man GT 6(1):110–112

6.

Mohammed L, Ansari MN, Pua G, Jawaid M, Islam MS (2015) A review on natural fiber reinforced polymer composite and its applications. Int J Polym Sci 2015:1–15

7.

Holbery J, Houston D (2006) Natural-fiber-reinforced polymer composites in automotive applications. JOM 58(11):80–86

8.

Mastura M, Sapuan S, Mansor M, Nuraini A (2018) Materials selection of thermoplastic matrices for 'green'natural fibre composites for automotive anti-roll bar with particular emphasis on the environment. Int. J. Pr. Eng. Man.-GT 5(1):111–119

9.

Sanjay M, Arpitha G, Naik LL, Gopalakrishna K, Yogesha B (2016) Applications of natural fibers and its composites: an overview. Nat Res 7(03):108–114

10.

Jaafar J, Siregar JP, Mohd Salleh S, Hamdan MH, Cionita T, Rihayat T (2019) Important considerations in manufacturing of natural fiber composites: a review. Int J Pr Eng Man GT. https://doi.org/10.1007/s40684-019-00097-2

11.

Puglia D, Biagiotti J, Kenny J (2005) A review on natural fibre-based composites—part II: application of natural reinforcements in composite materials for automotive industry. J Nat Fibers 1(3):23–65

12.

Alamri H, Low IM (2012) Effect of water absorption on the mechanical properties of n-SiC filled recycled cellulose fibre reinforced epoxy eco-nanocomposites. Polym Test 31(6):810–818

13.

Penjumras P, Rahman RA, Talib RA, Abdan K (2015) Mechanical properties and water absorption behaviour of durian rind cellulose reinforced poly (lactic acid) biocomposites. IJASEIT 5(5):343–349

14.

Wang W, Sain M, Cooper P (2006) Study of moisture absorption in natural fiber plastic composites. Compos Sci Technol 66(3–4):379–386

15.

Gupta M, Srivastava R (2016) Mechanical, thermal and water absorption properties of hybrid sisal/jute fiber reinforced polymer composite. Indian J Eng Mater Sci 23:231–238

16.

Misnon MI, Islam MM, Epaarachchi JA, Wang H, Lau K-t (2016) Woven hemp fabric reinforced vinyl ester composite: effect of water absorption on the mechanical properties degradation. IJASEAT 4(3):96–101

17.

Deng H, Reynolds C, Cabrera N, Barkoula N-M, Alcock B, Peijs T (2010) The water absorption behaviour of all-polypropylene composites and its effect on mechanical properties. Compos Part B 41(4):268–275

18.

Sreekumar P (2009) Water absorption and ageing behaviour of natural fiber composites, Archives Contemporaines, Paris, 446–472

19.

Lima Sobrinho L, Ferreira M, Bastian FL (2009) The effects of water absorption on an ester vinyl resin system. Mater Res 12(3):353–361

20.

Mariatti M, Jannah M, Abu Bakar A, Khalil HA (2008) Properties of banana and pandanus woven fabric reinforced unsaturated polyester composites. J Compos Mater 42(9):931–941

21.

Jamiluddin J, Siregar JP, Sulaiman A, Jalal KAA, Tezara C (2016) Study on properties of tapioca resin polymer. Int J Auto Mech Eng 13(1):3178–3189

22.

Pandian A, Vairavan M, Jebbas Thangaiah WJ, Uthayakumar M (2014) Effect of moisture absorption behavior on mechanical properties of basalt fibre reinforced polymer matrix composites. J Compos 2014:1–8

23.

Srubar WV III, Frank CW, Billington SL (2012) Modeling the kinetics of water transport and hydroexpansion in a lignocellulose-reinforced bacterial copolyester. Polymer 53(11):2152–2161

24.

Gassan J, Mildner I, Bledzki A (1999) Influence of fiber structure modification on the mechanical properties of flax fiber-epoxy composites. Mech Compos Mater 35(5):435–440

25.

Joshi SV, Drzal L, Mohanty A. Arora S (2004) Are natural fiber composites environmentally superior to glass fiber reinforced composites?. Composite part A 35(3):371–376

26.

Korkees F, Alston S. Arnold C (2018) Directional diffusion of moisture into unidirectional carbon fiber/epoxy Composites: Experiments and modeling, Polym Composite 39(S4): E2305–E2315

27.

Kittikorn T, Strömberg E, Ek M, Karlsson SJB (2013) Comparison of water uptake as function of surface modification of empty fruit bunch oil palm fibres in PP biocomposites. BioResources 8(2):2998–3016

28.

Ahmed KS, Vijayarangan S (2008) Tensile, flexural and interlaminar shear properties of woven jute and jute-glass fabric reinforced polyester composites. J Mater Process Technol 207(1–3):330–335

29.

Bagherpour S (2012) Fibre reinforced polyester composites. InTech, London

30.

Venkateshwaran N, Elaya Perumal AJF (2012) Mechanical and water absorption properties of woven jute/banana hybrid composites. Fibre Polym 13(7):907–914

31.

Jawaid M, Khalil HA, Bakar AAJMS (2011) Woven hybrid composites: tensile and flexural properties of oil palm-woven jute fibres based epoxy composites. Mater Sci Eng A 528(15):5190–5195

32.

Achukwu E, Dauda B, Ishiaku U (2015) Effects of fabric pattern on the mechanical properties of cotton fabric/unsaturated polyester composites. Br J Appl Sci Technol 11(4):1–11

33.

Ismail AE, Aziz CA, Aswadi M (2015) Tensile strength of woven yarn kenaf fiber reinforced polyester composites. JMES 9:1695–1704

34.

Samivel P, Babu ARJIJ o ME, Research R (2013) Mechanical behavior of stacking sequence in kenaf and banana fiber reinforced-polyester laminate. IJMERR 10:2

35.

Hamdan A, Mustapha F, Ahmad K, Mohd Rafie A, Ishak M, Ismail AJIJ o PS (2016) The effect of customized woven and stacked layer orientation on tensile and flexural properties of woven kenaf fibre reinforced epoxy composites. Int J Polym Sci 2016

36.

Rashdi A, Sapuan S, Ahmad M, Khalina AJIJ o M, Engineering M (2010) Combined effects of water absorption due to water immersion, soil buried and natural weather on mechanical properties of Kenaf fibre unsaturated polyester composites (KFUPC). IJMME 5(1):11–17

37.

Tezara C, Siregar JP, Lim H, Fauzi F, Yazdi MH, Moey L et al (2016) Factors that affect the mechanical properties of kenaf fiber reinforced polymer: A review. JMES 10(2):2159–2175
Funding
The authors received support from the Faculty of Mechanical Engineering and Engineering Automotive Centre, Universiti Malaysia Pahang, through the facility, equipment and financial through internal research grant of RDU180335.
Additional information
Publisher's note
Springer Nature remains neutral with regard to jurisdictional claims in published maps and institutional affiliations.
About this article
Cite this article
Hamdan, M.H.M., Siregar, J.P., Cionita, T. et al. Water absorption behaviour on the mechanical properties of woven hybrid reinforced polyester composites. Int J Adv Manuf Technol 104, 1075–1086 (2019). https://doi.org/10.1007/s00170-019-03976-9
Received:

Accepted:

Published:

Issue Date:
Keywords
Natural fibre

Jute

Ramie

Roselle

Water absorption

Mechanical properties