Abstract
Computed tomography (CT) magnifies the spectrum of measurable internal features with minimal preparation and exceptional resolution. In this study, non-destructive nano-scale and micro-scale CT examinations of aluminum-based part manufactured by laser powder-bed fusion additive manufacturing (LPBF-AM) are compared to determine the extent of defect details (size and distribution of defects/pores) not detectable with micro-CT. Our findings show nano-CT system is able to provide insightful information for effective characterization of AM-made parts to predict their strength/durability more reliably.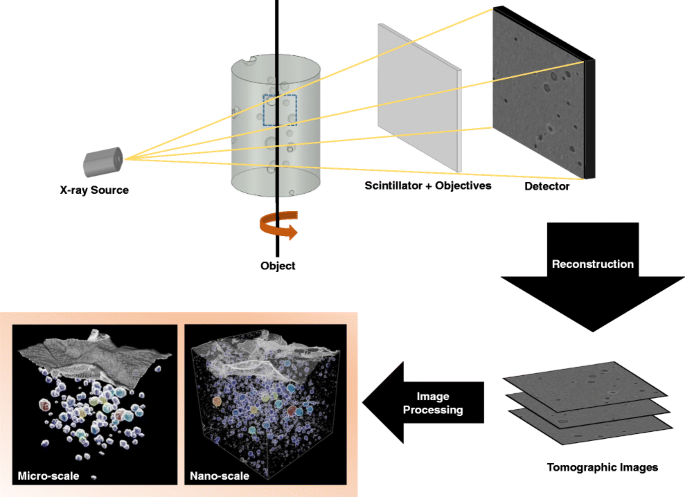 Access options
Buy single article
Instant access to the full article PDF.
USD 39.95
Price excludes VAT (USA)
Tax calculation will be finalised during checkout.
References
Fayazfar H, Salarian M, Rogalsky A, Sarker D, Russo P, Paserin V, Toyserkani E (2018) A critical review of powder-based additive manufacturing of ferrous alloys: process parameters, microstructure and mechanical properties. Mater Des 144:98–128

Carlton HD, Haboub A, Gallegos GF, Parkinson DY, MacDowell AA (2016) Damage evolution and failure mechanisms in additively manufactured stainless steel. Mater Sci Eng A 651:406–414

Schneider P, Stauber M, Voide R, Stampanoni M, Donahue LR, Müller R (2007) Ultrastructural properties in cortical bone vary greatly in two inbred strains of mice as assessed by synchrotron light based micro- and nano-CT. J Bone Miner Res 22(10):1557–1570

Sleutel S, Cnudde V, Masschaele B, Vlassenbroek J, Dierick M, van Hoorebeke L, Jacobs P, de Neve S (2008) Comparison of different nano- and micro-focus X-ray computed tomography set-ups for the visualization of the soil microstructure and soil organic matter. Comput Geosci 34(8):931–938

Masad E, Jandhyala VK, Dasgupta N, Somadevan N, Shashidhar N (2002) Characterization of air void distribution in asphalt mixes using X-ray computed tomography. J Mater Civ Eng 14(2):122–129

Schoeman L, Williams P, du Plessis A, Manley M (2016) X-ray micro-computed tomography (μCT) for non-destructive characterisation of food microstructure. Trends Food Sci Technol 47:10–24

Chen RK, Lo TT, Chen L, Shih AJ (2015) Nano-CT characterization of structural voids and air bubbles in fused deposition modeling for additive manufacturing. Proceedings of the ASME 2015 International Manufacturing Science and Engineering Conference, Volume 1: Processing, MSEC2015, Charlotte, North Carolina, USA, 8-12 June 2015, p 7. https://doi.org/10.1115/MSEC2015-9462

Brunke O, Brockdorf K, Drews S, Müller B, Donath T, Herzen J, Beckmann F (2008) Comparison between x-ray tube-based and synchrotron radiation-based μCT. Proceedings of SPIE 7078, Developments in X-Ray Tomography VI, 70780U, 16 September 2008, https://doi.org/10.1117/12.794789

Bormann T, Friess S, de Wild M, Schumacher R, Schulz G, Müller B (2010) Determination of strain fields in porous shape memory alloys using micro-computed tomography. Proceedings of SPIE 7804, Developments in X-Ray Tomography VII, 78041M, 2 September 2010, https://doi.org/10.1117/12.861386

Bormann T, de Wild M, Beckmann F, Müller B (2013) Assessing the morphology of selective laser melted NiTi-scaffolds for a three-dimensional quantification of the one-way shape memory effect. Proceedings of SPIE 8689, Behavior and Mechanics of Multifunctional Materials and Composites 2013, 868914, 3 April 2013, https://doi.org/10.1117/12.2012245

Zhou X, Wang D, Liu X, Zhang DD, Qu S, Ma J, London G, Shen Z, Liu W (2015) 3D-imaging of selective laser melting defects in a Co-Cr-Mo alloy by synchrotron radiation micro-CT. Acta Mater 98:1–16

Van Bael S, Kerckhofs G, Moesen M, Pyka G, Schrooten J, Kruth JP (2011) Micro-CT-based improvement of geometrical and mechanical controllability of selective laser melted Ti6Al4V porous structures. Mater Sci Eng A 98:1–5

Kerckhofs G, Pyka G, Moesen M, Van Bael S, Schrooten J, Wevers M (2013) High-resolution microfocus X-ray computed tomography for 3D surface roughness measurements of additive manufactured porous materials. Adv Eng Mater 15:153–158

Ziółkowski G, Chlebus E, Szymczyk P, Kurzac J (2014) Application of X-ray CT method for discontinuity and porosity detection in 316L stainless steel parts produced with SLM technology. Arch Civ Mech Eng 23:1917–1928

du Plessis A, le Roux SG, Booysen G, Els J (2015) Directionality of cavities and porosity formation in powder-bed laser additive manufacturing of metal components investigated using x-ray tomography. 3D printing and additive manufacturing, Volume 3: Number 1, © Mary Ann Liebert, Inc. 2016, https://doi.org/10.1089/3dp.2015.0034

Tammas-Williams S, Withers PJ, Todd I, Prangnell PB (2017) The influence of porosity on fatigue crack initiation in additively manufactured titanium components. Sci Rep 7:7308

Romano S, Brückner-Foit A, Brandão A, Gumpinger J, Ghidini T, Beretta S (2018) Fatigue properties of AlSi10Mg obtained by additive manufacturing: defect-based modelling and prediction of fatigue strength. Eng Fract Mech 187:165–189

Ardila LC, Garciandia F, González-Díaz JB, Álvarez P, Echeverria A, Petite MM, Deffley R, Ochoa J (2014) Effect of IN718 recycled powder reuse on properties of parts manufactured by means of selective laser melting. Phys Procedia 56(C):99–107
Acknowledgments
This work is sponsored by the Federal Economic Development Agency for Southern Ontario (FedDev Ontario) and Ontario Research Fund-Research Excellence. The authors would like to acknowledge Dr. James Hinebaugh and Michael George from Expanse Microtechnologies Inc. for providing support with data acquisition and image processing.
About this article
Cite this article
Salarian, M., Toyserkani, E. The use of nano-computed tomography (nano-CT) in non-destructive testing of metallic parts made by laser powder-bed fusion additive manufacturing. Int J Adv Manuf Technol 98, 3147–3153 (2018). https://doi.org/10.1007/s00170-018-2421-z
Received:

Accepted:

Published:

Issue Date:

DOI: https://doi.org/10.1007/s00170-018-2421-z
Keywords