Abstract
Sports facilities have been found to generate positive externalities over negative ones, so empirical studies report residential property prices increase near these facilities. This study investigates the effect of a new baseball stadium on housing values using a case which is deemed to induce negative externalities overwhelmingly due to the case-specific characteristics. Employing a difference-in-differences (DID) approach on data reflecting over 17,000 apartment transactions, this study finds a significant price depreciation within 2 km from a new stadium by up to approximately 7% after its opening. The spatial variation in price changes presents a clear distance decaying pattern, implying that the price effects are closely associated with negative externalities such as light pollution, noise, and traffic congestion. All of which would obviously fade away being further from the origin, the stadium.
Access options
Buy single article
Instant access to the full article PDF.
USD 39.95
Price excludes VAT (USA)
Tax calculation will be finalised during checkout.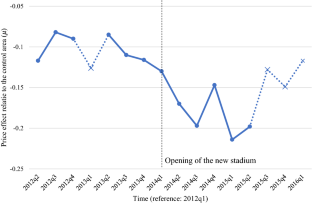 References
Ahlfeldt GM, Kavetsos G (2012) Outlook, progress and challenges of stadium evaluation. In: International handbook on the economics of mega sporting events. Edward Elgar Publishing

Ahlfeldt GM, Kavetsos G (2014) Form or function?: the effect of new sports stadia on property prices. London J Roy Stat Soc 177(1):169–190

Ahlfeldt GM, Maennig W (2009) Arenas, arena architecture and the impact on location desirability: the case of "Olympic Arenas" in Prenzlauer Berg. Berlin Urban Stud 46:1343–1362

Ahlfeldt GM, Maennig W (2010) Impact of sports arenas on land values: evidence from Berlin. Ann Reg Sci 44:205–227

Coates D, Humphreys BR (2006) Proximity benefits and voting on stadium and arena subsidies. J Urban Econ 59:285–299

Dehring CA, Depken CA, Ward MR (2007) The impact of stadium announcements on residential property values: evidence from a natural experiment in dallas-fort worth contemporary. Econ Pol 25:627–638

Feng X, Humphreys B (2012) The impact of professional sports facilities on housing values: evidence from census block group data. City Cult Soc 3:189–200

Feng X, Humphreys B (2018) Assessing the economic impact of sports facilities on residential property values: a spatial hedonic approach. J Sports Econ 19:188–210

Gibbons S, Machin S (2005) Valuing rail access using transport innovations. J Urban Econ 57:148–169

Groothuis PA, Johnson BK, Whitehead JC (2004) Public funding of professional sports stadiums: public choice or civic pride? Eastern Econ J 30:515–526

Huang H, Humphreys BR (2014) New sports facilities and residential housing markets. J Reg Sci 54:629–663

Humphreys BR, Nowak A (2017) Professional sports facilities, teams and property values: evidence from NBA team departures. Reg Sci Urban Econ 66:39–51

Kavetsos G (2012) The impact of the London Olympics announcement on property prices. Urban Stud 49:1453–1470

Pope DG, Pope JC (2015) When walmart comes to town: Always low housing prices? Always? J Urban Econ 87:1–13

Tu CC (2005) How does a new sports stadium affect housing values? the case of fedex field. Land Econ 81:379–395

Wooldridge JM (2010) Econometric analysis of cross section and panel data. MIT press, London

Zimbalist A, Long JG (2006) Facility finance: measurement, trends, and analysis. Int J Sport Finance 1:201–211
Acknowledgements
The present research was supported by the research fund of Dankook university in 2020 and has no conflict of interest.
Additional information
Publisher's Note
Springer Nature remains neutral with regard to jurisdictional claims in published maps and institutional affiliations.
About this article
Cite this article
Hyun, D. Proud of, but too close: the negative externalities of a new sports stadium in an urban residential area. Ann Reg Sci 68, 615–633 (2022). https://doi.org/10.1007/s00168-021-01095-6
Received:

Accepted:

Published:

Issue Date:

DOI: https://doi.org/10.1007/s00168-021-01095-6