Abstract
Using the data on venture capital investment in China and high-speed railway (HSR) construction as a natural experiment, this study presents empirical evidence about the impact of transportation infrastructure on capital mobility. The study finds that one new HSR train serving a city increases venture capital inflow to and outflow from that city by 1.0% and 1.6%, respectively. The heterogeneous analyses indicate that small cities, high-tech industries, and younger firms are significantly affected by HSR connections, which show that the accelerated information transmission and investors' incremental growth expectations may account for the observed effect.
Access options
Buy single article
Instant access to the full article PDF.
USD 39.95
Price excludes VAT (USA)
Tax calculation will be finalised during checkout.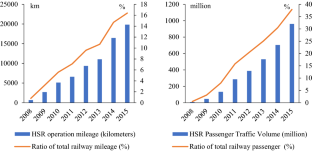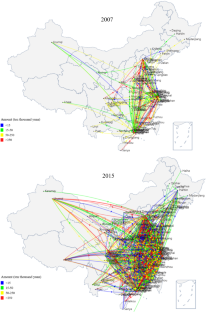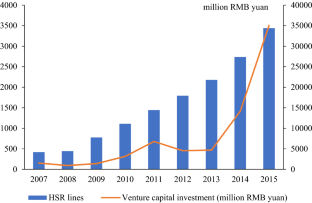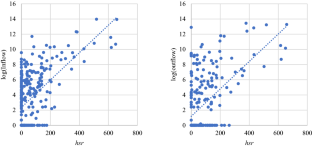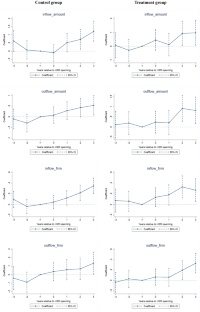 Notes
The four vertical HSR lines consist of Beijing–Shanghai, Beijing–Wuhan–Guangzhou–Shenzhen (Hong Kong), Beijing–Shenyang–Harbin (Dalian), and Shanghai–Hangzhou–Ningbo–Fuzhou–Shenzhen. The four horizontal HSR lines include Xuzhou–Zhengzhou–Lanzhou, Shanghai–Hangzhou–Nanchang–Changsha–Kunming, Qingdao–Shijiazhuang–Taiyuan, and Shanghai–Nanjing–Wuhan–Chongqing–Chengdu.

In 2015, the national VC investment amount (including both intercity and intracity deals) was 259 billion RMB, accounting for only 0.4% of national total fixed asset investments (55,159 billion RMB).

Historical exchange rates are collected from CSMAR Database (www.gtarsc.com).

As there may be more than one HSR station for the connected cities and we have no access to the exact longitude and latitude for each VC participant, all the stations within a city are treated as a whole and transportation within the city was not considered. Specifically, information on both VC and HSR was aggregated at the city level. For instance, if there are 50 HSR trains in Shanghai South Railway Station and 30 in Shanghai West Railway Station, then based on our definition, there are 80 HSR connections for Shanghai. For future study, researchers could introduce a more precise transportation measure by geocoding every HSR location and calculate the accessibility of the stations to better examine the effect of transportation on other outcomes.

The frequency of HSR connections to a city is the city-level HSR trains that depart, stop by, or arrive at the city. For instance, we assume that there are only two trains under operation—G10 and G30. The stops of G10 are Shanghai–Nanjing–Jinan–Beijing, and the stops of G13 are Beijing–Jinan–Nanjing–Suzhou–Shanghai. Thus, while the total number of HSR trains here is 2, the HSR connections for Beijing, Jinan, Nanjing, Suzhou, Shanghai are 2, 2, 2, 1, and 2, respectively.

Column (1) of Table A1 reports the first-stage specification result, suggesting that our IV is significantly correlated with the key explanatory variable, hsr. The F-statistics is 13.58, indicating a pass of the weak IV test. Columns (2) to (7) of Table A1 show the empirical test for exclusion restriction where we include both the HSR and 1978 railway connection in the second-stage regression. In all regressions, the coefficients of IV are insignificant, indicating that the IV only affects the VC flow through the channel of HSR construction.

The coefficient of HSR for capital inflow (0.010) multiplied by the average HSR connections (71.4) is equal to 71.4%. The average venture capital inflow is 29.1 million, so 71.4% of this is 20.7 million.

Belke et al. (2003) report the elasticity of VC investment with respect to employment ranging from 0.006 to 0.03, so the employment growth rate caused by VC is between 0.3 and 1.8%.

The 35 major cities in China include Beijing, Tianjin, Shijiazhuang, Taiyuan, Hohhot, Shenyang, Dalian, Changchun, Harbin, Shanghai, Nanjing, Hangzhou, Ningbo, Hefei, Fuzhou, Xiamen, Nanchang, Ji'nan, Qingdao, Zhengzhou, Wuhan, Changsha, Guangzhou, Shenzhen, Nanning, Haikou, Chongqing, Chengdu, Guiyang, Kunming, Xi'an, Lanzhou, Xining, Yinchuan, and Urumchi.
References
Adukia A, Asher S, Novosad P (2020) Educational investment responses to economic opportunity: evidence from Indian road construction. Am Econ J Appl Econ 12(1):348–376

Ahlfeldt, GM, and Feddersen A (2010) From periphery to core: economic adjustments to high speed rail. IEB Working Paper 2010/36

Aldrich HE, Yang T (2014) How do entrepreneurs know what to do? Learning and organizing in new ventures. J Evol Econ 24(1):59–82

Andersson DE, Shyr OF, Lee A (2012) The successes and failures of a key transportation link: accessibility effects of Taiwan's high-speed rail. Ann Reg Sci 48(1):203–223

Banerjee A, Duflo E, Qian N (2020) On the road: Access to transportation infrastructure and economic growth in China. J Dev Econ 145:102442

Baum-Snow N (2007) Did highways cause suburbanization? Q J Econ 122(2):775–805

Baum-Snow N, Brandt L, Henderson JV, Turner MA, Zhang Q (2017) Roads, railroads, and decentralization of Chinese cities. Rev Econ Stat 99(3):435–448

Belke AH, Fehn R, Foster-McGregor N (2003) Does venture capital investment spur employment growth?

Berger T, Enflo K (2017) Locomotives of local growth: the short-and long-term impact of railroads in Sweden. J Urban Econ 98:124–138

Bernard AB, Moxnes A, Saito YU (2015) Production networks, geography and firm performance (No. w21082). National Bureau of Economic Research

Bernstein S, Giroud X, Townsend RR (2016) The impact of venture capital monitoring. J Financ 71(4):1591–1622

Chen H, Gompers P, Kovner A, Lerner J (2010) Buy local? The geography of venture capital. J Urban Econ 67(1):90–102

Coto-Millán P, Inglada V, Rey B (2007) Effects of network economies in high-speed rail: the Spanish case. Ann Reg Sci 41(4):911–925

Cumming D, Dai N (2010) Local bias in venture capital investments. J Empir Financ 17(3):362–380

Donaldson D (2018) Railroads of the Raj: estimating the impact of transportation infrastructure. American Economic Review 108(4–5):899–934

Dong X (2018) High-speed railway and urban sectoral employment in China. Trans Res Part A Policy Pract 116:603–621

Dong X, Zheng S, Kahn ME (2020) The role of transportation speed in facilitating high skilled teamwork across cities. J Urban Econ 115:103212

Duan L, Sun W, Zheng S (2020) Transportation network and venture capital mobility: an analysis of air travel and high-speed rail in China. J Transp Geogr 88:102852

Duflo E, Pande R (2007) Dams. Q J Econ 122(2):601–646

Duranton G, Turner MA (2012) Urban growth and transportation. Rev Econ Stud 79(4):1407–1440

Duranton G, Morrow PM, Turner MA (2014) Roads and trade: evidence from the US. Rev Econ Stud 81(2):681–724

Faber B (2014) Trade integration, market size, and industrialization: evidence from China's National Trunk Highway System. Rev Econ Stud 81(3):1046–1070

Faria AP, Barbosa N (2014) Does venture capital really foster innovation? Econ Lett 122(2):129–131

Giroud X (2013) Proximity and investment: evidence from plant-level data. Q J Econ 128(2):861–915

Henneberg JM (2000) Un balance del tren de alta velocidad en Francia. Enseñanzas para el caso esapañol. Ería revista cuatrimestral de geografía 52:131–143

Ke X, Chen H, Hong Y, Hsiao C (2017) Do China's high-speed-rail projects promote local economy? new evidence from a panel data approach. China Econ Rev 44:203–226

Kolmakov VV, Polyakova AG, Shalaev VS (2015) An analysis of the impact of venture capital investment on economic growth and innovation: Evidence from the USA and Russia. Ekonom Anali/Econ Ann 60(207):7

Li Z, Xu H (2018) High-speed railroads and economic geography: evidence from Japan. J Reg Sci 58(4):705–727

Lin Y (2017) Travel costs and urban specialization patterns: evidence from China's high speed railway system. J Urban Econ 98:98–123

Lin X, Yang J, MacLachlan I (2018) High-speed rail as a solution to metropolitan passenger mobility. J Transp Land Use 11(1):1257–1270

Lin X, MacLachlan I, Ren T, Sun F (2019) Quantifying economic effects of transportation investment considering spatiotemporal heterogeneity in China: a spatial panel data model perspective. Ann Reg Sci 63(3):437–459

Lipscomb M, Mobarak AM, Barham T (2013) Development effects of electrification: evidence from the topographic placement of hydropower plants in Brazil. Am Econ J Appl Econ 5(2):200–231

Long Y, Zhao H, Zhang X, Li Y (2017) High-speed railway and venture capital investment. Econ Res J 52:195

Martincus CV, Carballo J, Cusolito A (2017) Roads, exports and employment: evidence from a developing country. J Dev Econ 125:21–39

Niu D, Sun W, Zheng S (2020) Travel costs, trade, and market segmentation: Evidence from China's high‐speed railway. Papers in Regional Science. Forthcoming

Persson T, Tabellini G (2007) The growth effect of democracy: is it heterogenous and how can it be estimated? (No. w13150). National Bureau of Economic Research

Portes R, Rey H (2005) The determinants of cross-border equity flows. J Int Econ 65(2):269–296

Pradhan RP, Maradana RP, Zaki DB, Dash S, Jayakumar M (2016) Nexus between venture capital and economic growth in European economic area countries: the granger causality approach. J Dev Areas 50(6):1–15

Pradhan RP, Arvin MB, Nair M, Bennett SE, Bahmani S, Hall JH (2018) Endogenous dynamics between innovation, financial markets, venture capital and economic growth: evidence from Europe. J Multinatl Financ Manag 45:15–34

Qin Y (2017) 'No county left behind?' The distributional impact of high-speed rail upgrades in China. J Econ Geogr 17(3):489–520

Samila S, Sorenson O (2011) Venture capital, entrepreneurship, and economic growth. Rev Econ Stat 93(1):338–349

Sasaki K, Ohashi T, Ando A (1997) High-speed rail transit impact on regional systems: does the Shinkansen contribute to dispersion? Ann Reg Sci 31(1):77–98

Sorenson O, Stuart TE (2001) Syndication networks and the spatial distribution of venture capital investments. Am J Sociol 106(6):1546–1588

Stephen G, Wu W (2017) Airports, market access and local economic performance: evidence from China. SERC discussion paper 211

Tang MC, Chyi YL (2008) Legal environments, venture capital, and total factor productivity growth of Taiwanese industry. Contemp Econ Policy 26(3):468–481

van Pottelsberghe de la Potterie B, Romain A (2004) The economic impact of venture capital (No. 2004, 18). Discussion paper Series 1/Volkswirtschaftliches Forschungszentrum der Deutschen Bundesbank

Vickerman R (1997) High-speed rail in Europe: experience and issues for future development. Ann Reg Sci 31(1):21–38

Wright Robbie MK (1998) Venture capital and private equity: a review and synthesis. J Bus Financ Acc 25(5–6):521–570

Yu F, Lin F, Tang Y, Zhong C (2019) High-speed railway to success? The effects of high-speed rail connection on regional economic development in China. J Reg Sci 59(4):723–742

Zheng S, Kahn ME (2013) China's bullet trains facilitate market integration and mitigate the cost of megacity growth. Proc Natl Acad Sci 110(14):E1248–E1253
Acknowledgements
Weizeng Sun thanks the National Natural Science Foundation of China for the support (No. 71903210).
Additional information
Publisher's Note
Springer Nature remains neutral with regard to jurisdictional claims in published maps and institutional affiliations.
Supplementary Information
Below is the link to the electronic supplementary material.
About this article
Cite this article
Duan, L., Niu, D., Sun, W. et al. Transportation infrastructure and capital mobility: evidence from China's high-speed railways. Ann Reg Sci 67, 617–648 (2021). https://doi.org/10.1007/s00168-021-01059-w
Received:

Accepted:

Published:

Issue Date:

DOI: https://doi.org/10.1007/s00168-021-01059-w
JEL Classification