Abstract
The aim of this paper is to analyse common location patterns of software and video game (SVE) industry and the related agglomeration processes with other creative industries in Barcelona, Lyon and Hamburg. SVE is a key industry in developed countries and one which, due to a search for agglomeration economies, skilled labour and a range of spillover effects, is mainly located at the core of larger metropolitan areas. The cities used in our empirical application share some common features in terms of size, manufacturing tradition and, especially, economic strategies, as they have managed to promote high-tech neighbourhoods through ambitious urban renewal policies aimed at attracting the SVE industry. When analysing location patterns of firms in the industry, although our results highlight the predominant role of the urban cores of these three cities, they also indicate important specificities in terms of core–periphery distribution of SVE firms and the already mentioned urban renewal projects.
Access options
Buy single article
Instant access to the full article PDF.
US$ 39.95
Tax calculation will be finalised during checkout.
Subscribe to journal
Immediate online access to all issues from 2019. Subscription will auto renew annually.
US$ 79
Tax calculation will be finalised during checkout.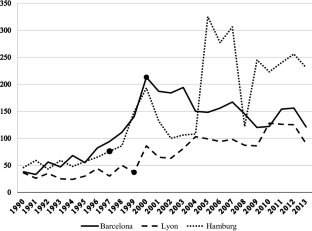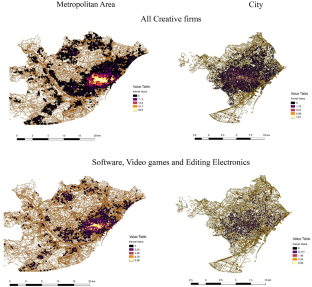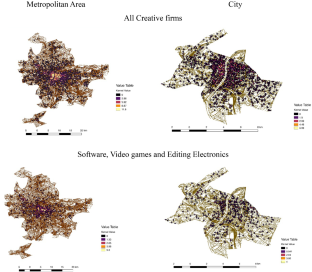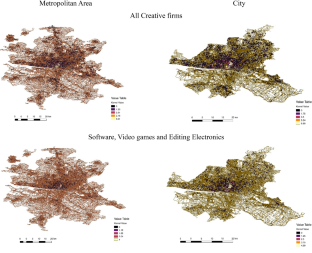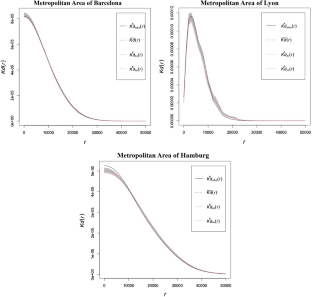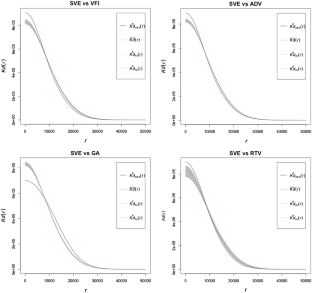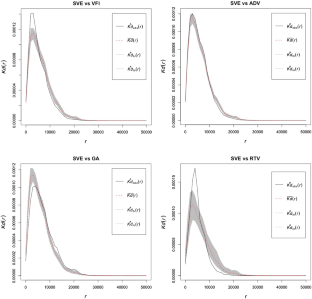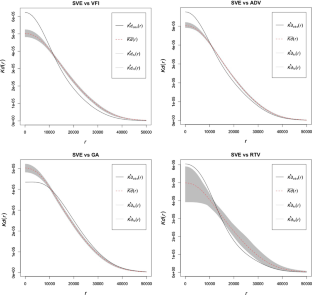 Notes
1.

According to PWC (2018), over the period 2017–2022, the video games industry is expected to grow at an average annual rate of 20.6%.

2.

3.

See Pablo and Arauzo-Carod (2012) for an analysis of inter-industry linkages and spatial proximity amongst firms.

4.

Xbox360 (Microsoft), PlayStation3 (Sony) and Nintendo Wii (Nintendo).

5.

The term 'Techno Neighbourhood' refers to an area inside a city that has become attractive for digital economy activities (e.g. SVEs) that are carried out in workspaces that have been refurbished for this purpose.

6.

See Feldman et al. (2005) for a theoretical approach.

7.

See maps showing the urban transformation project and the CBD of each city in "Annex" (Fig. 9).

8.

Though some of most important firms had moved their headquarters to Paris (Moriset 2003).

9.

Several well-known video game firms are already established in Hamburg, amongst others, Bytro Labs GmbH, Capcom Entertainment Germany GmbH, CrazyBunch UG, Exit Games GmbH, gamecity:Hamburg, gamigo AG, GRAEF Rechtsanwälte, InnoGames GmbH, Lost The Game Studios, Mooneye Studios, MSM Communications GmbH, Osmotic Studios, Pop Rocket Labs GmbH, Quinke Networks GmbH, RetroBrain R&D UG, Rocket Beans Entertainment GmbH, ROCKFISH Games GmbH, Square Enix GmbH, THREAKS GmbH, Tiny Roar UG, Tivola Publishing GmbH, toneworx GmbH, Valve GmbH, Warner Bros—Entertainment GmbH, and XYRALITY GmbH.

10.

HafenCity project is co-financed by private (€8.5 billion) and public investment (€2.4 billion).

11.

We hypothesise that, since the 22@ Project in Barcelona took several years until it was formally launched, potential investors may have had most of relevant information of this Project in advance and, therefore, had anticipated their entry decisions some years before the official announcement.

12.

13.

The relatively similar sizes of Barcelona, Hamburg and Lyon make them easily comparable.

14.

Barcelona is the second largest city in Spain and the capital of the region of Catalonia, Lyon is the third largest city in France and the capital of the region of Auvergne-Rhône-Alpes, and Hamburg is the second largest city in Germany and one of the 16 German states.

15.

The Orbis dataset include several characteristics of firms, including year of entry, balance sheets, income, expenditure accounts, number of employees, industry, sales, assets, and georeferenced location (i.e. X–Y coordinates). Orbis collects data from the Mercantile Register of each country, where all limited liability companies and corporations are obliged by law to deposit their balance sheets. This is the most widely used dataset for any country in the world when georeferencing of firms is required and is provided by Bureau van Dijk.

16.

The cities of Barcelona, Lyon and Hamburg are divided in districts (10, 9 and 7 districts in each one, respectively), which are comparable to the rest of municipalities of each MA.

17.

The lower share for Lyon is explained by the smaller surface of its capital in both absolute (48 km2 in front of 101 km2 of Barcelona and 755 km2 of Hamburg) and relative terms. (The capital city represents only the 9% of the surface of the MA, a percentage much lower than that of Barcelona—15% and Hamburg—36%.)

18.

The employment-weighted version of the K-density function is not used because our research question, which focuses on the location and co-location of the software and video games industry inside metropolitan areas, only considers the firm's location, not its employment size.

19.

The city of Barcelona is bounded by the Mediterranean Sea in the east and by a wooded mountain area (Collserola) in the north–north-west between Barcelona and the north-western municipalities.

20.

All calculations use a 0.05 significance level, using 1000 simulations. The dashed line corresponds to the benchmark scenario, that is, the density of all the economic activity (All Creative firms in our case), and the shaded area is the confidence interval.

21.

As a matter of example, in recent crisis contraction of economic activity started early in Barcelona and its duration has been longer than in Lyon and Hamburg.
References
Apparicio P, Martori JC, Pearson AL, Fournier E, Apparicio D (2014) An open-source software for calculating indices of urban residential segregation. Soc Sci Comput Rev 32(1):117–128

Autor DH, Levy F, Murnane RJ (2003) The skill content of recent technological change: an empirical exploration. Q J Econ 118(4):1279–1333

Bagwell S (2008) Creative clusters and city growth. Creat Ind J 1:31–46

Baptista R, Mendonça J (2010) Proximity to knowledge sources and the location of knowledge-based start-ups. Ann Reg Sci 45:5–29

Behrens K, Boualam B, Martin J (2016) The resilience of the Canadian textile industries and clusters to shocks, 2001–2013. CIRANO, Montreal

Berger T, Frey CB (2016) Did the computer revolution shift the fortunes of U.S. cities? Technology shocks and the geography of new jobs. Reg Sci Urban Econ 57:38–45

Boix R, Lazzeretti L (2012) Las industrias creativas en España: Una panorámica. Investigaciones Regionales 22:181–205

Braunerhjelm P, Feldman MP (2006) Cluster genesis: technology-based industrial development. Oxford University Press, New York

Carpenter J, Verhage R (2014) Lyon city profile. Cities 38:57–68

Clark PJ, Evans FC (1954) Distance to nearest neighbor as a measure of spatial relationships in populations. Ecology 35(4):445–453

Coll-Martínez E, Moreno Monroy AI, Arauzo-Carod JM (2019) Agglomeration of creatives industries: an intra-metropolitan analysis for Barcelona. Pap Reg Sci 98(1):409–431

Duranton G, Overman HG (2005) Testing for localization using micro-geographic data. Rev Econ Stud 72(4):1077–1106

Dutta S, Mia I (2010) The global information technology report 2009–2010 ICT for sustainability. World Economic Forum, Cologny

Duvivier C, Polèse M (2018) The great urban techno shift: are central neighbourhoods the next silicon valleys? Evidence from three Canadian metropolitan areas. Pap Reg Sci 97(4):1083–1111

Duvivier C, Polèse M, Apparicio P (2018) The location of information technology-led new economy jobs in cities: office parks or cool neighbourhoods? Reg Stud 52(6):756–767

Eleftheriou V, Knieling J (2017) The urban project of HafenCity. Today's urban and traffic profile of the area. Executive summary of methodology and traffic research conducted in the region. Transp Res Procedia 24:73–80

Feldman M, Francis J, Bercovitz J (2005) Creating a cluster while building a firm: entrepreneurs and the formation of industrial clusters. Reg Stud 39:129–141

Florida RL (2002) The rise of the creative class: and how it's transforming work, leisure, community and everyday life. Basic Books, New York

Florida R, Gates G (2003) Technology and tolerance: the importance of diversity to high-technology growth. In: Nichols Clark T (ed) The city as an entertainment machine. Emerald Group Publishing Limited, Bingley, pp 199–219

Florida R, Mellander C (2016) Rise of the startup city: the changing geography of the venture capital financed innovation. Calif Manag Rev 59(1):14–38

Foord J (2013) The new boomtown? Creative city to Tech City in east London. Cities 33:51–60

Fromhold-Eisebith M, Eisebith G (2005) How to institutionalize clusters? Comparing explicit top–down and implicit bottom-up approaches. Res Policy 34:1250–1268

Globerman S, Shapiro D, Vining A (2005) Clusters and intercluster spillovers: their influence on the growth and survival of Canadian information technology firms. Ind Corp Change 14:27–60

Hutton TA (2004) The new economy of the inner city. Cities 21(2):89–108

Hutton TA (2006) Spatiality, built form, and creative industry development in the inner city. Environ Plan A 38(10):1819–1841

Indergaard M (2013) Beyond the bubbles: creative New York in boom, bust and the long run. Cities 33:43–50

Lorenzen M, Frederiksen L (2008) Why do cultural industries cluster? Localization, urbanization, products and projects. In: Cooke PN, Lazzeretti L (eds) Creative cities, cultural clusters and local economic development. Edward Elgar, Cheltenham, pp 155–179

Malmberg A, Maskell P (2002) The elusive concept of localization economies: towards a knowledge-based theory of spatial clustering. Environ Plan A 34:429–449

Malmberg A, Maskell P (2006) Localized learning revisited. Growth Change 37:1–18

Méndez-Ortega C, Arauzo-Carod JM (2019) Locating software, video game, and editing electronics firms: using microgeographic data to study Barcelona. J Urban Technol (forthcoming)

Morgan K (2004) The exaggerated death of geography: learning, proximity and territorial innovation systems. J Econ Geogr 4(1):3–21

Moriset B (2003) The new economy in the city: emergence and location factors of internet-based companies in the metropolitan area of Lyon, France. Urban Stud 40(11):2165–2186

Murphy E, Fox-Rogers L, Redmond D (2015) Location decision making of "creative" industries: the media and computer game sectors in Dublin, Ireland. Growth and Change 46(1):97–113

Pablo F, Arauzo-Carod JM (2012) Spatial distribution of economic activities: an empirical approach using self-organizing maps. In: Fernández-Vazquez E, Rubiera-Morollón F (eds) Defining the spatial scale in modern regional analysis. Springer, Berlin

Plum O, Hassink R (2014) Knowledge bases, innovativeness and competitiveness in creative industries: the case of Hamburg's video game developers. Reg Stud Reg Sci 1(1):248–268

Pratt AC (2009) Urban regeneration: from the arts "feel good" factor to the cultural economy: a case study of Hoxton, London. Urban Stud 46(5–6):1041–1061

PWC (2018) Global entertainment and media outlook 2018–2022. PwC Global, London

Qian H (2013) Diversity versus tolerance: the social drivers of innovation and entrepreneurship in US cities. Urban Stud 50(13):2718–2735

Rantisi NM, Leslie D (2010) Materiality and creative production: the case of the Mile End neighborhood in Montréal. Environ Plan A 42(12):2824–2841

Rehák Š, Chovanec M (2012) Exploring spatial patterns of creative industries with firm level micro geographic data. Reg Direct 2:10–35

Sepe M (2014) Urban transformation, socio-economic regeneration and participation: two cases of creative urban regeneration. Int J Urban Sustain Dev 6(1):20–41

Theil H (1972) Statistical decomposition analysis. North-Holland, Amsterdam

UNCTAD (2010) Creative economy. Report 2010. UNCTAD, Geneva

Van Geenhuizen M (2007) Modelling dynamics of knowledge networks and local connectedness: a case study of urban high-tech companies in The Netherlands. Ann Reg Sci 41(4):813–833

Van Oort FG, Atzema OA (2004) On the conceptualization of agglomeration economies: the case of new firm formation in the Dutch ICT sector. Ann Reg Sci 38(2):263–290

Viladecans-Marsal E, Arauzo-Carod JM (2012) Can a knowledge-based cluster be created? The case of the Barcelona 22@ district. Pap Reg Sci 91(2):377–400

Woodward D, Figueiredo O, Guimarães P (2006) Beyond the Silicon Valley: University R&D and high-technology location. J Urban Econ 60:15–32

Yang T, Pan H, Hewings G, Jin Y (2019) Understanding urban sub-centers with heterogeneity in agglomeration economies—where do emerging commercial establishments locate? Cities 86:25–36
Acknowledgements
Funding was provided by FEDER/Ministerio de Ciencia, Innovación y Universidades (Grant No. ECO2017-88888P) and the research programs from Generalitat de Catalunya SGR (Grant No. 2017-SGR-159) and "Xarxa de Referència d'R+D+I en Economia i Polítiques Públiques". We are grateful for the support received by R. Boix and A. Moreno and for the comments received at 30th ERSA Summer School, 6th Central European Regional Science Conference, XLIII International Conference on Regional Science, 4th Geography of Innovation Conference and REAL Fall Seminar Series. We also would like to thank two anonymous referees for their valuable comments and the editor for all the support provided during the editorial process.
Additional information
Publisher's Note
Springer Nature remains neutral with regard to jurisdictional claims in published maps and institutional affiliations.
About this article
Cite this article
Méndez-Ortega, C., Arauzo-Carod, JM. Do software and video game firms share location patterns across cities? Evidence from Barcelona, Lyon and Hamburg. Ann Reg Sci 64, 641–666 (2020). https://doi.org/10.1007/s00168-019-00917-y
Received:

Accepted:

Published:

Issue Date:
JEL Classification