Abstract
Information is an essential input to the entrepreneurial process. Information based on the trials of past entrepreneurial projects can be particularly useful as it reveals details about the local market, benefiting subsequent ventures. Through a formal model of entrepreneurial search characterized by information flows and networks, we hypothesize a diminishing returns relationship between entrepreneurial information, in the form of births and deaths of entrepreneurial projects and economic benefits in the form of employment growth. We leverage the natural experiment contexts of regional economies to explore the role of information as it varies across market scale. In addition, given that networks, an important channel for information, are most powerful and effective in localized settings, we use the regional socio-demographic variation to explore the role of networks defined by gender. We indeed find statistically and economically significant evidence for the information-growth relationship in terms of both market scale and gender, with larger positive employment effects in less dynamic markets and less-networked market contexts. After building the empirical case for the importance of information flows and networks, we conclude with policy implications with particular attention to broadening and deepening entrepreneurial ecosystems.
This is a preview of subscription content, log in to check access.
Access options
Buy single article
Instant access to the full article PDF.
US$ 39.95
Price includes VAT for USA
Subscribe to journal
Immediate online access to all issues from 2019. Subscription will auto renew annually.
US$ 99
This is the net price. Taxes to be calculated in checkout.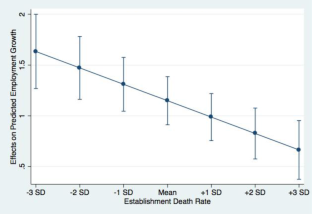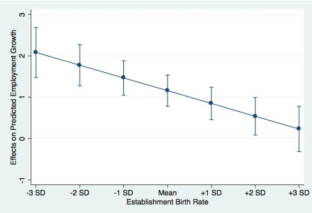 Notes
1.

In our view, informationally thick markets are both the cumulative result of dynamism over time as well as the immediate (or cross-sectional) result of a larger and denser region. In this paper, we offer empirical insights on dynamism through our specification which explicitly includes dynamic variables. In calculating the marginal effects, we gain insight on the cross-sectional sense of market thickness, as marginal effects incorporate a region's level of entrepreneurial activity.

2.

The instruments for our measures of entrepreneurship are primarily deep lags of entrepreneurial and small business activity. Historically high levels of entrepreneurship are a signal of an entrepreneurial culture that likely persists over time leading to more business activity in the future. Usefully, in contrast, historical entrepreneurship likely has no relationship to future employment growth. Given these characteristics, our instruments, specifically the proprietor's share of employment (1979) and the share of employment in small businesses (1974), can usefully disentangle the relationship between entrepreneurship and employment growth.

However, the deeps lags of entrepreneurial activity are not adequate instruments by themselves across the variations of our focal explanatory variables. Therefore, we also include the employment–residents ratio (1980) and exploit the gendered aspects of entrepreneurship for additional instruments, in particular the female employment–population ratio in 1950 (both from Haines 2010). The lagged employment–residents ratio indicates a region that was relatively employment dense, which in turn would have crowded out demand for new entrepreneurial niches while also stifling the supply of potential entrepreneurs through the density of relatively stable wage and salary jobs (Low and Weiler 2012). The female employment–population ratio corresponds to regions that may have had relatively significant male job losses, which is likely to have negative repercussions on the local business environment including those seeking niches to start enterprises.

3.

Based on the first stage test of weak identification, the instruments are strong for births, deaths, and the interaction. First stage results are available from the author upon request. The relatively high Cragg–Donald statistic also provides evidence of strong instruments. Hansen's J statistic suggests that the instruments are exogenous. Last, we cannot the reject the null of exogenous regressors based on the GMM distance test.

4.

Please see "Appendix" for details on definitions and methodology.

5.

Alternatively, the baseline gender blind regressions using the establishment birth rate, establishment death rate, and their respective quadratic terms yields the diminishing returns posited by the theoretical motivation. However, using the interaction of births and deaths in place of squared terms more directly reflects our theoretical priors and performs more consistently in the empirical analysis.

6.

Deconstructing the metric into its high human capital component versus the actual creative arts component as in Bunten et al. (2015), allows us to both use the insights of Florida yet also assess the fundamental critique of McGranahan and Wojan (2007) and others that the broader measure simply captures specialization in high human capital occupations rather than any effect of "creativity."

7.

Please see "Appendix" for details on definitions and methodology.

8.

The measures of male and female entrepreneurship are likely to each require their own set of instruments, since the surge of women entrepreneurs in recent decades represents a different trend than the long-standing presence of male business owners (Conroy and Weiler 2016). Women likely faced unique barriers to entry based on historical gender roles including a male-dominated business network. The evolution of women's role in the labor force during the last 60 years, alongside a much larger sociocultural shift in women's rights, roles, and opportunities, clearly created the preconditions for women's advancement as business owners. While the cultural shift conceivably lowered barriers to female entrepreneurship, it is likely unrelated to future employment growth—thus suggesting a potentially valuable category of instrumental variables (IV).

The twin developments of women's role in the labor force alongside broader sociocultural shifts indeed prove to be fertile ground for the needed IVs. Growth in female labor force participation (1950–1970) and the divorce rate (1980) show themselves to be particularly good instruments for women's entrepreneurial activity in our model of employment growth (Haines 2010). Increases in female labor force participation may signal growing opportunities in more stable wage and salary positions and also as business owners. Since most entrepreneurial financing is derived through family networks, a higher divorce rate may cut off critical credit, especially during an era when men controlled most assets and women had remarkably little recourse to formal credit channels.

In the final statistical models, we combine the growth in female labor force participation and divorce rate with the proprietor's share of employment in 1979 and the share of employment in small businesses in 1974 for the IV mix. In both cases, the first stage tests of weak identification suggest that our instruments are strong across the establishment birth rate, death rate, and their interaction.
References
Acs ZJ, Armington C (2006) Entrepreneurship, geography, and American economic growth. Cambridge University Press, New York

Akerlof G (1970) The market for "lemons": quality and uncertainty and the market mechanism. Q J Econ 84(3):488–500

Akerlof GA, Kranton RE (2000) Economics and identity. Q J Econ 115(August):715–753. https://doi.org/10.1162/003355300554881

Alon T, Berger D, Dent R, Pugsley B (2018) Older and slower: the startup deficit's lasting effects on aggregate productivity growth. J Monet Econ 93:68–85

Andersson M, Noseleit F (2011) Start-ups and employment dynamics within and across sectors. Small Bus Econ 36(4):461–483. https://doi.org/10.1007/s11187-009-9252-0

Baptista R, Escária V, Madruga P (2008) Entrepreneurship, regional development and job creation: the case of Portugal. Small Bus Econ 30(1):49–58. https://doi.org/10.1007/s11187-007-9055-0

Beeson PE, DeJong DN, Troesken W (2001) Population growth in U.S. counties, 1840–1990. Reg Sci Urban Econ 31(6):669–699

Bunten D, Weiler S, Thompson EC, Zahran S (2015) Entrepreneurship, information, and growth. J Reg Sci 00:1–25

Burt RS (2000) The network entrepreneur. In: Swedberg R (ed) Entrepreneurship: the social science view. Oxford University Press, Oxford, pp 281–307

Conroy T, Weiler S (2015) Where are the women entrepreneurs? Business ownership growth by gender across the American urban landscape. Econ Inq 53(4):1872–1892. https://doi.org/10.1111/ecin.12224

Conroy T, Weiler S (2016) Does gender matter for job creation? Business ownership and employment growth. Small Bus Econ 47(2):397–419

Deller SC, Tsai T-HS, Marcouiller DW, English DBK (2001) The role of amenities and quality of life in rural economic growth. Am J Agric Econ 83(2):352–365. https://doi.org/10.1111/0002-9092.00161

Elfring T, Hulsink W (2003) Networks in entrepreneurship: the case of high-technology firms. Small Bus Econ 21:409–422

Florida R (2002) The rise of the creative class. Wash Mon 34(5):15–25

Fritsch M, Mueller P (2004) Effects of new business formation on regional development over time. Reg Stud 38(8):961–975. https://doi.org/10.1080/0034340042000280965

Granovetter M (2005) The impact of social structure on economic outcomes. J Econ Perspect 19(1):33–50

Greenwald BE, Weiss JES, Weiss A (1984) Informational imperfections in the capital market and macroeconomic fluctuations. Am Econ Rev 74(2):194–199

Haines MR (2010) Historical, demographic, economic, and social data: the United States, 1790–2002. Inter-university Consortium for Political and Social Research, Ann Arbor (ICPSR02896-v3)

Haltiwanger J, Jarmin RS, Miranda J (2013) Who creates jobs? Small versus large versus young. Rev Econ Stat 15(2):347–361

Henderson J, Weiler S (2009) Entrepreneurs and job growth: probing the boundaries of time and space. Econ Dev Q 24(1):23–32. https://doi.org/10.1177/0891242409350917

Huang TL, Orazem PF, Wohlgemuth D (2002) Rural population growth, 1950–1990: the roles of human capital, industry structure, and government policy. Am J Agric Econ 84:615–627

Leyden DP, Link AN, Siegel DS (2014) A theoretical analysis of the role of social networks in entrepreneurship. Res Policy 43(7):1157–1163. https://doi.org/10.1016/j.respol.2014.04.010

Low S, Weiler S (2012) Employment risk, returns, and entrepreneurship. Econ Dev Q 26(3):238–251

McGranahan D, Wojan T (2007) Recasting the creative class to examine growth processes in rural and urban counties. Reg Stud 41(2):197–216. https://doi.org/10.1080/00343400600928285

McManus MJ (2017) Women's business ownership: data from the 2012 survey of business owners. U.S. Small Business Administration. Issue Brief (13):1–17

McPherson JM, Smith-Lovin L (1982) Women and weak ties: differences by sex in the size of voluntary organizations A. Am J Sociol 87(4):883–904

McPherson M, Smith-Lovin L, Cook JM (2001) Birds of a feather: homophily in social networks. Ann Rev Sociol 27:415–444. https://doi.org/10.1109/cfis.2015.7391644

Partridge MD, Rickman DS, Ali K, Olfert MR (2009) Do new economic geography agglomeration shadows underlie current population dynamics across the urban hierarchy? Pap Reg Sci 88(2):445–466. https://doi.org/10.1111/j.1435-5957.2008.00211.x

Rappaport J (2007) Moving to nice weather. Reg Sci Urban Econ 37:375–398

Roback J (1982) Wages, rents, and the quality of life. J Polit Econ 90(6):1257–1278

Roper S, Love JH, Bonner K (2017) Firms' knowledge search and local knowledge externalities in innovation performance. Res Policy 46(1):43–56. https://doi.org/10.1016/j.respol.2016.10.004

Sander W (1992) The effect of women's schooling on fertility. Econ Lett 40(1992):229–233

Saxenian A (1994) Regional Advantage: culture and competition in Silicon Valley and Route 128. Harvard University Press, Cambridge

Stephens HM, Partridge MD (2011) Do entrepreneurs enhance economic growth in lagging regions? Growth Change 42(4):431–465

Stephens HM, Partridge MD, Faggian A (2013) Innovation, entrepreneurship and economic growth in lagging regions. J Reg Sci 53(5):778–812. https://doi.org/10.1111/jors.12019

Stiglitz JE, Weiss A (1981) Credit rationing in markets with imperfect information. Am Econ Rev 71(3):393–410

Stiglitz JE, Weiss A (1983) Incentive effects of terminations: applications to the credit and labor markets. Am Econ Rev 73(5):912–927

Thompson EC, Hammond GW, Weiler S (2006) Amenities, local conditions, and fiscal determinants of factor growth in rural America (The Federal Reserve Bank of Kansas City working paper RWP-06-08). http://www.ssrn.com/abstract=912797. Accessed 17 May 2013

Uzzi B (1997) Social structure and competition in interfirm networks: the paradox of embeddedness. Adm Sci Q 42:35–67

Van Praag CM, Versloot PH (2007) What is the value of entrepreneurship? A review of recent research. Small Bus Econ 29(4):351–382. https://doi.org/10.1007/s11187-007-9074-x

Weiler S (2000) Pioneers and settlers in Lo-Do Denver: private risk and public benefits in urban redevelopment. Urban Stud 37(1):167–179. https://doi.org/10.1080/0042098002348

Weiler S (2006) A park by any other name: National Park designation as a natural experiment in signaling. J Urban Econ 60(1):96–106

Weiler S, Bernasek A (2001) Dodging the glass ceiling? Networks and the new wave of women entrepreneurs. Soc Sci J 38:85–103

Weiler S, Hoag D, Fan C-M (2006) Prospecting for economic returns to research: adding informational value at the market fringe. J Reg Sci 46(2):289–311. https://doi.org/10.1111/j.0022-4146.2006.00442.x
Additional information
Publisher's Note
Springer Nature remains neutral with regard to jurisdictional claims in published maps and institutional affiliations.
About this article
Cite this article
Conroy, T., Weiler, S. Local and social: entrepreneurs, information network effects, and economic growth. Ann Reg Sci 62, 681–713 (2019). https://doi.org/10.1007/s00168-019-00915-0
Received:

Accepted:

Published:

Issue Date:
JEL Classification