Abstract
Convenient and local access to open green space is highly valued in many communities, particularly those comprised largely of individuals who participate in natural resource outdoor recreation. Understanding the value outdoor recreation communities place on access to open space is critical for informing policy decisions on land use including zoning and other restrictions, government open space purchases, and open space access points such as trailheads. In this article, we analyze the impact of trail access on property values in Ogden, Utah, using spatial hedonic pricing models. We consistently find substantial premiums for properties located closer to trailheads. Using a spatial Durbin error model, we find a 0.6% direct effect premium for each minute closer in driving time to the nearest trailhead, and a 1.4% premium when accounting for the total impact. We also find direct premiums between 0.4 and 1.9% for each minute closer in driving time to individual trailheads in this region. Additionally, homes adjacent to trailheads do not experience negative spillovers that homeowners may experience from increased traffic and congestion.
Access options
Buy single article
Instant access to the full article PDF.
US$ 39.95
Tax calculation will be finalised during checkout.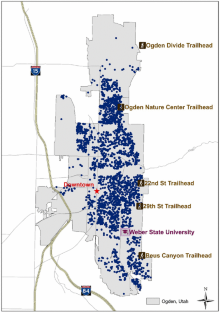 Notes
1.

In addition to spatial fixed effects (Abbott and Klaiber 2010) and spatial parametric models (Anselin 1988), there are a wide variety of other techniques used to correct for spatial data issues, including geographically weighted regression (McMillen 2010), mixed geographically weighted regression (Helbich et al. 2013), generalized additive models (Hastie and Tibshirani 1990), and semi-parametric models (McMillen 2003). An overview and application of spatial econometric techniques as it applies to hedonic price models for a housing sample in Norway is presented by Osland (2010).

2.

The results in this paper are best interpreted as capitalization measures. Stronger assumptions are needed to extrapolate our findings of a capitalization effect into willingness-to-pay (WTP) since household sorting behavior may cause there to be a correlation between latent household characteristics and trail accessibility (Kuminoff and Pope 2014). For example, if a new trailhead were introduced, the adjustment to the hedonic function would cause households' WTP to not equal the capitalization effect (Kuminoff and Pope 2014). We thank an anonymous reviewer for drawing our attention to this dynamic.

3.

Combining the valuation of these trailheads also makes intuitive sense due to the overlap in the trails for which they provide access.
References
Abbott JK, Klaiber HA (2010) An embarrassment of riches: confronting omitted variable bias and multiscale capitalization in hedonic price models. Rev Econ Stat 93(4):1331–1342

Anselin L (1988) Spatial econometrics: methods and models. Kluwer Academic, Dordrecht

Anselin L, Arribas-Bel D (2013) Spatial fixed effects and spatial dependence in a single cross-section. Pap Reg Sci 92(1):3–17

Asabere PK, Huffman FE (2009) The relative impacts of trails and greenways on home price. J Real Estate Financ Econ 38:408–419

Baranzini A, Schaerer C (2011) A sight for sore eyes: assesing the value of view and land use in the housing market. J Hous Econ 20(3):191–199

Bell KP, Bockstael NE (2000) Applying the generalized-moments estimation approach to spatial problems involving microlevel data. Rev Econ Stat 82(1):72–82

Benson ED, Hansen JL, Schwartz AL Jr, Smersh GT (1998) Pricing residential amenities: the value of a view. J Real Estate Financ Econ 16(1):55–73

Bockstael NE (1996) Modeling economics and ecology: the importance of a spatial perspective. Am J Agric Econ 78(5):1168–1180

Bourassa SC, Hoesli M, Sun J (2004) What's in a view. Environ Plan A 36(8):1427–1450

Carruthers JI, Vias AC (2005) Urban, suburban, and exurban sprawl in the Rocky Mountain West: evidence from regional adjustment models. J Reg Sci 45(1):21–48

Corrado L, Fingleton B (2012) Where is the economics in spatial econometrics? J Reg Sci 52(2):210–239

Cotteleer G, van Kooten G (2012) Expert opinion versus actual transaction evidence in the valuation of non-market amenities. Econ Model 29(1):32–40

Cropper ML, Deck LB, McConnell KE (1988) On the choice of functional form for hedonic price functions. Rev Econ Stat 70(4):668–675

Dubin RA (1988) Estimation of regression coefficients in the presence of spatially autocorrelated error terms. Rev Econ Stat 70(3):466–474

Eichman H, Hunt GL, Kerkvliet J, Plantinga AJ (2010) Local employment growth, migration, and public land policy: evidence from the northwest forest plan. J Agric Resour Econ 35(2):316–333

Garrod GD, Willis KG (1992) Valuing goods' characteristics: an application of the hedonic price method to environmental attributes. J Environ Manag 34(1):59–76

Geoghegan J (2002) The value of open spaces in residential land use. Land Use Policy 19(1):91–98

Geoghegan J, Wainger LA, Bockstael NE (1997) Spatial landscape indices in a hedonic framework: an ecological economics analysis using GIS. Ecol Econ 23(3):251–264

Gibbons S (2015) Gone with the wind: valuing the visual impacts of wind turbines through house prices. J Environ Econ Manag 72:177–196

Gibbons S, Overman HG (2012) Mostly pointless spatial econometrics? J Reg Sci 52(2):172–191

Gibbons S, Mourato S, Resende GM (2014) The amenity value of English nature: a hedonic price approach. Environ Resour Econ 57(2):175–196

Harrison D, Rubinfeld DL (1978) Hedonic housing prices and the demand for clean air. J Environ Econ Manag 5(1):81–102

Hastie TJ, Tibshirani RJ (1990) Generalized additive models. Chapman and Hall, London

Helbich M, Brunauer W, Vaz E, Nijkamp P (2013) Spatial heterogeneity in hedonic house price models: the case of Austria. Tinbergen Institute discussion paper, pp 171-VIII

Herath S, Choumert J, Maier G (2015) The value of the greenbelt in Vienna: a spatial hedonic analysis. Ann Reg Sci 54:349–374

Hjerpe E, Kim Y-S, Dunn L (2016) Forest density preferences of homebuyers in the wildland–urban interface. For Policy Econ 70:56–66

Irwin EG (2002) The effects of open space on residential property values. Land Econ 78(4):465–480

Izon GM, Hand MS, McCollum DW, Thacher JA, Berrens RP (2016) Proximity to natural amenities: a seemingly unrelated hedonic regression model with spatial Durbin and spatial error processes. Growth Change 47(4):461–480

Kim C, Phipps TT, Anselin L (2003) Measuring the benefits of air quality improvement: a spatial hedonic approach. J Environ Econ Manag 45(1):24–39

Kuminoff NV, Pope JC (2014) Do capitalization effects for public goods reveal the public's willingness to pay? Int Econ Rev 55(4):1227–1250

Kuminoff NV, Parmeter CF, Pope JC (2010) Which hedonic models can we trust to recover the marginal willingness to pay for environmental amenities. J Environ Econ Manag 60:145–160

Lancaster K (1966) A new approach to consumer theory. J Polit Econ 74(2):132–157

Lesage JP (2014) What regional scientists need to know about spatial econometrics. Rev Reg Stud 44(1):13–32

LeSage JP, Pace RK (2014) The biggest myth in spatial econometrics. Econometrics 2:217–249

McConnell V, Walls M (2005) The value of open space: evidence from studies of nonmarket benefits. Resources for the Future, Washington, DC

McMillen DP (2003) Spatial autocorrelation or model misspecification? Int Landsc Urban Plan 109:56–66

McMillen DP (2010) Issues in spatial data analysis. J Reg Sci 50(1):119–141

McMillen DP, Redfearn CL (2010) Estimation and hypothesis testing for nonparametric hedonic house price functions. J Reg Sci 50(3):712–733

Melichar J, Kaprova K (2013) Revealing preferences of Prague's homebuyers toward greenery amenities: the empirical evidence of distance-size effect. Landsc Urban Plan 109:56–66

Nelson JP (1978) Residential choice, hedonic prices, and the demand for urban air quality. J Urban Econ 5(3):357–369

Neumann BC, Boyle KJ, Kathleen BP (2009) Property price effects of a national wildlife refuge: Great Meadows National Wildlife Refuge in Massachusetts. Land Use Policy 26(4):1011–1019

Nicholls S, Crompton JL (2005) The impact of greenways on property values: evidence from Austin, Texas. J Leis Res 37(3):321–341

Osland L (2010) An application of spatial econometrics in relation to hedonic house price modeling. J Real Estate Res 32(3):289–320

Palmquist RB (1984) Estimating the demand for characteristics of housing. Rev Econ Stat 66(3):394–404

Parent O, vom Hofe R (2013) Understanding the impact of trails on residential property values in the presence of spatial dependence. Ann Reg Sci 51:355–375

Parmeter CF, Henderson DJ, Kumbhakar SC (2007) Nonparametric estimation of a hedonic price function. J Appl Econom 22(3):695–699

Rosen S (1974) Hedonic prices and implicit markets: product differentiation in pure competition. J Polit Econ 82(1):34–55

Sander HA, Polasky S (2009) The value of views and open space: estimates from a hedonic pricing model. Land Use Policy 26(1):837–845

Sander HA, Polasky S, Haight RG (2010) The value of urban tree cover: a hedonic property price model in Ramsey and Dakota Counties Minnesota, USA. Ecol Econ 69:1646–1656

Schlapfer F, Waltert F, Segura L, Kienast F (2015) Valuation of landscape amenities: a hedonic pricing analysis of housing rents in urban, suburban, and periurban Switzerland. Landsc Urban Plan 141:24–40

Stakhovych S, Bijmolt T (2009) Specification of spatial models: a simulation study on weights matrices. Pap Reg Sci 88(2):349–408

Tyrvainen L, Miettinen A (2000) Property prices and urban forest amenities. J Environ Econ Manag 39(2):205–233

Vega SH, Elhorst JP (2015) The SLX model. J Reg Sci 55(3):339–363

Wu J, Mishra S (2008) Natural amenities, human capital, and economic growth. In: Wu J, Barkley PW, Weber BA (eds) Frontiers in resource and rural economics: human–nature, rural–urban interdependencies. Resources for the Future, Washington, DC

Yoo J, Simonit S, Connors JP, Kinzig AP, Perrings C (2014) The valuation of off-site ecosystem service flows: deforestation, erosion and the amenity value of lakes in Prescott, Arizona. Ecol Econ 97:74–83
Appendix
Appendix
About this article
Cite this article
Gnagey, M., Grijalva, T. The impact of trails on property values: a spatial analysis. Ann Reg Sci 60, 73–97 (2018). https://doi.org/10.1007/s00168-017-0846-1
Received:

Accepted:

Published:

Issue Date:
JEL Classification