Abstract
Urban agglomeration has attracted attentions of urban planners, economists, and policymakers. For the sake of urban agglomeration simulation, this paper attempts to develop a computable urban economic (CUE) model incorporated with economies of scale, through the approach of new economic geography. It is assumed that each firm produces a product variant in a monopolistic competition market, and the number of firms is explicit and determined endogenously. The Dixit–Stiglitz type utility function with product variety is adopted into the households' behavior to reflect consumers' preference for variety. On the other hand, internal increasing returns to scale and fixed cost are introduced in firms' behavior to extend the model with economies of scale. The model's parameter estimations and calibration are conducted on the basis of empirical data from several approved sources for Changzhou in 2008. Numerical computations are implemented by employing the extended CUE model incorporated with economies of scale to explain and examine how the urban agglomeration comes into being. Simulation results show that the extended model incorporated with economies of scale is able to commendably represent the urban agglomeration mechanism, providing a promising simulation tool for urban planning and policymaking.
Access options
Buy single article
Instant access to the full article PDF.
US$ 39.95
Tax calculation will be finalised during checkout.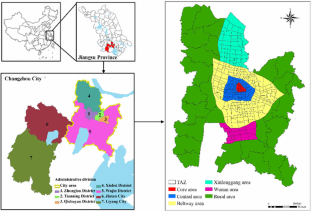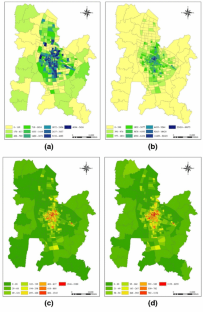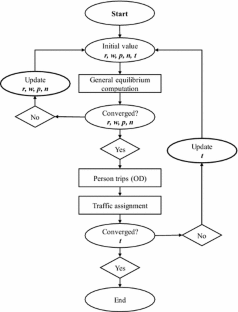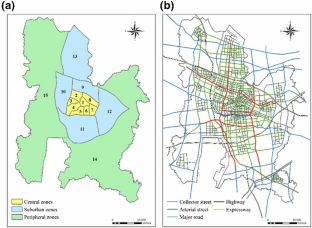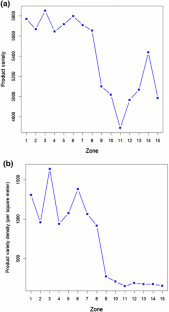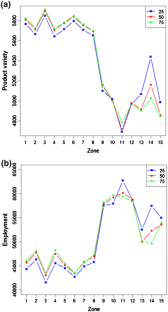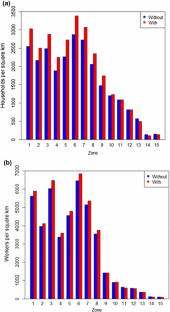 References
Abdel-Rahman HM (1988) Product differentiation, monopolistic competition and city size. Reg Sci Urban Econ 18:69–86

Anas A, Kim I (1996) General equilibrium models of polycentric urban land use with endogenous congestion and job agglomeration. J Urban Econ 40:232–256

Anas A, Liu Y (2007) A regional economy, land use, and transportation model (RELU-TRAN): formulation, algorithm design, and testing. J Reg Sci 47:415–455

Anas A, Xu R (1999) Congestion, land use, and job dispersion: a general equilibrium model. J Urban Econ 45:451–473

Changzhou Bureau of Land and Resources (CBLR) (2008) Changzhou Benchmark Land Price. Changzhou, China

Changzhou Planning Bureau (CPB) (2008) Changzhou Person Trip Survey. Changzhou, China

Changzhou Statistical Bureau (CSB) (2009) Changzhou StatisticalYearbook. Changzhou, China

Dixit AK, Stiglitz JE (1977) Monopolistic competition and optimum product diversity. Am Econ Rev 67:297–308

Fujita M (1988) A monopolistic competition model of spatial agglomeration. Reg Sci Urban Econ 18:87–124

Glazer A, Gradstein M, Ranjan P (2003) Consumption variety and urban agglomeration. Reg Sci Urban Econ 33:653–661

Krugman PR (1991) Increasing returns and economic geography. J Polit Econ 99:483–499

Lowry IS (1964) A model of metropolis. RM-4035-RC. Rand Corporation, Santa Monica, CA

Quigley JM (1998) Urban diversity and economic growth. J Econ Perspect 12:127–138

Tabuchi T (1998) Urban agglomeration and dispersion: a synthesis of Alonso and Krugman. J Urban Econ 44:333–351

Takagi A, Muto S, Ueda T (1999) The benefit evaluation of urban transportation improvements with computable urban economic model. In: 99th Shanghai international symposium on urban transportation proceedings, 18–20 Nov 1999. Tongji University Press, Shanghai

Ueda T, Hiratani K, Tsutsumi M (1993) Land use model based on the general equilibrium of land and building markets. In: Proceedings of international conference on land problem and urban policy, 19–22 Aug 1993, Kyoto, Japan

Ueda T, Tsutsumi M, Muto S, Yamasaki K (2013) Unified computable urban economic model. Ann Reg Sci 50:341–362

United Nations (2014) World urbanization prospects. Technical report, UN, New York

Yamasaki K, Ueda T, Muto S (2007) The evaluation of the tokyo-metropolitan area policy by computable urban economic model (CUE). In: Selected proceedings of the 11th world conference on transport research (CD-ROM, No. 734), 24–28 June 2007. University of California, Berkeley

Zhang R, Matsushima K, Kobayashi K (2016) Land use, transport, and carbon emission: a computable urban economic model for Changzhou, China. Rev Urban Reg Dev Stud 28:162–181
About this article
Cite this article
Zhang, R., Matsushima, K. & Kobayashi, K. Computable urban economic model incorporated with economies of scale for urban agglomeration simulation. Ann Reg Sci 59, 231–254 (2017). https://doi.org/10.1007/s00168-017-0829-2
Received:

Accepted:

Published:

Issue Date:
JEL Classification