Abstract
Starting in 2007–2008, an economic crisis with no comparable precedent after WWII has affected most of the World, and Europe in particular. Yet, despite the pervasiveness of the crisis, its impact was highly differentiated across countries. The macroeconomic country-level effects are very important, but also within countries the impact on the various regions has been far from uniform, with some regions, often the most urban, able to resist the crisis better than others. Among the many factors which can have influenced the differential impact of the crisis in Europe, this paper looks at the regional endowment of structural territorial assets, those which have been labelled as "territorial capital". Territorial capital comprehends all those assets, being material or immaterial, public or private, which represent the development potential of places. Territorial capital enhances regional growth in ordinary times, and, being structural, can be expected to also act as a factor of resilience in times of crisis. To investigate this hypothesis, a database of territorial capital indicators for all regions of the European Union at NUTS3 level is exploited, and a classification of regions based on the endowment of territorial capital is built. It appears that regions belonging to different groups, i.e. being differently endowed with territorial capital, have had different degrees of resilience, with some being able to maintain their income levels better than their country and others losing ground. The structure of regions is hence an important determinant of how they can afford periods of distress, and in particular, more resilient have been those regions endowed with less mobile territorial capital assets and with those territorial capital assets of mixed levels of materiality and rivalry.
This is a preview of subscription content, log in to check access.
Access options
Buy single article
Instant access to the full article PDF.
US$ 39.95
Price includes VAT for USA
Subscribe to journal
Immediate online access to all issues from 2019. Subscription will auto renew annually.
US$ 99
This is the net price. Taxes to be calculated in checkout.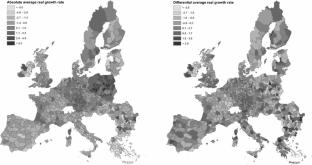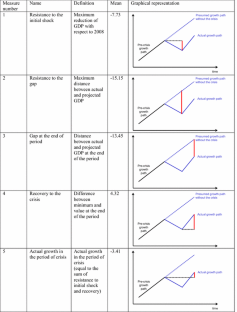 Notes
1.

For a review of the papers analysing the association between territorial capital and regional development, see Tóth (2015).

2.

This is valid for all countries except Germany. In the latter case most of the data are not available at this level of territorial disaggregation. For this reason, in the case of Germany we consider data at the NUTS2 level, because the average size of German NUTS3 regions is smaller than the area of NUTS3 regions in another EU countries. Other scholars have made the same choice in previous works on EU NUTS3 regions (e.g. Paci 1997).

3.

Seven components of territorial capital out of nine have been empirically measured. Relational capital and cooperation networks are missing, since a satisfactory empirical measure is not available for all regions of Europe. Summary statistics of all empirical measurements are presented in Appendix A of Electronic Supplementary Material.

4.

The clustering analysis was carried through model-based clustering and, more specifically, the (R Development Core Team 2008) library mclust (Fraley and Raftery 1999), in order to test several parameterizations with a variety of distributions (spherical, diagonal and ellipsoidal) and variable shape and volume. The drawback of the most popular clustering techniques is that they are not able to identify clusters with varying shape and volume, as in the case of k-means clustering, which leads to the identification of spherical clusters of identical volume and shape. Model-based clustering selects the "best" model by fitting models with differing parameterizations and/or numbers of components to the data by maximum likelihood and then applying the Bayesian Information Criterion for model selection. This approach selected diagonal clusters with varying volume and shape.
References
Barro RJ (1991) Economic growth in a cross-section of countries. Quart J Econ 106(2):407–443

Boschma R (2015) Towards an evolutionary perspective on regional resilience. Reg Stud 49(5):733–751

Brakman S, Garretsen H, van Marrewijk C (2015) Regional resilience across Europe: on urbanisation and the initial impact of the Great Recession. Camb J Reg Econ Soc. doi:10.1093/cjres/rsv005

Camagni R (2009) Territorial capital and regional development. In: Capello R, Nijkamp P (eds) Handbook of regional growth and development theories. Edward Elgar Publishing, Cheltenham, pp 118–132

Camagni R (2017) Territorial capital, competitiveness and regional development. In: Huggins R, Thompson P (eds) Handbook of regions and competitiveness. Edward Elgar Publishing, Cheltenham

Capello R, Lenzi C (2015) Relevance and utility of European Union research, technological development and innovation policies for a smart growth. Gov Policy Environ Plan C. doi:10.1177/0263774X15614655

Capello R, Caragliu A, Fratesi U (2015) Spatial heterogeneity in the costs of the economic crisis in Europe: are cities sources of regional resilience? J Econ Geogr 15(5):951–972

Cellini R, Torrisi G (2014) Regional Resilience in Italy: A very long-run analysis. Reg Stud 48(11):1779–1796. doi:10.1080/00343404.2013.861058

Cellini R, Di Caro P, Torrisi G (2017) Regional resilience in Italy: do employment and income tell the same story? In: Huggins R, Thompson P (eds) Handbook of regions and competitiveness. Edward Elgar Publishing, Cheltenham

Di Caro P (2015) Recessions, recoveries and regional resilience: evidence on Italy. Camb J Reg Econ Soc 8(2):273–291

ESPON (2014) Territorial observation No. 12 September 2014, European Union, The Luxembourg. ISBN 978-2-919777-82-2

Eugenio-Martin JL, Campos-Soria JA (2014) Economic crisis and tourism expenditure cutback decision. Annal Tour Res 44:53–73

Fingleton B, Garretsen H, Martin R (2012) Recessionary shocks and regional employment: evidence on the resilience of UK regions. J Reg Sci 52(1):109–133

Fingleton B, Garretsen H, Martin R (2015) Shocking aspects of monetary union: the vulnerability of regions in Euroland. J Econ Geogr 15(5):907–934

Fraley G, Raftery AE (1999) MCLUST: software for model-based cluster analysis. J Classif 16:296–306

Fratesi U, Perucca G (2014) Territorial capital and the effectiveness of cohesion policies: an assessment for CEE regions. Investig Reg J Reg Res 29:165–191

Fratesi U, Perucca G (2016) EU regional development policy and territorial capital: a systemic approach, mimeo. Politecnico di Milano, Milan

Fratesi U, Rodríguez-Pose A (2016) The crisis and regional employment in Europe: what role for sheltered economies? Camb J Reg Econ Soc 9(1):33–57

Giannakis E, Bruggeman A (2015) Economic crisis and regional resilience: evidence from Greece. Paper Reg Sci. doi:10.1111/pirs.12206

Groot SPT, Möhlmann JL, Garretsen JH, De Groot HLF (2011) The crisis sensitivity of European countries and regions: stylized facts and spatial heterogeneity. Camb J Reg Econ Soc 4(3):437–456

Hassink R (2010) Regional resilience? A promising concept to explain differences in regional economic adaptability? Camb J Reg Econ Soc 3(1):45–58

Holm JR, Østergaard CR, Drahokoupil J (2015) Regional employment growth, shocks and regional industrial resilience: a quantitative analysis of the Danish ICT sector. Reg Stud 49(1):95–112

Lee N (2014) Grim down South? The determinants of unemployment increases in British Cities in the 2008–2009 recession. Reg Stud 48(11):1761–1778

Lee JW, Brahmasrene T (2013) Investigating the influence of tourism on economic growth and carbon emissions: evidence from panel analysis of the European Union. Tour Manag 38:69–76

Martin R (2012) Regional economic resilience, hysteresis and recessionary shocks. J Econ Geogr 12(1):1–32

Martin R, Sunley P (2015) On the notion of regional economic resilience: conceptualization and explanation. J Econ Geogr 15:1–42

Martin R, Sunley P, Gardiner B, Tyler P (2016) How regions react to recessions: resilience and the role of economic structure. Reg Stud 50(4):561–585

Miles S, Paddison R (2005) Introduction: the rise and rise of culture-led urban regeneration. Urban Stud 42(5–6):833–839

Molyneux M (2002) Gender and the silences of social capital: lessons from Latin America. Dev Change 33(2):167–188

Ollivaud P, Turner D (2015) The effect of the global financial crisis on OECD potential output. OECD J Econ Stud 2014:41–60

Östh J, Reggiani A, Galiazzo G (2015) Spatial economic resilience and accessibility: a joint perspective. Comput Environ Urban Syst 49:148–159

Paci R (1997) More similar and less equal: economic growth in the European regions. Weltwirtschaftliches Arch 133(4):609–634

Palaskas T, Psycharis Y, Rovolis A, Stoforos C (2015) The asymmetrical impact of the economic crisis on unemployment and welfare in Greek urban economies. J Econ Geogr 15(5):973–1007

Perucca G (2014) The role of territorial capital in local economic growth: evidence from Italy. Eur Plan Stud 22(3):537–562

R Development Core Team (2008) R: a language and environment for statistical computing. R Foundation for Statistical Computing, Vienna. ISBN 3-900051-07-0, available at: www.r-project.org/. Accessed 14 Sep 2016

Rodrìguez-Pose A, Fratesi U (2007) Regional business cycles and the emergence of sheltered economies in the southern periphery of Europe. Growth Chang 38–4:621–648

Sánchez-Zamora P, Gallardo-Cobos R, Ceña-Delgado F (2014) Rural areas face the economic crisis: analyzing the determinants of successful territorial dynamics. J Rural Stud 35:11–25

Sensier M, Bristow G, Healy A, Kiel C (2016) Measuring regional economic resilience across Europe: operationalizing a complex concept. Spat Econ Anal 1772:1–24

Servillo L, Atkinson R, Russo AP (2012) Territorial attractiveness in EU urban and spatial policy: a critical review and future research agenda. Euro Urban Reg Stud 19(4):349–365

Tóth BI (2015) Territorial capital: theory, empirics and critical remarks. Eur Plan Stud 23(7):1327–1344

Townsend A, Champion T (2014) The impact of recession on city regions: the British experience, 2008–2013. Local Econ 29(1–2):38–51
Electronic supplementary material
Below is the link to the electronic supplementary material.
About this article
Cite this article
Fratesi, U., Perucca, G. Territorial capital and the resilience of European regions. Ann Reg Sci 60, 241–264 (2018). https://doi.org/10.1007/s00168-017-0828-3
Received:

Accepted:

Published:

Issue Date:
JEL Classification