Abstract
Studies of the effects of specific policy measures for innovation have focused mainly on actions based on direct R&D support. However, the innovation studies literature sees innovation as an interactive process, emphasising the role of knowledge exchange for successful innovation. Furthermore, it is increasingly accepted that co-location is not sufficient for knowledge exchange to occur. Consequently, there is also a need to assess the effectiveness of policy measures to promote knowledge exchange between co-located actors. The objective of this paper is to narrow this gap by exploring the outcome of an indirect policy in stimulating coordination and networking. The paper analyses policies for increased networking in a mechatronics district located in the peripheral and less innovative region Apulia (Southern Italy). The success of the coordination and networking action is examined by adopting a longitudinal approach. In order to assess the association of the policy with the overall network structure, social network analysis is used to analyse the data. We compare characteristics of the network in the early and later phase of the district across five dimensions of knowledge exchange, identifying a large increase in the use of partnerships as the main effect of the policy.
Access options
Buy single article
Instant access to the full article PDF.
USD 39.95
Price excludes VAT (USA)
Tax calculation will be finalised during checkout.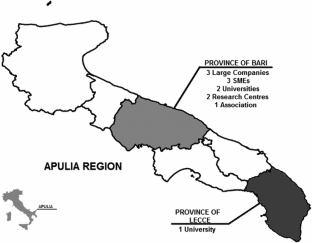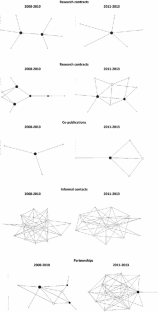 Notes
A counterfactual analysis carried out by a group of researchers led by de Blasio and Lotti (2008) have called into question the effectiveness of public intervention—and, specifically, industrial policy—in Italy. Despite this, since the early nineties, the Italian government and regional committees promulgated various laws and policy measures aiming to support industrial districts. Several national laws, decrees and resolutions were issued by the national government between 1991 (Law 317/1991) and 2009 (Law 5/2009) with the aim to support industrial districts. These laws have progressively shifted from a territorial to a functional rationale looking at the importance of external resources, cooperation and networking for firms making up the Italian industrial districts. In this framework, the regional legislation has primarily followed the evolution of the national laws. Several interventions, policy measures and public funding opportunities were launched in the local industrial districts with the aim to support investments in machinery, internationalisation, business services, innovation, etc. Among others, regions such as Friuli Venezia Giulia and Apulia have implemented the so-called "Programme Contract", i.e. contracts stipulated between the state administration and large companies, SME consortia or administrators of the districts with the objective to build new industrial plants, create new jobs, and foster production, services and research. Moreover, various laws promoted actions aiming to guarantee financial benefits and co-fund regional projects at the district level (Financial Laws 2006 and 2007), boost production and employment (Decree Law 5/2009), and introduce new rules to regulate actions such as Gurantee Fund, Corporate Finance Fund, Credit Guarantee Consortia (Decree Law 5/2009) and Network Contracts (Decree Law 179/2012). For a detailed overview of the legislation and policy measures carried out at the national and regional levels, see Osservatorio Nazionale dei Distretti (2014).

In this paper, with the term "indirect" we refer to a policy measure aiming to foster networking and knowledge exchange among the cluster's firms without providing them with direct financial support to R&D activities (i.e. direct action; Nishimura and Okamuro 2011).

The difference between "frequency" of contracts without research content (number of contracts) and "intensity" of research contracts (value of contracts) is determined by the nature of the activities regulated by these two types of contractual agreements. Our assumption, based on the results of a previous study (Calignano and Quarta 2014), is that the importance of knowledge exchange based on research contracts is determined by the value of the research contracts through the laws of supply and demand. Moreover, from a relational viewpoint, our assumption is that bigger research projects and related contractual agreements normally involve a higher number of face-to-face meetings, phone calls, email exchanges, joint tests, etc. As consequence of these contacts, knowledge exchange is likely more intense. On the other hand, the number of recurring contracts allows researchers to determine the frequency of knowledge exchange: this aspect is particularly relevant with respect to contracts without research content due to more cyclical and standardised operations.

As explained above, several types of relationships—related to social proximity (see, among others, Boschma 2005)—potentially fostering informal contacts were mentioned during the interviews (i.e. friendship, kinship, previous common work or research experiences). However, the respondents were not asked to specify on what type of relationship such informal contacts are actually established.

Weak, moderate and strong classes related to ties' strength were defined a priori and tested during the preliminary interviews carried out with the members of the MEDIS. The only exception is represented by research contracts. In this case, the various classes were based on a previous study of university-linkages in the same geographical context, which revealed that larger contracts (those worth more than 100,000 euros) contain a higher degree of knowledge exchange since they require more know-how and larger technological and infrastructural capabilities (Calignano and Quarta 2014; see also Footnote 3). Weak and moderate research contract intensity were determined accordingly.

The density scores for informal contacts (in both periods) and partnerships (in the second period) imply that 1 out of every 2 potential ties is realised. This very high level of density is partly a function of the small size of the network (i.e. only 14 nodes).

Simple matching coefficient is the ratio between matching attributes (or relationships, in our case study) and total number of attributes.
References
A'Hearn B, Venables AJ (2011) Internal geography and external trades: regional disparities in Italy, 1861–2011. Quaderni di Storia Economica, 12. Banca d'Italia. Roma. https://www.bancaditalia.it/pubblicazioni/quaderni-storia/20110012/Quaderno_storia_economica_n_12.pdf. Accessed 14 March 2016

Ahuja G (2000) Collaboration networks, structural holes, and innovation: a longitudinal study. Adm Sci Q 45:425–455. doi:10.2307/2667105

Alberti FG, Pizzurno E (2015) Knowledge exchanges in innovation networks: evidences from an Italian aerospace cluster. Compet Rev 25(3):258–287. doi:10.1108/CR-01-2015-0004

Asheim BT, Coenen L (2005) Knowledge bases and regional innovation systems: comparing Nordic clusters. Res Policy 34:1173–1190. doi:10.1016/j.respol.2005.03.013

Arti Puglia (2007) Il Distretto Pugliese della Meccatronica MEDIS. http://www.distrettomedis.it/attachments/article/154/giugno%202007_Quaderno%20ARTI_MEDIS.pdf. Accessed 10 Nov 2016

Autant-Bernard C, Billand P, Frachisse D, Massard M (2007) Social distance versus spatial distance in R&D cooperation: empirical evidence from European collaboration choices in micro and nanotechnologies. Pap Reg Sci 86(3):495–519. doi:10.1111/j.1435-5957.2007.00132.x

Balland PA, Belso-Martinez JA, Morrison A (2016) The dynamics of technical and business knowledge networks in industrial clusters: embeddedness, status or proximity? Econ Geogr 92(1):35–60

Bathelt H, Malmberg A, Maskell P (2004) Clusters and knowledge: local buzz, global pipelines and the process of knowledge creation. Prog Hum Geogr 28:31–56. doi:10.1191/0309132504ph469oa

Becattini G (1990) The Marshallian industrial district as a socio-economic notion. In: Pyke F, Becattini G, Sengenberger W (eds) Industrial districts and inter-firm cooperation in Italy. International Institute for Labour Studies, Geneva, pp 37–51

Berney L, Blane DB (1997) Collecting retrospective data: accuracy of recall after 50 years judged against historical records. Soc Sci Med 45:1519–1525. doi:10.1016/S0277-9536(97)00088-9

Berney L, Blane D (2003) The lifegrid method of collecting retrospective information from people at older ages. Res Policy Plan 21(2):13–22

Bertamino F, Bronzini R, De Maggio M, Revelli D (2014) Local policies for innovation: the case of technology districts in Italy, Banca d'Italia, https://www.bancaditalia.it/pubblicazioni/qef/2016-0313/index.html?com.dotmarketing.htmlpage.language=1. Accessed 14 March 2016

Bjerke L, Johansson S (2015) Patterns of innovation and collaboration in small and large firms. Ann Reg Sci 55(1):221–247

Bonaccorsi A, Giuri P (2003) The dynamics of vertically-related industries. Innovation, entry and concentration. In: Metcalfe S, Cantner U (eds) Change, transformation and development. Springer, Berlin, pp 255–289

Boneu F, Castillo V, Giuliodori D, Maffioli A, Rodríguez A, Rojo S, Stucchi R (2016) Impact of support to the information and communication technology cluster in Córdoba, Argentina. In: Maffioli A, Pietrobelli C, Stucchi R (eds) The impact evaluation of cluster development programs. Methods and practices. Inter-American Development Bank, Washington DC, pp 151–166

Borgatti SP, Everett MG, Freeman LC (2002) Ucinet for Windows: software for social network analysis. Analytic Technologies, Harvard

Bosch Press Release (2014) Bosch Group receives EFQM Excellence Award 2014. Bari location named this year's overall winner. http://www.bosch-presse.de/pressportal/en/bosch-group-receives-efqm-excellence-award-2014-42778.html. Accessed 10 Nov 2016

Boschma R (2005) Proximity and innovation: a critical assessment. Reg Stud 39(1):61–74. doi:10.1080/0034340052000320887

Boschma R, Ter Wal ALJ (2007) Knowledge networks and innovative performance in an industrial district: the case of a footwear district in the South of Italy. Ind Innov 14:177–199. doi:10.1080/13662710701253441

Branstetter L, Sakakibara M (1998) Japanese research consortia: a microeconometric analysis of industrial policy. J Ind Econ 46:207–233. doi:10.1111/1467-6451.00069

Breschi S, Lissoni F (2001) Localized knowledge spillovers vs. innovative milieux: knowledge tacitness reconsidered. Pap Reg Sci 80:255–273. doi:10.1111/j.1435-5597.2001.tb01799.x

Calero C, Van Leeuwen TN, Tijssen RWJ (2007) Research cooperation within the bio-pharmaceutical industry: network analyses of co-publications within and between firms. Scientometrics 71(1):87–99. doi:10.1007/s11192-007-1650-y

Calignano G (2014) Italian organisations within the European nanotechnology network: presence, dynamics and effects. Erde 145(4):241–259. doi:10.12854/erde-145-21

Calignano G, Quarta CA (2014) University of Salento's transactional relations: assessing the knowledge transfer of a public university in Italy. Erdkunde 68(2):109–213. doi:10.3112/erdkunde.2014.02.03

Calignano G, Quarta CA (2015) The persistence of regional disparities in Italy through the lens of the European Union nanotechnology network. Reg Stud Reg Sci 2(1):470–479. doi:10.1080/21681376.2015.1075898

Caloghirou Y, Tsakanikas A, Vonortas NS (2001) University- industry cooperation in the context of the European framework programmes. J Technol Transf 26(1–2):153–161. doi:10.1023/A:1013025615518

Calvert J, Patel P (2003) University–industry research collaboration in the UK: bibliometric trends. Sci Public Policy 30(2):85–96. doi:10.3152/147154303781780597

Carlsson B (2013) Knowledge flows in high-tech industry clusters: dissemination mechanism and innovation regimes. In: Pyka A, Andersen ES (eds) Long term economic development. Demand, finance, organization, policy and innovation in a schumpeterian perspective. Springer, Berlin, pp 191–221

Casaburi G, Maffioli A, Pietrobelli C (2014) More than the Sum of its Parts: Cluster-Based Policies. In: Crespi G, Fernández-Arias E, Stein E (eds) Rethinking productive development: sound policies and institutions for economic transformation. Palgrave Macmillan, New York, pp 202–232

Cassi L, Morrison A, Rabellotti R (2011) The changing geography of science in wine: evidence from emerging countries. In: Giuliani E, Morrison A, Rabellotti R (eds) Innovation and technological catch-up. The changing geography of wine production. Edward Elgar, Cheltenham

Cersosimo D, Viesti G (eds) (2012) Il Mezzogiorno tecnologico. Una ricognizione in sei distretti produttivi. http://cerpem.it/admin/img/articoli/Cerpem%202012_Mezzogiorno%20Hi-Tech.pdf. Accessed 14 March 2016

Colombo MG, Croce A, Guerini M (2013) The effect of public subsidies on firms' investment-cash flow sensitivity: ephemeral or persistent? Res Policy 42(9):1605–1623. doi:10.1016/j.respol.2013.07.003

Corriere della Sera (2013) Il successo dell'innovazione Made in Puglia a Report. http://www.corriere.it/inchieste/reportime/societa/successo-innovazione-made-puglia/721e4fc8-5847-11e3-8914-a908d6ffa3b0.shtml. Accessed 10 Nov 2010

Cowan R, Jonard N (2004) Network structure and the diffusion of knowledge. J Econ Dyn Control 28(8):1557–1575. doi:10.1016/j.jedc.2003.04.002

Czarnitzki D, Ebersberger B (2010) Do direct R&D subsidies lead to the monopolization of R&D in the economy?. ZEW Discussion Paper No. 10–78. https://lirias.kuleuven.be/bitstream/123456789/281796/1/MSI_1012.pdf. Accessed 14 March 2016

Dahl M, Pedersen C (2004) Knowledge flows through contact in industrial clusters: myth or reality? Res Policy 33(10):1673–1683. doi:10.1016/j.respol.2004.10.004

de Blasio G, Lotti F (2008) La valutazione degli aiuti alle imprese. Il Mulino, Bologna

Edler J, Cunningham P, Gök A, Shapira P (eds) (2016) Handbook of innovation policy impact. Edward Elgar, London

European Commission (2009) Preparing for our future: developing a common strategy for key enabling technologies in the EU. COM (2009), 512 Final, Brussels. http://eur-lex.europa.eu/legal-content/EN/TXT/PDF/?uri=CELEX:52009DC0512andfrom=EN. Accessed 14 March 2016

European Commission (2013) European competitiveness report. Towards knowledge-driven reindustialisation. Publications Office of the European Union, Luxembourg. http://www.qren.pt/np4/np4/?newsId=3752andfileName=eu_2013_eur_comp_rep_en.pdf. Accessed 14 March 2016

Figal Garone L, Maffioli A, De Negri JA, Rodriguez CM, Vázquez B (2014) Cluster development policy, SME's performance and spillovers: evidence from Brazil. Small Bus Econ 44:925–948. doi:10.1007/s11187-014-9620-2

Fitjar RD, Rodríguez-Pose A (2011) When local interaction does not suffice: sources of firm innovation in urban Norway. Environ Plan A 43:1248–1267. doi:10.1068/a43516

Fitjar RD, Rodríguez-Pose A (2016) Nothing is in the air. Growth Chang. doi:10.1111/grow.12161

Frenken K, Hardeman S, Hoekman J (2009) Spatial scientometrics: towards a cumulative research program. J Informetr 3(3):222–232. doi:10.1016/j.joi.2009.03.005

Frenken K, Ponds R, van Oort F (2010) The citation impact of research collaboration in science-based industries: a spatial-institutional analysis. Pap Reg Sci 89:351–371. 10.1111/j.1435-5957.2010.00309.x

Fritsch M, Kauffeld-Monz M (2010) The impact of network structure on knowledge transfer: an application of social network analysis in the context of regional innovation networks. Ann Reg Sci 44(1):21–38. doi:10.1007/s00168-008-0245-8

Fujita M (2007) The development of regional integration in East Asia: from the viewpoint of spatial economics. Rev Urban Reg Dev Stud 19:2–20. doi:10.1111/j.1467-940X.2007.00126.x

Giuliani E, Bell M (2005) The micro-determinants of learning and innovation: evidence from a Chilean wine cluster. Res Policy 34(1):47–68. doi:10.1016/j.respol.2004.10.008

Giuliani E (2007) The selective nature of knowledge networks in clusters: evidence from the wine industry. J Econ Geogr 7:139–168. doi:10.1093/jeg/lbl014

Giuliani E (2013) Network dynamics in regional clusters: evidence from Chile. Res Policy 42(8):1406–1419

Giuliani E, Pietrobelli C (2011) Social network analysis methodologies for the evaluation of cluster development programs. IDB Publications 53978 Inter-American Development Bank. https://publications.iadb.org/handle/11319/5342?locale-attribute=en. Accessed 14 March 2016

Giuliani E, Pietrobelli C (2016) Social network analysis to evaluate cluster development programs. In: Maffioli A, Pietrobelli C, Stucchi R (eds) The impact evaluation of cluster development programs. Methods and practices. Inter-American Development Bank, Washington, pp 37–58

Giuliani E, Matta E, Pietrobelli C (2016) Networks, cluster development programs, and performance: the electronics cluster in Córdoba, Argentina. In: Giuliani E, Pietrobelli C (eds) The impact evaluation of cluster development programs. Methods and practices. Inter-American Development Bank, Washington, pp 117–150

Hanneman RA, Riddle M (2005) Introduction to social network methods. University of California, Riverside. http://faculty.ucr.edu/~hanneman/. Accessed 14 March 2016

Hanssens H, Derudder B, Van Aelst S, Witlox F (2013) Assessing the functional polycentricity of the mega-city region of Central Belgium. Reg Stud 47:1939–1953. doi:10.1080/00343404.2012.759650

Hassink R, Klaerding C (2009) Relational and evolutionary economic geography: competing or complementary paradigms? Papers in Evolutionary Economic Geography, No. 09.11, Urban and Regional Research Centre, Utrecht University: Utrecht. http://econ.geo.uu.nl/peeg/peeg1202.pdf. Accessed 10 Nov 2014

Il Sole 24 Ore (2015) German company Getrag invests €100 million to expand its plant in? Bari. http://www.italy24.ilsole24ore.com/print/ABInUbsD/0. Accessed 10 Nov 2016

Il Sole 24 Ore (2016) Meccatronica di respiro internazionale. http://nova.ilsole24ore.com/esperienze/meccatronica-di-respiro-internazionale/. Accessed 10 Nov 2014

Intesa San Paolo (2015) Comunicato Stampa: Pubblicato il Monitor Sui Distretti Industriali nel terzo trimestre del 2015. http://www.group.intesasanpaolo.com/scriptIsir0/si09/contentData/view/content-ref?id=CNT-05-0000000354E6C. Accessed 10 Nov 2016

Kang KN, Park H (2012) Influence of government R&D support and inter-firm collaborations on innovation in Korean biotechnology SMEs. Technovation 32:68–78. doi:10.1016/j.technovation.2011.08.004

Katz SJ, Martin BR (1997) What is research collaboration? Res Policy 26(1):1–18. doi:10.1016/S0048-7333(96)00917-1

Knoke D, Yang S (2008) Social network analysis. Sage Publications, Thousand Oaks

Kühne B, Lefebvre V, Cochez C, Gellynck X (2013) The importance of networks for knowledge exchange and innovation in the food industry. In: Garcia Martinez M (ed) Open innovation in the food and beverage industry. Woodhead Publishing, Cambridge, pp 189–211

La Repubblica (2013) Ho creato il common rail per non finire in tuta blu. http://ricerca.repubblica.it/repubblica/archivio/repubblica/2013/04/13/ho-creato-il-common-rail-per-non.html. Accessed 10 Nov 2016

Lagendijk A, Lorentzen A (2007) Proximity, knowledge and innovation in peripheral regions. On the intersection between geographical and organisational proximity. Eur Plan Stud 15(4):457–466. doi:10.1080/09654310601133260

Laursen K, Meliciani D (2010) The role of ICT knowledge flows for international market share dynamics. Res Policy 39:687–697. doi:10.1016/j.respol.2010.02.007

Levin DZ, Cross R (2004) The strength of weak ties you can trust: the mediating role of trust in effective knowledge transfer. Manag Sci 50(11):1477–1490. doi:10.1287/mnsc.1030.0136

Lissoni F (2001) Knowledge codification and the geography of innovation: the case of Brescia mechanical cluster. Res Policy 30:1479–1500

Lundberg J, Tomson G, Lundkvist I, Skår J, Brommerls M (2006) Collaboration uncovered: exploring the adequacy of measuring university–industry collaboration through co-authorship and funding. Scientometrics 69(3):575–589. doi:10.1007/s11192-006-0170-5

Lundvall BÅ, Johnson B, Andersen ES, Dalum B (2002) National systems of production, innovation and competence building. Res Policy 31:213–231. doi:10.1016/S0048-7333(01)00137-8

Maffioli A, Pietrobelli C, Stucchi R (eds) (2016) The evaluation of cluster development programs: methods and practice. Inter-American Development Bank, New York

Maggioni M, Uberti T (2011) Networks and geography in the economics of knowledge flows. Qual Quant 45(5):1031–1051. doi:10.1007/s11135-011-9488-z

Maggioni M, Uberti T, Nosvelli M (2014) Does intentional mean hierarchical? Knowledge flows and innovative performance of European regions. Ann Reg Sci 53:453–485. doi:10.1007/s00168-014-0618-0

Malmberg A, Solvell O, Zander I (1996) Spatial clustering, local accumulation of knowledge and firm competitiveness. Geogr Ann B 78:85–97

Marshall A (1920) Principles of economics. MacMillan, London

Morrison A (2008) Gatekeepers of knowledge within industrial districts: who they are, how they interact. Reg Stud 42(6):817–835. doi:10.1080/00343400701654178

Morrison A, Rabellotti R (2009) Knowledge and information networks in an Italian wine cluster. Eur Plan Stud 17(7):983–1006. doi:10.1080/09654310902949265

Morrison A, Rabellotti R, Zirulia L (2013) When do global pipelines enhance the diffusion of knowledge in clusters? Econ Geogr 89(1):77–96. doi:10.1111/j.1944-8287.2012.01167.x

Medis (2014) Mission. http://www.distrettomedis.it/en/mission. Accessed 10 Nov 2014

Newman M (2010) Networks: an introduction. Oxford University Press, New York

Nishimura N, Okamuro H (2011) Subsidy and networking: the effects of direct and indirect support programs of the cluster policy. Res Policy 40:714–727. doi:10.1016/j.respol.2011.01.011

Nokkala T (2007) Network building, motivation and learning in inter-organisational R&D collaboration projects. Theoretical considerations. – NEMO Working Paper 4. http://epubs.surrey.ac.uk/1571/1/fulltext.pdf. Accessed 10 Nov 2016

Norbaonline (2016) Inaugurato nuovo centro ricerche alla Bosch di Modugno. http://www.norbaonline.it/online/d.asp?i=4330&/Inaugurato%20nuovo%20centro%20ricerche%20alla%20Bosch%20di%20Modugno#sthash.RI9ThOXT.dpuf. Accessed 10 Nov 2014

Osservatorio Nazionale dei Distretti (2014) Idee, esperienze e progetti per rafforzare o ricostruire la competitività dei territori. www.unioncamere.gov.it/download/3721.html. Accessed 10 Nov 2016

Peters HE (1988) Retrospective versus panel data in analyzing lifecycle events. J Hum Resour 23(4):488–513. doi:10.2307/145810

Philippen S, van der Knaap (2007) When clusters become networks. A study into the causes of strategic collaboration amongst geographically clustered organizations. Tinbergen Institute Discussion Paper, TI 2007-100/3. http://www2.druid.dk/conferences/viewpaper.php?id=2075andcf=28. Accessed 14 March 2016

Piore MJ, Sabel CF (1984) The second industrial divide: possibilities for prosperity. Basic Books, New York

Prota L (2012) Il sistema aerospaziale pugliese. In: Cersosimo D and Viesti G (eds.), Il Mezzogiorno tecnologico. Una ricognizione in sei distretti produttivi. http://cerpem.it/admin/img/articoli/Cerpem%202012_Mezzogiorno%20Hi-Tech.pdf. Accessed 14 March 2016

Roediger-Schluga T, Barber MJ (2008) R&D collaboration networks in the European Framework Programmes: data processing, network construction and selected results. Foresight Innov Policy. doi:10.1504/IJFIP.2008.017583

Saxenian A (1994) Regional advantage. Harvard University Press, Cambridge

Schmiedeberg C (2010) Evaluation of cluster policy: a methodological overview. Evaluation 16(4):389–412. doi:10.1177/1356389010381184

Scott AJ (1993) Technopolis: high-technology industry and regional development in Southern California. University of California Press, Berkeley

Scott J (1991) Social network analysis. A handbook. Sage Publication, London

Scott J, Carrington PJ (2011) The SAGE handbook of social network analysis. Sage Publication, Thousand Oaks

Smith D, Griffin M, O'Neil P, Rees J, Skingle M, Stewart W, Yarrow D (2003) Strategic review of LINK collaborative research. Report of the independent review panel

Storper M (1995) Regional technology coalitions: an essential dimension of national technology policy. Res Policy 24:895–911. doi:10.1016/0048-7333(94)00810-8

Stork D, Richards WD (1992) Nonrespondents in communication network studies: problems and possibilities. Group Organ Manag 17:192–209. doi:10.1177/1059601192172006

SQW Ltd (2002) Evaluation of the teaching company scheme. Report to small business service. DTI evaluation report series No 7

Svimez (2015) Rapporto Svimez 2015 sull'economia del Mezzogiorno. Il Mulino, Bologna

Ter Wal ALJ, Boschma R (2009) Applying social network analysis in economic geography: framing some key analytic issues. Ann Reg Sci 43(3):739–756. doi:10.1007/s00168-008-0258-3

Trigilia C (2008) La costruzione sociale dell'innovazione. Firenze University Press, Firenze

Trippl M, Tödtling F, Lengauer L (2009) Knowledge sourcing beyond buzz and pipelines: evidence from the Vienna software sector. Econ Geogr 85:443–462. doi:10.1111/j.1944-8287.2009.01047.x

Uyarra E, Ramlogan R (2012) The effects of cluster policy on innovation. Nesta Working Paper No. 12/05. https://www.nesta.org.uk/sites/default/files/the_effects_of_cluster_policy_on_innovation.pdf. Accessed 14 March 2016

Uyarra E, Sörvik J, Midtkandal I (2014) Inter-regional collaboration in research and innovation strategies for smart specialisation (RIS3). JCR Technical Reports. S3 Working Paper Series No. 06/2014. http://publications.jrc.ec.europa.eu/repository/handle/JRC91963. Accessed 14 March 2016. doi:10.2791/13682

Uzzi B (1997) Social structure and competition in interfirm networks: the paradox of embeddedness. Adm Sci Q 42:35–67. doi:10.2307/2393808

Wanzenböck I, Scherngell T, Brenner T (2014) Embeddedness of regions in European knowledge networks: a comparative analysis of inter-regional R&D collaborations, co-patents and co-publications. Ann Reg Sci 53:337–368. doi:10.1007/s00168-013-0588-7

Wasserman S, Faust K (1994) Social network analysis: methods and application. Cambridge University Press, Cambridge

Weterings A, Ponds R (2009) Do regional and non-regional knowledge flows differ? An empirical study on clustered firms in the Dutch life sciences and computing services industry. Ind Inn 16(1):11–31. doi:10.1080/13662710902728035

Wong KP, Singh A (2013) Do co-publications with industry lead to higher levels of university technology commercialization activity? Scientometrics 97:245–265. doi:10.1007/s11192-013-1029-1

Yokura Y, Matsubara H, Sternberg R (2013) R&D networks and regional innovation: a social network analysis of joint research projects in Japan. Area 45:493–503. doi:10.1111/area.12055
Acknowledgements
The authors thank Elisa Giuliani and Pierre-Alexandre Balland for their insightful comments on an earlier version of this paper. Thanks to Patrizia Scarcella for suggesting relevant literature on the use of retrospective data. The authors are grateful to the editor, Martin Andersson, and two anonymous reviewers for their helpful comments and suggestions.
About this article
Cite this article
Calignano, G., Fitjar, R.D. Strengthening relationships in clusters: How effective is an indirect policy measure carried out in a peripheral technology district?. Ann Reg Sci 59, 139–169 (2017). https://doi.org/10.1007/s00168-017-0821-x
Received:

Accepted:

Published:

Issue Date:

DOI: https://doi.org/10.1007/s00168-017-0821-x
JEL Classification