Abstract
The school-to-work transition comprises a critical period of human capital development for young people. As school-to-work pathways become increasingly diverse and complex, there is growing evidence that transitions during this period significantly influence individual career trajectories and long-term earning capacities. For non-metropolitan youth, this period of the life course often involves migration to urban centres in the search for better educational and employment opportunities. Drawing on longitudinal data, this paper examines the influence of migration and school-to-work pathways on entry-level wages for non-metropolitan youth in Australia. Our results highlight that migration from non-metropolitan communities to urban centres leads to higher entry-level wages, but these wage gains are not immediate, rather they are realised at a period 3 years post-migration. Individuals remaining in non-metropolitan communities were found to experience pathways that lead to lower wage returns. Furthermore, unobserved attributes, such as motivation and aspirations, were found to be a major factor explaining the higher wage returns achieved by non-metropolitan migrants. Findings have important consequences for policy in their potential to contribute to new evidenced-based policy designed to entice the return of young people to non-metropolitan communities and ameliorate the long-standing net loss of young population from regional areas.
Access options
Buy single article
Instant access to the full article PDF.
US$ 39.95
Tax calculation will be finalised during checkout.
Subscribe to journal
Immediate online access to all issues from 2019. Subscription will auto renew annually.
US$ 79
Tax calculation will be finalised during checkout.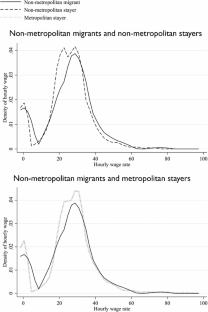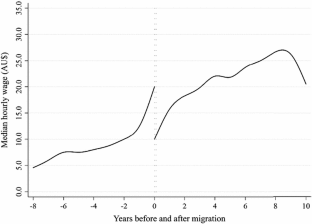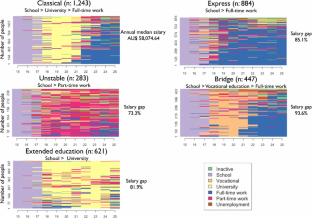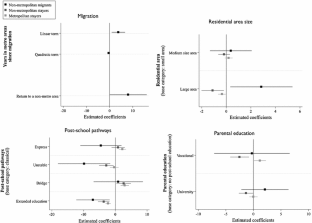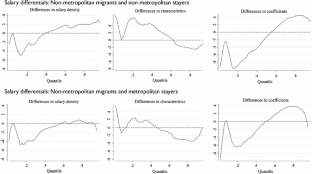 Notes
1.

The sequence analysis was performed by using the R software Package TraMineR developed by Gabadino et al. (2011).

2.

Medoids are representative objects of a data set whose average dissimilarity to all the objects in a cluster is minimal.

3.

4.

It is important to note that our data comprise nominal wages. This wage growth may thus reflect differences in living costs between metropolitan and non-metropolitan areas, rather than a real increase in wages. Lack of spatial data on living cost covering the Australian territory prevents exploring changes in real wages. However, a 2006 study by Australia's Bureau of Infrastructure, Transport and Regional Economics (BITRE 2008a, b) indicate that while major cities tend to have higher living costs than regional cities and towns, living costs are much higher in remote areas and coastal towns. Although these spatial relativities may have changed, the evidence suggests that the rise in median wage experienced by non-metropolitan migrants cannot be entirely explained by living cost differentials. This is particularly for those moving from non-metropolitan areas such as Broome, Moyne and Nhulunbuy, which display living costs of up to 30 % higher than major cities (BITRE 2008a, b).

5.

Coefficients for the employment occupation of parents produced similar results, but they were excluded because of collinearity with parental education variables.

6.

The industry in which individuals work may consider to be an endogenous choice as salary expectations may influence the decision to work in a particular industry. However, endogeneity does not seem to be a concern in our analysis. We perform regressions robust to endogeneity by using 2012 industry sector data (i.e. the preceding year to which wages are measured). They show little changes in relation to those reported in Appendix Table 5.
References
Abbott A, Forrest J (1986) Optimal matching methods for historical sequences. J Interdiscip Hist 16(3):471–494

ABS Australian Bureau of Statistics (2014) Employee earnings and hours, Australia (6306.0), ABS, Canberra, Australia

Argent N, Walmsley J (2008) Rural youth migration trends in Australia: an overview of recent trends and two Inland Case Studies. Geogr Res 46(2):139–152

Artz G (2003) Rural area brain drain: is it a reality? Choices 4th Quarter:11–15

Bartel A (1979) The migration decision: what role does job mobility play? Am Econ Rev 69(5):775–786

Baxter J (2002) How much parental education explain educational attainment of males and females in Australia. In: Negotiating the life course discussion paper series. Discussion Paper DP-015, pp 1–35

Bell D, Blanchflower D (2011) Young people and the Great Recession. Oxf Rev Econ Policy 27(2):241–267

Bell M, Hugo G (2000) Internal migration in Australia 1991–1996: overview and the overseas-born. Department of Immigration and Multicultural Affairs, Commonwealth of Australia, Canberra

BITRE See: Bureau of Infrastructure, Transport and Regional Economics, (2008a) 'Spatial price database' (unpublished data)

BITRE See: Bureau of Infrastructure Transport and Regional Economics, (2008b) About Australia's Regions. Department of Infrastructure, Transport, Regional Development and Local Government, Canberra, Australia

Blinder A (1973) Wage discrimination: reduced form and structural variables. J Hum Resour 8(4):436–455

Brzinsky-Fay C (2007) Lost in transition? Labour market entry sequences of School Leavers in Europe. Eur Sociol Rev 23(4):409–422

Brzinsky-Fay C (2014) The Measurement of school-to-work transitions as processes. Eur Soc 16(2):213–232

Buck N (2000) Using panel surveys to study migration and residential mobility. In: Rose D (ed) Researching social and economic change: the uses of household panel studies. Routledge, London, pp 250–272

Chernozhukov V, Fernández-Val I, Melly B (2013) Inference on counterfactual distributions. Econometrica 81(6):2205–2268

Corcoran J, Faggian A, McCann P (2010) Human capital in remote and rural Australia: the role of graduate migration. Growth Change 41(2):192–220

Corrales-Herrero H, Rodríguez-Prado B (2012) Characterizing Spanish labour pathways of young people with vocational lower-secondary education. Appl Econ 44(29):3777–3792

Currie J, Moretti E (2003) Mother's education and the intergenerational transmission of human capital: evidence from college openings. Q J Econ 118(4):1495–1532

Cushing B, Poot J (2004) Crossing boundaries and borders: regional science advances in migration modelling. Papers Reg Sci 83(1):317–338

D'Costa S, Overman H (2014) The urban wage growth premium: sorting or learning? Reg Sci Urban Econ 48:168–169

De la Roca J, Puga D (2013) Learning by working in big cities. CEMFI working paper No. 1301, pp 1–30

Efron B, Tibshirani R (1993) An introduction to the bootstrap. Chapman & Hall, New York

Gabadino A, Ritschard G, Muller N, Studer M (2011) Analyzing and visualising state sequence in R with TraMineR. J Stat Softw 40(4):1–37

GCA See: Graduate Careers Australia (2014) Graduate salaries 2013: a report on the earnings of new Australian graduates in their first full-time employment. GCA, Melbourne, Australia

Glaeser E (1999) Learning in cities. J Urban Econ 46(2):254–277

Glaeser E, Maré D (2001) Cities and skills. J. Labour Econ 19(2):316–342

Gottlieb P (2011) Introduction to EDQ special issue on "Brain Drain". Econ Dev Q 25(4):299–302

Greenwood M, Hunt G (2003) The early history of migration research revisited. Int Reg Sc Rev 26(1):3–37

Hunt J, Kau J (1985) Migration and wage growth: a human capital approach. South Econ J 51(3):697–710

Iannelli C, Smyth E (2008) Mapping gender and social background differences in education and youth transitions across Europe. J Youth Stud 11(2):213–232

Jaeger D, Dohmen T, Falk A, Huffman D, Sunde U, Bonin H (2010) Direct evidence on risk attitudes and migration. Rev Econ Stat 92(3):684–689

Karmel T, Liu S (2011) Which paths work for which young people?. National Council for Vocational Education Reseach (NCVER), Adelaide

Kaufman L, Rousseeuw P (2005) Finding groups in data: an introduction to cluster analysis. Wiley, Hoboken

Knapp T, White N, Wolaver A (2013) The returns to migration: the influence of education and migration type. Growth change 44(4):589–607

Lamb S (2001) The pathways from school to further study and work for Australian graduates. Research Report No. 19. Longitudinal Surveys of Australian Youth, Australian Council for Educational Research, pp 1–40

Le A, Miller P (2002) Educational attainment in Australia: a cohort analysis. Australian Council for Educational Research, Camberwell

Lesnard L (2010) Cost setting in optimal matching to uncover contemporaneous socio-temporal patterns. Sociol Methods Res 38:389–419

Lim P (2011) Weighting the LSAY Porgramme of international assessment cohorts. Technical Report, vol 61, National Centre for Vocational Educational Research (NCVER), Adelaide, South Australia, Australia

Liu Y, Shen J, Xu W, Wang G (2016) From school to university to work: migration of highly educated youths in China. Annals Reg Sci. doi:10.1007/s00168-016-0753-x

Machado J, Mata J (2005) Counterfactual decomposition of changes in wage distributions using quantile regression. J Appl Econom 20:445–465

McVicar D, Anyadike-Danes M (2002) Predicting successful and unsuccessful transitions from school to work by using sequence methods. J Stat Soc A 165(Part 2):317–334

Melbourne Institute of Applied Economic and Social Research (MIAESR) (2012) HILDA survey: annual report 2011. The University of Melbourne, Melbourne

Mills B, Hazarika G (2001) The migration of young adults from non-metropolitan counties. Am J Agric Econ 83(2):329–340

Neumark D (1988) Employers' discriminatory behavior and the estimation of wage discrimination. J Hum Resour 23(3):279–295

Newbold B (2012) Migration and regional science: opportunities and challenges in a changing environment. Ann Reg Sci 48(2):451–468

Oaxaca R (1973) Male-female wage differentials in urban labor markets. Int Econ Rev 14(3):693–709

Organisation for Economic Co-operation and Development (OECD) (2000) From initial education to working life making transitions work. OECD, Paris, France

Organisation for Economic Co-operation and Development (OECD) (2014) Education at a Glance 2014. OECD Indicators, OECD, Paris, France

Oreopoulos P, Page M, Stevens A (2006) The Intergenerational effects of compulsory schooling. J Labor Econ 24(4):729–760

Oreopoulos P, Salvanes K (2009) How large are returns to schooling? Hint: money isn't everything. In: National Bureau of Economic Research. Working Paper No. 15339

Oreopoulos P, Wachter T, Heisz A (2012) The short- and long-term career effects of graduating in a recession. Am Econ J Appl Econ 4(1):1–29

Pekkala S, Tervo H (2002) Unemployment and migration: does moving help? Scand J Econ 104(4):621–639

Peri G (2002) Young workers, learning and agglomerations. J Urban Econ 52(3):582–607

Raffe D (2011) Cross-national differences in education-work transitions. In: London M (ed) The Oxford handbook of lifelong learning. Oxford University Press, New York, pp 312–328

Rowe F (2013) The geography and determinants of regional human capital in eight Latin American and Caribbean countries. In: Cuadrado-Roura J, Aroca P (eds) Regional problems and policies in latin America. Springer, Berlin, pp 379–405

Rowe F, Corcoran J, Bell M (2014a) Determinants of post-school choices of young people: the workforce, university or vocational studies? In: Technical report 5 prepared for State Government of Victoria. School of Geography, Planning and Environmental Management. The University of Queensland, Queensland Centre for Population Research

Rowe F, Corcoran J, Bell M (2014b) Labour market outcomes and educational and occupational pathways of young movers starting off in regional Victoria. In: Technical report 4 prepared for State Government of Victoria. School of Geography, Planning and Environmental Management. The University of Queensland, Queensland Centre for Population Research

Rowe F, Corcoran J, Bell M (2014c) Labour market outcomes and main educational and occupational pathways of young Victorians. In: Research report prepared for the Department of Planning and Community Development. Spatial Analysis and Research Branch. The Victorian Government, Melbourne, Australia

Rowe F, Corcoran J, Bell M (2015) Internal migration and the transition to adulthood: a longitudinal approach. In: Working Paper 2015/01, Queensland Centre for Population Research, School of Geography, Planning and Environmental Management, The University of Queensland, Brisbane, Australia

Rowe F, Tang Z, Corcoran J (2015) Transfer of human capital flows to non-metropolitan economies: university graduates, skills and knowledge in Australia. In: Working Paper 2015/01, Queensland Centre for Population Research, School of Geography, Planning and Environmental Management, The University of Queensland, Brisbane, Australia, pp 1–19

Ryan P (2001) The school-to-work transition: a cross-national perspective. J Econ Lit 39(1):34–92

Shanahan M (2000) Pathways to adulthood in changing societies: variability and mechanisms in life course perspective. Annu Rev Sociol 26:667–692

Sweet R (2001) Meandeing, diversions and steadfast purpose: Australian youth pathways in a comparative perspective. In: Australian Council for Educational Research (ACER) Research Conference. Understanding youth pathways: what does the research tell us?, pp 48–64

Tang Z, Rowe F, Corcoran J, Sigler T (2014) Where are the overseas graduates staying on? Overseas graduate migration and rural attachment in Australia. Appl Geogr 53:66–76

Tang Z, Rowe F, Corcoran J, Sigler T (2016) Spatial mobility patterns of overseas graduates in Australia. In: Wilson T, Charles-Edwards E, Bell M (eds) Demography for planning and policy: Australian case studies. Springer, New York, pp 175–195

Ueffing P, Rowe F, Mulder C (2015) Differences in attitudes towards immigration between Australia and Germany: the role of immigration policy. Comp Popul Stud 40:437–464

United Nations(UN) (2009) Overcoming barriers: human mobility and development. United Nations Development Programme, New York, USA

Wheeler C (2006) Cities and the growth of wages among young workers: evidence from the NLSY. J Urban Econ 60(2):162–184

Winters J (2011) Human capital and population growth in nonmetropolitan U.S. counties: the importance of college student migration. Econ Dev Q 25(4):353–365

Wyn J, Lamb S (2006) Early school leaving in Australia: issues for education and training policy. J Educ Policy 11(2):259–268

Yankow J (2003) Migration, job change, and wage growth: a new perspective on the pecuniary return to geographic mobility. J Reg Sci 43(3):483–516

Yankow J (2006) Why do cities pay more? An empirical examination of some competing theories of the urban wage premium. J Urban Econ 60(2):139–161
Appendix
Appendix
See Table 5.
About this article
Cite this article
Rowe, F., Corcoran, J. & Bell, M. The returns to migration and human capital accumulation pathways: non-metropolitan youth in the school-to-work transition. Ann Reg Sci 59, 819–845 (2017). https://doi.org/10.1007/s00168-016-0771-8
Received:

Accepted:

Published:

Issue Date:
JEL Classification