Abstract
It is widely accepted that firms in peripheral regions benefit to a lesser extent from local knowledge spillovers than firms located in agglomerations or industrial clusters. This paper investigates the extent to which innovative firms in peripheral regions compensate for the lack of access to local knowledge spillovers by collaborating at other geographical scales. So far, the literature predominantly suggests that collaborations complement rather than compensate for local knowledge spillovers. Using data on the collaboration patterns of innovative firms in Sweden, this paper provides evidence that firms with low access to local knowledge spillovers tend to collaborate more. This effect, however, depends on firm size and in-house capabilities. Our findings suggest that firms with strong in-house capabilities do indeed compensate for a lack of local knowledge spillovers with collaborations while firms with weaker in-house capabilities depend more on the regional knowledge infrastructure.
Access options
Buy single article
Instant access to the full article PDF.
US$ 39.95
Tax calculation will be finalised during checkout.
Subscribe to journal
Immediate online access to all issues from 2019. Subscription will auto renew annually.
US$ 79
Tax calculation will be finalised during checkout.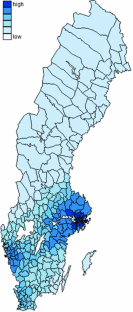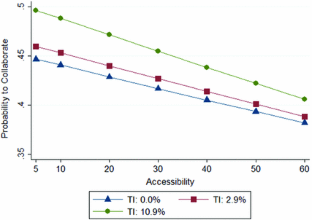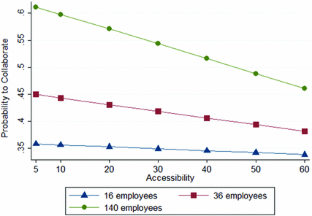 Notes
1.

The CIS formulates the following question: "During the three years 2006 to 2008, did your enterprise co-operate on any of your innovation activities with other enterprises or institutions? Innovation co-operation is active participation with other enterprises or non-commercial institutions on innovation activities. Both partners do not need to commercially benefit. Exclude pure contracting out of work with no active cooperation".

2.

Marketing, design and organisational innovations are covered in a different section in the CIS. The data on innovation collaborations only relate to product and process innovations.
References
Agrawal A, Cockburn I, McHale J (2006) Gone but not forgotten: knowledge flows, labor mobility, and enduring social relationships. J Econ Geogr 6:571–591. doi:10.1093/jeg/lbl016

Aldrich H, Auster ER (1986) Even dwarfs started small: liabilities of age and size and their strategic implications. In: Staw BM, Cummings LL (eds) Research in organizational behavior: an annual series of analytical essays and critical reviews, vol 8. JAI Press Inc., London, pp 165–198

Amin A, Cohendet P (2005) Geographies of knowledge formation in firms. Ind Innov 12:465–486

Andersson M, Ejermo O (2005) How does accessibility to knowledge sources affect the innovativeness of corporations? Evidence from Sweden. Ann Reg Sci 39:741–765. doi:10.1007/s00168-005-0025-7

Andersson M, Gråsjö U (2009) Spatial dependence and the representation of space in empirical models. Ann Reg Sci 43:159–180. doi:10.1007/s00168-008-0211-5

Andersson M, Karlsson C (2007) Knowledge in regional economic growth—the role of knowledge accessibility. Ind Innov 14:129–149. doi:10.1080/13662710701252450

Anselin L, Varga A, Acs Z (1997) Local geographic spillovers between university research and high technology innovations. J Urban Econ 42:422–448

Asheim BT, Boschma R, Cooke P (2011) Constructing regional advantage: platform policies based on related variety and differentiated knowledge bases. Reg Stud 45:893–904. doi:10.1080/00343404.2010.543126

Asheim BT, Coenen L (2006) Contextualising regional innovation systems in a globalising learning economy: on knowledge bases and institutional frameworks. J Technol Transf 31:163–173. doi:10.1007/s10961-005-5028-0

Audretsch DB, Feldman MP (1996) R&D spillovers and the geography of innovation and production. Am Econ Rev 86:630–640

Bachmann R, Inkpen AC (2011) Understanding institutional-based trust building processes in inter-organizational relationships. Organ Stud 32:281–301. doi:10.1177/0170840610397477

Bathelt H, Malmberg A, Maskell P (2004) Clusters and knowledge: local buzz, global pipelines and the process of knowledge creation. Prog Hum Geogr 28:31–56

Boschma R (2005) Proximity and innovation: a critical assessment. Reg Stud 39:61–75

Breschi S, Lissoni F (2001) Knowledge spillovers and local innovation systems: a critical survey. Ind Corp Change 10:975–1005

Breschi S, Lissoni F (2009) Mobility of skilled workers and co-invention networks: an anatomy of localized knowledge flows. J Econ Geogr 9:439–468. doi:10.1093/jeg/lbp008

Camagni R (1995) The concept of innovative milieu and its relevance for public policies in european lagging regions. Pap Reg Sci 74:317–340

Chaminade C (2011) Are knowledge bases enough? A comparative study of the geography of knowledge sources in China (Great Beijing) and India (Pune). Eur Plan Stud 19:1357–1373. doi:10.1080/09654313.2011.573171

Cohen WM, Levinthal DA (1990) Absorptive capacity: a new perspective on learning and innovation. Adm Sci Q 35:128–152

Cooke P (2002) Regional innovation systems: general findings and some new evidence from biotechnology clusters. J Technol Transf 27:133–145

Crevoisier O (2004) The innovative milieus approach: toward a territorialized understanding of the economy? Econ Geogr 80:367–379. doi:10.1111/j.1944-8287.2004.tb00243.x

Fitjar RD, Rodríguez-Pose A (2011) When local interaction does not suffice: sources of firm innovation in urban Norway. Environ Plan A 43:1248–1267

Freeman J, Carroll GR, Hannan MT (1983) The liability of newness: age dependence in organizational death rates. Am Sociol Rev 48:692–710

Gertler MS (2003) Tacit knowledge and the economic geography of context, or the undefinable tacitness of being (there). J Econ Geogr 3:75–99

Gertler MS (2004) Manufacturing culture: the institutional geography of industrial practice. Oxford geographical and environmental studies. Oxford University Press, Oxford

Gertler MS, Levitte YM (2005) Local nodes in global networks: the geography of knowledge flows in biotechnology innovation. Ind Innov 12:487–507

Granovetter M (1973) The streangth of weak ties. Am J Sociol 78:1360–1380

Granovetter M (2005) The impact of social structure on economic outcomes. J Econ Perspect 19:33–50. doi:10.2307/4134991

Grillitsch M, Tödtling F, Höglinger C (2013) Variety in knowledge sourcing, geography and innovation: evidence from the ICT sector in Austria. Pap Reg Sci. doi:10.1111/pirs.12050

Grillitsch M, Trippl M (2013) Combining knowledge from different sources, channels and geographical scales. Eur Plan Stud 1–21. doi:10.1080/09654313.2013.835793

Gulati R, Sytch M (2008) Does familiarity breed trust? Revisiting the antecedents of trust. Manag Decis Econ 29:165–165

Hansen WG (1959) How accessibility shapes land use. J Am Inst Plan 25:73–76. doi:10.1080/01944365908978307

Hugosson P (2001) Interregional business travel and the economics of business interaction. Ph.D. thesis, Jönköping International Business School, Jönköping

Isaksen A (2001) Building regional innovation systems: is endogenous industrial development possible in the global economy? Can J Reg Sci 1:101–120

Jaffe AB, Trajtenberg M, Henderson R (1993) Geographic localization of knowledge spillovers as evidenced by patent citations. Q J Econ 108:577–598. doi:10.2307/2118401

Johansson B, Quigley JM (2004) Agglomeration and networks in spatial economies. Pap Reg Sci 83:165–176. doi:10.1007/s10110-003-0181-z

Knoben J, Oerlemans LAG (2006) Proximity and inter-organizational collaboration: a literature review. Int J Manag Rev 8:71–89. doi:10.1111/j.1468-2370.2006.00121.x

Lagendijk A, Lorentzen A (2007) Proximity, knowledge and innovation in peripheral regions. On the intersection between geographical and organizational proximity. Eur Plan Stud 15:457–466. doi:10.1080/09654310601133260

Lam A (2000) Tacit knowledge, organizational learning and societal institutions: an integrated framework. Organ Stud 21:487–513

Maillat D (1998) Interactions between urban systems and localized productive systems: an approach to endogenous regional development in terms of innovative milieu. Eur Plan Stud 6:117–130

Malmberg A, Maskell P (1999) The Competitiveness of firms and regions: 'Ubiquitification' and the importance of localized learning. Eur Urban Reg Stud 6:9–25

Malmberg A, Maskell P (2006) Localized learning revisited. Growth Change 37:1–19

Marshall A (1920) Principles of economics: an introductory volume, 8th edn. Macmillan, London

Maskell P (2014) Accessing remote knowledge-the roles of trade fairs, pipelines, crowdsourcing and listening posts. J Econ Geogr. doi:10.1093/jeg/lbu002

Maskell P, Malmberg A (1999) Localised learning and industrial competitiveness. Camb J Econ 23:167–185

Massard N, Mehier C (2009) Proximity and innovation through an 'accessibility to knowledge' lens. Reg Stud 43:77–88. doi:10.1080/00343400701808881

Nilsson M, Mattes J (2013) Spatiality and trust: antecedents of trust and the role of face-to-face contacts. CIRCLE Electronic Working Paper Series 2013/16

Owen-Smith J, Powell WW (2004) Knowledge networks as channels and conduits: the effects of spillovers in the Boston biotechnology community. Organ Sci 15:5–21

Plum O, Hassink R (2013) Analysing the knowledge base configuration that drives southwest Saxony's automotive firms. Eur Urban Reg Stud 20:206–226. doi:10.1177/0969776412454127

Polanyi M (1958) Personal knowledge: towards a post-critical philosophy. Repr. (with corr.) edn. Routledge & Kegan Paul, London

Powell WW, Koput KW, Smith-Doerr L (1996) Interorganizational collaboration and the locus of innovation: networks of learning in biotechnology. Adm Sci Q 41:116–145

Saxenian A (2006) The new argonauts: regional advantage in a global economy. Harvard University Press, Cambridge, MA

Saxenian A, Hsu JY (2001) The silicon Valley–Hsinchu connection: technical communities and industrial upgrading. Ind Corp Change 10:893–920. doi:10.1093/icc/10.4.893

Stinchcombe AL (1965) Social structure and organizations. In: March J (ed) Handbook of organizations. Rand McNally, Chicago, pp 142–193

Strambach S, Klement B (2012) Cumulative and combinatorial micro-dynamics of knowledge: the role of space and place in knowledge integration. Eur Plan Stud 20:1843–1866. doi:10.1080/09654313.2012.723424

Ter Wal ALJ, Boschma R (2011) Co-evolution of firms, industries and networks in space. Reg Stud 45:919–933. doi:10.1080/00343400802662658

Tödtling F, Grillitsch M (2012) Types of innovation, competencies of firms, and external knowledge sourcing-findings from selected sectors and regions of Europe. J Knowl Econ 1–27. doi:10.1007/s13132-012-0139-y

Tödtling F, Grillitsch M, Höglinger C (2012) Knowledge sourcing and innovation in Austrian ICT companies—how does geography matter? Ind Innov 19:327–348. doi:10.1080/13662716.2012.694678

Tödtling F, Lehner P, Trippl M (2006) Innovation in knowledge intensive industries: the nature and geography of knowledge links. Eur Plan Stud 14:1035–1035

Trippl M (2011) Regional innovation systems and knowledge-sourcing activities in traditional industries-evidence from the Vienna food sector. Environ Plan Part A 43:1599–1616

Trippl M, Tödtling F, Lengauer L (2009) Knowledge sourcing beyond buzz and pipelines: evidence from the Vienna software sector. Econ Geogr 85:443–462. doi:10.1111/j.1944-8287.2009.01047.x

Weibull JW (1980) On the numerical measurement of accessibility. Environ Plan A 12:53–67
Acknowledgments
This work was supported by VINNOVA and FORMAS. We would like to thank VINNOVA for funding the project "Transformation and Growth in Innovation Systems: Innovation Policy for Global competitiveness of SMEs and R&I Milieus" and FORMAS for funding the project "Entrepreneurship, innovation and development in regions of varying economic densities". We are grateful to two anonymous reviewers for very valuable comments on the previous version of this paper. The usual disclaimer applies.
Appendix
Appendix
See Table 7.
About this article
Cite this article
Grillitsch, M., Nilsson, M. Innovation in peripheral regions: Do collaborations compensate for a lack of local knowledge spillovers?. Ann Reg Sci 54, 299–321 (2015). https://doi.org/10.1007/s00168-014-0655-8
Received:

Accepted:

Published:

Issue Date:
JEL Classification