Abstract
In this paper, I examined what conditions affected the entry of Swedish limited liability firms 2000–2008, while making a distinction between regular entrants and those that survive for at least 2 years. I used a dataset that makes it possible to trace entry geographically as well as in what industry it occurs down to the 5-digit NACE level. Results suggest that the conditions influencing regular entry were similar to those influencing surviving entry. Political variables, e.g., municipal tax rate and the ideology of local rule, were of limited importance. Meanwhile, municipalities with industries with high minimum efficient scale of production or high market concentration rates were considerably less likely to see new firm formation. Substantially, more entry occurred in municipalities with high-income and a well-educated population. The importance of the level of education appears stronger for surviving entrants than for regular entrants, pointing to the importance of human capital.
Access options
Buy single article
Instant access to the full article PDF.
USD 39.95
Price excludes VAT (USA)
Tax calculation will be finalised during checkout.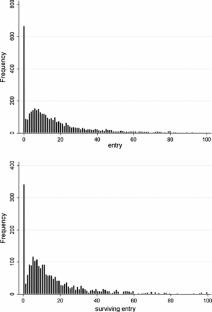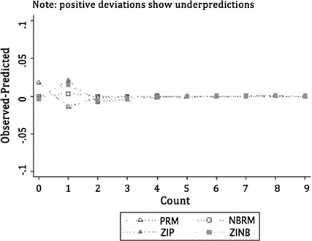 Notes
As mentioned, however, the self-employed can decide to withdraw part of their income as wages. Furthermore, to avoid or at least reduce tax evasion, Sweden has special tax legislation providing that dividends and capital gains for closely held limited companies (fåmansbolag) above a certain level are to be taxed as employment income (Stenkula 2012).

To normalize for different sizes of spatial areas, many previous studies defined entry using rates of new firm formation, t. But dividing by the existing stock of firms in the previous period causes endogeneity problems, as the denominator becomes a product of a lagged value of the numerator (Ashcroft et al. 1991). This also suggests that new businesses spring from existing ones, which is a "difficult conceptual position to sustain" (Love 1995, p. 156). Love instead proposes a normalization by working population, which allows for entry to arise from "the entrepreneurial acts of individuals, both employed and unemployed" (see also Audretsch and Fritsch 1994a). Some studies instead operationalize entry as absolute numbers of new firms, usually with a logarithmic model to avoid problems with normality. While computationally convenient, this means that the dependent variable is only well defined for industries showing positive entry. Two other solutions to deal with zero-inflated count data are square-root transformation, and to dichotomize the data. But both of these approaches also have major problems (Karazsia and van Dulmen 2008).

All tests were undertaken post-estimation. Results at all levels of aggregation are available from the author upon request.

If present, spatial autocorrelation could bias the results from these models and underestimate the SDs of the estimated coefficients (Anselin and Rey 1992). For this reason, Moran's I (Moran 1950) was computed for each year. Results are available in Table 8 in the "Appendix." Moran's I can range from \(-\)1 to 1, with higher magnitudes indicating more spatial dependence. In our case values fluctuate around 0.02 and are generally not significant at the 95 % confidence level, i.e., the null hypothesis of spatial dependence can be rejected. The exceptions are the years 2000 and 2008, but even then the values are very low. Hence, it appears that spatial correlation is not a serious problem.

Estimations were also made using the Huber/White/Sandwich SEs in order to control over heteroskedasticity (Davidson and MacKinnon 1993, p. 552). This had very little effect on the SEs of the results.
References
Acemoglu D, Aghion P, Zillibotti F (2006) Distance to frontier, selection, and economic growth. J Eur Econ Assoc 4(1):37–74

Acemoglu D, Aghion P, Lelarge C, van Reenen J, Zillibotti F (2007) Technology, information, and the decentralization of the firm. Q J Econ 122(4):1759–1799

Acs ZJ (2006) How is entrepreneurship good for economic growth? Innov Technol Govern Glob 1(1):97–107

Acs ZJ (2010) High-impact entrepreneurship. In: Handbook of entrepreneurship research, pp 165–182

Acs ZJ, Mueller P (2008) Employment effects of business dynamics: mize, gazelles and elephants. Small Bus Econ 30:85–100

Acs ZJ, Storey DJ (2004) Introduction: entrepreneurship and economic development. Reg Stud 38(8):871–877

Acs ZJ, Armington C, Zhang T (2007) The determinants of new-firm survival across regional economies: the role of human capital stock and knowledge spillover. Pap Reg Sci 86(3):367–391

Acs ZJ, Braunerhjelm P, Audretsch DB, Carlsson B (2009) The knowledge spillover theory of entrepreneurship. Small Bus Econ 32(1):15–30

Agarval R, Audretsch DB (2001) Does entry size matter? The impact of the life cycle and technology on firm survival. J Ind Econ 49(1):21–43

Aghion P, Griffith R (2008) Competition and growth: reconciling theory and evidence. University College, London

Aghion P, Howitt P (1992) A model of growth through creative destruction. Econometrica 60(2):323–351

Aghion P, Burgess R, Redding S, Zilibotti F (2004) Entry and productivity growth: evidence from microlevel panel data. J Eur Econ Assoc 2(2–3):265–276

Aghion P, Bloom N, Blundell R, Griffith R, Howitt P (2005) Competition and innovation: an inverted-U relationship. Q J Econ 120(2):701–728

Aidis R, Estrin S, Mickiwics T (2009) Entrepreneurial entry: Which institutions matter? IZA discussion papers 4123, Institute for the Study of Labor (IZA)

Alañón-Pardo Á, Arauzo-Carod JM (2013) Agglomeration, accessibility and industrial location: evidence from Spain. Entrep Reg Dev 25(3–4):135–173

Amoros JE, Bosma N (2013) Global entrepreneurship monitor 2013 global report. Fifteen years of assessing entrepreneurship across the globe. Global Entrepreneurship Research Association

Anand J, Kogut B (1997) Technological capabilities of countries, firm rivalry and foreign direct investment. J Int Bus Stud 28(3):445–465

Andersson M, Klepper S (2013) Characteristics and performance of new firms and spinoffs in Sweden. Ind Corp Change 22(1):245–280

Andersson M, Koster S (2011) Sources of persistence in regional start-up rates: evidence from Sweden. J Econ Geogr 11(1):179–201

Andersson M, Noseleit F (2011) Start-ups and employment dynamics within and across sectors. Small Bus Econ 36(4):461–483

Andersson P, Braunerhjelm M, Thulin P (2012) Creative destruction and productivity: entrepreneurship by type, sector and sequence. J Entrep Pub Policy 1(2):125–146

Anselin L, Rey S (1992) Properties of tests for spatial dependence in linear regression models. Geogr Anal 23:112–130

Appelbaum E, Katz E (1986) Rent seeking and entry. Econ Lett 20(3):207–212

Arauzo-Carod JM (2005) Determinants of industrial location: an application for catalan municipalities. Pap Reg Sci 84(1):105–120

Arauzo-Carod JM (2008) Industrial location at a local level: comments on the territorial level of the analysis. Tijdschrift voor economische en sociale geografie 99(2):193–208

Arauzo-Carod JM, Manjón-Antolín MC (2004) Firm size and geographical aggregation: an empirical appraisal in industrial location. Small Bus Econ 22(3–4):299–312

Arauzo-Carod JM, Viladecans-Marsal E (2009) Industrial location at the intra-metropolitan level: the role of agglomeration economies. Reg Stud 43(4):545–558

Arauzo-Carod JM, Liviano-Solis D, Manjón-Antolín M (2010) Empirical studies in industrial location: an assessment of their methods and results. J Reg Sci 50(3):685–711

Ardagna S, Lusardi AM (2010a) Explaining international differences in entrepreneurship: the role of individual characteristics and regulatory constraints. In: Lerner J, Schoar A (eds) International differences in entrepreneurship. University of Chicago Press, Chicago, pp 17–62

Ardagna S, Lusardi AM (2010b) Heterogeneity in the effect of regulation on entrepreneurship and entry size. J Eur Econ Assoc 8(2–3):594–605

Armington C, Acs ZJ (2002) The determinants of regional variation in new firm formation. Reg Stud 36(1):33–45

Ashcroft B, Love JH, Malloy E (1991) New firm formation in the British counties with special reference to Scotland. Reg Stud 25(5):395–409

Atkins DC, Gallop RJ (2007) Rethinking how family researchers model infrequent outcomes: a tutorial on count regression and zero-inflated models. J Fam Psychol 21(4):726–735

Audretsch D, Mahmood T (1995) New firm survival: new results using a hazard function. Rev Econ Stat 77(1):97–103

Audretsch D, Fritsch M (1994a) On the measurement of entry rates. Empirica 21:105–113

Audretsch DB, Fritsch M (1994b) The geography of firm births in Germany. Reg Stud 28(4):359–365

Audretsch DB, Fritsch M (1999) The industry component of regional new firm formation processes. Rev Ind Organ 15(3):239–252

Audretsch DB, Vivarelli M (1996) Determinants of new-firm startups in Italy. Empirica 23(1):91–105

Audretsch DB, Vivarelli M (1995) New-firm formation in Italy: a first report. Econ Lett 48(1):77–81

Audretsch DB, Lehmann E, Warning S (2005) University spillovers and new firm location. Res Policy 34(7):1113–1122

Autant-Bernard C, Mangematin V, Massard N (2006) Creation of biotech SMEs in France. Small Bus Econ 26(2):173–187

Ayyagari M, Beck T, Demirguc-Kunt A (2007) Small and medium enterprises across the globe. Small Bus Econ 29(4):415–434

Bain JS (1956) Barriers to new competition. Harvard University Press, Cambridge

Baptista R, Mendonça J (2010) Proximity to knowledge sources and the location of knowledge-based start-ups. Ann Reg Sci 45(1):5–29

Baptista R, Preto MT (2011) New firm formation and employment growth: regional and business dynamics. Small Bus Econ 36(4):419–442

Baptista R, Lima F, Mendonça J (2011) Establishment of higher education institutions and new firm entry. Res Policy 40(5):751–760

Barbosa N, Guimarães P, Woodward D (2004) Foreign firm entry in an open economy: the case of Portugal. Appl Econ 36(5):465–472

Bartelsman E, Scarpetta S, Schivardi F (2005) Comparative analysis of firm demographics and survival: evidence from micro-level sources in OECD countries. Ind Corp Change 14(3):365–391

Basile R (2004) Acquisition versus greenfield investment: the location of foreign manufacturers in Italy. Reg Sci Urban Econ 34(1):3–25

Bates T (1990) Entrepreneur human capital inputs and small business longevity. Rev Econ Stat 72(4):551–559

Baumol W (1990) Entrepreneurship: productive, unproductive, and destructive. J Polit Econ 98(5):893–921

Baumol W (1993) Entrepreneurship, management, and the structure of payoffs. MIT Press, Cambridge

Baumol W (2002) The free-market innovation machine: analyzing the growth miracle of capitalism. Princeton University Press, Princeton

Baumol W, Strom R (2007) Entrepreneurship and economic growth. Strateg Entrep J 1(3–4):233–237

Bartik T (1985) Business location decisions in the United States: estimates of the effects of unionization, taxes, and other characteristics of states. J Bus Econ Stat 3(1):14–22

Becker R, Henderson V (2000) Effects of air quality regulations on polluting industries. J Polit Econ 108(2):379–421

Beesley ME, Hamilton RT (1984) Small firms' seedbed role and the concept of turbulence. J Ind Econ 33(2):217–231

Bergh A (2009) Den kapitalistiska välfärdsstaten: om den svenska modellens historia och framtid. Norstedts Förlag

Berglund E, Brännäs K (2001) Plants' entry and exit in Swedish municipalities. Ann Reg Sci 35(3):431–448

Blanchflower D, Oswald AJ (1998) What makes an entrepreneur? J Labor Econ 16:26–60

Blau DM (1987) A time-series analysis of self-employment in the United States. J Polit Econ 95(3):445–467

Boettke P (2001) Calculation and coordination: essays on socialism and transitional political economy. Routledge, New York

Boettke PJ, Coyne CJ (2003) Entrepreneurship and development: Cause or consequence? Adv Austrian Econ 6:67–87

Bos J, Stam E (2014) Gazelles and industry growth: a study of young high-growth firms in The Netherlands. Ind Corp Change 23(1):145–169

Boschma RA, Lambooy JG (1999) Evolutionary economics and economic geography. J Evolut Econ 9(4):411–429

Bosma N, Acs ZJ, Autio E, Coduras A, Levie J (2010) Global entrepreneurship monitor 2008 executive report. Global Entrepreneurship Research Association

Bowen HP, De Clercq D (2007) Institutional context and the allocation of entrepreneurial effort. J Int Bus Stud 39(4):747–767

Braunerhjelm P (2011) Entrepreneurship, innovation and economic growth: interdependencies, irregularities and regularities. In: Audretsch DB, Falck O, Heblich S (eds) Handbook of research on innovation and entrepreneurship

Braunerhjelm P, Holmquist C, Adenfeldt M, Thulin P (2013) Entreprenorskap i sverige: Nationell rapport 2013. Entreprenörskapsforum

Brixy U, Grotz R (2006) Regional patterns and determinants of new firm formation and survival in western Germany. Technical report, IAB discussion paper

Brown C, Haltiwanger J, Lane J (2006) Economic turbulence: Is a volatile economy good for America?. University of Chicago Press, Chicago

Bruno A, Tyebjee T (1982) The environment for entrepreneurship. In: Kent CA, Sexton DL, Vesper KH (eds) Encyclopedia of entrepreneurship. Prentice-Hall, Englewood Cliffs, pp 288–307

Busenitz L, Gomez C, Spencer J (2000) Country institutional profiles: unlocking entrepreneurial phenomena. Acad Manag J 43(5):994–1003

Cameron AC, Trivedi PK (1986) Econometric models based on count data: comparisons of some estimators and tests. J Appl Econ 1:29–54

Cameron AC, Trivedi PK (1998) Regression analysis of count data. Cambridge University Press, Cambridge, MA

Cameron AC, Trivedi PK (2001) Essentials of count data regression. In: A companion to theoretical econometrics, p 331

Carlton D (1983) The location and employment choices of new firms: An econometric model with discrete and continuous endogenous variables. Rev Econ Stat 65:440–449

Carree M, Thurik R (2008) The lag structure of the impact of business ownership on economic performance in OECD countries. Small Bus Econ 30(1):101–110

Carree MA (2002) Does unemployment affect the number of establishments? A regional analysis for US states. Reg Stud 36(4):389–398

Carreira C, Teixeira P (2010) Does schumpeterian creative destruction lead to higher productivity? The effects of firms' entry. In: Contribution to the international schumpeter society conference 2010, Aalborg, June 21–24

Cassar G (2006) Entrepreneur opportunity costs and intended venture growth. J Bus Ventur 21(5):610–632

Cassar G (2007) Money, money, money? A longitudinal investigation of entrepreneur career reasons, growth preferences and achieved growth. Entrep Reg Dev 19(1):89–107

Chappell WF, Kimenyi MS, Mayer WJ (1990) A poisson probability model of entry and market structure with an application to US industries during 1972–1977. South Econ J 56(4):918–927

Christensen C (2013) The innovator's dilemma: when new technologies cause great firms to fail. Harvard Business Review, Boston

Ciccone A, Papaioannou E (2007) Red tape and delayed entry. J Eur Econ Assoc 5(2–3):444–458

Cieślik A (2005) Location of foreign firms and national border effects: the case of Poland. Tijdschrift voor Economische en Sociale Geografie 96(3):287–297

Cockburn IM, MacGarvie MJ (2011) Entry and patenting in the software industry. Manag Sci 57(5):915–933

Coughlin CC, Terza JV, Arromdee V (1991) State characteristics and the location of foreign direct investment within the United States. Rev Econ Stat 73:675–683

Cowling M, Mitchell P (2002) The evolution of UK self-employment: a study of government policy and the role of the macroeconomy. Manch Sch 65(4):427–442

Cressy R (2006) Why do most firms die young? Small Bus Econ 26(2):103–116

Daunfeldt S (2002) Etablerandet av nya företag inom detaljhandeln—en beskrivning av ett forskningsprojekt, handelns Utredningsinstitut HUI Forskningsrapport S68

Daunfeldt S, Rudholm N, Bergström F (2006) Entry into Swedish retail and wholesale trade markets. Rev Ind Organ 29(3):213–225

Daunfeldt S, Orth M, Rudholm N (2010) Opening local retail food stores: a real-options approach. J Ind Compet Trade 10(3):373–387

Daunfeldt S, Elert N, Rudholm N (2013) Start-ups and firm in-migration: evidence from the Swedish wholesale industry. Ann Reg Sci 51(2):479–494

Davidson R, MacKinnon JG (1993) Estimation and inference in econometrics. OUP Catalogue

Davidsson P (1991) Continued entrepreneurship: ability, need, and opportunity as determinants of small firm growth. J Bus Ventur 6(6):405–429

Davidsson P, Wiklund J (1997) Values, beliefs and regional variations in new firm formation rates. J Econ Psychol 18(2):179–199

Davidsson P, Lindmark L, Olofsson C (1994) New firm formation and regional development in Sweden. Reg Stud 28(4):395–410

Davidsson P, Lindmark L, Olofsson C (1996) Näringslivsdynamik under 90-talet. Nutek

Davis S, Henrekson M (1999) Explaining national differences in the size and industry distribution employment. Small Bus Econ 12(1):59–83

De Meza D (2002) Overlending? Econ J 112(477):F17–F31

Dejardin M (2011) Linking net entry to regional economic growth. Small Bus Econ 36(4):443–460

Delmar F, Davidsson P (2000) Where do they come from? Prevalence and characteristics of nascent entrepreneurs. Entrep Reg Dev 12(1):1–23

Delmar F, Wennberg K (2010) Knowledge intensive entrepreneurship: the birth, growth and demise of entrepreneurial firms. Edward Elgar, Cheltenham

Delmar F, Wiklund J, Sjöberg K (2003) The involvement in self-employment among the Swedish science and technology labor force between 1990 and 2000. Institutet för tillväxtpolitiska studier (ITPS)

Djankov S, Glanser T, McLiesh C, Ramalho R, Schleifer A (2010) The effect of corporate taxes on investment and entrepreneurship. Am Econ J Macroecon 2(3):31–64

Dohse D, Schertler A (2003) Explaining the regional distribution of new economy firms: a count data analysis. Technical report, Kieler Arbeitspapiere

Doms M, Lewis E, Robb A (2010) Local labor force education, new business characteristics, and firm performance. J Urban Econ 67(1):61–77

Du Rietz G, Johansson D, Stenkula M (2013) The evolution of Swedish labor income taxation in a 150-year perspective: an in-depth characterization. Technical report, IFN working paper no. 977

Du Rietz G, Johansson D, Stenkula M (2014) A 150-year perspective on Swedish capital income taxation. Technical report, IFN working paper no. 1004

Dunne T, Roberts MJ, Samuelson L (1988) Patterns of firm entry and exit in US manufacturing industries. RAND J Econ 19:495–515

Earle JS, Sakova Z (2000) Business start-ups or disguised unemployment? Evidence on the character of self-employment from transition economies. Labour Econ 7(5):575–601

Eliasson K, Westlund H (2013) Attributes influencing self-employment propensity in urban and rural Sweden. Ann Reg Sci 50(2):479–514

Engström P, Holmlund B (2009) Tax evasion and self-employment in a high-tax country: evidence from Sweden. Appl Econ 41(19):2419–2430

Etzioni A (1987) Entrepreneurship, adaptation and legitimation: a macro-behavioral perspective. J Econ Behav Organ 8(2):175–189

Evans DS, Jovanovic B (1989) An estimated model of entrepreneurial choice under liquidity constraints. J Polit Econ 97(4):808–827

Evans DS, Leighton LS (1989) The determinants of changes in US self-employment, 1968–1987. Small Bus Econ 1(2):111–119

Evans DS, Leighton LS (1990) Small business formation by unemployed and employed workers. Small Bus Econ 2(4):319–330

Fazzari S, Hubbard G, Petersen B (1988) Financing constraints and corporate investment. BPEA 19:141–195

Feldman MP (2001) The entrepreneurial event revisited: firm formation in a regional context. Ind Corp Change 10(4):861–891

Figueiredo O, Guimaraes P, Woodward D (2002) Home-field advantage: location decisions of Portuguese entrepreneurs. J Urban Econ 52(2):341–361

Fölster S (2002) Do lower taxes stimulate self-employment? Small Bus Econ 19(2):135–145

Fritsch M (1997) New firms and regional employment change. Small Bus Econ 9(5):437–448

Fritsch M (2011) The effect of new business formation on regional development: empirical evidence, interpretation, and avenues for further research. Handbook of research on entrepreneurship and regional development. Edward Elgar, Cheltenham, pp 58–106

Fritsch M, Falck O (2007) New business formation by industry over space and time: a multidimensional analysis. Reg Stud 41(2):157–172

Fritsch M, Mueller P (2004) Effects of new business formation on regional development over time. Reg Stud 38(8):961–975

Fritsch M, Mueller P (2007) The persistence of regional new business formation-activity over time-assessing the potential of policy promotion programs. J Evolut Econ 17(3):299–315

Fritsch M, Mueller P (2008) The effect of new business formation on regional development over time: the case of Germany. Small Bus Econ 30(1):15–29

Fritsch M, Wyrwich M (2013) The long persistence of regional entrepreneurship culture: Germany 1925–2005, dIW Berlin discussion paper

Gabe T (2003) Local industry agglomeration and new business activity. Growth Change 34(1):17–39

Gabe T, Bell KP (2004) Tradeoffs between local taxes and government spending as determinants of business location*. J Reg Sci 44(1):21–41

Garofoli G (1994) New firm formation and regional development: the Italian case. Reg Stud 28(4):381–393

Georgellis Y, Wall HJ (2005) Gender differences in self-employment. Int Rev Appl Econ 19(3):321–342

Geroski PA (1995) What do we know about entry? Int J Ind Organ 13(4):421–440

Gimeno J, Folta T, Cooper A, Woo C (1997) Survival of the fittest? Entrepreneurial human capital and the persistence of underperforming firms. Adm Sci Q 42(4):750–783

Glaeser E, Kerr W, Ponzetto G (2010) Clusters of entrepreneurship. J Urban Econ 67(1):150–168

Glaeser EL, Kerr W (2009) Local industrial conditions and entrepreneurship: How much of the spatial distribution can we explain? J Econ Manag Strateg 18(3):623–663

Gompers P, Lerner J (2001) The venture capital revolution. J Econ Perspect 15(2):145–168

Gordon P, Ikeda S (2011) Does density matter? In: Andersson D, Andersson E, Mellander C (eds) Handbook of creative cities. Edward Elgar, Cheltenham

Greene WH (1994) Accounting for excess zeros and sample selection in poisson and negative binomial regression models, NYU working paper no. EC-94-10

Greene WH (2008) Econometric analysis, sixth (Pearson international) edition. Pearson Education, Upper Saddle River

Grek J, Karlsson C, Klaesson J (2011) Determinants of entry and exit: the significance of demand and supply conditions at the regional level. In: Kourtit K, Nijkamp P, Stough RS (eds) Drivers of innovation, entrepreneurship and regional dynamics. Springer, Berlin, pp 121–141

Guesnier B (1994) Regional variations in new firm formation in France. Reg Stud 28(4):347–358

Guimaraes O, Figueiredo P, Woodward D (2004) Industrial location modeling: extending the random utility framework. J Reg Sci 44(1):1–20

Guimarães P, Figueiredo O, Woodward D (2003) A tractable approach to the firm location decision problem. Rev Econ Stat 85(1):201–204

Hall DB (2004) Zero-inflated poisson and binomial regression with random effects: a case study. Biometrics 56(4):1030–1039

Hall JC, Sobel RS (2008) Institutions, entrepreneurship, and regional differences in economic growth. Am J Entrep 1:69–96

Haltiwanger JC, Jarmin RS, Miranda J (2010) Who creates jobs? Small vs. large vs. young. Technical report, National Bureau of Economic Research

Hammer TH, Landau JC (1981) Methodological issues in the use of absence data. J Appl Psychol 66(5):574–581

Hausman JA, Hall BH, Griliches Z (1984) Econometric models for count data with an application to the patents–R&D relationship. Econometrica 52(4):909–938

Head CK, Ries JC, Swenson DL (1999) Attracting foreign manufacturing: investment promotion and agglomeration. Reg Sci Urban Econ 29(2):197–218

Helfat CE, Lieberman MB (2002) The birth of capabilities: market entry and the importance of pre-history. Ind Corp Change 11(4):725–760

Henrekson M (2005) Entrepreneurship: a weak link in the welfare state? Ind Corp Change 14(3):437–467

Henrekson M, Johansson D (2010) Gazelles as job creators: a survey and interpretation of the evidence. Small Bus Econ 35(2):227–244

Henrekson M, Sanandaji T (2014) Small business activity does not measure entrepreneurship. Proc Natl Acad Sci 5(111):1760–1765

Holl A (2004a) Transport infrastructure, agglomeration economies, and firm birth: empirical evidence from Portugal. J Reg Sci 44(4):693–712

Holl A (2004b) Start-ups and relocations: manufacturing plant location in Portugal. Pap Reg Sci 83(4):649–668

Holl A (2004c) Manufacturing location and impacts of road transport infrastructure: empirical evidence from Spain. Reg Sci Urban Econ 34(3):341–363

Holtz-Eakin D, Joulfaian D, Rosen HS (1994) Entrepreneurial decisions and liquidity constraints. RAND J Econ 25:334–347

Ilmakunnas P, Kanniainen V (2001) Entrepreneurship, economic risks, and risk insurance in the welfare state: results with OECD data 1978–93. German Econ Rev 2(3):195–218

Ilmakunnas P, Topi J (1999) Microeconomic and macroeconomic influences on entry and exit of firms. Rev Ind Organ 15(3):283–301

Jaffe AB, Trajtenberg M, Henderson R (1993) Geographic localization of knowledge spillovers as evidenced by patent citations. Q J Econ 108(3):577–598

Jofre-Monseny J, Sole-Olle A (2010) Tax differentials in intraregional firm location: evidence from new manufacturing establishments in Spanish municipalities. Reg Stud 44(6):663–677

Jofre-Monseny J, Marin-Lopez R, Viladecans-Marsal E (2011) The mechanisms of agglomeration: Evidence from the effect of inter-industry relations on the location of new firms. Journal of Urban Economics 70(2):61–74

Johnson P (2004) Differences in regional firm formation rates: a decomposition analysis. Entrep Theory Pract 28(5):431–445

Johnson P, Parker S (1996) Spatial variations in the determinants and effects of firm births and deaths. Reg Stud 30(7):679–688

Karazsia BT, van Dulmen MH (2008) Regression models for count data: illustrations using longitudinal predictors of childhood injury. J Pediatr Psychol 33(10):1076–1084

Karlsson C, Nyström K (2011) Knowledge accessibility and new firm formation. New directions in regional economic development: the role of entrepreneurship theory and methods, practice and policy, p 174

Keeble D, Walker S (1994) New firms, small firms and dead firms: spatial patterns and determinants in the United Kingdom. Reg Stud 28(4):411–427

Kennedy PE (2003) A guide to econometrics. MIT Press, Cambridge

Khemani RS, Shapiro DM (1986) The determinants of new plant entry in Canada. Appl Econ 18(11):1243–1257

Kihlstrom RE, Laffont JJ (1979) A general equilibrium entrepreneurial theory of firm formation based on risk aversion. J Polit Econ 87(4):719–748

Kirchhoff BA, Newbert SL, Hasan I, Armington C (2007) The influence of University R&D expenditures on new business formations and employment growth. Entrep Theory Pract 31(4):543–559

Klepper S (2001) Employee startups in high-tech industries. Ind Corp Change 10(3):639–674

Knight FH (1921) Risk, uncertainty, and profit. BeardBooks, Washington

Koo J, Cho K (2011) New firm formation and industry clusters: a case of the drugs industry in the US. Growth Change 42(2):179–199

Kostova T (1997) Country institutional profiles: concept and measurement. Acad Manag Proc 1997:180–184

Krueger NF, Reilly MD, Carsrud AL (2000) Competing models of entrepreneurial intentions. J Bus Ventur 15(5):411–432

Krugman P (1992) Geography and trade. MIT Press, Cambridge

La Porta R, Lopes-de Silanes F, Schleifer A (2008) The economic consequences of legal origins. J Econ Lit 46(2):285–332

Lambert D (1992) Zero-inflated poisson regression, with an application to defects in manufacturing. Technometrics 34(1):1–14

Le AT (1999) Empirical studies of self-employment. J Econ Surv 13(4):381–416

Lee S, Florida R, Acs Z (2004) Creativity and entrepreneurship: a regional analysis of new firm formation. Reg Stud 38(8):879–891

Lerner J, Tag J (2013) Institutions and venture capital. Ind Corp Change 22(1):153–182

Lewis WA (1954) Economic development with unlimited supplies of labour. Manch Sch 22(2):139–191

Lindh T, Ohlsson H (1996) Self-employment and windfall gains: Evidence from the swedish lottery. Econ J 106(439):1515–1526

List JA (2001) Us county-level determinants of inbound fdi: evidence from a two-step modified count data model. Int J Ind Organ 19(6):953–973

List JA, McHone WW (2000) Measuring the effects of air quality regulations on 'dirty' firm births: evidence from the neo-and mature-regulatory periods. Pap Reg Sci 79(2):177–190

Long JE (1982) The income tax and self-employment. Natl Tax J 35:31–42

Long JS (1997) Regression models for categorical and limited dependent variables, vol 7. Sage, Beverly Hills

Long SJ, Freese J (2006) Regression models for categorical dependent variables using stata. StataCorp LP, College Station

Love JH (1995) The measurement of entry rates: recondiseration and resolution. Empirica 22(2):151–157

Lucas RE Jr (1978) On the size distribution of business firms. Bell J Econ 9:508–523

Mai Y, Gan Z (2007) Entrepreneurial opportunities, capacities and entrepreneurial environments: evidence from chinese gem data. Chin Manag Stud 1(4):216–224

Manjón-Antolín MC, Arauzo-Carod JM (2011) Locations and relocations: determinants, modelling, and interrelations. Ann Reg Sci 47(1):131–146

Mansfield E (1962) Entry, gibrat's law, innovation, and the growth of firms. Am Econ Rev 52(5):1023–1051

Marshall A (1920) Principles of economics, 8th edn. McMillan and Co, London

Mata J, Portugal P, Guimaraes P (1995) The survival of new plants: start-up conditions and post-entry evolution. Int J Ind Organ 13(4):459–481

McCloskey DN (2010) Bourgeois dignity: why economics can't explain the modern world. University of Chicago Press, Chicago

McFadden D (1974) Conditional logit analysis of qualitative choice behavior. In: Zarembka P (ed) Frontiers in econometrics. Academic Press, New York

Metcalfe JS (2009) On marshallian evolutionary dynamics, entry and exit. In: Economic theory and economic thought: essays in honour of Ian Steedman, vol 107, p 350

Meyer BD (1990) Why are there so few black entrepreneurs? Technical report, National Bureau of Economic Research

Moran PA (1950) Notes on continuous stochastic phenomena. Biometrika 37(1–2):17–23

Mota I, Brandão A (2011) The determinants of location choice: single plants versus multi-plants. Pap Reg Sci 92(1):31–49

Mullahy J (1986) Specification and testing of some modified count data models. J Econ 33(3):341–365

Mullahy J (1997) Heterogeneity, excess zeros, and the structure of count data models. J Appl Econ 12(3):337–350

Nakosteen RA, Zimmer MA (1987) Determinants of regional migration by manufacturing firms. Econ Inq 25(2):351–362

Nightingale P, Coad A (2014) Muppets and gazelles: political and methodological biases in entrepreneurship research. Ind Corp Change 23(1):113–143

North D (1990) Institutions, institutional change and economic performance. Cambridge University Press, Cambridge

Nyström K (2006) Entry and exit in swedish industrial sectors. Ph.D. thesis, University of Skövde

Nyström K (2007) An industry disaggregated analysis of the determinants of regional entry and exit. Ann Reg Sci 41(4):877–896

Nyström K (2008) Regional institutional environment and Swedish regional new firm formation, CESIS. KTH Royal Institute of Technology, Stockholm

OECD (2001) Businesses views on red tape administrative and regulatory burdens on small and medium sizes enterprises. Technical report, OECD, Paris

OECD (2003) The sources of economic growth in OECD countries

Orr D (1974) The determinants of entry: a study of the canadian manufacturing industries. Rev Econ Stat 56(1):58–66

Ovaska T, Sobel R (2005) Entrepreneurship in post-socialist economies. J Priv Enterp 21(1):8–28

Owen-Smith J, Powell WW (2008) Networks and institutions. In: The Sage handbook of organizational institutionalism, pp 596–623

Papke LE (1991) Interstate business tax differentials and new firm location: evidence from panel data. J Pub Econ 45(1):47–68

Parker SC (1996) A time series model of self-employment under uncertainty. Economica 63:459–475

Pellenbarg P, van Wissen LJ, van Dijk J (2002) Firm migration. In: McCann P (ed) Industrial location economics. Edward Elgar, Cheltenham, pp 110–148

Pigou AC (1924) The economics of welfare. Transaction Publishers, Piscataway

Reynolds P (1994) Autonomous firm dynamics and economic growth in the united states, 1986–1990. Reg Stud 28(4):429–442

Reynolds P, Storey D, Westhead P (1994) Cross-national comparisons of the variation in new firm formation rates: an editorial overview. Reg Stud J Reg Stud Assoc 28(4):343–346

Reynolds PD, Camp SM, Bygrave WD, Autio E, Hay M (2002) Global entrepreneurship monitor gem 2001 summary report. London Business School and Babson College, London

Robinson C, O'Leary B, Rincon A (2006) Business start-ups, closures and economic churn: a review of the literature. Enterprise Directorate, BERR, UK

Robson MT (1998) The rise in self-employment amongst UK males. Small Bus Econ 10(3):199–212

Robson MT, Wren C (1999) Marginal and average tax rates and the incentive for self-employment. South Econ J 65(4):757–773

Santarelli E, Vivarelli M (2002) Is subsidizing entry an optimal policy? Ind Corp Change 11(1):39–52

Santarelli E, Vivarelli M (2007) Entrepreneurship and the process of firms' entry, survival and growth. Ind Corp Change 16(3):455–488

Santarelli E, Carree M, Verheul I (2009) Unemployment and firm entry and exit: an update on a controversial relationship. Reg Stud 43(8):1061–1073

Schumpeter JA (1934) The theory of economic development. Harvard University Press, Cambridge, MA

Schumpeter JA (1939) Business cycles: a theoretical, historical and statistical analysis of the capitalist process, vol 1. Cambridge University Press, Cambridge

Schumpeter JA (1943) Capitalism, socialism and democracy. Harper Perennial, New York

Shane S (2000) Prior knowledge and the discovery of entrepreneurial opportunities. Organiz Sci 11(4):448–469

Siegfried JJ, Evans LB (1994) Empirical studies of entry and exit: a survey of the evidence. Rev Ind Organ 9(2):121–155

Sinn HW (1996) Social insurance, incentives and risk taking. Int Tax Pub Finance 3(3):259–280

Skedinger P (2008) Effekter av anställningsskydd: vad säger forskningen? SNS förlag

Skedinger P (2012) Tudelad trygget. Jobben Kommer och Går-Behovet av Trygghet Består, Ekerlids förlag: Stockholm

Sobel R (2008) Testing baumol: institutional quality and the productivity of entrepreneurship. J Bus Ventur 23(6):641–655

Sørensen PB (2010) Swedish tax policy: recent trends and future challenges. Finansdepartementet, Regeringskansliet

Stam E (2007) Why butterflies don't leave: locational behavior of entrepreneurial firms. Econ Geogr 83(1):27–50

Stam E, Suddle K, Hessels J, van Stel A (2009) High-growth entrepreneurs, public policies and economic growth. In: Leitao J, Baptista R (eds) Public policies for fostering entrepreneurship: a European perspective. Springer, New York, pp 91–110

Stenholm P (2011) Innovative behavior as a moderator of growth intentions. J Small Bus Manag 49(2):233–251

Stenholm P, Acs ZJ, Wuebker R (2013) Exploring country-level institutional arrangements on the rate and type of entrepreneurial activity. J Bus Ventur 28(1):176–193

Stenkula M (2012) Taxation and entrepreneurship in a welfare state. Small Bus Econ 39(1):1–21

Stenkula M, Johansson D, Du Rietz G (2014) Marginal taxation of labor income in Sweden from 1862 to 2010. Scand Econ History Rev 62(2):163–187

Stigler GJ (1971) The theory of economic regulation. Bell J Econ Manag Sci 2:3–21

Storey DJ (1994) Understanding the small business sector. Thomson Learning Emea, London

Strotmann H (2007) Entrepreneurial survival. Small Bus Econ 28(1):87–104

Sutaria V, Hicks DA (2004) New firm formation: dynamics and determinants. Ann Reg Sci 38(2):241–262

Sutton J (1991) Sunk costs and market structure: price competition, advertising, and the evolution of concentration. MIT Press, Cambridge

Tabachnick BG, Fidell LS, Osterlind SJ (2007) Using multivariate statistics. Allyn and Bacon, Boston

Tullock G (1967) The welfare costs of tariffs, monopolies, and theft. Econ Inq 5(3):224–232

Van Praag CM, Cramer JS (2001) The roots of entrepreneurship and labour demand: Individual ability and low risk aversion. Economica 68:45–62

Van Praag CM, Versloot PH (2007) What is the value of entrepreneurship? A review of recent research. Small Bus Econ 29(4):351–382

Van Stel A, Carree M, Thurik R (2005) The effect of entrepreneurial activity on national economic growth. Small Bus Econ 24(3):311–321

Veciana JM, Urbano D (2008) The institutional approach to entrepreneurship research. Introduction. Int Entrep Manag J 4(4):365–379

Vejsiu A (2011) Incentives to self-employment decision in Sweden. Int Rev Appl Econ 25(4):379–403

Van de Ven AH (1993) The development of an infrastructure for entrepreneurship. J Bus Ventur 8(3):211–230

Verheul I, Wennekers S, Audretsch DB, Thurik R (2002) An eclectic theory of entrepreneurship: policies, institutions and culture. In: Audretsch DB, Thurik R, Verheul I, Wennekers S (eds) Entrepreneurship: determinants and policy in a European-U.S. comparison. Kluwer, Norwell, MA, pp 11–82

Vivarelli M (2013) Is entrepreneurship necessarily good? Microeconomic evidence from developed and developing countries. Ind Corp Change 22(6):1453–1495

Vuong QH (1989) Likelihood ratio tests for model selection and non-nested hypotheses. Econ J Econ Soc 57:307–333

Wagner J (1994) The post-entry performance of new small firms in German manufacturing industries. J Ind Econ 42(2):141–154

Wagner J, Sternberg R (2002) The role of the regional milieu for the decision to start a new firm: empirical evidence for Germany. Technical report, IZA Discussion paper series 494. Bonn: IZA

Wennekers S, Thurik R (1999) Linking entrepreneurship and economic growth. Small Bus Econ 13(1):27–56

Westlund H, Bolton R (2003) Local social capital and entrepreneurship. Small Bus Econ 21(2):77–113

Westlund H, Andersson M, Karlsson C (2013) Creativity as an integral element of social capital and its role for economic performance. CESIS electronic working paper series no. 330

Winkelmann R, Zimmermann KF (1995) Recent developments in count data modelling: theory and application. J Econ Surv 9(1):1–24

Wong PK, Ho YP, Autio E (2005) Entrepreneurship, innovation and economic growth: evidence from gem data. Small Bus Econ 24(3):335–350

Yip GS (1982) Barriers to entry: a corporate strategy perspective. D. C. Heath, Lexington
Appendix
Appendix
See Fig. 2 and Tables 8, 9 and 10.
About this article
Cite this article
Elert, N. What determines entry? Evidence from Sweden. Ann Reg Sci 53, 55–92 (2014). https://doi.org/10.1007/s00168-014-0617-1
Received:

Accepted:

Published:

Issue Date:

DOI: https://doi.org/10.1007/s00168-014-0617-1
JEL Classification