Abstract
Some three to four decades ago, it was generally accepted in economic literature that the average size of firms would continue to increase with progressive economic development. This would be the result of an ever increasing importance of exploitation of scale economies. However, since that time, small-scale self-employment rates have increased in many industrialized countries. This raises the question to what extent scale economies are still important in modern economies. Using data for 23 OECD countries over the period 1972–2008, we test the importance of scale economies in determining average firm size as proxied by the employment to self-employment ratio. We control for several other determinants of firm size, including the rate of urbanization. We also allow the relation to differ across levels of economic development. Our results suggest that notwithstanding the rise of small-scale self-employment observed in many countries over the last few decades, economies of scale and scope continue to play an important role in advanced economies.
Access options
Buy single article
Instant access to the full article PDF.
USD 39.95
Price excludes VAT (USA)
Tax calculation will be finalised during checkout.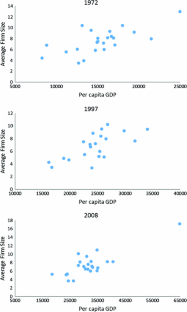 Notes
Lucas' theoretical model makes two plausible assumptions. First, it is assumed that the elasticity of factor substitution between capital and labor is less than unity, which is generally found to hold in empirical work (Hamermesh 1993). The second assumption is that Gibrat's Law holds, which states that firm growth is independent of firm size. This condition is generally found to hold in practice, except for firms below the minimum efficient scale (MES): For this subset of firms, smaller firms are generally found to grow faster than larger firms, conditional on survival (Teruel-Carrizosa 2010). But even for this subset of firms, Gibrat's Law may also hold once firm age is controlled for (Haltiwanger et al. 2013).

Lucas provided evidence on the positive relationship between average firm size and the per capita capital stock by using employees per firm and per capita GNP as proxies. Indeed, the Lucas proposition refers to the effects of increases in per capita capital on the equilibrium number of entrepreneurs and then on the average number of employees per entrepreneur. For this reason, the more appropriate proxy for average firm size is the employment to self-employment ratio.

Reasoning from self-employment prevalence, several scholars hypothesize that the size of the self-employment sector is related to a country's stage of development (see, e.g., Acs 2006; Acs and Amorós 2008). In particular, countries with lower incomes tend to face high rates of necessity-based entrepreneurial activity, with limited capacity to create jobs. The predominance of this type of entrepreneurs in countries with lower incomes is associated with lower firm sizes.

For the role of networks, see also Nijkamp (2003).

Since in general the self-employment rate and average firm size are negatively related, a U-shape in terms of the relation between self-employment and economic development may be thought of as an inverse U-shape between average firm size and economic development, implying a decreasing average firm size for the most highly developed economies (contradicting the Lucas proposition). On the other hand, an L-shaped relation between self-employment and economic development implies a positive relation between average firm size and economic development (consistent with Lucas) but with an elasticity decreasing in value.

Following the usual convention in macroeconomic studies of self-employment, we exclude the agricultural sector from the analysis. Agriculture is structurally different from the rest of the economy in that self-employment is the natural labor force status in this sector. Also, the sector is characterized by heavy subsidies and a relatively high proportion of unpaid family workers (Parker and Robson 2004).

Average firm size is defined as total employment divided by number of firms. For reasons explained before, we use total employment divided by self-employment as a proxy, hence the denominator differs. However, since self-employment and number of firms are strongly positively correlated (as most active firms are run by only one entrepreneur and most entrepreneurs run only one firm), we consider the employment to self-employment ratio an accurate proxy of average firm size.

In particular, in their model, it is assumed that investment in human capital accumulation 'is denominated in terms of the output of the particular industry, in order to capture the idea that industry-specific learning requires some industry-specific inputs' (Rossi-Hansberg and Wright 2007, p. 1642).

Other factors such as business cultures and management styles could be also explored (Hofstede 1994). We do not include these variables in our model because of the lack of an adequate proxy.

First, total employment is computed by subtracting the number of unemployed from the number of persons in the total labor force. Data on total labor force are taken from OECD Labour Force Statistics, while the number of unemployed is calculated using the standardized unemployment rate published in OECD Main Economic Indicators. Some missing values in the unemployment series are estimated using data from OECD Labour Force Statistics. Second, based on employment data by sector from OECD National Accounts, government employment and employment in the primary sectors of economy are excluded from total employment to arrive at private sector employment outside the agriculture, hunting, forestry and fishing industries.

COMPENDIA is an acronym for COMParative ENtrepreneurship Data for International Analysis. It is one of the few cross-country databases on entrepreneurship rates that exist to date, next to the Global Entrepreneurship Monitor and the World Bank Group Entrepreneurship Survey (Marcotte 2013). See http://www.entrepreneurship-sme.eu/ for the data and Van Stel (2005) for a justification of the harmonization methods. This database has been used and acknowledged widely (see, among other studies, Armour and Cumming 2008; Carree et al. 2002, 2007; Davis 2008, p. 54; Koellinger and Thurik 2012; Nyström 2008; Parker et al. 2012; Praag and Stel 2013).

Data taken directly from the OECD Labour Force Statistics suffer from a lack of comparability across countries and over time. In particular, owner–managers of incorporated businesses (OMIBs) are counted as self-employed in some countries and as employees in other countries. Also, the raw OECD data suffer from many trend breaks relating to changes in self-employment definitions (Van Stel 2005).

The EPL index is only available from 1985 onward.

For each country, the EPL index is calculated using 18 items, which can be grouped in the following areas: (i) employment protection against individual dismissal; (ii) requirements for collective dismissals; and (iii) regulation of temporary forms of employment.

In general, the majority of the conventional unit root tests such as the Dickey-Fuller tests and the Phillips–Perron tests suffers from three problems. First, many tests have low power when the root of the autoregressive polynomial is close to but less than unity (DeJong et al. 1992). Second, most tests suffer from severe size distortions when the moving-average polynomial of the first-differenced series has a large negative autoregressive root (Schwert 1989; Perron and Ng 1996). Third, the implementation of unit root tests often requires the selection of an autoregressive truncation lag \(k\); however, as discussed in Ng and Perron (1995), there is a strong association between \(k\) and the severity of size distortions and/or the extent of power loss. Ng and Perron (2001) solved these problems and we refer to their article for further details.

For Sweden, we find mixed evidence as three out of four Ng–Perron tests reject the null hypothesis of nonstationarity at the 5 % significance level but one test does not reject the null hypothesis, not even at 10 % level.

Looking for cointegration relationships between GDP and macroeconomic variables is a common practice in some fields such us energy economics—Ozturk (2010) and Payne (2010) recently surveyed this body of empirical literature, environmental economics, with Esteve and Tamarit (2012a, b) as examples of recent works—applied macroeconomics—Magazzino (2012); Kumar et al. (2012) and Facchini and Melki (2013) among others—and the economics of self-employment—Carmona et al. (2010, 2012) or Congregado et al. (2012) among others.

For 16 countries, the null hypothesis of zero cointegration relations is rejected at the 5 % significance level. In addition, for Denmark, Sweden, Switzerland, the UK and Canada, the null hypothesis is rejected at the 10 % level only.

Test results are available on request from the authors.
References
Acemoglu D, Carvalho VM, Ozdaglar A, Tahbaz-Salehi A (2012) The network origins of aggregate fluctuations. Econometrica 80(5):1977–2016

Acs ZJ (2006) How is entrepreneurship good for economic growth? Innovations 1(1):97–107

Acs ZJ, Amorós JE (2008) Entrepreneurship and competitiveness dynamics in Latin America. Small Bus Econ 31(3):305–322

Armour J, Cumming D (2008) Bankruptcy law and entrepreneurship. Am Law Econ Rev 10(2):303–350

Audretsch DB, Grilo I, Thurik AR (eds) (2007) Handbook of research on entrepreneurship policy. Edward Elgar Publishing, Cheltenham, UK

Candelon B, Colletaz G, Hurlin C (2013) Network effects and infrastructure productivity in developing countries. Oxford B Econ Stat 75(6):887–913

Caragliu A, Del Bo C, Nijkamp P (2012) A map of human capital in European cities. In: Van Geenhuizen M (ed) Creative knowledge cities. Myths, visions and realities. Edward Elgar, Cheltenham

Carmona M, Congregado E, Golpe AA (2010) Self-employment and the business cycle. Int Rev Entrep 8:29–66

Carmona M, Congregado E, Golpe AA (2012) Comovement between self-employment and macroeconomic variables: evidence from Spain. SAGE Open 2(2):1–7. doi:10.1177/2158244012448665

Carree M, Van Stel A, Thurik R, Wennekers S (2002) Economic development and business ownership: an analysis using data of 23 OECD countries in the period 1976–1996. Small Bus Econ 19(3):271–290

Carree M, Van Stel A, Thurik R, Wennekers S (2007) The relationship between economic development and business ownership revisited. Entrep Reg Dev 19(3):281–291

Chandler AD Jr (1990) Scale and scope: the dynamics of industrial capitalism. Harvard University Press, Cambridge

Ciccone A (2002) Agglomeration effects in Europe. Eur Econ Rev 46:213–227

Ciccone A, Hall RE (1996) Productivity and the density of economic activity. Am Econ Rev 78:89–107

Congregado E, Carmona M, Golpe AA (2012) Self-employment and job creation in the EU-12. Revista de Economía Mundial 30:133–155

Davis T (2008) Understanding entrepreneurship: developing indicators for international comparisons and assessments. In: Congregado E (ed) Measuring entrepreneurship; building a statistical system. Springer, New York, pp 39–63

De Goey F (2004) Economic structure and self-employment during the twentieth century. Paper presented at the 8th EBHA conference, Barcelona, 16–18 September 2004

DeJong DN, Nankervis JC, Savin NE, Whiteman CH (1992) Integration versus trend stationarity in time series. Econometrica 60:423–433

Di Giovanni J, Levchenko AA (2012) Country size, international trade, and aggregate fluctuations in granular economies. J Polit Econ 120(6):1083–1132

Eeckhout J, Jovanovic B (2012) Occupational choice and development. J Econ Theory 147(2):657–683

Engle R, Granger C (1987) Cointegration and error correction: representation, estimation and testing. Econometrica 55:251–276

Esteve V, Tamarit C (2012a) Threshold cointegration and nonlinear adjustment between CO2 and income: the environmental Kuznets Curve in Spain, 1857–2007. Energy Econ 34(6):2148–2156

Esteve V, Tamarit C (2012b) Is there an environmental Kuznets curve for Spain? Fresh evidence from old data. Econ Model 29(6):2696–2703

Facchini F, Melki M (2013) Efficient government size: France in the 20th century. Eur J Polit Econ 31:1–14

Gabaix X (2011) The granular origins of aggregate fluctuations. Econometrica 79:733–772

Geroski P (1995) What do we know about entry? Int J Ind Organ 13:421–441

Glaeser E, Rosenthal S, Strange W (2010) Urban economics and entrepreneurship. J Urban Econ 67(1):1–14

Gregory AW, Hansen BE (1996a) Residual-based tests for cointegration in models with regime shifts. J Econ 70:99–126

Gregory AW, Hansen BE (1996b) Tests for cointegration in models with regime and trend shifts. Oxf B Econ Stat 58:555–560

Guiso L, Schivardi F (2007) Spillovers in industrial districts. Econ J 117:68–93

Haltiwanger J, Jarmin RS, Miranda J (2013) Who creates jobs? Small versus large versus young. Rev Econ Stat 95(2):347–361

Hamermesh DS (1993) Labour demand. Princeton University Press, Princeton, NJ

Hatemi-J A (2008) Tests for cointegration with two unknown regime shifts with an application to financial market integration. Empir Econ 35:497–505

Hofstede G (1994) The business of international business is culture. Int Bus Rev 3(1):1–14

Hoover EM (1937) Location theory and the shoe and leather industries. Harvard University Press, Cambridge, MA

Jensen MC (1993) The modern industrial revolution, exit, and the failure of internal control systems. J Financ 48:831–880

Johansen S (1988) Statistical analysis of cointegration vectors. J Econ Dyn Control 12:231–254

Johansen S (1995) Likelihood-based inference in cointegrated vector autoregressive models. Oxford University Press, Oxford

Jovanovic B (1982) Selection and evolution in industry. Econometrica 50:649–670

Kelley DJ, Bosma N, Amorós JE (2011) Global entrepreneurship monitor, 2010 global report. Babson College, Wellesley, MA and Santiago, Universidad del Desarrollo, Chile

Kim S (1990) Labor heterogeneity, wage bargaining, and agglomeration economies. J Urban Econ 28: 160–177

Koellinger P, Thurik R (2012) Entrepreneurship and the business cycle. Rev Econ Stat 94(4):1143–1156

Kourtit K, Nijkamp P, Stough RR (eds) (2011) Drivers of innovation, entrepreneurship and regional dynamics. Advances in spatial science. Springer, Berlin

Kourtit K, Nijkamp P, Caragliu A, Del Bo Ch (2012) Spatial contextual impacts on business performance of Dutch firms. Reg Stat J Hung Central Stat Off 52(2):13–26

Kumar KB, Rajan RG, Zingales L (2001) What determines firm size? University of Chicago, Graduate school of business, The Center for research in security prices, working paper no. 496

Kumar S, Webber DJ, Fargher S (2012) Wagner's law revisited: cointegration and causality tests for New Zealand. Appl Econ 44(5):607–616

Loveman G, Sengenberger W (1991) The re-emergence of small-scale production; an international comparison. Small Bus Econ 3:1–37

Lucas RE Jr (1978) On the size distribution of business firms. Bell J Econ 9:508–523

Magazzino C (2012) The nexus between disaggregated public spending and GDP in the Euro area. Econ Bull 32(3):2560–2579

Marcotte C (2013) Measuring entrepreneurship at the country level: a review and research agenda. Entrep Reg Dev 25(3–4):174–194

Ng S, Perron P (1995) Unit root tests in ARMA models with data dependent methods for the selection of the truncation lag. J Am Stat Assoc 90:268–281

Ng S, Perron P (2001) Lag length selection and the construction of unit root tests with good size and power. Econometrica 69:1519–1554

Nijkamp P (2003) Entrepreneurship in a modern network economy. Reg Stud 37(4):395–405

Nyström K (2008) The institutions of economic freedom and entrepreneurship: evidence from panel data. Public Choice 136(3–4):269–282

Ozturk I (2010) A literature survey on energy-growth nexus. Energy Polit 38:340–349

Payne SE (2010) A survey of the electricity consumption-growth literature. Appl Energy 87(3):723–731

Parker SC (2004) The economics of self-employment and entrepreneurship. Cambridge University Press, Cambridge

Parker SC (2009) The economic of entrepreneurship. Cambridge University Press, Cambridge

Parker SC, Congregado E, Golpe A (2012) Testing for hysteresis in entrepreneurship in 23 OECD countries. Appl Econ Lett 19(1):61–66

Parker SC, Robson MT (2004) Explaining international variations in self-employment: evidence from a panel of OECD countries. South Econ J 71:287–301

Perron P (1997) Further evidence on breaking trend functions in macroeconomic variables. J Econ 80: 355–385

Perron P, Ng S (1996) Useful modifications to some unit root tests with dependent errors and their local asymptotic properties. Rev Econ Stud 63:435–463

Robson MT (2003) Does stricter employment protection legislation promote self-employment? Small Bus Econ 21:309–319

Roman C, Congregado E, Millán JM (2011) Dependent self-employment as a way to evade employment protection legislation. Small Bus Econ 37(3):363–392

Rosenthal SS, Strange WC (2004) Evidence on the nature and sources of agglomeration economies. In: Henderson JV, Thisse JF (eds) Handbook of urban and regional economics, vol 4. Elsevier, Amsterdam, pp 2119–2172

Rossi-Hansberg E, Wright MLJ (2007) Establishment size dynamics in the aggregate economy. Am Econ Rev 97(5):1639–1666

Schwert GW (1989) Tests for unit roots: a Monte Carlo investigation. J Bus Econ Stat 7:147–159

Stough RR, Stimson RJ, Nijkamp P (2011) An endogenous perspective on regional development and growth. In: Kourtit K, Nijkamp P, Stough R (eds) Drivers of innovation, entrepreneurship and regional dynamics. Springer, Berlin, pp 3–20

Teruel-Carrizosa M (2010) Gibrat's law and the learning process. Small Bus Econ 34:355–373

Torrini R (2005) Cross-country differences in self-employment rates: the role of institutions. Labour Econ 12:661–683

Van Gelderen M (2004) Opportunity, entry, performance; studies of entrepreneurship and small business. Tinbergen Institute research series no. 327, Vrije Universiteit, Amsterdam

Van Praag M, van Stel A (2013) The more business owners, the merrier? The role of tertiary education. Small Bus Econ 41(2):335–357

Van Stel A (2005) COMPENDIA: harmonizing business ownership data across countries and over time. Int Entrep Manag J 1(1):105–123

Van Stel A, Cieslik J, Hartog C (2010) Measuring business ownership across countries and over time: extending the COMPENDIA data base. EIM research report H201019. Panteia/EIM, Zoetermeer

Wennekers S, Van Stel A, Carree M, Thurik R (2010) The relationship between entrepreneurship and economic development: is it U-shaped? Found Trends Entrep 6(3):167–237

Wheeler ChH (2001) Search, sorting, and urban agglomeration. J Labor Econ 19:879–899
Acknowledgments
The paper has been written in the framework of the research program SCALES carried out by Panteia/EIM and financed by the Dutch Ministry of Economic Affairs. We are grateful to Simon Parker for providing us with helpful comments on an earlier draft.
About this article
Cite this article
Congregado, E., Golpe, A.A. & van Stel, A. The role of scale economies in determining firm size in modern economies. Ann Reg Sci 52, 431–455 (2014). https://doi.org/10.1007/s00168-014-0593-5
Received:

Accepted:

Published:

Issue Date:

DOI: https://doi.org/10.1007/s00168-014-0593-5
JEL Classification